July 8, 2008
life is obviously working
This blog was originally posted to The Dresden Dolls Diary.
---
home
i am insanely behind in my blogging. this is now usual. i keep collecting piles and piles of thoughts and photos and never collecting into concrete enough form. bad habit.
excuses:
in the past few weeks, i have played with a symphony orchestra for the first time, gone to several cities in europe to promote the record, taken many dead photos, finished up the artwork for my record, made 6 music videos with pope, and last but not least………..(this past weekend) curated a circus tent we called "the establishment" with all my best friends & favorite musicians at a huge hippie music festival in rural michigan. i was approached by dave matthews, who admired my make-up job. go dave!
of all of the photos that i could post now, i think this picture that steven from the danger ensemble snapped – from the last day of the festival – speaks the loudest.
love live the punk cabaret, motherfuckers.
love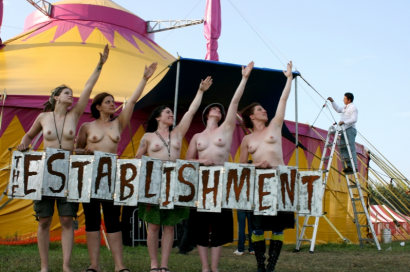 (from left to right)
amandacera, beth, michelle & katrina of Gravity Plays Favorites,
amanda fucking palmer & some random Man taking down our tent