August 30, 2012
THEATRE IS ABOUT TO BE EVIL. ARE YOU READY?
Cross-posted to Kickstarter (with bonus content for backers-only)
_________________
hola dear comrades.
COUNTING DOWN.
the time is NIGH.
THEATRE IS EVIL is out in just over a week. YAAAAAAAAAHHHH!!!!!!!
we're trying as hard as we can to make the timing PERFECT so that kickstarter backers get packages on their doorsteps right before the record goes on sale to the public.
i hope it works.
(and hey, if you didn't get in on the kickstarter, there's still time to pre-order other places, too…
MAINLY……………on my site (where you can get a poster and shirt if you so choose): http://bit.ly/AFPshop
and down under, JB Hi-Fi is selling a signed copy of the CD (WITH A BONUS TRACKKKKK). that's HERE.
woohoo.)
for now…
we have some incredible news:
the record went to college radio last week, and it's already #9 in the charts.
our record! our record that we made! our record that we kickstarter'd!
god damn. they put us on the cover of CMJ. we are in a shower & i have a designer chainsaw.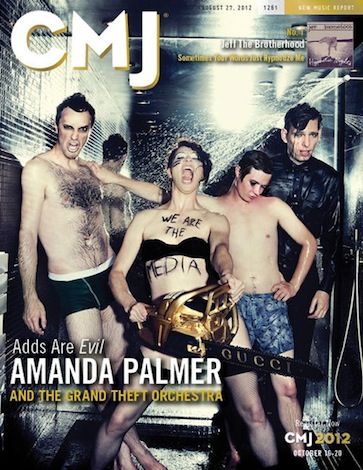 ……………………………..
now, NEWSY.
all the kickstarter people who got the "arts and crafts" bundle have been posting their ART / NOT stickers that i sent them…all over the world.
here's a couple awesome ones (the first by @pennyandjack, and the sun-shiney-through-the-vinyl-one by @evewhiteeveblack). i'll post more in the next update. HOO FUCKING RAY:


i went to new york.
i did a shit-ton of photo shoots. here was one of my favorite, for OUT magazine: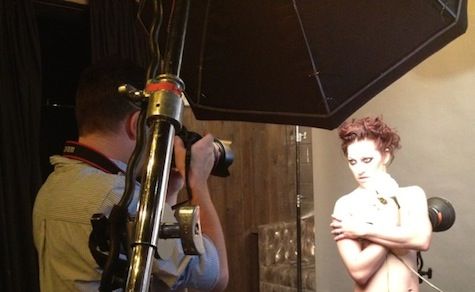 i also signed about 1,500 commercial CDs that are going out to stores in the states and australia.
the commercial for-the-public version of the CD looks beautiful, but doesn't hold a candle to the kickstarter version (those of you who backed it will be happy to hear).
sign sign sign…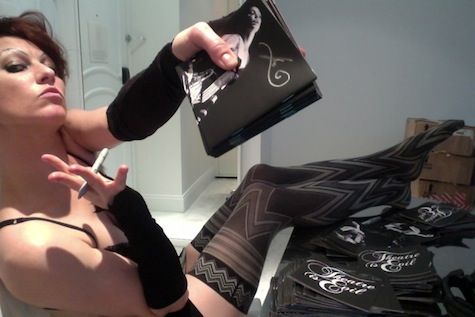 and somewhere in there, when i was home in boston, i went through my journals and took photos of a bunch of pages for the kickstarter PDF booklet that will come with the $5 and up backers….
it was painful and wonderful. the booklet is going to be GIANT. i figured….better a gazillion pages than a few. so you're going to get a gazillion page PDF. so you you know.
here's one of the pages…it was an early draft of the re-working of the lyrics for the last song on the record, "Olly Olly Oxen Free."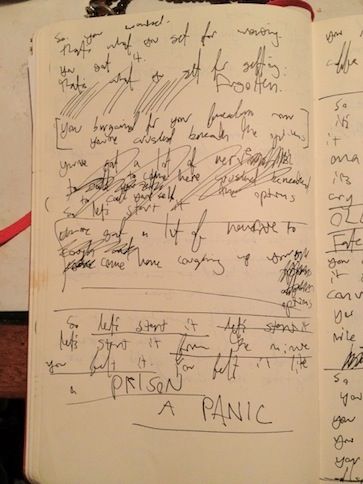 ………………………
UND
maintenant….
me and the fine young lads that comprise the grand theft orchestrii are at bard college in upstate new york perfecting the EPIC MINDBLOWING STAGE SHOW.
tickets for tour are flying…UK is almost totally sold out, Germany is sold out, states shows are close behind. if you don't have tickets, GO GO GO: http://bit.ly/AFPshows
and if you ALREADY HAVE TICKETS for the tour and somehow missed our #7ImageUpload project, DO IT. we're asking everyone coming to every city to upload photos for us to use AT THE SHOWS. can't say more. just trust me. it'll be amazing. on the #7ImageUpload page there's also a list of THINGS we want you to bring TO THE SHOW, a la rocky horror. go look: http://bit.ly/AFPsmile
also: neil (gaiman, my husband….god it gets awkward saying that over and over)'s going to do a reading of a NEW STORY on the 5th at 6pm before our bard show. HERE's some info if you wanna try and come to that, too. it's free but will PACK OUT EARLY so get on that shit.
picturessssssss
here's us working on the stage yesterday…..we're using a literally TRUCKLOAD of gear….
that's jherek and chad doing the semaphore.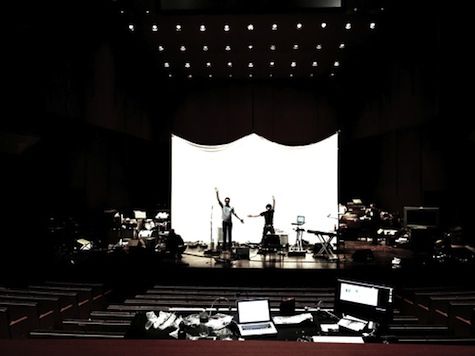 RAGGHHHHHHHHHH


the bard tech crew and students are kicking ass and running around helping us alllll day.
there's building…and spraypainting…it's the most fun i've ever had assembling something like this, and mr. michael mcquilken (drummer/stage direction) is NAILING it.
you guys are going to freak when you see what we're doing. EVIL IS THEATRE. michael on the right, bard crew on the left, building the stage set we're going to pack in crates and take with us….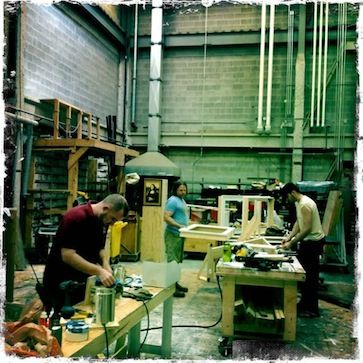 and we're PAINTING A LOT OF THINGS.
including the amps.
before:


during: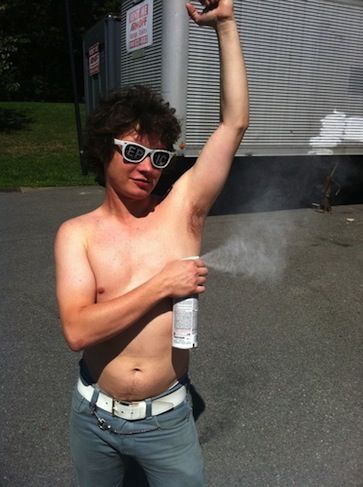 after: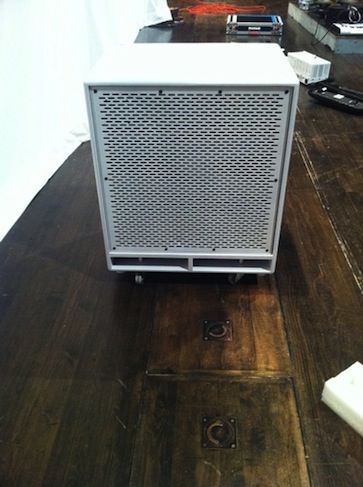 ……………………………
last week, we filmed "The Bed Song."
i wrote it, michael directed, six pro actors from all over new england and new york acted….and the result should be….breathtaking.
it should be out this fall; "The Killing Type" is going to drop first, around release week (we'll let you know).
we used bard students as extra actors and everybody had a hardworking BALL filming it….
we shot over two 18-hour shoot days.
it was inTENSE. get ready to weep. buckets.
here's a couple of sneak peeks…
the dress was designed and sewn (on the spot!) by kambriel.
make-up by justin tyme:


day one of the shoot: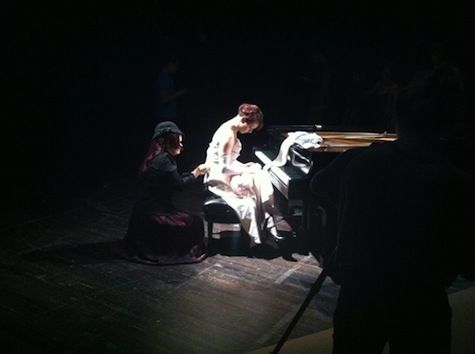 i'd just had a long conversation with five bard students about how to correctly spell "zsoozs" (as in to "zsoozs" the curls of your hair, or "zsoozs" your boobs into the correct position in a tight dress). we decided to borrow from zsa zsa gabor, since we couldn't think of another word that started with that exact sound. and we discussed ending it like
"rouge" or "brugge" but it just looked weird. so, that's @kambrieldesign, zsoozsing the back of the dress she designed for the shoot.
photo by @estrellamar, aka ryan, aka geranium, because he slept in a little box under the window in the kitchen of our rental house.
exhibit a:


exhibit b: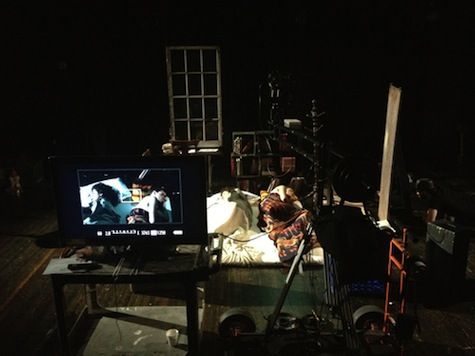 exhibit c:


exhibit d: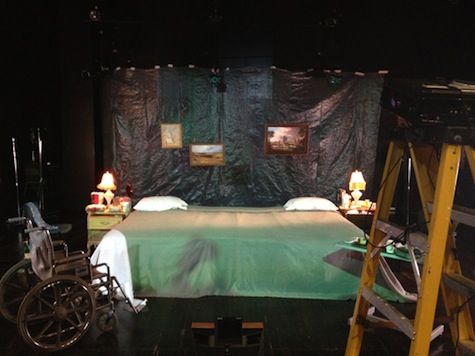 ….and i'll let e be a surprise. otherwise i'd have to kill you.
a lovely moment….
near the end of shooting, michael takes a nap while somewhere in exhibit c, high-fives that shall never be explained are had: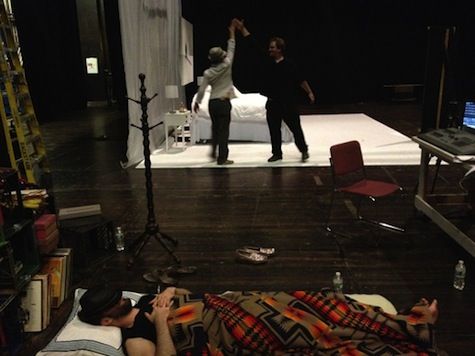 and this is me staying warm inside part of exhibit a: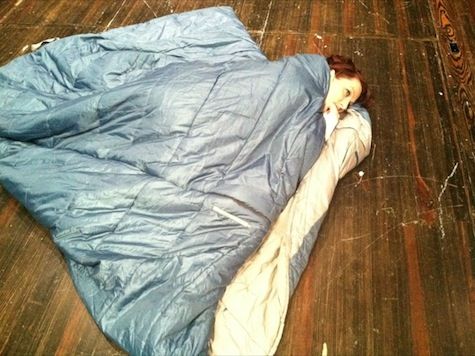 how happy this video makes me: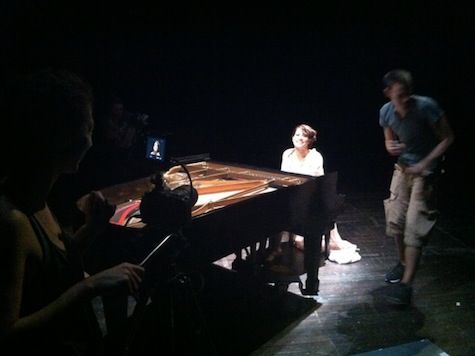 ………………………
MEANWHILE
as the people of twitter/instagram/facebook have been showing me, KICKSTARTER PEOPLES ARE GETTING THEIR STUFF RIGHT ON SCHEDULEZZZZZZ.
AND THEY'RE HAPPY.
which makes us happy.
to pull this off, we've had an excellent team (starting at the offices of girlie action – hi kevin/eric/vickie/jared/etc!! – on down to the people at the warehouse organizing everything and getting it safely out the door and into the mail)…
this is a fun thing to look at, it's HOW the 7″ packages were packaged to fit together (now that you've GOT them, no spoilers….almost!! don't look too hard! (click it to embiggen it)


looks complicated, nah?
don't worry, this is in the hands of PROS.
sorry, but i seriously am having A Moment with this photo:


look at it all!!!
WHAT THE FUCK!!!!!! THAT'S ALL (mostly) OUR KICKSTARTER SHIT,
GETTING READY TO GO IN THE MAIL!!!!!!!!!!!!!!!!!!!!!!!!!!!!!!!!!!!!!!!!!!!!!!!!!!!!!!!!!!!!!!!!!
and remember all of those pieces of paper from the #AFPcountdown webcast?
they're getting used in all of this, too. prepare for surprises.


one of the gentleman at the warehouse displaying a 7″ that (hopefully) found its way to one of you: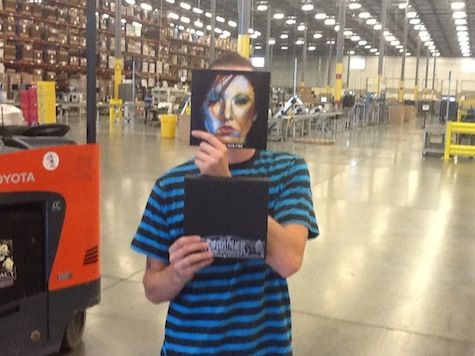 and the packaging for the 7″ boxed set….so awesome.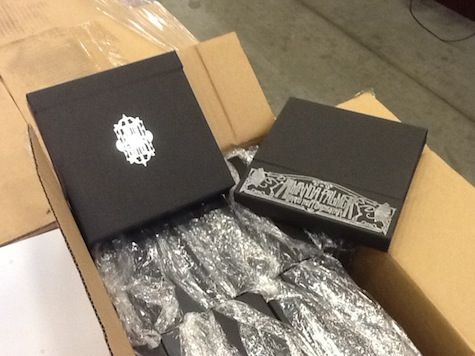 yum….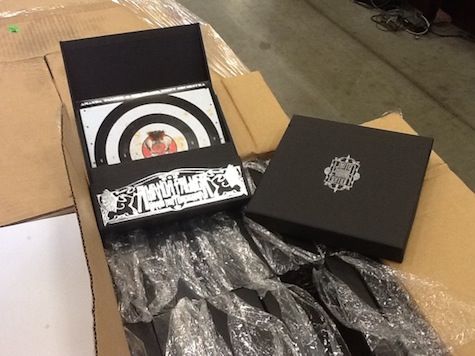 and hey, like i said, when you get stuff, TWEET AT ME!!!
i've been loving the pictures people have been sending of their vinyl!!!!
here's one @chloehenderson9 tweeted at me: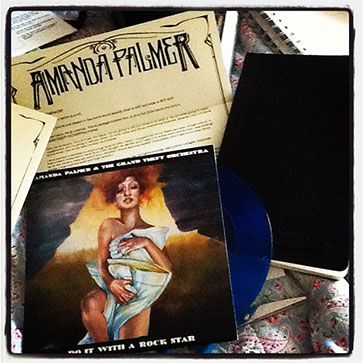 it's so great to see when and as things work out. i breathe a sigh of relief every time someone tells me they ACTUALLY GOT SOMETHING.
more soon, i'll do more updating in a few days, and again RIGHT AROUND ALBUM RELEASE TIME….and as i told everyone on kickstarter, i'll start moving more to blogging/tumblr/tweeting and moving away from backer updates and cross-posts. did i mention i have an actual tumblr-that-works-like-a-tumblr now, by the way?!!? fuck yeah, i do. if you're not following it, i'm at: http://bit.ly/AFPtumblr
ART ON.
so so so much love from bard
from me and the boys and restoration jesus,
xxx
afp
p.s. dept of randomness: after a little downtime talking about the jesus fresco phenomenon (no secret….i'm a fan), we made a MEMESHIRT, designed via POPULAR VOTE ON TWITTER.
the winning slogan was STOP PRETENDING ART IS HARD, from the "Ukulele Anthem."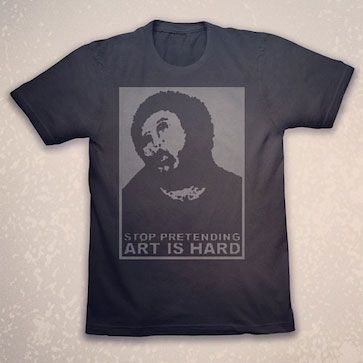 we'll have it out on the road with us this fall (with dates on the back) but if you want it NOW, you can get it via our little experiment with @chirpify. you gotta register with them (or the sale doesn't go through). they'll tweet the final parts of the transaction to yah. go HERE for details. it's a little confusing, so don't despair. otherwise pick one up at the show.