December 14, 2012
icicles on palm fronds.
HOLA COMRADES.
it's been a weird new life for me, stuck in this one place with domestic tasks up the ass and no tour coming up.
my mind is a giant question mark covered with a large christmas and new-year's blanket.
i mean….i'll figure out who i am after new year's is over. until then, all i will think about is
1) christmas, and what the fuck we're doing for it.
2) prince, learning "purple rain", and what the fuck i am going to wear to this epic new year's show.
the inside of my brain looks like a purple and lacy explosion of guitars, dripping all over the set of the "nutcracker".
not bad, not bad.
i've spent the last 24 hours doing ALMSOT NOTHING but writing out this year's set of holiday cards, and it was a spiritual experience much like last year…
with twice as many cards.
but to feel like i am messenger of love – from you to each other, and sometimes a messenger of love from just me to you, and sometimes a messenger of love from YOU to YOU (you can't imagine how satisfying it is to be the conduit for another human being saying I LOVE ME) – it's been beautiful.
i feel like a non-love-machine. i can't wait for these cards to come to you in The Mail. i took pictures of my favorite ones but i'll post them after xmas so i don't ruin any surprises…..
here's my work station last night and this morning, though:


i have also learned something useful:
when you kiss cards with lipstick, after having written a message on them in black sharpie, you get sharpie all over your face:


……………
all of you….fuck. man. i am still reeling from the beauty and deep humanity of the last set of blog comments.
i went to a conference called "the world in 2013" put on by the economist and it still baffles me that people don't understand HOW DEEPLY EMOTIONAL and CONNECTED an artist can be on the internet. i told the story of my tour cancelation and how the internet saves my head and my soul when i'm going
through heavy times. how the connections are real. superficial, yes, sometimes. impersonal, yes, that too. but what i'm feeling when i read these comments and when we share our stories with each other is no fucking substitute for intimacy.
it is intimacy.
it's hard sometimes to explain that.
i can't thank you all enough for your continued outpouring of support and love.
lots of you have also been sending love and messages to anthony, and reading his book.
tons of you actually had the patience to watch his reading of "swamp" and he was so touched by that and all the comments you've left on his facebook.
thank you so much for that. right now, that's the deepest way you can help and support him (and by proxy, me) as we face this shit.
i'm hoping to upload a video of my reading the intro to the book soon. i'm almost afraid to watch it.
since lots of you are asking…he's been doing ok. this is a long haul and it's just the start.
the infusion treatments are long and boring and we sit there shooting the shit and trying to make each other laugh as much as possible.
i love you.
…………….
speaking of intimacy, i'd love to share photos of the last two kickstarter parties i've done.
one was in New York, a beautiful gathering in larisa fuch's (@gemini_scorpio) loft, wrangled together by the fabulous stav meishar (@stavmeishar) – via facebook.
what an incredibly humbling night. everybody there felt like a cosy family, and sxip shirey showed up to play some new songs with me, and people jammed out together on various instruments, and the whole thing felt like an indoor brooklyn campfire. thanks so much to everyone who came, it was a truly special night (photo via @jasminemoy)…


…………….
AND….i also did a party down in PUERTO RICO, hosted by an amazing dude named alfredo who runs a group called puerto rico indie.
they were hanging the xmas decorations and, me being from new england, it's always so funny to see blow-up santa's swaying in the breeze next to palm trees, sipping cold coronas in the sun while "feliz navidad" blasts out of a truck speaker. surrrrrreeal.
neil and i went down together with eric (@southships) and vickie (@VLStar) from my management, and we got a great window into what's happening with the art-folk down there.
puerto rico is in a rough place – there aren't lots of venues or shows, and it's hard to make it down there doing anything artistic. crime is stupidly high, lots of poverty, lots of red tape with the government if you want to make things happen.
alfredo and his group of friends are like saints….they all have day jobs and work their asses off on the side to keep an indie art & music community happening.
i felt so lucky, so honored, to be hosted by these guys, and the show was FANTASTIC.
plus there was FIRE (photos by stephanie alvelo unless otherwise noted).


and neil read…


and i played (photo by violetbluemortis)…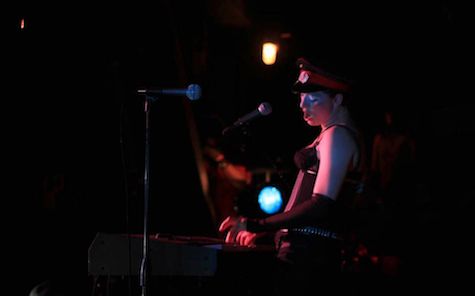 and neil joined me on stage and his mic broke so we got to do shit keith-and-mick style….


and most beautifully – alfredo organized a group of puerto rican ARTISTS to all make a piece of artwork – one inspired by each song on "theatre is evil".
the art was all hung in a gallery outside the actual venue and it was so fucking inspired and gorgeous (photo 1 by stephanie alvelo & photos 2/3 by ferdy valls):


puerto rico indie has just set up an AUCTION – El Teatro Es Malo – to sell all the paintings (my favorite one is "bottomfeeder", by alfredo himself!!!!) – all the proceeds will go to helping keep the indie art scene down there are thriving as possible. click the image to check out the auction site…some of it's already sold, so HURRY!


i'm headed to the mountains for a few days to do a retreat with my fucking husband.
wish us luck in the land of offline….we'll miss you.
NAMASTE MOTHERFUCKERS.
LOVE….
AFP