November 9, 2012
The "Do It With a Rockstar" NSFW Longform Music Video Debut
AFP and The Grand Theft Orchestra are thrilled to debut "Do It With a Rockstar" – the third video from Theatre is Evil. Filmed over two 105-degree days in Oklahoma City this summer, it's a chaotic-force to be reckoned with that you'll just have to see to believe. (No, really, if we tried to explain, you'd probably think we were lying about some of the stuff that gets jam-packed into the clip)
The video was co-created and directed by Wayne Coyne (yes, of The Flaming Lips), Amanda Palmer, George Salisbury, and Michael McQuilken (drummer and creative multitasker for the GTO), AND it features a fiery performance by the seductive alt-porn starlet Stoya Doll.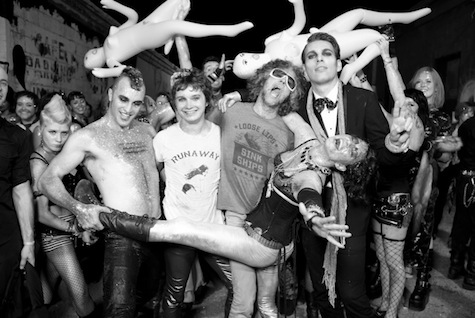 "Working with Wayne was an old-school dream come true, as I've been following his crazed adventures for years but never met him before. I'm always actively seeking to connect with other crazed renaissance freaks to simply see HOW THEY WORK. Apparently, how it works with Wayne Coyne at a video shoot is simple: everything's a cosmic improvisation, everyone's attitude is on enthusiastic overdrive, and if you drop a hint, Wayne will covertly show up with six giant boxes of gold glitter (presumably from Flaming Lips Headquarters, where they must have an endless supply) in the trunk of his car. We hit it off like long lost art-soul-mates, and when I saw Wayne spontaneously climb onto a ceiling pole and stage-dive during the shoot, I thought: note to self, at all costs, wind up like Wayne Coyne. He gave me a great Oklahoma City/Flaming-Lips-History tour after the shoot was over as we bonded over our weird parallel lives, and I really got what I was hoping for…a new friend I could really relate to. We come from the same planet."
Check out the video on
YouTube
or
Vimeo
, or via the embed, below. And when you're done, be sure to check out Amanda's blog
HERE
which chronicles the making-of with tons of photos and behind-the-scenes stories.
P.S. Amanda & GTO valiantly return to the US this week following a month of European dates; Be sure to catch them on tour if you can.
Visit the
SHOWS
page for more info.