April 2, 2013
the GRAND THEFT "MAKE-UP" TOUR DATES are UP!! (A BLOG ABOUT THE UPCOMING SEASON OF EVIL)
HOLA COMRADES!!!!!!!!
this blog is a long one…..there's a shit-ton to say because WE'RE GOING BACK ON THE ROAD.
i know there are a lot of links of exciting things to go and check out, but just open 'em in another tab while you get through this.
it's hard but necessary to shoot ALL OF THE INFO EVAR into one place.
thank you for your patience, o' reader.
at long last, i'm announcing the re-scheduled UK and european dates – the ones i canceled when i blogged about anthony and cancer….
and we're also announcing the motherlode of new dates & festivals (a smattering of which are in the US).
it's THE MAKE-UP TOUR, HOORAH!!!!!!!!!!!!!!!!
(as in….re-scheduled, not face-painty-makeup. but there will be that and glitter too.)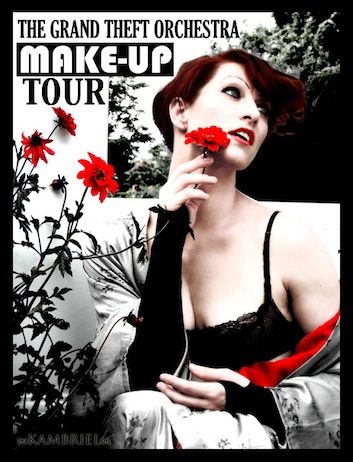 (this photo was taken during a BREAK on "THE BED SONG" video-shoot day, if you can believe it, by Kambriel, who just happened to be on set helping with costumes. she's a fucking fabulous photographer….it always happens this way, don't it? renaissance peoples, we are.)
thank you all so, so much for hanging in there while we struggled to reschedule.
i know it sucked to wait to hear about this (especially when i rescheduled australia right away.)
i want to apologize DEEPLY in advance to those who aren't going to be able to come to the make-up dates…it was really hard to find a time when all the venues were free and i know some people already have summer holidays and such scheduled. we did the best we could, and if you need to turn your tickets in because you can't make the rescheduled date, you'll be fully refunded. (you can get your refunds at the original point of purchase. more info HERE if you have trouble).
anthony is doing okay. he responded to treatment really well but our current phrase for what's happening is that he's "in a clearing in the woods".
it's hard to get excited when you don't know exactly what's happening, and cancer never yields a black and white answer. BUT…in general: things couldn't really be going any better, and there's a lot of good energy around him. thank you for all the love you've sent his way. he's grateful, and so am i.
choosing to take the time off and be with him was one of the wisest things i've ever done. we've grown closer, and my whole little community has tightened.
i'd agreed to do the TED talk about a month BEFORE i decided to cancel the tour, and i found myself wondering WHAT THE FUCK i would have possibly done (i was seriously scheduled to tour in australia, land at TED, and THEN give the talk, while jet-lagged.) what the talk would have been if i hadn't had a month at home to work on it, i'll never know. but it wouldn't have been what it was.
things work out.
UND, now…it's time to make up all the shows i postponed.
it's going to be weird going back on tour, since i'm feeling rusty.
i've spent the last few months not being a stage performer at all…i think this is the longest break i've ever taken since the dawn of the dresden dolls where i spent so many nights in a row NOT singing something.
it's amazing how quickly i get used to it. pianos look foreign. tour buses seem alien. but back into the bus we will go.
i've been considering what to DO on the road, since (as you'll see below), the line-up is changing and we're going to be doing a LOT of festivals, which means quick set-up times….so it looks like the tour is going to be gritty, rock and roll, stripped down…we're not bringing the video elements or the #7ImageUpload. instead, i want to sweat, scream, focus, connect, drown myself in glitter occasionally, and make the tour about the musicians and the songs and the sounds. keep it simple and passionate.
jherek is going to try round up a few guest string players through his own networks, we won't be crowdsourcing musicians for this round (at festivals it would be almost impossible, since there's ZERO soundcheck time).
and thus: we will get back to making theatre evil.
i've missed being on stage. now i just have to figure out what to wear. it has to be quickly washable in a sink.
i'm REALLY, REALLY, REALLLLLLY excited about a few of the festivals and things….here's a little extra info about some of the upcoming shows:
i'm going BACK TO SCHOOL….
a student from my old love-hate alma mater, wesleyan university (in connecticut), dropped me a line and asked if i would take part in this, (april 13th, it's in the tour dates list below)…and i am: humanityfestival.org
"Humanity Festival is a one-day musical celebration in solidarity against bigotry, racism, and social divisions within a community. The festival encourages dialogue about—and action against—existing class, racial, and social rifts that exist within said community. Humanity Festival seeks to bring passionate, politically aware, and socially conscious artists who have united audiences in the face of difference. Humanity Festival hopes to inspire an open attitude and to continue the growing movement."
i am HONORED as all get-out to have been invited to the NEWPORT FOLK FESTIVAL…and i do plan on plugging in my ukulele, going electric, and FREAKING EVERYBODY THE FUCK OUT.
i'll try to ninja there as well. follow the tweety-deck.
and after that? i'm jaunting my ass over to RED ROCKS to partake in "SYMPHONY ON THE ROCKS" with my old friends DeVotchKa. back in 2005 shortly after the dolls' tour with Nine Inch Nails, we went out with them and faun fables as our openers, along with my circus pals jonas woolverton and krin haglund. then DeVotchKa got crazy famous. it'll be fun stuff to come together with them again, especially at RED ROCKS with a SYMPHONY. even if i wasn't gonna be there i'd tell you to go. but now? hopefully that's all the more reason to get your asses out there. if you've never been to RED ROCKS – it's one of the world's most beautiful venues made within nature (here's a picture):


the MILWAUKEE PRIDEFEST is a legendary gay pride festival that's over 20 years old…another huge honor to be asked. and then i'm going to fly to milwaukee just for the show and have to get on a plane HELLA early the next day to be in NYC for THIS fancy-hip event that ps122 throws every year…here's the billing:
Performance Space 122's Spring Gala
"Honoring 3 Trailblazing Women of Downtown NYC"
Amanda Palmer, Councilwoman Rosie Mendez & Gabrielle Hamilton
i love it all. a rock and roller, a democratic councilwoman, and famous chef walk into a bar….
should be a blast.
we're trying to get a VERY special guest to join us and figure something out for me playing. secrets.
i haven't been to glastonbury since the dresden dolls played back in 2005 and i got very drunk at the john peel tent and tried to make out with conor oberst (and succeeded! one of the proudest moments of my drunken life. HERE is a blast from the past if you wanna read the whole story, but finish this bloggy first). we have a LOT of friends at glastonbury….i'm praying for a nick cave duet. FOLLOW THE TWITTER. i'll more than likely pop up in some surprise muddy places and cause some mayhem. i may organize a pillow fight, so bring expendable pillows.
---
WHAT THE HELL HAS THE BAND BEEN UP TO & WHO'S COMING ON TOUR?
i will tell you.
first of all…the original grand theft drummer, fabulous fucking mr. michael mcquilken, isn't going to be joining us this summer and fall…we're gonna miss this mofo like you can't imagine…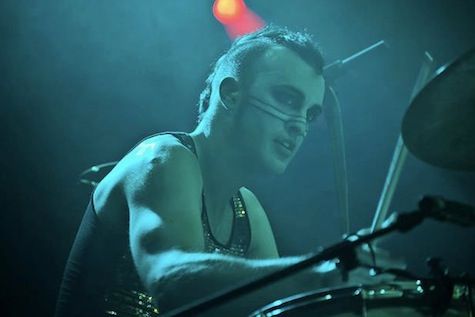 (photo by Chrisdonia via flickr)
why? well, he's going to be doing even more brilliant stuff: one thing led to another and he landed a gig as the artistic co-ordinator of Bard College's amazing spiegeltent/summerscape program…so if you're in the NYC/upstate area: go, go, GO see the world he's creating this summer (more info HERE)…he's emceeing and designing the whole experience (the guests at the tent are going to include a lot of our old-school comrades like justin vivian bond, the bindlestiff family circus, the hungry march band and more….if you've never experienced THE TENT, you MUST.) he's also formed a new band that will perform in the tent (and elsewhere in NYC) area called THE MAYDAY KINGDOM. on top of THAT, he's the artistic director of a new theater company called THE OLD SOUND ROOM made up of Yale grad students and has formed a film production company (more on that HERE).
AND he's bringing two shows to amsterdam fringe and is stepping up artistic director of a new theater company called THE OLD SOUND ROOM made up of Yale grads…
michael's a lot like me, clearly. he doesn't stop moving and DOING.
…aaaaaand somewhere in there, he's getting MARRIED (to the beautiful @adinaverson, who starred in "the bed song" AND the "do it with a rockstar" videos) – mazel tov to the happy couple – the cup overfloweth with ROCK LOVE!!!!!!!!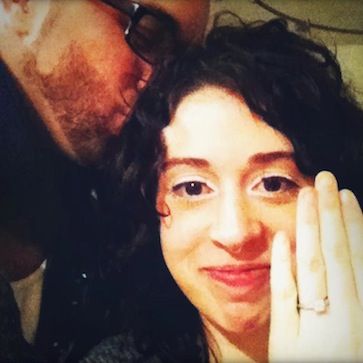 i think it's safe to say the guy not only has his shit sorted, THAT SHIT IS ON FIRRRE!!! so go see him and in one or as many of these things when/where you can…or if you can't make it out for something, check out his record, THE FEW MOMENTS. i'm sing on it and chad and jherek both play on it: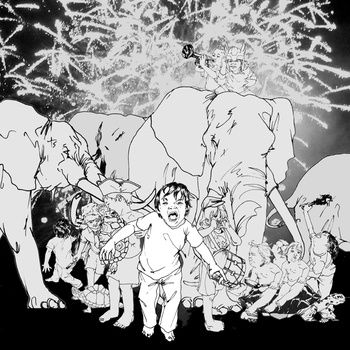 CHAD worked on a show in NYC for a while (since he's a theater geek, indeed) and is currently working sound design on a production of The Bacchae at Bard, which goes up sunday april 14th (info HERE).
he did a smattering of small, fun, dirty, sweaty shows with his band THE SIMPLE PLEASURE. if you like bowie and dancing and flamingos, LISTEN. and if you don't like bowie and dancing and flamingos, i dunno what's wrong with you. while we are waiting to hit the road, the simple pleasure and matt from Eclectic Tuba (!!!!) are planning on touring in the south … details in the works. and chad wanted to mention that he's playing with his hero, Quintron, April 17th at Cafe 9 New Haven. i saw quintron back in about 1999 and i can only imagine he's gotten awesomer since then.
last but not least, JHEREK. he hasn't stopped for a millisecond, either. he's been on the road playing shows ALLLLL over in support of his album "COMPOSED" – he even did some shows with my moxy down under. neil posted a blog with photos and video. read it when you're done here.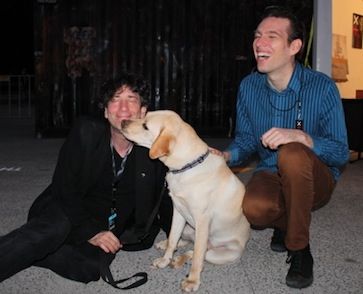 he just got back from Adelaide Festival where he got to perform my music with the Adelaide Art Orchestra. (he also did a wonderful short tour opening for Efterklang with a fantastic string quartet.)
here are jherek's upcoming gigs before we hit the road this summer:
• April 6th: with an orchestra at The Paramount Theater in Seattle for STG's annual fundraiser opening for Alvin Ailey Dance Co. & Jeff Bridges (aka The Dude!!!!) – info
• April 7th: with his quintet (string quartet+clarinet) at Chop Suey in Seattle, opening for his longtime collaborators Parenthetical Girls – info
• May 24th: at Sasquatch Music Festival with a chamber orchestra! – info
• last but not least: he was recently commissioned by Lincoln Center to write music for Kronos Quartet to be played later this year….BAD. ASS.
…SO. big question: who will be drumming when we tour, you eagerly ask?
none other than THOR HARRIS (aka @thorharris666/his wiki) who i've known a long time in his capacity with SWANS and other incredible bands (Bill Callahan, The Angels of Light, Lisa Germano, Gretchen Phillips, Devendra Banhart…etc).
this is thor:

need i say more?
thor is an incredible multi-instrumentalist in addition to being a drummer, and maker, and all-round gentle man.
every musician i know worships his ever-viral piece of writing "how to tour in a band or whatever". if you've never read it, for god's sake, read it NOW at beenlookingforthemagic.tumblr.com
….everyone in the band cannot WAIT to tour with this dude.
if you wanna catch up with thor BEFORE the grand theft action gets underway, he's going to be on tour with SWANS (all the dates are up HERE).
SWANS music raised me, i was an obsessive fan as a teenager. if you don't see them before you die, your eardrums may thank you, but your soul will hold out. go, go, go. and if you catch thor after any of the shows, give him a hug from amanda.
---
THE TOUR SUPPORT ACTS!!!
we're going to do what we did last tour, which is combine all the talent on stage throughout the night and have…
…JHEREK BISCHOFF (photo by Brittany Brassell)…


…open up with strings, and then chad's band…
…THE SIMPLE PLEASURE (photo by Alexis Simpson)…


…in as many cities as possible.
…but we'll ALSO have a smattering of surprise guests (as usual).
in POLAND, we're happy to announce that the legendary GABA KULKA will be supporting:


check out her music, she's genius. (i was obsessed with her record "hat, rabbit" for a while)
in australia, we're got DIE ROTEN PUNKTE – who must be fucking seen to be believed.
they make ART ROCK THEATER ELECTRO AWESOME:


and my housemate MALI SASTRI (this is her on the top floor of our house):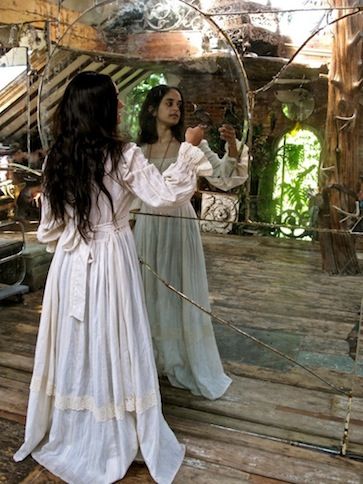 …is making noises about joining up with us for a couple of tunes in australia….
….stay tuned, all will be announced.
---
aaaaaaand speaking of theatrical bad-assery…..
let us discuss
THE BRIGADE 2.0
lots of people have also asked (possibly inspired by the TED talk?)….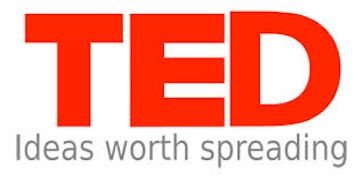 …if they can BUSK outside or at the shows, since the weather will be fittin'.
FUCK YES!!!!! if you're planning to busk the line outside the show, just make sure you're relatively legal. some cities get grumpy.
but don't let the venues give you any shit. they know we want you there.
if you have more elaborate ideas, the best way is to hit me up on twitter.
i used to spend a LOT of woman-hours curating the brigade and helping performers/statues/artists set up in the lobbies of the venues, and it's a tradition i'd like to bring back,
but i'm going to try to see if it's possible to do it without spending an extra 3 hours a day on the internet (or bringing a staff person on the road to herd the art-cats, which we sometimes did!).
so what i ask is: DO IT! make sure your idea is FAIRLY PORTABLE, EASY TO SET UP ANYWHERE, and WON'T FREAK OUT THE VENUE.
we'll send them a general "um….like the grateful dead, except artier" explanation that art/busking/happenings are likely to pop up spontaneously in the venues, and not to be alarmed.
and then….we'll see what happens. don't set anything on fire please, and don't make a mess anywhere. be super-repsectful of the venue.
chalk outside. pass shit out. play music. paint paintings. paint each other. show us what you got, mofo.
and yes, if you're so inclined, put out that fuckin' hat. it's war!!!!
here are your primers:
• THE BRIGADE FORUM on the shadowbox
• my old BRIGADE FAQ
---
um, i also made THIS tour image (with help from @_superkate_) on top of beautiful art by rebeka-rose/@bekkuhrose, and couldn't decide which one to use. so, yeah.

HERE ARE THE DATES
(new ones first, oz and NZ at the end)! tickets are going on sale or will be going on sale within the next few days. follow the links to get more info on all of 'em at my shows page.
Friday 5th April
NORTHAMPTON, MA || CALVIN THEATER
RSVP | TICKETS | ALL AGES
Saturday 6th April
HUDSON, NY || BARD COLLEGE (SOSNOFF THEATER)
w/ Neil Gaiman
RSVP | SOLD OUT! | ALL AGES
Saturday 13th April
MIDDLETOWN, CT || WESLEYAN UNIVERSITY (FOSS HILL)
this event's put on by the students. it starts at 12 noon and i'll be on around 5pm-ish.
RSVP | MORE INFO | ALL AGES
Thursday 2nd May
SAN FRANCISCO, CA || THE FILLMORE
VIVA HITCHCOCK!
guest appearance at the 60th b-day celebration for Robyn Hitchcock w/ COLIN MELOY, RHETT MILLET, and others!
RSVP | TICKETS | ALL AGES
Sunday 9th June
MILWAUKEE, WI || PRIDEFEST MILWAUKEE
RSVP | MORE INFO | ALL AGES
Monday 10th June
BROOKLYN, NY || PS122
PERFORMANCE SPACE 122's SPRING GALA
Honoring 3 Trailblazing Women of Downtown NYC: Amanda Palmer, Councilwoman Rosie Mendez, and Gabrielle Hamilton
RSVP | MORE INFO | AGES TBA
Friday 14th June
GOLDEN, CO || RED ROCKS AMPHITHEATRE
SYMPHONY ON THE ROCKS
as a special guest to DeVotchKa with the Colorado Symphony
RSVP | TICKETS | ALL AGES
Sunday 23rd June
DOVER, DE || DOVER INTERNATIONAL SPEEDWAY
FIREFlY FESTIVAL
Also Appearing: Yeah Yeah Yeahs, Passion Pit, Matt & Kim, Japandroids, MGMT, and a TON of other artists…
RSVP | TICKETS | ALL AGES
Friday 28th June
GLASTONBURY, UK
GLASTONBURY FESTIVAL
Also Appearing: Nick Cave & The Bad Seeds, Portishead, The XX, Billy Bragg, Rufus Wainwright, and a dozens and dozens of others…
RSVP | TICKETS | ALL AGES
Friday 26th July
NEWPORT, RI || FORT ADAMS STATE PARK
NEWPORT FOLK FESTIVAL
Also Appearing: Colin Meloy, The Mountain Goats, Andrew Bird, Feist, and many more…
RSVP | TICKETS | ALL AGES
Tuesday 2nd July
ČESKÝ BROD, CZECH REPUBLIC
ROCK FOR PEOPLE FESTIVAL
Also Appearing: Gogol Bordello, Queens of the Stone Age, 30 Seconds to Mars, Billy Talent, and other ROCK (for people)…
RSVP | TICKETS | ALL AGES
Thursday 4th July
GRAZ, AUSTRIA || PPC
ON SALE 5th April
RSVP | TICKETS | AGES TBA
Friday 5th July
VIENNA, AUSTRIA
ARENA OPEN AIR – HARVEST OF ART
Also Appearing: Calexico and more!
RSVP | TICKETS | ALL AGES
Sunday 7th July
UTRECHT, HOLLAND || TIVOLI
RSVP | TICKETS | ALL AGES
Monday 8th July
ESCH-SUR-ALZETTE, LUXEMBOURG || ROCKHAL
RSVP | TICKETS | 15+
Tuesday 9th July
PARIS, FRANCE || LA CIGALE
RSVP | TICKETS | ALL AGES
Thursday 11th July
MANCHESTER, UK || RITZ
ON SALE 5th April
RSVP | TICKETS | 14+ (14-16 must be accompanied by an adult 18+)
Friday 12th July
LONDON, UK || ROUNDHOUSE
ON SALE 5th April
RSVP | TICKETS | 14+ (under 16s must be accompanied by an adult 18+)
Saturday 13th July
BRIGHTON, UK || CONCORDE 2
ON SALE 5th April
RSVP | TICKETS | 14+
Monday 15th July
BRISTOL, UK || O2 ACADEMY
ON SALE 5th April
RSVP | TICKETS | 14+
Tuesday 16th July
BIRMINGHAM, UK || THE INSTITUTE
ON SALE 5th April
RSVP | TICKETS | 14+ (under 16s must be accompanied by an adult 18+)
Wednesday 17th July
EDINBURGH, UK || THE PICTURE HOUSE
ON SALE 5th April
RSVP | TICKETS | 14+ (under 16s must be accompanied by an adult 18+)
Thursday 18th July
DUBLIN, IRELAND || THE ACADEMY
ON SALE 5th April
RSVP | TICKETS | 18+
Tuesday 29th October
HAMBURG, GERMANY || GRÜNSPAN
RSVP | TICKETS | ALL AGES
Thursday 31st October
COPENHAGEN, DENMARK || PUMPEHUSET
RSVP | TICKETS | ALL AGES
Friday 1st November
COLOGNE, GERMANY || GLORIA
RSVP | ON SALE TBA | ALL AGES
Saturday 2nd November
BRUSSELS, BELGIUM || BOTANIQUE / ORANGERIE
RSVP | TICKETS | ALL AGES
Monday 4th November
BERLIN, GERMANY || KESSELHAUS
RSVP | TICKETS | ALL AGES
Tuesday 5th November
WARSAW, POLAND || PROXIMA
RSVP | ON SALE TBA | ALL AGES
Wednesday 6th November
KRAKOW, POLAND || KLUB STUDIO
RSVP | TICKETS | ALL AGES
Saturday 9th November
MILAN, ITALY || FACTORY
RSVP | TICKETS | ALL AGES
Sunday 10th November
BUDAPEST, HUNGARY || A38 SHIP
RSVP | TICKETS | 16+
Tuesday 12th November
MUNICH, GERMANY || AMPERE
RSVP | TICKETS | ALL AGES
…and ze reminder for DOWN UNDER:
Wednesday 4th September
WELLINGTON, NZ || SAN FRANCISCO BATH HOUSE
RSVP | TICKETS | 18+
Friday 6th September
AUCKLAND, NZ || KINGS ARMS TAVERN
RSVP | TICKETS | 18+
Sunday 8th September
PERTH, AU || ASTOR THEATER
RSVP | TICKETS | 18+
Thursday 12th September
BRISBANE, AU || THE TIVOLI
RSVP | TICKETS | 18+
Saturday 14th September
SYDNEY, AU || ENMORE THEATRE
RSVP | TICKETS | ALL AGES
Friday 20th September
MELBOURNE, AU || FORUM THEATRE
RSVP | TICKETS | 18+
Sunday 22nd September
ADELAIDE, AU || THEBARTON THEATRE
RSVP | TICKETS | ALL AGES
---
spread the word, and bring your screaming voices and love-hands to the shows.
we're back.
SEE YOU OUT THERE, MOTHERFUCKERS!!!!!!!!!!!!!!!!!!!!!!!!!!
LOVE,
afp (enjoying the start of warm weather coming to new england, finally)

p.s. thank you for reading all of this. that's why i love you.