December 27, 2013
shit's gettin real yo. no, actually real, you can touch it and get its paint on your fingers
MERRY YULE-TIMES & BOXING DAYS & FESTIVUSES & SUCH
from us to you, you wonderful motherfuckers.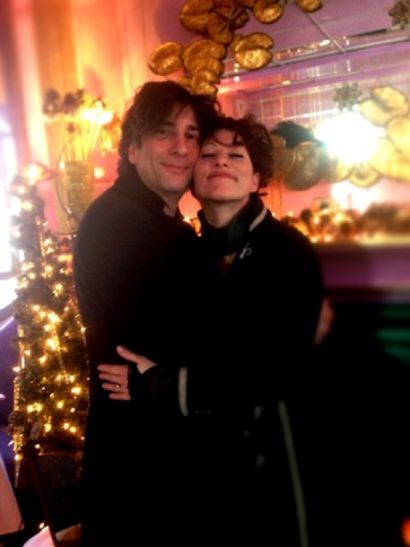 and now….
aie aie. back off the road and almost over the road hangover means
1) more time to blog, and yet
2) facing the mountain of things i want to share (and the piles of photos and footage) is, as ever, paralyzing.
i know i sound like a broken record every time i come back from tour and say this time i come back from tour and say this time i come back from tour and say this time i come back from tour and say th-
the only thing to do is to start – it's like peeking out through slitted eyes at the morning-after mess once you've decided to accept your hangover, facing the party debris party of the night before.
it's 4 pm. night will fall soon. do you rouse the probably-still-drunk people asleep in your bathtub? do you start cleaning the kitchen, which has so many bottles in the sink
and is overflowing with water mixed with cake, ash and vomit? do you charge your phone? can you find your phone? do you own a phone? WHO ARE YOU???
you rise from the bed and start with a shower. then you find footwear to prevent the spread of spilled beer and ash from room to room. then you go to the kitchen. you pick up a bowl,
you scoop a homemade cookie into some guac that has turned brown, feel energized, and simply start. doesn't matter where you start.
starting in the kitchen is always good.
clearing the sink out first is always good.
opening your computer and doing email is NEVER good – you will simply get distracted and live in a museum of post-party sleaze.
deciding to crack a beer and just sit on the porch watching the sunset, drinking off your hangover – also never good.
the mess will just glare at your harder in the morning.
just start. just start. just start.
HEY GUESS WHAT
my blogs are obviously going to get more and more frequent and elaborate AND LONGER now that i have a book to write on a serious deadline.
i'm not DISTRACTED.
i'm PRACTICING.
(i've never appreciated this blog more. hello friends!!!!!!!!!)
i'm also starting to wonder – what the fuck is BLOG and what the fuck is BOOK?
i started writing The Book the other day and was like: HOLY SHIT EVERY SENTENCE MUST BE PERFECT.
if i can just trick myself into somehow thinking i'm writing a blog, i'll be fine.
so
first off: thank you all for your response to the last blog, as usual the comments created a beautiful storm of emotion under the blog umbrella and all i can continue to say is that i'm so grateful you're all so incredible.
the readership drives the engine room, and as i work on The Book (and i will be, non-stop, for the next three months), you are my audience. you are my end user. and i mean that. i don't want to aim at any other audience. i want The Book to be aimed at the people I know are able to receive. if anyone else piles into the listening room, i'll take em. but i don't want this book to devolve into a mainstream project, something that i picture being sold in airports and aiming for the lowest common denominator. i want The Book to keep me where i am – respected in my own small way for telling my truth. i don't want to serve anything else up. that's the end of my book speech for the day.
i wanted to share what i've been up to for the past few weeks, because a lot of it has been notably amazing, and also because there are some people who need help.
over the first few weeks of december, it traveled around the west coast delivering the VERY LAST (except south africa – i hear you, i'm coming) of the kickstarter house parties.
the kickstarter for "theatre is evil" hit its goal on may 30th, 2012. that's now (brace myselfs) nineteen months ago. nearing two years. that seems impossible. but look.
so all i have left to deliver now is one south africa house party and the last 100 bed song books (yes, that's right. after almost two years of production, they're not shipped yet. ridiculous? yes, pretty much. have we been dropping the ball left and right? yes. have we been communicating as much as possible with those 100 people about every snag we've hit trying to make a book as big as a table? yes, and a new update's coming. and so far, nobody's crucified us. YET.)
across north america, the UK, europe and australia, i delivered 34 bizarre house parties and played 8 benefits in different communities in trade for the eight generous investors who gave me interest-free loans to promote "theatre is evil". i feel like i've now got a few books in me…because the house parties themselves, taken as a whole collection and adventure, are worth an illustrated work of non-fiction. but for the time being, i'll just post some photos, with stupid captions.
and i'm going to work backwards for the next few months – as i also want to blog the parties from london, and tel aviv. but first – the now-ish.
---
ahhhh so.
for this round of party delivery, i invited my old friend whitney moses to accompany me as a wingman/co-pilot/driver/back-up-singer/body-worker/psychotherapist/friend.
whitney and i have know each other for over ten years, we met back when she was dating my housemate (who is still my housemate in boston) steve martin. no not that steve martin.
we met RIGHT before she decided to move to the west coast, and it was one of those sad moments where we looked at each other and sadly said "WE WOULD HAVE BEEN GREAT FRIENDS".
we swore an oath to continue trying to build our friendship, and it's actually worked. it doesn't hurt that now and then i call up whitney and ask her if she wants to ditch her life and hit the road with a band
(i hired her to do merch, too, back in the combustible days of the dresden dolls, and she got to "experience" me on one of my worst tours ever. i was happy she was there.)
now she lives in oakland and works as a freelance massage therapist. she also sings in a local band.
she's also one of the coolest persons i know: she has the miraculous capacity to walk into a room and calm everybody down and make them happy.
that's a really useful trait to have in a house party co-pilot.
(we also like the same music, and inserted PJ Harvey's "To Bring You My Love" into the car stereo and hardly removed it. that helps, too. – we also gave UNWOMAN'S album with the ampersand cello cover a listen.)
now that it's over, i can look back at the patterns and start to do some dot-connecting.
more often than not, i called the hosts in advance to chat, but i didn't always.
eric (@southships) was my ground control co-ordinator for the parties, and he got everybody into shape and answered their questions, set the dates, and whatnot.
he would send me a quick run-down of the situation. and sometimes i would just show up at the appointed address and hour and ring a doorbell, having absolutely no fucking clue what i was going to find on the other side of it.
the first party we hit was in grass valley, about a three hour drive from san francisco.
here's what was on the other side of the doorbell: in a house deep in the forest, far from any other houses: a village of teenagers and parents more in love with each other than i've ever seen, anywhere.
i told whitney (and the assembled crowd) that i started feeling what i like to call "family-envy". it's when you drop into a family so much more ideal than your own that you kinda wanna cry with joy and envy in equal parts.
it's reverse schadenfreude. it's freudefreude.
i'll leave most names out it – but the house belonged to a wonderful guy named bill. it was one of those odd scenarios where the whole family were fans: bill, his wife michele, and their teenage son jeff who was a senior (or was it junior?) at a cool local arts high school. their teenage daughter, jeff's sister, died last year. her artwork was on the walls, bill gave me a copy of a zine that her friends had made in her memory, and every at the party, which consisted of about 12 adults and 15 kids, all talked about what a good time she would be having, and how it felt like she was right there, sitting on the stairs listening to everybody play music. it was a jam-filled night: instruments were learned (one incredible guy performed on solo tabla and then gave whitney a tabla lesson, while i tried to teach myself how to gracefully pump a harmonium and did my best nico impression).
i played requests on ukulele and on a little upright in the corner of the living room…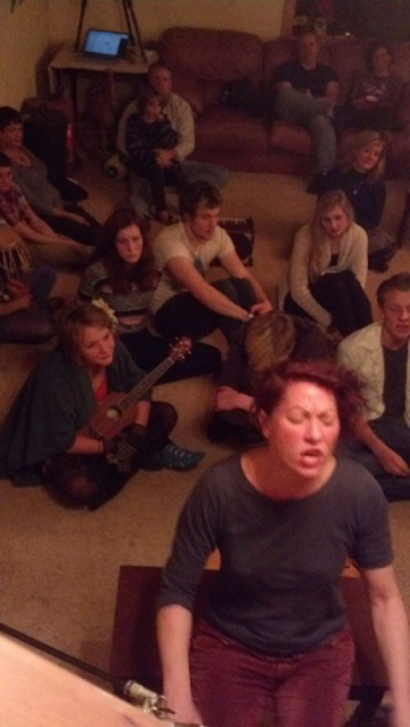 and we took a group photo at the very very end of a beautiful night (click to enlarge)…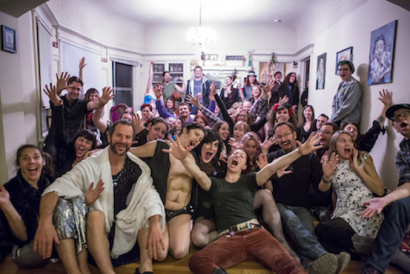 the highlight: playing "lost" and dedicating it dana and her family. the whole room screamed along and – i shit you not – formed a kickline.
i've never before accompanied a kickline for the dead. but that's what it was, and it was perfect and beautiful, and whitney and i drove back to san francisco feeling high and alive.
---
a few nights later, i played at an illegal loft whose name shall not be named for it is to remain nameless, and in order to protect the nameless illegal loft, i shall not post any photos of It. like fight club. but…wait, i'm talking about it.
i'll try and paint with words: somewhere in san francisco is a beautiful building where a bunch of freaks live, play, build, play with lasers (!?), and change the world…and i was honored to be their entertainer for the night.
many locals had pitched in to pay for the party, and the resident evil-doers decorated the basement in my honor and (this is so fucking san francisco) BUILT ME A PIANO to play in a candle-lit room.
it felt and sounded like a frankenstein between a real stringed baby grad piano and an amplified wurlitzer, and it was pumped through an amp that echoed beautifully through the dark room, where everybody sat in chairs or on the floor and didn't discourage me from ordering an endless string of bizarre moonshine and vodka drinks from the make-shift bar at the back of the room. i wound up talking more than playing that night, and the devolution was a glorious one. neil showed up on the very late side and descended into the basement.
that night was a weird turning point. neil has accompanied me to a few parties but i've generally found it doesn't quite work. first of all, he's famous, so people act weirder. and people are already sometimes acting weird around me, and it takes a certain amount of nightly work to unweird them to begin with. and i'm usually pretty good at that, i consider it a skill. drop neil into the equation and the unweirding becomes way more challenging. secondly, i perform differently when neil's around. he self-consciousess me, and especially when i'm trying to be as deep and open as possible, his eyes burn a hole in my ukulele. i keep trying to figure out what it is. we talk about it.
neil considers himself to be an outsider, and he doesn't actually like parties unless he knows everybody intimately or is in celebrity-work-mode and knows he's the main attraction (and therefore, and this is where i think his britishness come into full play, knows the social hierarchy of the situation). but since my mission with the house parties is to untangle and destroy the traditional hierarchy and make everybody feel at ease, it doesn't quite work with neil around. but this space was secret and strange and beautiful; i had a feeling neil would want to see it. he gets sad, usually, if he's actually around and available and i trapeze home at 3 in the morning talking about the magic that just happened. that morning, he had dropped into a slightly freaked-out mood, so i made a deal with the fifty people at the party: if neil came, they had to not bug him. not IGNORE HIM, not PRETEND, but just…not bug him. not special him. not act weird. not corner him and deliver a small speech about their sandman tattoo. everyone happily agreed, and i have to say: i think some people were relived to also be freed of the burden of deal-with-a-celebrity. it is funny, the roles we play. and how liberating it is to flush them down the toilet sometimes. but it's actually only possible in a group small and smart enough to manage it. i don't think i could have accomplished it with 500 people. but with 50, it was easy.
we had an incredible time.
neil and i eventually crawled into whitney's car and i think i fell asleep with my head in his lap before the back car door shut.
---
then there was a party in oakland that featured a TON of other musicians, AND BELLY DANCING, and a host and hostess unparalleled. and drag.
and whitney sang "delilah" with me…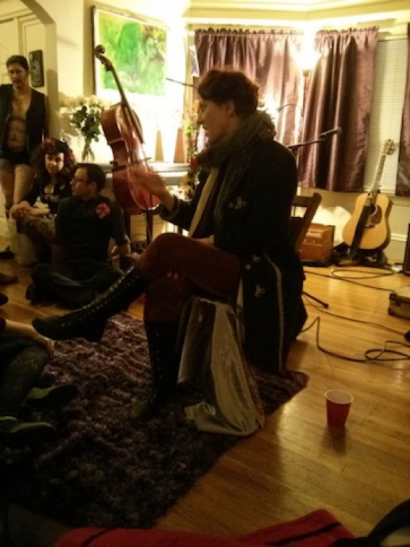 (photo via kimberly mackoy)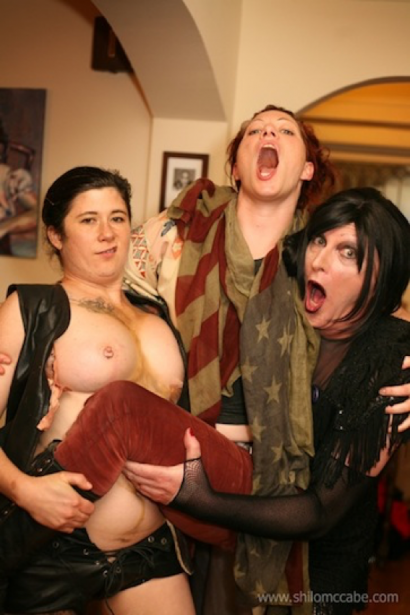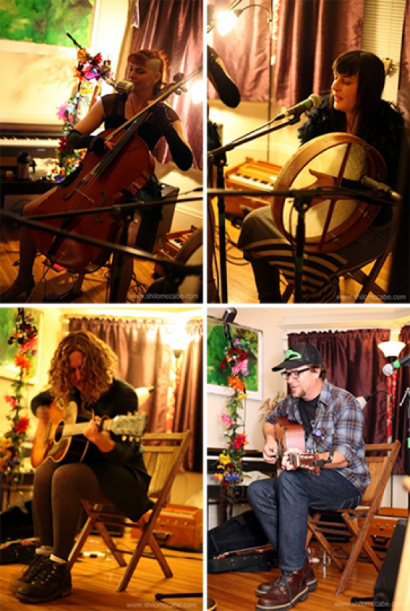 (click to enlarge. bottom right corner is joe rut, and i've been listening to his record since. check out "and the horse i rode in on"…you can find his music HERE. if anyone has links for the other performers, comment, and i'll make sure to add them in!!)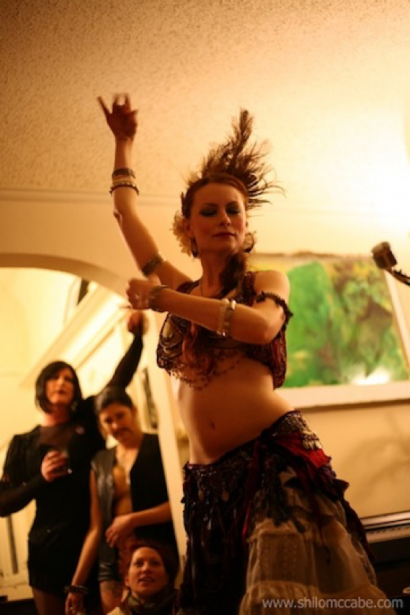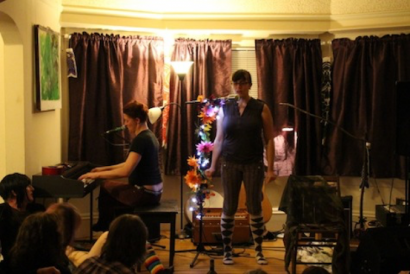 (photo via kimberly mackoy)
post-song HUG ATTACK (photo by almus null, aka boblopezphoto):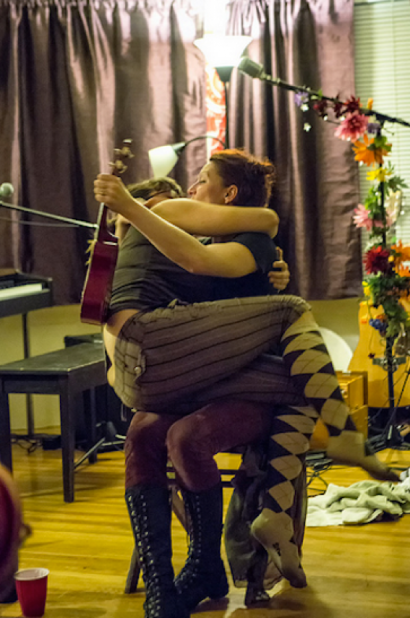 ---
then we flew up to portland and i played a benefit for an INCREDIBLE place called the INDEPENDENT PUBLISHING RESOURCE CENTER, or IPRC.
Josh Gaines and his wife Anna set up the event as one of the loan-based events, and it was magical…
it's got a storied history in portland, and while it's hard to explain what it feels like in there, but it's like a supernatural repository of old, old letterpress machines, a library for zines, plus…with a community center.
people got to pull their own prints of this bad-ass WE ARE THE MEDIA poster. i'm thinking this photo in itself might be a new logo for…everything.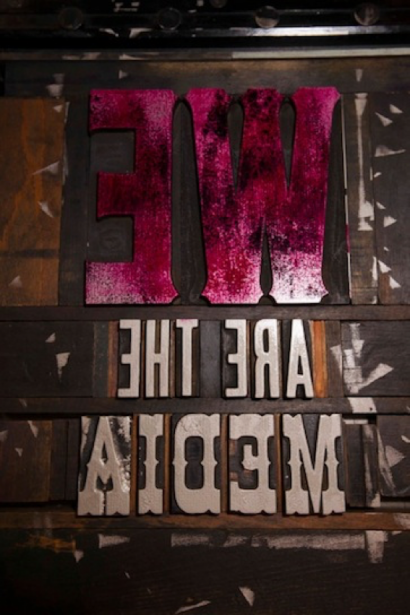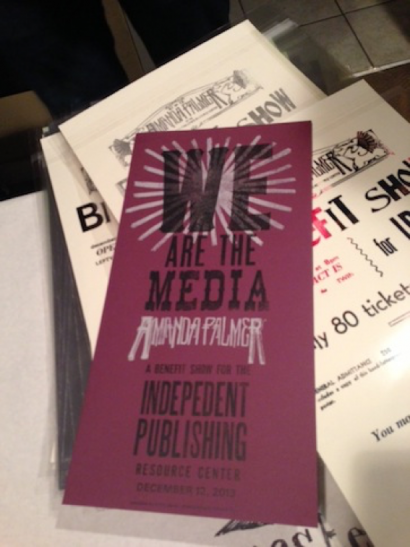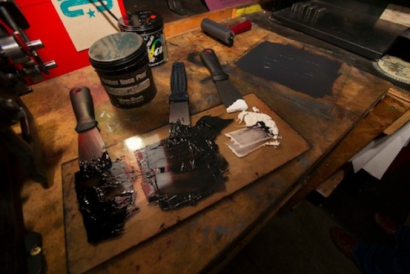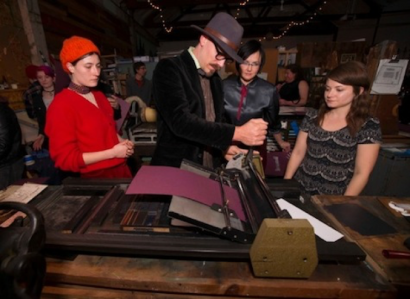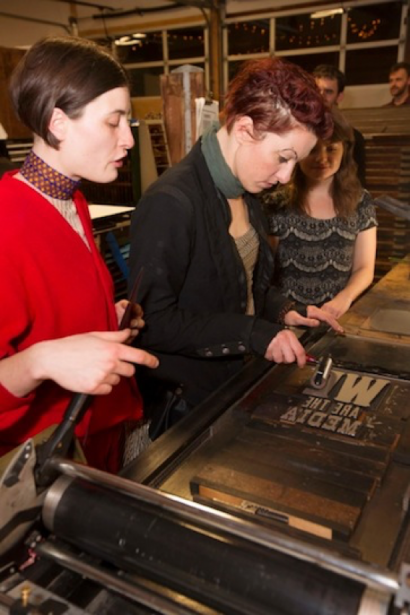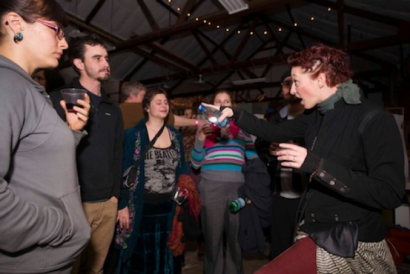 and whitney sang again (photo via anna gaines)…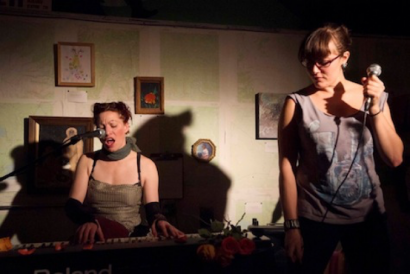 the benefit raised some dough, but if you're local to portland and want to support them (or are just nice in general and want to support an indie)…
this is text from justin, who runs the place:
"IRPC is Portland's own Independent Publishing Resource Center. It's a nonprofit organization providing individual access to tolls and resources for creating independently published media and artwork since 1998.
We've empowered thousands of people to create and publish their own artwork, writing, zines, books, websites, comics, and graphic novels.
We're still working very hard to raise $25,000 through the Willamette Week's Give!Guide by midnight on December 31st. You can visit iprc.org and follow the links or go right to Give!Guide. You can donate at any level, beginning at just $10, but if you contribute $100, you'll be signed up for our Zine of the Month Program, wherein we send a freshly-curated zine to your mailbox each month.
We will also send one of the simple "We Are the Media" Letterpress prints to the first 50 people who donate $100 or more between now and December 31.
IPRC does extensive outreach with youth and teens. Our special Media Action Project (MAP) is designed to help youth transform from passive consumers of media to more active, engaged creators of media. It's very much in the spirit of "We Are the Media." Here's what a recent Media Action Project student had to say:
"MAP helped me rethink my life. Before now, I never paid much attention to the way the media creates unattainable standards of beauty and thinness for women and toughness for men."
– 17-year-old female MAP participant
_____
that's pretty awesome. help them out.
they also have a wishlist of things they could use besides cash.
(if you're local and you've got any of the following, you can just bring it by, otherwise get in touch with them about SENDING):
• Laptops (Apple/Mac, please)
• Copy paper and art supplies
• Vacuum cleaner
• Power Drill and Toolkit
• Table top or industrial perfect binding machines.
• Comfy Reading Chairs
• Yeti Costumes (seriously)
there's more on their wishlist HERE.
either way, local Portlandians should definitely check out this amazing community resource.
it's a wonderful place.
the end…
and this local portland BAND, lefty & the twin, played. they are amazing. LISTEN.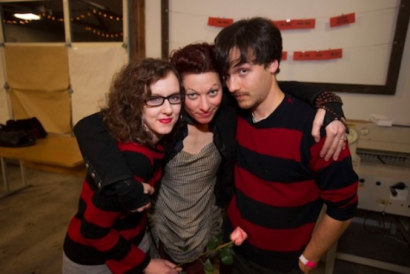 ---
THEN…..we went to LA.
we were getting tired at that point, so i borrowed pajamas from our amazing hosts:


…and we wound up at a mansion in the hollywood hills for the last party of them all.
i invited kat robichaud, fresh from The Voice-land, and we interviewed each other about fame and weirdness in the living room.
and drank nog: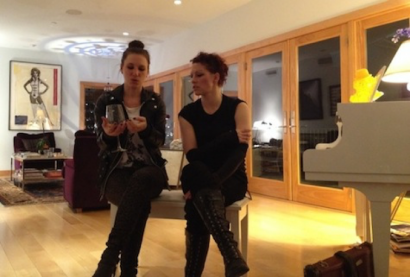 it was an ugly (holiday: optional) sweater party.


ugly sweater-wearers from left to right: gala, whitney, yours truly. our alter egos are peggy sue, val & doreen.
ummm someones at the ugly sweater kickstarter house party didn't get the memo:

in the car on our way there, it was determined that we would cover undone (aka "the sweater song", by weezer).
we did our best. (and if you're wondering, that's gala, one of my favorite teenagers.)
last but not least…
this is me, with the host david, in his bathtub: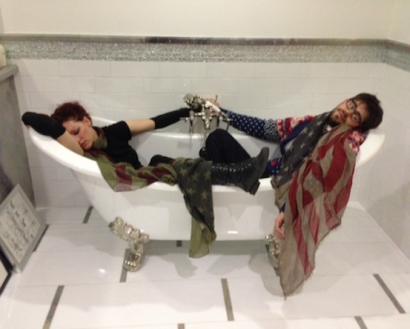 what else can i say?
happy holiday-times to all – i hope you're somewhere safe and warm and full of love…
and i'll see you on the other side.
(or maybe one more blog before 2014 crawls away to die)
x
x
x
x
x
x
a