March 26, 2014
BIL & TED & ASTRONAUT & MILEY & AMANDA & ROLLER GIRLS & SNOWDEN & NSA & FUCKING EVERYBODY'S EXCELLENT ADVENTURE
i warn you, this blog is long. as long as a movie, if you watch all of the associated media.
grab some popcorn and a beer.
ok?
ok.
ok.
holy fuck.
mind? blown.
heart? full.
TED 2014 just ended and i landed back in my apartment in boston in a pile of chaos…
before i go back into massive book-writing mode to get this goddamn thing finished, i'll try to brain-dump all the highlights on you.
it's hard to pick.
i'll start here.
TED asked me to write a song, as a *surprise*, for sir ken robinson.
this year was the 30th anniversary of TED, and so they invited back their "all star" speakers, of which i was one (even though my talk just happened, lucky me) and obviously, sir ken was one.
sir ken has the most VIEWED talk on TED, clocking it at 25,000,000 views. and he deserves it, it's an amazing talk called "how schools kill creativity".
i love this talk; i agree with it so, so deeply, and have watched so many of my creative friends, past and present, suffer because of this kind of "WHAT?! OKAY JUST MEDICATE THE KID!!!" mentality. me included. (and in my case…i did it to myself. i begged for medication and then in deadened my brain. i was lucky to escape).
so when TED asked if i would write a song, i died a little.
i'll give it its own blog soon and tell the whole longer story; for instance, sir neil who-isn't-a-sir-yet-but-damn-would-it-make-his-mum-happy gaiman started the lyrics i jumped off from (and used some of). it's complicated, this song…but for NOW? just believe me, it was heart-wrenching, and sir ken ACTUALLY LIKED IT SO MUCH HE ASKED ME WHEN I WAS GOING TO RECORD IT. so now i have to fucking record it. motherfuck.
i'll let you all know when it's a thing that you can hear (and read about).
here we are eeeeeeeeeeee (photo by @SaraRamirez)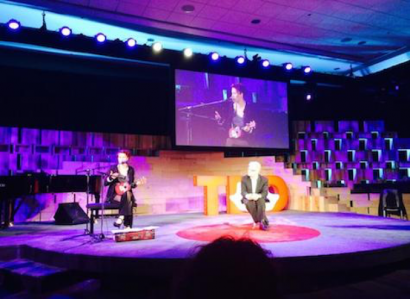 ---
TED itself?
god
damn.
i attended beautiful, intelligent, outside-the-box, and historic talks. TED keeps outdoing itself.
and it bears repeating from the last blog; edward snowden beaming in to talk to chris anderson about the internet and freedom:

(and the other side of the coin…)
chris sent out a universal invitation for the NSA to speak back. here he is grilling richard ledgett, deputy director over there, who beamed in to respond:

(btw, there are many, many more pics from talks i loved, over on my instagram – try and earmark those names so that you can watch their talks when they hopefully go up, soon)
what was even MORE amazing is that edward snowden walked, well…ROLLED…WHATEVER…WANDERED AROUND THE TED LOBBY in robot-form and chatted with people.
that felt just as historic as the content itself. and just as unsettling. here's a chick taking a selfie with edward-the-bot (via ted.com):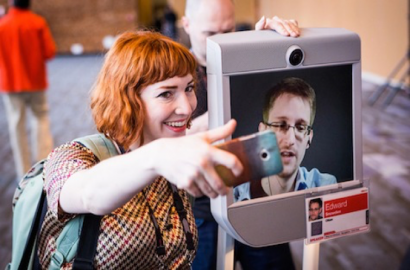 ---
this happened: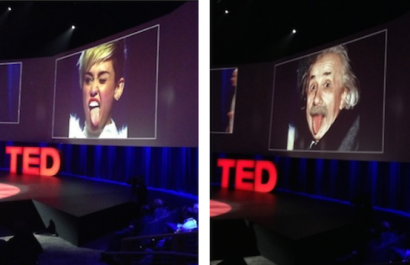 and i will not tell you WHY.
---
there was an amazing moment with gabby giffords and her husband.
that gets its own blog. it was too emotional to bury in here.
---
here's one from a skype-conference session on crowdfunding with neil, myself, and yancey (the CEO of kickstarter). lots of brains. and look at the beautiful fucking water and vancouuuuuver behind us…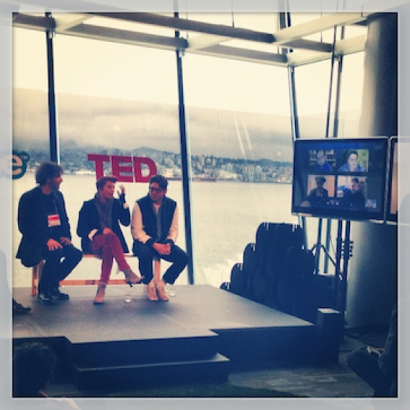 (it's up on the TED site HERE but i warn you the audio is a little shady. i'd recommend it for people really interested in the nitty-gritty of kickstarter and crowdfunding).
and chris hadfield, everybody's favorite david-bowie-playing astronaut, talked about being blinded in space.
---
being me, i wanted to ninja. so as you probably saw in my last blog, i put out the call for a SPACE – to see who'd respond.
the vogue theater put up their hand, and said they'd donate the venue to us on wednesday night. i tweeted the vancouver food bank and told them to come and collect money.
then i just needed some acts. i had neil gaiman and jason in the bag (not in the SACK, in the BAG, you dirty clowns) and geoff berner, a great local accordion-slayer/musician i knew through jason.
here's the thing:
this was TED's first ever year in vancouver. people don't know much about WHERE and HOW the actual filming of TED happens – but it's moved around.
it was in monterey for many years, then long beach (where i did my talk last year), and now they're trying to set up a hopeful long-term home in vancouver.
despite their attempts to do some simulcast feeds…TED – with an attendance ticket price of around $8k – was still very much separated from a lot of the people living AMIDST it.
it was in a giant conference center on the water and there really isn't much cross-pollenating between the peoples of TED and the peoples of the town. which seems like a waste to me: you have ALL THESE AMAZING THINKERS AND PERFORMERS and they're all free at night, since the conference ends at around 8 every evening. WHY NOT PARTY WITH THE PEOPLES?
i thought a ninja gig would be a good way to crush the fence. i think it worked, at least a little.
everybody showed up RIGHT BEFORE the doors opened – we had a two-minute meeting in the dressing room, and then everyone just SAT on the stage and i made the order up as we went along.
here's what ended up happening, just in a LIST…
ORKESTRAR SLIVOLVICA, a TOTALLY awesome local punk-roving-honk-style marching brass band from vancouver, shouted out their desire to come make noise on twitter, and the answer was YES, so they came and entertained the line and then became the house band.
they are:
Oliver Schneider
Kristina Zalite
Michael Louw
Ashton Sweet
Jonnine Mahonen
Morgan Bartlett
Sean Veley
Juliet Andrien
Luke Moore
Jack Garton
Stefanie Brendler
the orkestrar overturned many chairs, as i had asked them to haul some chairs up on stage so they didn't need to sit on the floor with their instruments…and they (perhaps being from an orchestra/school band background?) set them up all orderly.
and when i first took stage (hooray) i despaired.
i was like NO NO NO!!!! the stage must look chaotic!
everything is too fucking organized.
so one brave horn player picked up a chair and threw it across the stage.
i would like to thank that horn player. she was very handy for the rest of the night, throwing chairs.
then:
• i played a bunch of random songs/requests…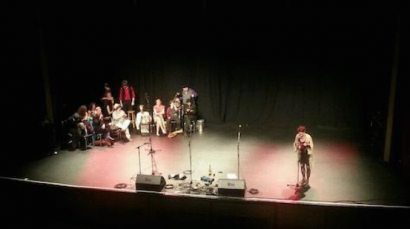 • michael cummings from BIL, (more below) came and spoke about the event…
• kay from the vancouver food bank came on stage and talked about the work they were doing…
• i did a quick interview with amy cuddy (here's her TED talk) and we did some POWER POSING with the whole audience (photo by mikala taylor)…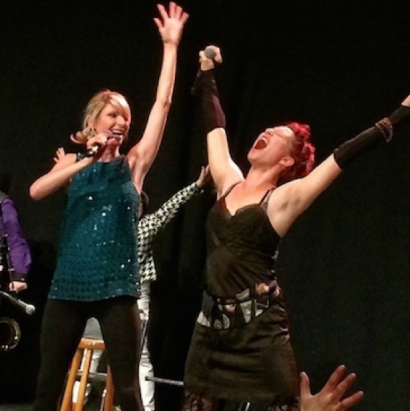 • neil gaiman read a story, and interviewed chris kluwe, the football star/LGBT advocate…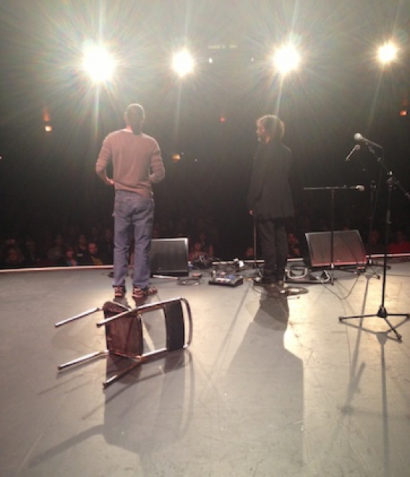 • i did a quick interview with del harvey, one of my favorite people from twitter, on the heels of her AMAZING TED talk about twitter security. it's not up yet. here we are with neil and chris: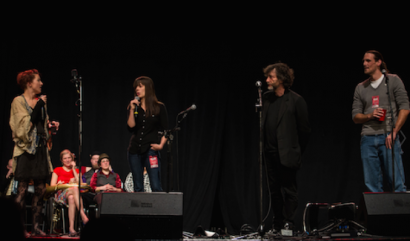 • jason webley played the accordion and told us a story about a giraffe…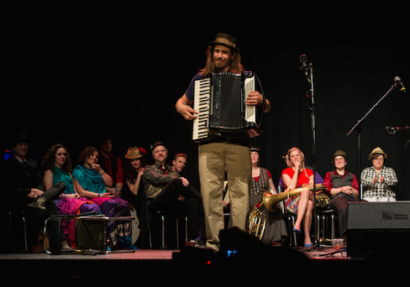 • geoff berner (accordion) + sam parton (@samparton/banjo) the local heroes…
• sarah kay, who had just performed at TED, did a great spoken word piece
• all these young musicians who are TED fellows (which is a kind of TED scholarship) played: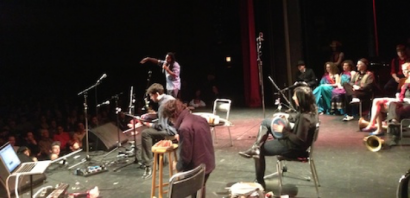 pictured, above…
– David Moinina Sengeh (beatboxing)
– Usman Riaz @usmanriaz1970 – guitar / harmonica (MIND BLOWWWWWWN)
– David Moinina Sengeh @dsengeh – rapper (really he uses 3D printing to make prosthetic legs)
– Bora Yoon @borabot – sonic architect (HERE's an amazing clip of her at the gig)
– Susie Ibarra @susieibarra – percussion
– Dan Visconti played an iPad.
and IMOGEN HEAP made the whole crowd SING!!!!


• imogen heap (keytar, etc)
and, last but not least….
• chris hadfield, the astronaut, brought his guitar.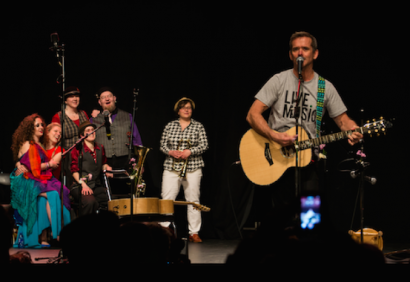 THE ASTRONAUT BROUGHT HIS GUITAR!!!!
THE ASTRONAUT BROUGHT HIS GUITAR!!!!
THE ASTRONAUT BROUGHT HIS GUITAR!!!!
he played a song he'd written on the space rocket, called "feet up" (here's one person's video and here's another)…
here is the orkestrar and my feet as he sang and the orkestrar listened…
just because, feet up: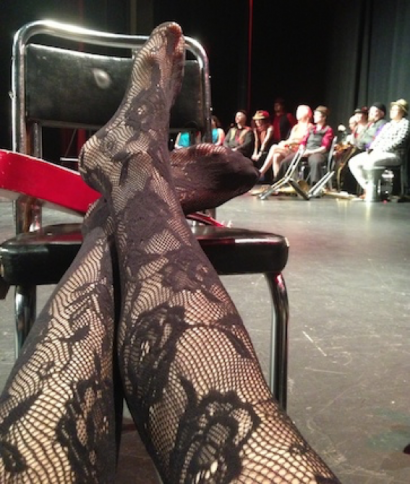 and then, as the entirety of the vogue theater sang along AT THE TOPS OF THEIR LUNGS, chris sang "space oddity" (clip 1 / alternate version)…
AND HEARTS EXPLODED EVERYWHERE. SPACE HEARTS ON THE CEILING! SPACE HEARTS ON THE FLOOR!!!!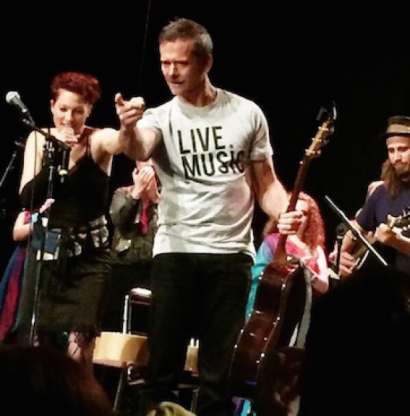 but then, but then, but then.
jason, in the dressing room before the show started, learned "astronaut" on his guitar…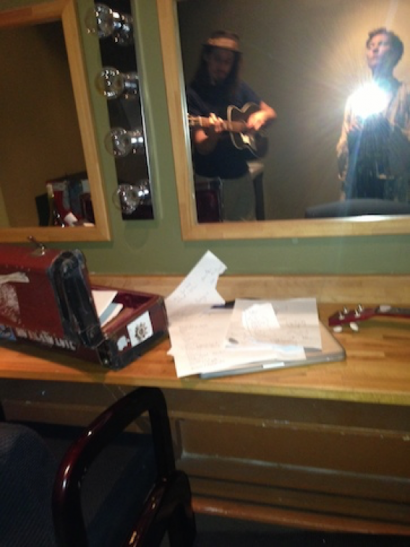 AND I SANG ASTRONAUT FOR AN ASTRONAUT.
let's not even start with the emotions here.
i just can't.
and here is me, giving the astronaut a flower: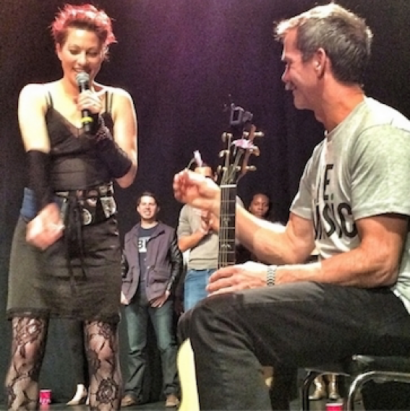 everyone kept asking me why i couldn't just call him "chris".
i was like: because he's the astronaut, goddamnit
let me enjoy it, will you?
---
so, damn. all of those people. through twitter. in almost no time, two days…
it was such a beautiful fuckshow.
it was the best ninja show EVER EVER.
you risk? you ask? it always comes together.
it's like crowdsurfing an entire NIGHT.
fall, catch, fall, pass. things fail. you love the fail. whatever.
however…the people (the magic magic people) who actually made it happen were probably not, and never can be, thanked enough.
FIRST OF ALL: everyone who came! and stood in line for hours!!! THANK YOU.
and, goddamn…the vogue theater, WHO DIDN'T HAVE TO GIVE US THEIR SPACE, for fucking FREE, did.
a theater like that can cost $10,000 to rent. so to shea at the vogue: you deserve the biggest thanks of all.
sam who runs the vogue twitter feed also kicked ass, tweeting and spreading the word! thank you.
we passed the hat for the vancouver food bank – and when i say WE, i mean an incredible combination of food bank volunteers and random volunteers from MY twitter feed who shot their hands up to help – and we made $9,627.88 (which, with their buying power, because people match donations, is actually $28,883.64)!!
so, fuck yeah, vancouverites.
Official tally from last night's #NINJAvan is in: $9,627.88!! With our buying power that's $28,883.64! @amandapalmer @VogueTheatre #grateful

— Vancouver Food Bank (@VanFoodBank) March 20, 2014
the power of the hat pass.
and this wonderful angel from out of nowhere, sarah shandl, raised her hand on twitter the night before just asking if i needed stage management help.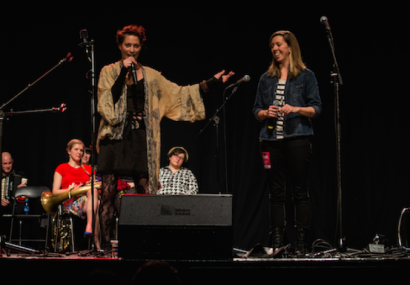 ARE YOU KIDDING? i said. and in the next 24 hours, we exchanged over 100 texts and emails and lists…
she handled the guests. then made sure the late-arriving TED-speakers could get in. she did a quick conference call with the venue and the food bank.
she arranged backstage drinks and food. she was an instant life-saver from out of the fucking blue. i was like: this girl is the ultimate fan. she must love my music a fuckton to take an entire day out of her life to do all this crazy shit. she even roped in a friend of hers, cristy (thank you!!!) to help with the crazy guestlist of TED people.
it wasn't until three days later, when we took her out to lunch to thank her, that she made her confession: she'd never heard of me.
SHE HAD NEVER HEARD OF ME.
or my music. after i roped her in, she googled.
and she was like, cool.
she just saw that someone was putting on an event and needed help.
AND SHE JUST…DID IT.
i thought this was, quite possibly, the best thing i had ever heard in MY WHOLE LIFE.
sarah: people like you are…miracles.
fyi, especially if you're a vancouver-lover, sarah runs the twitter feed @vancwelove and here's her website.
it's a sort of a shirt-crowd-smash site that does beautiful things to connect people, and vancouver-love. go see.
people order these vancouver shirts, to prove their vancouver love, then upload them to the site from all over the world.
here's the terminal city roller girls (photo by paul kovach):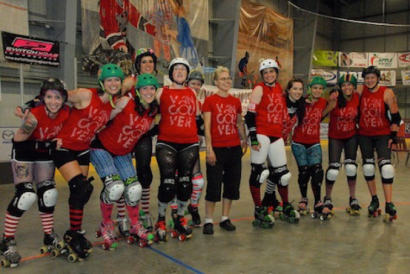 i mean, come on.
and lastly but not leastly, this was one of my favorite little ninja moments from the week: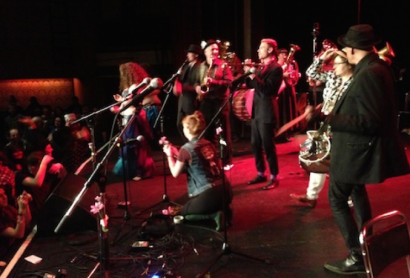 during the spontaneous intermission we took so people could pee (and the brass band played! and their belly dancers DANCED!!!) – this girl wanted to say hello. someone had just given me a bouquet of flowers. and so i hugged her and somehow she wound up decorating all the mic stands with flowers and gaffer tape borrowed from the venue. god I love life.
so whoever you are…thank you, flower girl.
okay…last one…
someone who's a better writer than me wants to share an editorial written by travis lupick (@tlupick) for @georgiastraight/@straightmusic…because he nailed it – NAILED IT – and it's a great feeling to see people out there coming to be a part of these things and GETTING IT.
so thank you, travis. i'm sharing your piece, below.
and again, thank you to everyone who came out.
you made the night really special, and you did some awesome shit for your community in the process.
love.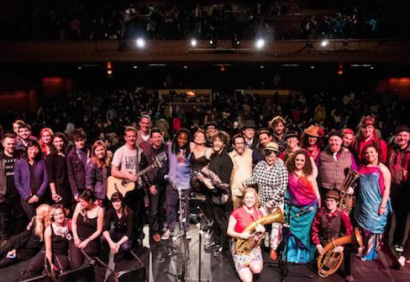 (via @plesko)
---
WITH PEOPLE LINING up outside the Vogue Theatre more than five hours before Amanda Palmer was scheduled to take the stage, #NinjaVan was almost as difficult a ticket to score as TED2014. But with a Palmer wristband only costing you a donation to the Greater Vancouver Food Bank Society, it was definitely a cheaper evening than TED's US$7,500 sticker price.
Standing in line for a few hours in unseasonably cold weather last night (March 19) was worth it, considering Palmer brought what seemed like an endless stream of TED speakers with her (seven, plus significant other Neil Gaiman, to be precise).
A determined 1,100 or so were let inside the Vogue around 9 p.m. and feeling warm and fuzzy soon enough.
"Ladies and gentleman, welcome to our fucking mess," Palmer offered in the way of a greeting.
Organized on less than three days' notice, the evening was a bit disorganized—"beautifully structured chaos", in Palmer's words.
Wine and a bottle of Writers Tears whiskey didn't last long after it found its way into the hands of a Vancouver's Orkestar Slivovica brass band, which opened the event and hung out on stage for the rest of the evening. There was a whole lot of kicking over furniture. And TED speakers with a collective Twitter following to rival Katy Perry flopped around stage-left, flirting with one another in the quirky genius way that they will.
The whole thing wasn't so much a concert but closer to how I imagine a dinner party unfolding at the Palmer-Gaiman household. And that of course suited everybody in attendance just fine.
After Palmer opened things up with "In My Mind", Gaiman appeared as the evening's first surprise guest. He deliver an uncomfortably amusing rendition of Elvis Costello's "Psycho", a number Gaiman and Palmer performed together in public for the first time ever during a previous trip through Vancouver.
Long-time Palmer tour-buddy Jason Webley was there, too. And he sang an adorable song about a life goal to acquire a giraffe.
Next up was the first of a trio of TED speakers. Chris Kluwe, a former American football player turned equality advocate, talked about empathy, augmented reality, nuclear explosions, and high-school bullies. The "most peculiar and unexpected" of the people you meet at TED, was how Gaiman described him.
Kluwe was followed by Del Harvey, Twitter's "head of safety", who explained that it was largely her job to save us from ourselves. And he was followed by Imogen Heap, a London-based musician who managed to turn the audience into a surprisingly good-sounding trio of backup singers.
Taking a quick break from the TED theme then, Vancouver accordion virtuoso Geoff Berner delivered a lesson in how to say "fuck the police" in Russian. (Daloy Polizei!)
Back to TED: After a three-minute intermission, a beautifully talented group of younger musicians associated with the TED Fellows program did things with strange instruments that you almost had to see to believe. Unfortunately I can't read the names that I scribbled down in my notes for them but if somebody helps me in the comments section below I'll update this paragraph. (Update: Those TED Fellows in attendance were Usman Riaz, David Moinina Sengeh, Bora Yoon, Dan Visconti, and Susie Ibarra. Thanks to Lucianne Walkowicz for supplying those names.)
After the fellows, Amy Cuddy of Wonder Woman fame—who once worked as a waitress on roller skates, in case you didn't know—goofed around with Palmer for a bit and brought everybody in the room to their feet for a few minutes of extra testosterone and cortisol.
Sarah Kay, who's spoken at TED conferences a few times now, then delivered a spoken-word performance inspired by the passing of Nelson Mandela.
Going sort-of anti-TED at this point, Palmer brought Michael Cummings onto the stage. Cummings has helped put on the "unconference" called BIL since 2008.
Delivering one of quite a few surprises of the night, Palmer revealed that she'll be doing something at this Saturday's BIL event (March 22), and that Gaiman will also be making an appearance. (Tickets for this event are pay-what-you-want, so if you missed the March 19 #NinjaVan gig, here's your second chance.)
Palmer then took a minute to address criticisms of TED's rather steep ticket prices. "Am I sucking the dick of the Illuminati?" she wondered aloud? No, she decided, TED shares ideas online for free and that's a good thing.
#NinjaVan's final guest received the loudest round of applause of the evening. Canada's astronaut-turned-superhero, Chris Hadfield, delighted the audience with a cover of a certain David Bowie song that I'll leave you to guess the name of.
Things then took a turn for the surreal, with Palmer performing "Astronaut" for Hadfield while he took a seat at the side of the stage and obliged fans' requests for selfies.
Finally, "Ukulele Anthem" brought the evening to a close, possibly a little later than the Vogue is used to staying open, but definitely before people were ready to go home.
Yes, it was all exactly how I imagine a Palmer-Gaiman dinner party going down.
---
and here are some other great write-ups from the week/#NINJAvan…
• vancouver observer
• huffington post
• wired
i'm so thankful all these journalists came out to cover the event.
what's so amazing is that they all just…came.
they saw it on facebook and twitter, and they came.
so rad.
---
neil, jason, and i took part in BIL (the populist answer to TED – an unconference for everyone)…BIL has been going for a few years, as a FRINGE, free alternative to TED (get it?)
i hope that BIL continues to play fringe to TED's festival. it's vital, this shit.
anyone can show up and talk, anyone can share their voice, anyone can attend (it's pay what you want).
all OUR talks will be uploaded by BIL. but here's some picamatures…
neil talked about the importance of horror and writing… (photo via @backstagerider)

and jason and i talked and did a q&a with the peoples of vancouver about artistry and money and street performance and how musicians and artists feel weird about money. (via @backstagerider)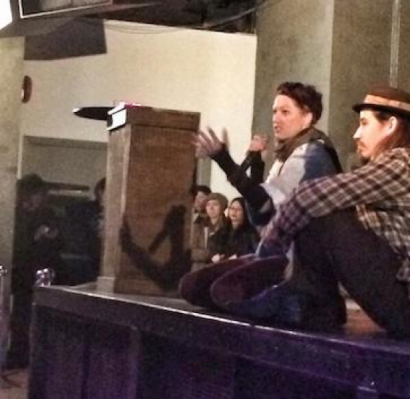 specific enough for you?
exactly. well organized it was NOT. so it was beautiful.
and jason had written an amazing song for TED called "WHY?" (that was the "title" of his session at TED, the clever, clever man)…and played it at BIL.
(he'd also pulled it out at the ninja gig).
jason is one of the smartest people i have ever met.
every time he writes a song i want to live a little more.
and with that…
WHY????
BECAUSE.
BECAUSE.
BECAUSE.
x
afp
p.s. if you're in SOMERVILLE, i'm going to be at TEDx this sunday, the 30th at 3pm (though the event kicks off at noon). TEDx is a satellite mini-TED-conference with local speakers and performers. yes, i have drunk the TED kool-aid. it tastes amazing. tickets, directions, info on the speakers – ALLLLLL of the things – can be found tedxsomerville.org (or on their facebook and twitter)
p.p.s one more thing. BE EXCELLENT TO EACH OTHER.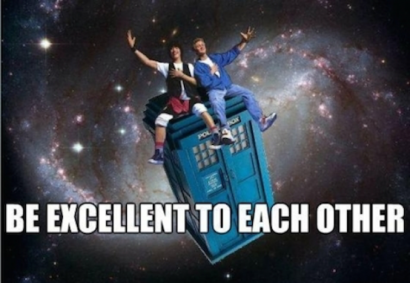 p.p.s.s. last one, for real. here's some random bonus extra stuff from #NINJAvan!!
this is (aka @k3r3n3), a fan from tel aviv and fellow TED speaker: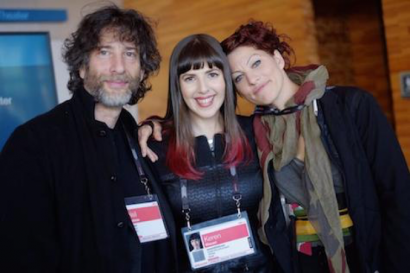 her talk isn't up yet, but SHE WAS AMAZING. check out the press she got.
VIDEOS
• in my mind (me)
• psycho (neil and i)
• hide and seek (imogen)
• "highlights reel" (everything)
MORE PHOTOS
• you can find a HUGE GALLERY from the evening HERE, thanks to partyselfie.com
• and another big collection HERE (and below)…most of these (and a bunch above not taken by me) are via @A_Stephen_Gray…thank you, stephen…