February 11, 2011
when texas met new zealand on an unknown beach.
and now, for something completely new zealand. you australians have been getting all the love lately.
if you were following the blog back on the dresden dolls' tour in november, you'll remember our crazy pitstop…in which me, two crazed hungarian filmmakers, casey long, and an ex-bride toting a wedding dress needing an exorcism hopped in a truck and drove from houston to GALVESTON, TEXAS home of some of the worst natural disasters in american history, and we made a ninja video.
the song is from the "down under" record, and it's unlike anything else on the album…..
if you thought the record was all vegemite, merkins, and sparkly vaginas, you're missing half of the softer, sadder, introspective side.
there was something perfectly poetic about shooting this video for a song about an isolated soul on an isolated, sorrowful beach in new zealand on…an isolated and sorrowful beach in texas.
here's tamás and jános, shooting the clip, photo by casey long: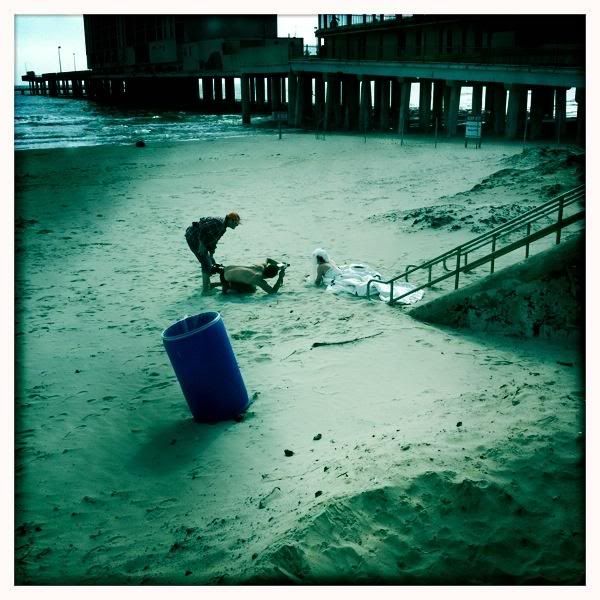 the song is called "on an unknown beach" and it's one of my favorite songs by one of my favorite songwriters, new zealander peter jefferies, off his album "the last great challenge in a dull world":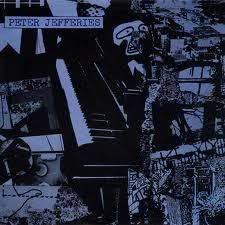 this album, along with this one:

…were two huge mainstays for me in my late teens.
i was about 18 or 19 and at wesleyan when i met dan sutton, the guy who introduced me to peter jefferies.
dan was a HUGE musicphile and ran his own fanzine, called Anhedonia, and he reviewed countless obscure indie CDs from all over the world. he was one of those guys who was the absolute superman of obscure indie bands, spreading the word to the masses about good music that you'd never hear of, since we did not have The Internetz.
here's a picture of dan, aka danhedonia…it captures him well:

i was on christmas break and home for break, walking down the streets on harvard square wearing a tri-cornered hat that i sported for most of that year.
as i recall, that was the year i had no friends. it was a lonely year.
dan passed by me, as i trudged along the brick sidewalk of mt. auburn street in the snow…i was, as memory serves, probably also sporting purple hair and a flowered frock with doc martens, wearing a military coat, smoking a clove cigarette, and looking generally desperate for friends but utterly unable to have any.
he turned around about ten paces after passing me and called after me: "YOU POOR GIRL, WHO MADE YOU WEAR THAT HAT??"
he said, later, that he assumed i was forced to wear the hat for some miserable cambridge tour guide job, where they force you to wear period dress.
i stopped, stared him down and said, defensively, "it's MY hat."
i think we spent that very night together, and the rest was history.
his walls were literally covered with CDs from all over the place. he lived with his walkman on. 
he introduced me to the magnetic fields. and eventually, he introduced me to peter jefferies.
he'd heard my songs (i must have given him my demo) and he gave me both peter jefferies CDs, saying: i think this is up your alley.
listening to peter jefferies changed me. the only other artist who'd changed me quite so much was kurt weill, who i'd discovered 4 years before that.
but in both cases, the change was similar: i hread music being played the way i heard it in my head, and i felt less alone.
peter jefferies was (and remains) a relatively unknown new zealander.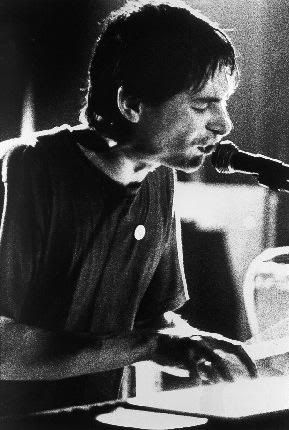 he started a post-punk band called Nocturnal Emissions, with his brother guitarist Graeme Jefferies, in 1981.
then the two brothers started This Kind Of Punishment in 1983 and put out a few more records…then peter went solo, and produced the albums i mentioned above.
he was a drummer who switched to piano. the songs were simple and passionate and loud and punk and really, really honest. the poetry hit me.
the thing that caught me, i think, was the way he used repetition and just BANGED THE SHIT out of his instrument, totally non-pretensiously.
at the time, that's the way i heard music i wasn't hearing any one else play that way. i played those two records into the ground.
since it was pre-internet, there wasn't much else i could do…there was nothing else to find out. i just always checked the J section of my indie record store and waited patiently for more food.
i've tried to contact him through every channel i can think of (including writing a letter to the school in new zealand where he reportedly now teaches drums) but i think he doesn't want to be found.
if you know him or know someone who knows him, send along my regards and my undying respect and thanks…and tell him i covered his song on my record.
also invite him to my auckland show. he gets in for free.
if you're interested in grabbing those two albums, sean suggests:
• amazon
• musicstack
• cduniverse
• ebay
unfortunately, there's not an easy way to get the records wherein peter will actually see some money from 'em, most everything out there for sale is second hand…crafty folks could probably find most of his catalog via torrent, but either way, just make sure to listen and spread the word.
and here's the song:
i love it…it captures something inexplicable, like good music can. it's a pretty faithful cover, but i figured a faithful cover of an almost-unknown artist is forgivable.
plus i'm a girl.
here's a photo to go with the words while you listen/read along&#8
230;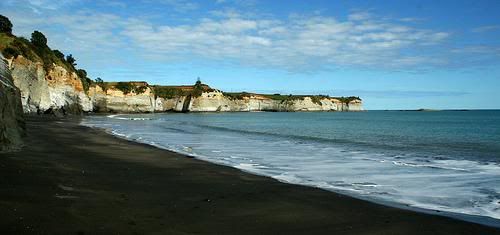 via flickr
I'm a pale intruder on an unknown beach
My back to the water 
My feet in the sand
Finding no recognition as each sign of life 
Invades the precision of this ageing land
An abandoned flipper in a world of stone
There's a man on the shoreline with a white parakeet
Trying to make his bird go home
With increasing continuity, endless space 
Gazes 'round the periphery not disheartened
Wearing its most inexpressible face
My instinct is double as the waves roll by
But my vision is halved
In the foam in the green as
The insects talk to the blazing sky
Wax in the ear
Stitch in the side
Wolves are feast for the blind
Under and over
The why and the wherefore
Easy to sit back with time
Driving discussions like cranes through the car park 
Setting them all in a line
All interceding
Not yet receding
Misleading doubts
In the mind
I'm a pale intruder on an unknown beach
My back to the water
My feet in the sand
Needing no recognition as each sign of life
Invades the precision of this ageing land
if you've never been to new zealand, it's hard to describe the overwhelming beauty (and weird loneliness) of the cliffs versus beach landscape…i can't wait to get back there in a few days. if you live there, and haven't gotten tickets, i'm in auckland, wellington, christchurch AND might do a ninja gig in NAPIER of all places. follow the twitter feed. tickets are HERE.
LOVE
AFP