April 4, 2014
The Town Hall Discussion CONTINUES – please add your voice.
if you were following along, i went to bittorrent in december and held a Town Hall/Future of meeting, arranged by my old friend conor, and, along with zoe boekbinder and a hundred or so local san franciscans, chatted about All Things Internet and Music and played a few songs for a good hour and change.


while i was there, i also did a Q&A with CNET's seth rosenblatt (@sethr) about "spotify, kickstarter, and whether the music industry is killing the musicians it needs"…it's a nice companion piece to what i'm about to share, so perhaps give it a read after: bit.ly/AFPsModernNightmares
the whole meeting is now available for free streaming and download here, as a bittorrent bundle. they also wrote a beautiful blog, which you can read here.
in it, you'll get five videos including the whole town hall/q&a AND if you register your email, you'll unlock:
– my performances of "bigger on the inside" and "the thing about things"
– zoe doing two songs, "i don't need a machine" and "saltwater"
they're all in HD/mp4 format (which should be good for most all of you), and in addition to the musics you'll have well over an hour of zoe and i talking about music, technology, MAKING things, the art of LISTENING to others, and………we cover a lot. also: since my friend conor is the one that made this all happen, we are dedicating this whole project to him. as bittorrent says on their site, he "made transformative things not just possible, but everyday. And we hope that we can offer a reminder. We are always here. And there is always help. For anyone who wants to make a difference, we encourage you to make a donation, or volunteer time, to SF Suicide Prevention, or the National Suicide Prevention Lifeline."
a sampling:

here's what i'd love, if i may ask:
watch the meeting and weigh in on the topics…continue the discussion.
i've been talking with a lot of artists and musicians about this very thing, and it's been coming up as i write The Book.
kickstarter is a magnificent tool, though there's a level of burn-out and "running a kickstarter-merch-business" exhaustion on the parts of the artists who are trying to make a sustainable living.
yancey, the CEO of kickstarter, even addressed this at our roundtable-discussion about crowdfunding at TED.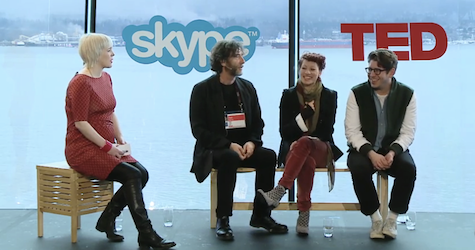 it was never supposed to be about useless stuff and trinkets: it was supposed to be about THE PROJECTS and THE SUPPORT.
yancey points out that certain trends of certain successful kickstarters can (and have) pulled focus.
lately i've found myself – when approached for crowdfunding advice by other artists, journalists, and makers – thinking very critically about WHAT will work best for WHO.
different strokes for different artists who crave different levels of connection. everybody has different lifestyle and career goals. it isn't, and never will be, one size fits all.
for some people, i suggest they try subscription over single-project crowdfunding project…a few months ago i got a message from a irish journalist, lyra mckee, who wanted some kickstarter advice. she had a readership, a fanbase, and she wanted to tap them for support to deeply research an upcoming article.
i suggested that she use patreon, where i'd just watched another journalist, cara ellison (who writes games criticism) bypass the old-school system.
she went direct to her readership and now, with the help of 411 ongoing backers, gets paid about two grand every time she publishes a review.
look: patreon.com/carachan
see?
THAT IS AMAZING. no?
so lyra, my advice-seeker, went to check it out and discovered beacon reader. it's sort of like patreon (a direct-to-audience subscription service) aimed squarely at WRITERS.
she launched her campaign – beaconreader.com/lyra-mckee – and now, with 218+ backers, she has over $5k to write this current article (about the final weeks of robert bradford's life), as well as about $1500 in "recurring" support – people who are just willing to PAY HER TO WRITE.
this is the shit i'm talking about…where she doesn't need to launch a new campaign or come up with any rewards every time she wants to write an article.
kickstarter is still PERFECT for big, one-hit projects. and some small one-hit projects too, of course. but for people like her, or people who want to just make music allll the time and not deal with mounting campaign after campaign, i think you're going to be seeing a lot more of this sort of thing.
the idea of crowdfunding has gotten everyone used to the IDEA of direct support. and this is Next Level shit: the ongoing, committed backer, the "i'm in your corner, permanently" kind of patron.
so please, read the blog, watch the Town Hall meeting,
and
please, please weigh in, if you have ANY thoughts, experience, input…
have you…
used patreon?
used beacon reader?
have you ever "subscribed" to an artist (jill sobule, they might be giants, jonathan coulton, kim boekbinder, etc)?
have any thoughts on the pro and/or cons about any of this?
do you hear a lot of misconception, still? (i.e. people saying crowdfunding is "charity" and such)
i am all ears. hit me.
i'll be reading comments here on the blog, on facebook, and on the bittorrent website.
if you're unsure about where to comment, use my blog on amandapalmer.net – it's the most neutral homebase (as don't forget, not everyone wants to use or even HAS a facebook)…but please don't feel like you have to limit discussion to there, either.
i'd like to pause here and say that none of this would have happened without conor, who, many of you know, took his own life only two weeks later (i wrote about that here).


(conor, via facebook)
he would want us to keep sharing – this is what he was all about.
he was that kind of guy.
allow all connections
forever.


xxx
AFP
p.s. if you missed it when it went up a few months ago, here's zoe and i covering the clash at bittorrent after the town hall:

and here's connor and i, after i busted my lip in the mini-office-moshpit during afformentioned clash cover: