March 16, 2011
AFP on your TV. "last call with carson daly", late tonight!!!
subject: AFP on your TV. "last call with carson daly", late tonight!!!
greetings from the beyond.
if you want to have your little dome-piece blown, watch me appear on network TV. matter! anti-matter! colliding!
honestly? i hadn't been in LA to do network/mainstream-style TV since the dolls did jimmy kimmel a few years ago.
carson was a really amiable guy (i knew almost nothing about him) and we chatted endlessly about twitter and the balance between life, on and offline.
i don't know what made the cut (the segment is supposedly only 6-8 minutes), but we filmed for a good 45, and there was some choice shit to edit down.
it comes on around 1:35AM TONIGHT on NBC (right after jimmy fallon). yes, because of how late the show airs, that's technically the 17th, but it's considered the march 16th episode. we'll be sure to tweet up a storm of reminders so you can watch/set your DVRs accordingly, PLUS @indeciSEAN's going to be giving away some prizes to some of the people who tune in. party on the internet. with the tv. keep your eyes on this thread on the box, and also follow @AFPwire to see the various ways you can win stuffs.
so. my fine old friend, the impossibly stylish katie kay (@misskatiekay), came in to style me and brought some seriously choice duds.
she now runs her own store and online empire: gatherla.com…their main shop is located in downtown LA and stocks a shit-ton of clothing and jewelry by some amazing local designers. they're also working on a second location (opening in april in silverlake) which is going to focus on furniture and housewares. AWE. SOME.
the dress i wore (it's the black "space tribe" dress) for the main interview segment was by up-and-coming designer Ai for Ai, and the shoes were by (my fav) john fluevog. you can find the dress (and lots more incredible goodness) at here on gatherla.com, and fluevog have a smattering of stores around the world, but also sell via fluevog.com…
and, if they KEPT the piano segment in, the coat i have is by kambriel (@Kambrieldesign).
we shot on location in a weird little just-kitsch-enough-to-be-awesome bar in hollywood called cafe was, owned by a guy named ivan who came to the shoot and presided like a godfather.
i MUST return and do a ninja gig there, there's a grand piano and lots of nooks and crannies for making out in.
here are some pics from the shoot, all taken by superkate on my iphone:
gettin' all made up by carson's team: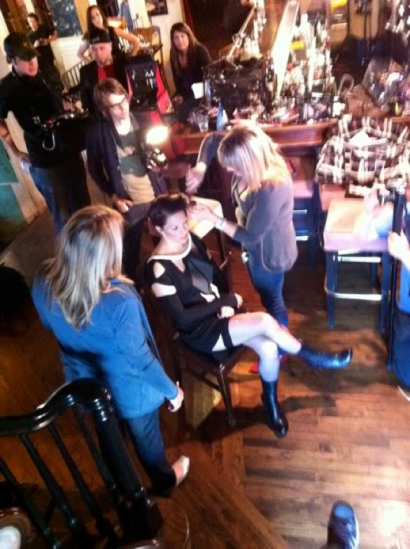 showing off the ensemble to carson. he dug it. he actually helped choose the dress, the sweetheart: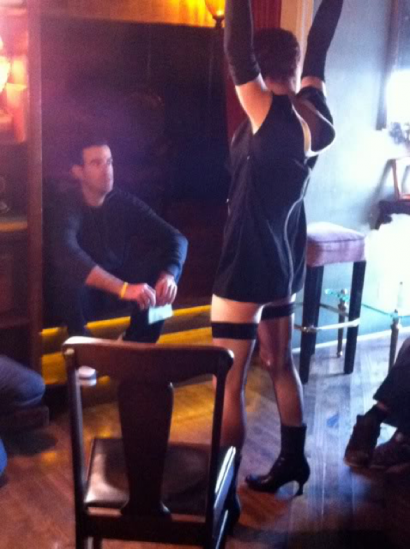 chattin' and uke-ing it up: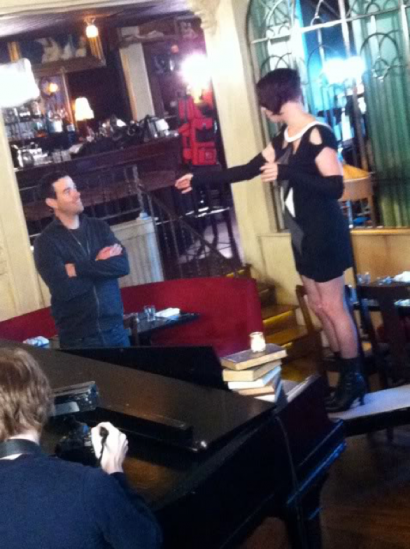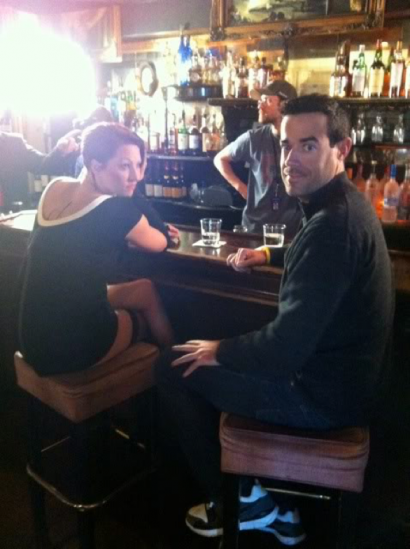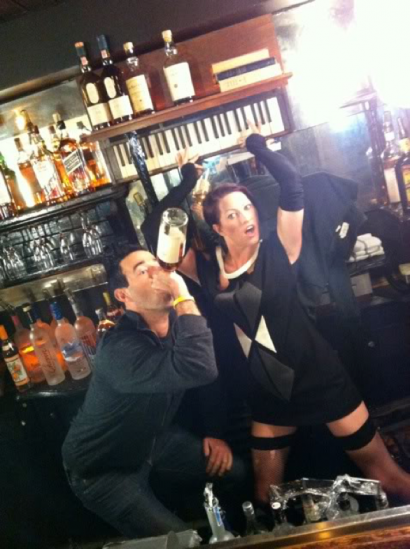 and my favorite….carson's film crew playing "rock paper scissors:" to decide who had to come along with me and shoot the ninja gig i did across from kevin smith's SModCastle: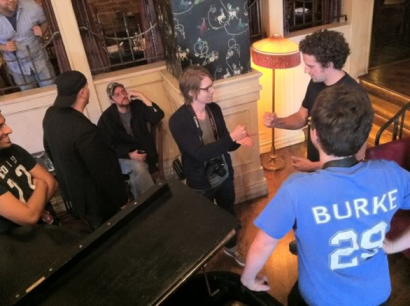 …and here's some from the ninja gig, barely after, right before the podcast: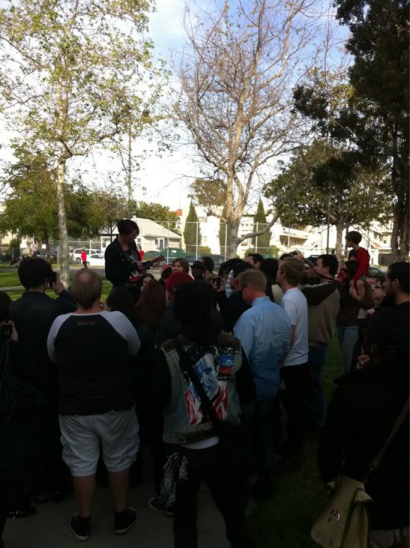 photo by superkate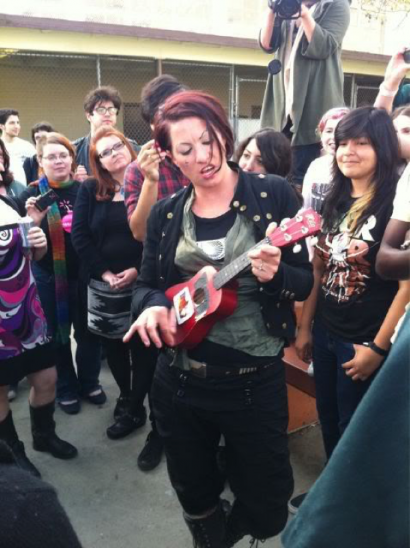 photo by @AdamObelisk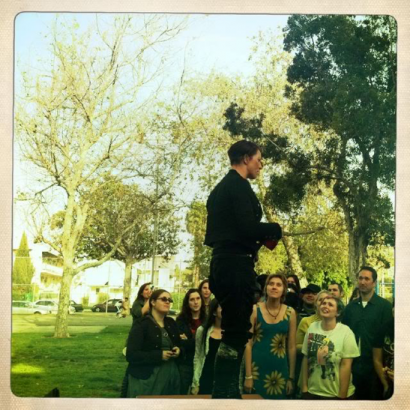 photo by SModCastle's amazing matt cohen
…and thanks to "OtterFreak" on youtube, you can watch the whole thing, right HERE (or using the playlist below):
info on the podcast that night is still in the pipeline, but stay tuned and we'll announce when and where you can hear it. soon. fuck, that was a busy day.
LOVE
AFP