August 6, 2018
from abortion to contortion – the 12 most memorable experiences i've had @ edinburgh fringe.
(public post)
***LATE-BREAKING EDIT! i'm doing a tiny, free ninja show along with a ton of friends/muscians/comedians/performers including co-host andrew o'neill TOMORROW NIGHT, tuesday, aug 7th, at THE CAVES (8-10 Niddry St S, Edinburgh EH1 1NS) at 11 pm! once the room is full we shut the doors, COME EARLY!***
and stay tuned for other spontaneous fringe hijinks here on the patreon and via twitter….no doubt, more will arise!!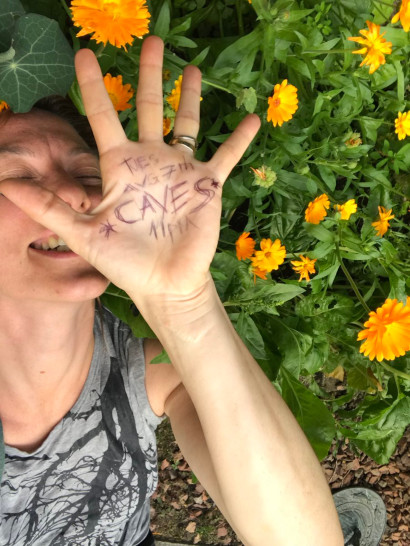 hallo my loves –
well, this was a fun (and sometimes uncomfortable, but mostly fun) memory lane to wander down with my fingers tip-tapping on a keyboard. these four upcoming shows at fringe are my last four solo shows of 2018, and i'm getting all misty-eyed…..
i'm about to be playing new songs on piano in the queen's hall for four nights, working out the kinks and rhythms of the new solo album (!!!)….and will be coming back in 2019 FULL FORCE with a whole tour and finished record for you. i'm going to go into less-public "making-mode" for about seven months while i do that.
these four shows are sacred: they're the blueprint to the way up.
i chose to do them here for a reason.
the edinburgh fringe has been one of the threads and theme-parks of my inner and outer life. not just my life as a Stage Performer – though i've seen countless shows/performances by others here at fringe that have changed my headspace about what it means to be "on stage". but this thing we call fringe – it's transformed me as a person. i've met some of my best friends – and found and lost love multiple times – in this beautiful city during fringe. some people go to burning man to get re-inspired and find their tribe. some people go to furry conventions or literary festivals. i come to fringe. i take stock.
when i first came here i had no budget and stayed in a flat with three strangers. this year we are renting an entire house with a yard. shit has changed.
i measure myself against the person i was last time, and the time before that, and that. i feel, in a way, like this is my musical and theatrical home base, to here i must return. like kim kardashian must return to the eye-brow-waxing salon. like odysseus must return to ithaca.
it must be.
the flowing beer and cider. the late night falafels. the scarves and hats in summer. the bagpipes. the hidden street performers around every corner. the joy. the drunks. the facepaint. the cobblestones. the unbridled JOI DE VIVRE. the sheer VOLUME OF ART BEING CREATED AND SHARED AT ONE TIME in ONE TINY PLACE. it is my fucking happy place.
it doesn't hurt that my family emigrated from scotland (from the highlands…. don't blame them: there was nothing there but poverty, cold and sheep).
i've done countless ninja gigs….at least 3 of them at the forest cafe (a co-operatively run coffee shop & venue):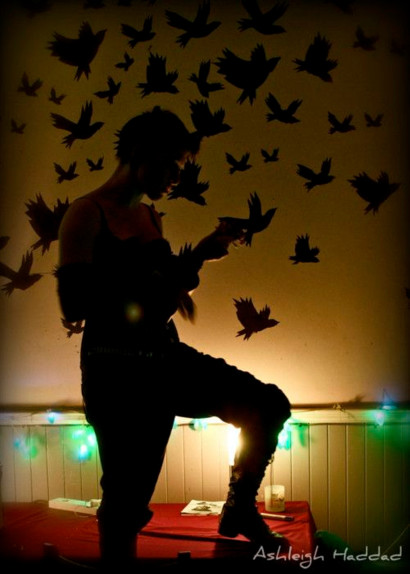 and dragged many friends along with…here's jason and neil at the same ninja gig: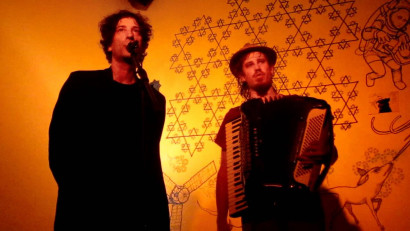 https://www.youtube.com/watch?v=RSOqAW8Gwp0
but….
it hasn't always been easy.
dude. fringe, like anything brilliant, is also a slog.
i've had shows not sell out, venues suck to death, i've broken ankles, i've watched friends descend into madness.
it's always real.
I've now performed at the edinburgh fringe festival – god knows… six, seven, eight seasons? as the dresden dolls, twice, at least. on my own at least three times. with evelyn evelyn. with neil.
here's a photo of me at my first solo fringe, in 2007. on this day in history, i met both camille o'sullivan and meow meow, two powerhouse female cabaret stars who would go on to have big influences on my work.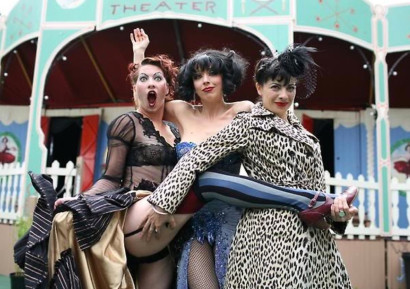 meow became a close friend and our ties with one another have endured space and time. i thank edinburgh for her, for michael mcquilken (with whom i've collaborated countless times), for reggie watts, for dillie keane, whose song i may cover on my next album, and for the spiegeltent, which led me to make connections with so many australians that when i tour there, it's like coming home.
with steven mitchell wright, director of the danger ensemble, in 2007: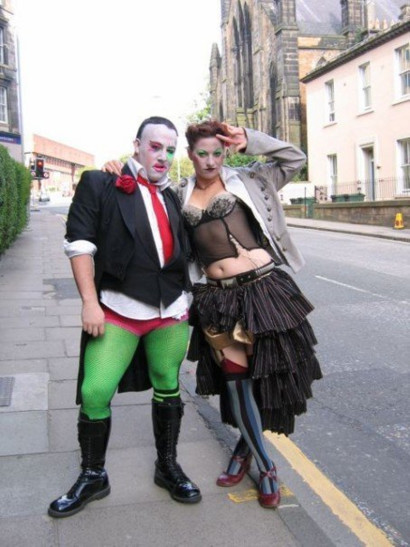 with jason webley (as one half of the evelyn sisters) in 2010: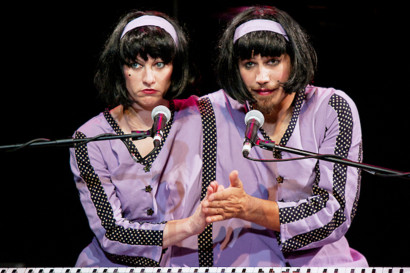 and so….
i thought i would arrange some of my fondest (and not-so-fondest) fringe memories with you, in no particular order…although the last one is pretty fond.
12. DRUNK-KNOCKING OUT MY OWN TOOTH WHILE FREE-STYLING WITH REGGIE WATTS AND FINDING A ROCK N ROLL DENTIST *AT THE GIG*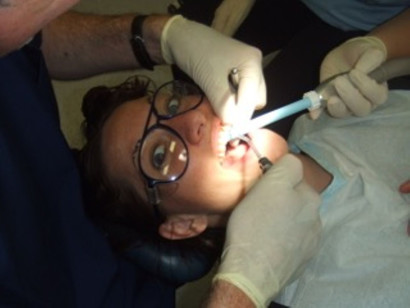 so….i don't remember exactly WHY i wound up at the afterparty at the bongo club, beatboxing, badly, on stage with reggie watts. but i am really glad no youtube footage of this performance exists (and if you have it, email me before posting, we'll talk blackmail stuff). i was really happy, and really drunk.
as i remember (and that's not very much), it involved reggie making loops while i attempted to, ahem, freestyle. caught up in the exuberant grandeur of my very bad rapping, i slammed a microphone against my front tooth with full force. half of my tooth flew into the crowd and was never seen again (we looked). this was very funny to me, but i had the presence of mind to ask if there was a dentist in the house. and i shit you not: there was. not only was there a dentist in the house, but he was THE BEST DENTIST and he volunteered on the spot to fix my tooth. his name was chris cunningham and he worked for the NHS, and he generously invited me to his office the next day, where he fixed my tooth. then invited me for a pint. then invited me over to his house to meet the wife and kids (his son, sam, was a dresden dolls fan and the reason he'd been at the afterparty/gig in the first place). i took all these invitations. and then i took him up on his invitation to stay at the family compound the next time i was in edinburgh. so i did. i became adopted. then they adopted neil. and now no trip to edinburgh is complete without cunningham communion and strange highjinks (see: #1, way below.)
me and chris, post-tooth…..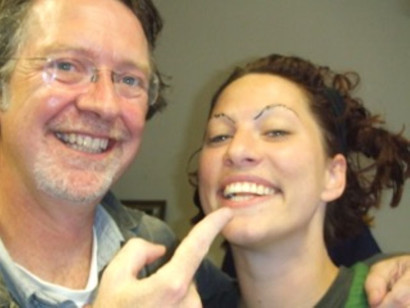 and a few years later…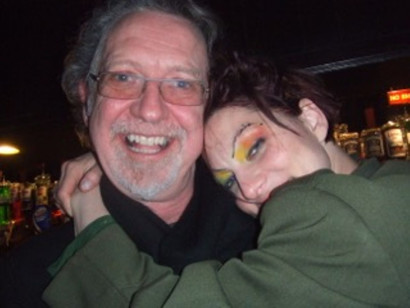 11. INTRODUCING REGINA SPEKTOR TO REGGIE WATTS' MUSIC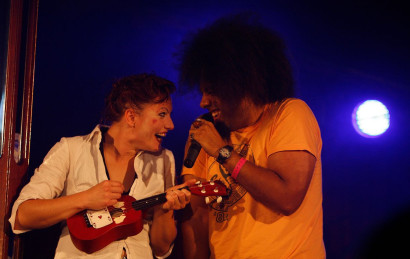 photo credit: mark davidson
one of the best things about edinburgh fringe time is that every goddam performer on the face of the earth is floating around, and connections get made at a dizzying pace. i found out about reggie watts at the fringe (i'm pretty sure jason webley sent me to see him) and a day later, i guested with regina spektor (she had a show at a tiny place called the cavern and we sang "uh-merica" together, no footage of that either, sorry folks). reggie was doing his insane show nightly and i grabbed regina after her gig and said trust me: you have to see this. she came, they met, and then they merged (here's the proof! FUCK YEAH i did a good art deed: xxx)
lurve.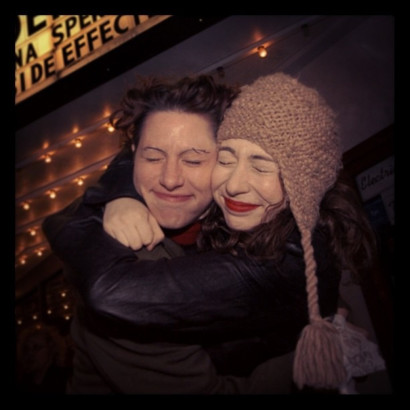 10. COVERING RIHANNA….AND MAKING IT TRULY RAIN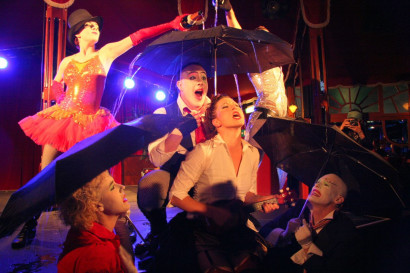 photo credit: amy hootan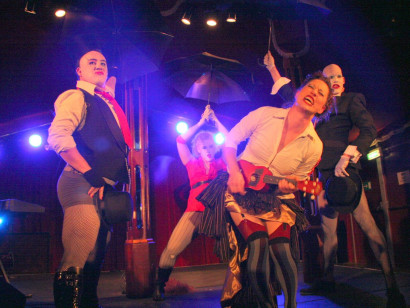 photo credit: amy hootan
of my countless runs/appearances shows at the fringe, my absolute favorite run of insanity has got to be the summer when steven mitchell wright and his merry band of performers, the danger ensemble, flanked me nightly for a run of shows at the spiegeltent in the run-up to the "who killed amanda palmer" tour. this is how it goes in my life. i see a rihanna video ("umbrella (ella. ella….eh eh eh") on youtube that someone shows me in a drunken cold edinburgh kitchen, i decide pop music really isn't that bad if it's using keys SO MINOR and synths SO FAT, and i start listening to the song while i am doing my daily jog. this is dangerous because i get all my ideas while jogging. thus: a few days later, i convinced steven that it would be a BRILLIANT idea if we lip synched a rihanna song as part of our otherwise very profound and theatrically emotional show. it became a staple of our tour the next year. i am really not sure if people enjoyed it as much as we did every night, but holy shit did i enjoy the fuck out of that part of the show every night. ashlee simpson eat your heart out.
and obviously, since life at fringe is all about FULL CIRCLE – yes, look who is beatboxing. it's reggie watts. right? right. yeaahhhh
watch it:
https://www.youtube.com/watch?v=0WWuZRd-O3c
8. DISCOVERING PENTEL PLASTIC FOUNTAIN PENS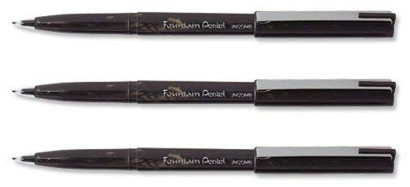 i really, really, really love a good pen, and i am fucking picky about my pens. my standard go-to is a pilot razorpoint, extra fine. i hate ballpoint pens (they skip). i hate felt tip pens (they dry out in the most annoying way, and they bleed). i hate fountain pens (sorry neil. they're a pain in the ass and require too much maintenance and props and the ink gets all over your fucking fingers). i am always OUT of pens on tour. the pens, they go away. they just vanish. i have come to understand that this is just the way of the world: there is a universal pen pool and all pens will come and go like so much ephemeral karma, and part of my contribution to the Universal Pen is to restock often and in different cities when my Pen Stock runs low. i was in a random stationary store in edinburgh when i discovered my true love: the Pentel plastic fountain pen. i saw it there in a little box and tried writing with it on a little piece of paper and bought three. i was never the same. i now order them by the box and convince people to try them, and even give them away, like a crack dealer. go ahead. try one. you'll feel good. really good. thanks, random edinburgh pen shop.
7. TAKING THE ABORTION PILL
(there is deliberately no photo here, yo.)
honestly? not one of my fondest memories. as far as places to have abortions go: i really cannot recommend edinburgh in the summer, when it's so fucking cold you need a heavy coat and a scarf and a pair of gloves if you want to walk around even when the goddam sun is out, which is rare. the dark and cheerless weather reflected my inner forecast. i also really cannot recommend the abortion pill. i've started talking about this a little more lately, given that abortion politics are becoming frightening (and our voices critical) in america land right now (and if you've had one, and you haven't ever talked about it, it's time to get brave: they're trying to overturn Roe v. Wade, people, and Planned Parenthoods are getting shut down around the nation). the abortion pill seemed like an amazing alternative to a surgical abortion (ooh! a pill! how magical and simple!). no, no, no no no. it was the most excruciating day of my life – the pain and vomiting surpassed the discomfort of natural childbirth (which i experienced a few years later). believe amanda.
i talked about this abortion (not really at length) in the art of asking, and if you read the book (or listened to the audiobook) you know how harrowing the background was.
but i will say this: having an abortion during fringe made me brave, because instead of just hiding the truth away, i started experimenting with the truth. telling a musician or comedy friend of any gender, in a bar, what i'd just been through. and of course, everybody had their own abortion story. they'd just had one. their girlfriend had just had one. they'd had one at fringe last year. and i was stunned by the deeply common thread – the usually unspoken common thread. why do we never just NEVER talk about this, openly, in bars?, i found myself wondering, when so many of us are going through it?
the show i'm playing here is going to talk about this. and i wrote some amazing songs to support it that i'm going to debut.
i'm scared, and i'm excited. it feels like time.
6.  BEING A CONJOINED TWIN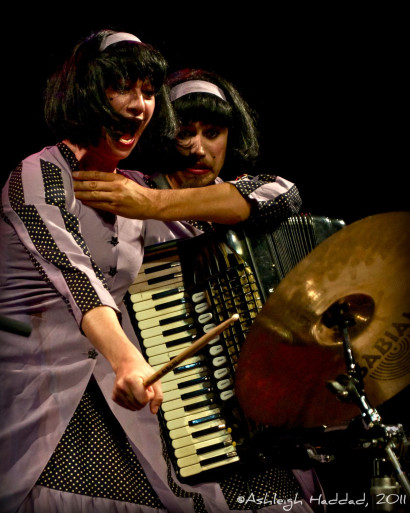 photo credit: ashleigh haddad
only a few thousand people total ever got to see the evelyn sisters live (i played the right evelyn, and jason webley played the left evelyn), because they only did a very limited number of engagements in the states and europe, which included two runs: one at the lucille lortel theater in new york city and one at the edinburgh fringe. pounding on that cymbal during "chicken man" was always one of the highlights of the night for me. jason and i would get into that dress before the show and once we were in it, we went into character backstage, being very moody and quiet and fondling a twix bar between the two of us like it was a holy relic. we are really strange. i really love jason webley.
here's some evelyn evelyn footage from fringe:
https://www.youtube.com/watch?v=qCYeAqxeiCs
5. SEEING MARGARET CHO HIT A WALL WITH A MAINSTREAM AUDIENCE, AND GET RIGHT BACK THE FUCK UP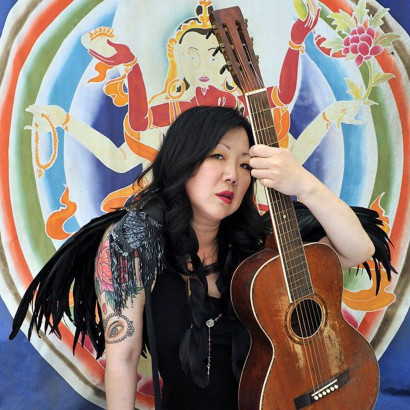 margaret cho is one of my all-time favorite comedians…and writers…and human beings. she and i have been pals for a long time and i was really thrilled a few years ago that she was at fringe the same time that i was, i hadn't seen her do stand-up for a long time. i went to see her as part of the "best of the fest" – some huge variety-night-thing that i, as a non-comedy-world person, was completely unfamiliar with. a half dozen stand-up comics performed for about 10 minutes each for a huge theater seating about 1,000 fringe-goers. i sat and waited for margaret to come on. a bunch of standard comedy-dudes did a bunch of sort-of-funny but whatever typical dude stand-up shit. and then margaret came on. her show and material that year was, to put it mildly, incredibly personal and sexual and blunt. it didn't go over well with the crowd. i remember sitting there, thinking that she was killing it, and then realizing that only i thought what she was saying was funny. i was surrounded by grumpy and confused people who really didn't get it. i wanted to get up and scream "jokes about anal are FUNNY, people"…but yeah. i didn't do that. i just sat there horrified that i was seeing my master of comedy Not Go Over. it wasn't until i went and saw her in her own tent, playing to her own fans, that i understood what had gone so horribly wrong: you just can't start talking to random festival people about anal. they need lube. anyway…i remember seeing margaret after that performance in a pub across the street from the theater. and how upset she was. truly upset, heartbroken that people hadn't gotten it, loved it, liked it. that horrible feeling. and she persisted. she stuck with her material and her truth. she's my fucking hero.
such a reminder that art is power and context and … fuck it. do the truth. let it fall where it may. do not contort yourself into the shape they need you to be. stay alive, stay true, stand in the middle, don't fight it. i'm carrying her spirit into my goddam show on thursday, that's for sure.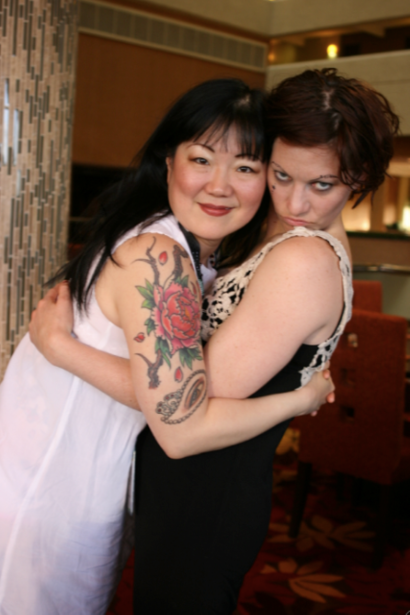 (margaret and me at sxsw in 2008.)
4. PLAYING THE SMITH'S SADDEST SONG AT QUEEN'S HALL RIGHT BEFORE GIVING BIRTH TO ASH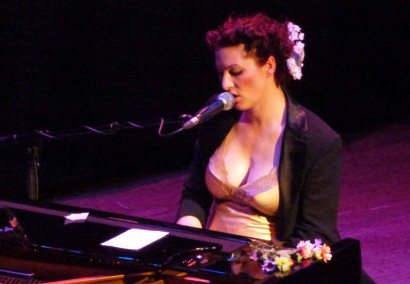 photo credit: george glen
there is just really nothing as satisfying as playing a sad, sad, SAD smiths song from "the queen is dead" when you're eight months pregnant. this show was at queen's hall, the same venue i'll be performing my four shows at. (the acoustics are really quite awesome, gotta say. i'm really lucky i nabbed this hall).
get sad:
https://www.youtube.com/watch?v=61vRp9zK1Fs
2. DOING A SECRET AFTER-MIDNIGHT SHOW IN A TINY WOMB-ROOM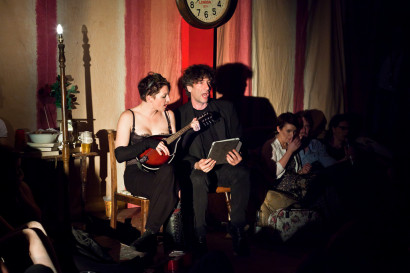 the fringe is full of wonderful wonderful secret spaces, rooms and hallways and lofts and bars and living rooms all costumed into otherworldly portals for a month, and it's one of my favorite parts of the entire experience. the city transforms. there was a great little theater company called belt up who were doing a series of tiny plays in a tiny room that was decorated like a victorian parlor/bedroom, and it only seated about 30 people. i fell in love so hard with the little room – and the talent within it – that i asked if we could borrow it to do a ninja gig. and so it came to be that neil, me and a few friends (like the jane austen argument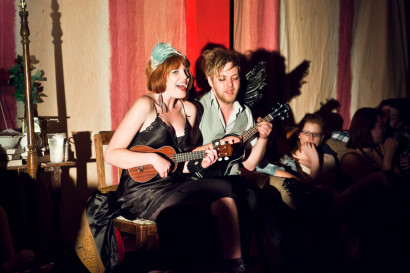 and andrew o'neill…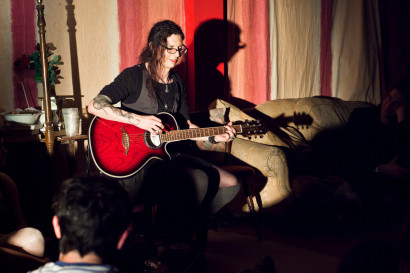 and sam cunningham-siggs, yes yes, son of the dentist, chris):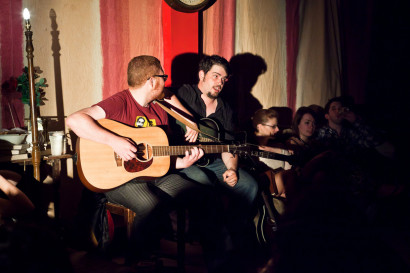 ….did a secret post-midnight show (after all the regularly scheduled shows were over) announced only through twitter. which reminds me: of course i'll be doing weird shit while i'm in edinburgh. make sure you're following me on twitter and more importantly nowadays, on patreon, where you won't miss ANYTHING because patreon is real and twitter is becoming almost as ephemerally weird and easy-to-miss-it as facebook. if you're on my patreon things will just be emailed to your inbox when they happen (as long as you've enabled email notifications on all my posts in your account settings). (my ninja gig in iceland the other day was beyond EPIC, by the way. i'm behind on blogging but pictures are coming).
neil was going to guest and decided to read something brand-new that he'd just written. but then he got nervous. and i thought it was silly and one of those "hee hee i am nervous" things that people do until he excused himself to go throw up. i will never not take him seriously again.
neil, right after throwing up: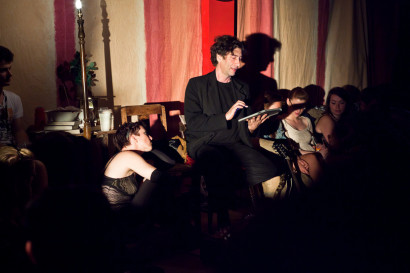 the dude is hardcore. you should have seen him at the restaurant in upstate new york the other night when i asked if he wanted to sing karaoke, really was he sure he didn't want to? ha ha ha what if i gave you a blowjob? c'mon just do it. oh my god our marriage almost ended.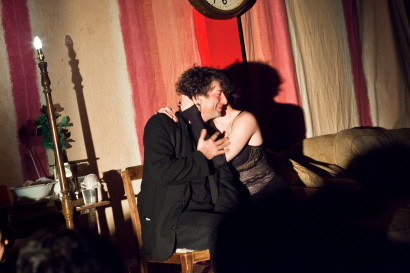 he's that hardcore. anyway…..this leads us to my crowning fringe achievement…..
1. GETTING NEIL GAIMAN TO DRESS UP LIKE DAVID-BOWIE-AS-JARETH SO THAT WE COULD FILM A RE-ENACTMENT OF "LABYRINTH" WITH SOCK PUPPETS:

i mean, need i say more?:
 LABRYINTH with Sock Puppets (featuring Amanda Palmer and FRIENDS) 
…..
that's it, my loves.
my list.
please feel free to sound off in the comments about the fringe, any stories, good or bad. it's a real magnet for life and loss.
i have FOUR SHOWS only at this year's fringe, all at the beautiful queen's hall. i sold tickets to august 17 & 18th first, and those are nearly sold out! i added shows on august 9 & 10th, and there are still at least a few hundred tickets for those shows. please, please: COME! if you're in london or in easy flying distance, THIS IS YOUR EXCUSE, my friend!!! destination, FRINGE! get a hostel or an air bnb and get ON IT.
……
TICKETS ARE HERE:
https://tickets.edfringe.com/whats-on/evening-with-amanda-f-cking-palmer
…….
and if you're in town and already have tickets, or can't come for some reason, please TELL PEOPLE ABOUT THE SHOW! i need your help to sell out these houses.
this beautiful poster is by yonil (@yonil on instragram):
PLEASE share the link to this blog, or share the poster art on your socials, or even better, text or message a friend and give them your personal recommendation. that always means the most.
you can RT this tweet here: https://twitter.com/amandapalmer/status/1026470442318667776
and there are facebook events HERE for all the shows, if you can RSVP and share them:
I LOVE YOU.
xxx
AFP.
p.s. thanks to chris cunningham the dentist for literally copy-editing this blog in his living room.
——THE NEVER-ENDING AS ALWAYS———
1. if you're a patron, please click through to comment on this post. at the very least, if you've read it, indicate that by using the heart symbol.
2. see All the Things i've made so far on patreon: http://amandapalmer.net/patreon-things
3. join the official AFP-patron facebook group: https://www.facebook.com/groups/afpland
4. new to my music and TOTALLY OVERWHELMED? TAKE A WALK THROUGH AMANDALANDA….we made a basic list of my greatest hits n stuff on this lovely page: http://amandalanda.amandapalmer.net/
5. general AFP/patreon-related questions? ask away, someone will answer: patronhelp@amandapalmer.net