August 13, 2011
Amanda Fucking Palmer's Guide to the Edinburgh Fringe (+ ninja shows update!!!)
for those of you not in edinburgh….you might want to read this ONLY if you want to drool and blubber at the exciting things you are missing.
if you've not been following the plot, this is my 6th (i think) time at the fringe, and every year i've been frustrated at my lack of time to actually go out and see shows.
so this year i finally tried to organize my life around being here for long enough to soak up a lot of theater and get re-inspired. it's my idea of a vacation. art infusion. art mainlining. theater crack habit.
this is a long extract from a piece wrote for an online newspaper in the UK called THE BIG ISSUE, with a bunch of extra shows and updates (since i've SEEN a lot of these shows since getting here).
in the NINJA GIG department:
edited august 14th: it looks like Neil & I will be doing a very special teeny-weeny gig together late late sunday night in a teeny-weeny location to be revealed on sunday day, so follow along. everything will be announced via twitter the minute details are available… tonight's show is now SOLD OUT. monday night's ninja gig near george square has been postponed for later in the week. keep your eyes to the twitter-skies, folks.</edit>
MY OFFICIAL GIGS:
I'll be playing at The HMV Picture House on August 25 at 7pm and dragging up any and all of the people listed below, so expect ROCK and SURPRISES. I'll also be co-presenting the famed American singer-songwriter group Evelyn Evelyn (Assembly George Square, August 17-21, 9.10pm) – conjoined twins from Walla Walla, Washington, who look a hell of a lot like me and Jason Webley. The MC for the show will be London-based trickster Thomas Truax, and we expect to break your hearts with the twins' tales of woe and excellent dual-powered accordion skillz.
IF you've got some free time before heading into the evelyn evelyn gig, i highly recommend going into the george square assembly courtyard (SO MANY SPIEGELTENTS!!!!!!!) and seeing the installation set up by the Architects of Air, a UK-based sculptural company that makes giant walk-though bouncy-castle0bubble-like air sculptures, but way artier and classier than a bouncy-castle. also called a "luminarium", here's what it looks like from the outside:

and here's me today, inside: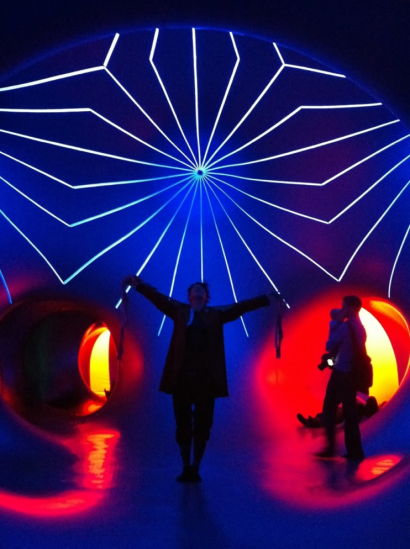 it's really worth a look. get a beer and relax your mind first.
also….GO EAT AT THE FOREST CAFÉ. they are awesome people, it's a 5 minute walk from the evelyn evelyn show and they have FREE ENTERTAINMENT ON at almost all times.
and great great cheap food. tell them i sent you 🙂
tomorrow night (saturday) we're going to see PHILIP GLASS play the qatsi soundtrack LIVE to the film, which is going to be an extreme treat.
that's part of the festival itself, not the fringe: http://edinburghfestival.list.co.uk/event/222443-philip-glass-ensemble-the-qatsi-trilogy-powaqqatsi/
Jason Webley!
Forest Café, August 22, 8pm
Ironically enough, the top recommendation isn't even an official Fringe event, which makes it a true Fringe event, n'est pas? Seattle-based Jason Webley is part soothsayer, part madman, part joker, and all entertainer. To attend a Jason Webley concert is to commune with your fellow man in a spirit of camaraderie seldom seen in today's bleak musical landscape. He pounds his accordion, shreds his voice and breaks strings on his guitar at breakneck pace while singing songs he's penned of love, loss, insanity and magic. His show invariably include some kind of surprise, anarchic shenanigans… so do not expect to simply sit and watch. Plus, he's responsible for introducing Neil Gaiman and Amanda Palmer. You gotta give him props for that…and you'll probably see us there.

Strange Town Theater Company – "HEX"
Hill Street Theatre, August 5-29 (not 10, 17 and 24), 9.25pm
Support the locals! Budding young Edinburgh talents Sam Siggs and Tim Primrose bring their latest offering to stage… and knowing the particular brand of black humor these two share, it should be a hilarious ride. From the program: "Gwen and Toby have a problem. Gwen and Toby have tried everything. Everything but orthodox superdimensional retrotranscendental quasi-quantum thaumaturgy, that is." Sounds like an excellent first-date show. I should also point out that Sam's dad is a fantastic local dentist.
*THIS WAS AMAZING. it's always hard to judge the work of your friends, and i went in prepared for anything. but this was a hilarious, hilarious little play about a couple…well, see for yourself…
really smart, great, young, funny stuff. and yes, a great bring-a-date play.

The Jane Austen Argument – The Spaces Between
St George's West, August 5-29 (not 10 and 17), 9.45pm
The Jane Austen Argument are part rock band, part cabaret band, and one *could* compare them to an even-more theatrical version of an oldies band called The Dresden Dolls. Having played countless times with these fellows, I can guarantee they deliver a show full of heartache and dark but sweet humor. Tom has the voice of a broken angel, Jen saucily tickles the ivories and joins in the song, and together they drag you onto their ship of hope, destined for the shores of hangover. They won Best Cabaret at the Adelaide Fringe, deservedly, and now you'll know why. Go see. I may pop in as a surprise guest, so follow our Twitters.
* i can't say enough about these guys and people, and since they're living with us here, it's been great watching their experience of their own show progress. we went to see the first night, which was a technical nightmare, and they've been getting better and better every night and last night won a standing ovation. go. heart. on. sleeve.

Sophie Walsh-Harrington: The Damsel In Shining Armour
St George's West, August 5-29 (not 10, 17 and 24), 8.30pm
AND if you go see jane austen…this is the show that's playing back-to-back. This hot little number is the little show that could. In collaboration with The Jane Austen Argument, Sophie (a North Yorkshire lass) created her first cabaret show – brandishing her unlikely weapon (the selected works of Celine Dion) she has smashed through the Australian Cabaret scene to win Best Cabaret – Adelaide Fringe 2011, right after the Jane Austen Argument won. Birds of a feather.
* I LOVED THIS. i didn't know what to expect, but Sophie completely won me over. neil loved the show too…it was a total balls-out, funny-as-shit one-woman kamikaze (yes, think meow meow) cabaret show, relating a TMI-life-story-thread that was genuinely gut-busting funny at moments. go.

Fascinating Aida
Gilded Balloon Teviot, August 3-29 (not 4, 7 or 17), 6.45pm
A trip to the Fringe without a visit to Fascinating Aida is like a trip to Amsterdam without a least a little hooker window-shopping. One simply MUST. This award-sweeping cabaret trio is a veteran entertainment-machine and the material just gets fresher, lewder, smarter and tighter with each passing year. Ringleader Dillie Keane continues to play her Dirty Ol' Grand Dame character against the tall and brooding straight-woman Adele, with newcomer-to-the-trio Sarah-Louise Young adding a perfect balance of upstart blond ambition. Once again, a must.
* neil and i went to see them play the other day, they were AS DIVINE as usual. my favorite song is still "dogging".
Belt Up – all three of their shows: Twenty Minutes to Nine, 5.45pm; Outland, 8.30pm; The Boy James, 10.50pm, all at C Venues – C soco, August 3-29
Well, goddamit. Belt Up has three shows on, and we're going to have to go see all three to decide which one is best, which is rather bloody tricky of them, isn't it.
Last Fringe we were blown away by their smashed-up rendition of Moliere's "Tartuffe", which was, in my humble opinion, theater as it should be. Sitting on a stained, dirty couch in a stale lofty attic, watching my panic-stricken English husband getting yanked out of his seat and forced to play dress-up along with a cast of mad-people throwing objects and liquids at each other in the name of literature (and it worked!) was possibly the highlight of my year. I can heartily recommend going to see ANYTHING these guys put on…they've captured bohemian-theatre-perfection in a bottle once, and I'm betting they can do it again.
* we did as groupies do and we've seen all three of these shows so far. i'd HIGHLY recommend all three….i'd actually recommend SEEING ALL THREE as a trilogy over a few days if you're dedicated, since they all piece together. if you have to pick "the boy james" and "outland" were both surreal meditations on the perils of growing up and there were a lot of people crying, the end. just go. these guys are making theater the way it should be made.

The Dark Philosophers – National Theatre Wales / Told By An Idiot
Traverse Theatre, August 9-28, times vary
So many people have recommended this show to us, and I'm ASSUMING it's not just because it's got the words "dark" and "philosophy" in the title. Adapted by Carl Grose from the stories of Gwyn Thomas, every review I've scouted for this show seems to agree with our recommending friends. Since the theatre itself describes it as an "homage to a great Welsh storyteller… (this) dark hilarious chronicler of the valleys is a funny, violent, passionate depiction of a community teetering on the brink of humanity", we're sold.
* we went….incredible physical theater, highly highly stylized, but the intertwining plots were a little one-dimensional and a bit heady. still, the sets and production were perfection.

Margaret Cho – Cho Dependent 
Assembly George Square, August 3-29 (not 10 and 17), 9pm
Margaret Cho is simply the funniest American woman you'll ever see on stage. Her stand-up is top notch and takes no cheap shots. Her self-deprecating irreverence coupled with big-hearted admissions and excellent impersonations of her impossible Korean mother are the stuff of legend. This time around she's bringing a guitar on stage to play some of the songs she's just released on her first record, Guitarded. Honestly, the woman is Not Afraid To Go There. Go there with her, she's got a show every night and rumor has it that she may be bringing guests on stage (including me). Plus, she's said she'll be my yoga and jogging partner for the month. I mean, support her. She's being good.
* i've had the opportunity to see cho twice since getting here, and she's in fine form even though the UK contingent don't seem completely comfortable with her brand of oversharing. seems to me that's all the more reason to get your ass to her shows and get real with the kids.

Orkestra Del Sol
Assembly George Square, August 8, 10, 15, 17 and 22, 7.15pm and 9pm
If you're looking to have a boisterously loud good time and dance your ass off to the sound of a shredding big-band replete with costumes and horns, or you just want to feel the close kinship of your sweaty, happy human kind, go see Orkestra Del Sol. They're a Fringe legend, having packed out the Spiegeltent many times over over the years, providing the after-party that everybody needed at the end of a long, hard Fringe day. They could be considered to provide the soundtrack to our late-night hearts, and the best shows turn into an improvised swing-dance part of drunken glee. Each member of the band has an outrageous character, and I give them a personal gold-medal in Party-Bringing. I may show up as a special guest with these guys, so keep your eyes peeled…
* holly gaiman and i went to see The Orkestra a few nights ago and they were fucking on fire. i suggest drinking before the show and bringing a dancing partner.

Beowulf: A Thousand Years of Baggage – Banana Bag and Bodice
Assembly George Square, August 10-29 (not 15), 4pm
Having seen this show when it toured to a little theatre this spring in Boston, I can vouch for it: it's fecking AWESOME. This is a mash-up and Fringe theater as it should be: in your face, on your lap, ripping apart the tales of yore to come up with something that actually hits the spot. Serving up a combination of interactive improv, physical theater and a dash of WTF, the actors are obviously taking so much joy in the transmission of their product that the few holes that exist are easy to embrace.
* we went to see this yesterday and the show was as good as i remembered, though the daytime slot (which meant the lighting was ineffective) left something to be desired, but the band sounded fabulous and the energy was great. neil liked the dancing girl on the right.

Sarah Millican – Thoroughly Modern Millican
Assembly Hall, August 12-28, 7.30pm
Neil was on a radio programme with Sarah Millican last year and he claims that everything Sarah said, on the radio and off, was funny. Wry, gentle, insidious feel-good stuff with a cruel underneath, like a fluffy duck with spiked deathboots. She could sentence you to have your head cut off in a way that would leave you with a smile on your face. Probably you'd stop smiling pretty soon, when you actually saw the spiked deathboots, though. Go and see her.

Andrew O'Neil: Alternative
Assembly George Square, August 3-28 (not 15 and 22), 10.30pm
Beside the fact that Andrew is a really nice, long-haired bloke who once let me gate-crash his apartment in London to practice on his digital keyboard and raid his pantry for a few days, he's a funny, funny, funny man. His endless list of four-stars reviews should speak for him, but go see for yourself. 'Andrew O'Neill is like comedy ball-lightning. Fast, electrifying and even funnier than the misfortunes of others' so said Alan Moore, Greatest Living Englishman and friend of my husband.

A Betrayal of Penguins: Endangered for a Reason
Gilded Balloon Teviot, August 3-29 (not 19&20), 5.45pm
How can you resist absurd Irish comedians with penguins in their show title? Really, you can't. These guys have sold out consecutive Fringes and gotten top-notch reviews from my friends and press alike. We can't wait.

Stewart Lee – Flickwerk 2011
The Stand Comedy Club, August 3-29 (not 15), times vary
Neil says that he is hoping that Stewart Lee will give up stand-up comedy and just do a television show in which he and Alan Moore (huge-bearded Northampton writer and wizard) go around the UK revealing the hidden histories behind everyday places, on the lines of their expose that Winston Churchill's broadcasts in WW2 were actually delivered by a pig. If Stewart actually reads this article and gives up standup forever, this will be his last show, which is yet another reason to catch it.

4 Poofs and a Piano
Pleasance Courtyard, August 3-28 (not 17), 6pm
Tim Minchin isn't going to be at Fringe, so we just need to listen to his advice. And if Tim Minchin says they are funny, they must be fucking funny.  4 Poofs rose to fame (or descended to it) as Jonathan Ross's backing group on his late-lamented chat show. Neil says that watching them perform "Do You Take it in the Arse?" as a warm-up song the night the person signing for the deaf was a comedic highlight of his life, and is vagely hoping that someone will be signing their show.

Hannibal Buress – My Name Is Hannibal: The Hannibal Montanabal Experience
Pleasance Courtyard, August 3-29 (not 15), 9.45pm
This comic comes recommended straight from the lips of Eugene Mirman, who brought me straight to the doorstep of Reggie Watts and has never steered me wrong. And Chris Rock approved. We'll be checking this one out fo' shizzle.

Anton's Uncles – Theatre Movement Bazaar
Bedlam Theatre, August 5-27, 2pm, 3.30pm
An Uncle Vanya re-thinking from an LA-based group that I keep hearing about. No idea if this one is going to live up to the hype, but I'm very excited to check it out. Plus…this one is smack in the middle of the day and that's the only time I can handle the Russians. Right after I've had my coffee.

Futureproof – Traverse Theatre & Dundee Rep
Traverse Theatre, August 6-28 (not 8, 15 and 22), times vary
Clearly…almost any play featuring a traveling freak show must be worth a visit, just for the educational value. Especially if the show features conjoined twins named Lillie and Millie. I'm going to try to check this one out early in the season, because if Lillie and Millie are willing to come do a guest appearance at the Evelyn Evelyn show towards the end of the month, there could be a possibility of a conjoined twin four-way. And that could make Fringe history. I'm game.
Robin Ince: Struggle for Existence, Buffs Club (RAOB), August 5-16, 9.30pm AND Star Corpse Apple Child, The Canons' Gait, August 6-17, 12.10am
This is the description stand-up comedian Robin Ince gives on the Fringe website: "We are all freaks. Let's be honest, I'm just filling space here. What would persuade you to come to my show? I mean I've won awards and had good reviews, but I've also lost awards and had bad reviews. I may waste one hour of your life, we might not get on, and that is the way of it. Do you like Kristin Hersh?". Well, I'll be. I DO like Kristin Hersh. At least, I love her new book. Clearly we should go see Robin Ince's stand-up show.

Dance Marathon – Bluemouth Inc.
Traverse @ Lyceum Rehearsal Room, Departure Point Traverse Theatre, August 3-14 (not 4, 8 and 11), 7.15pm
I think we should all agree that a "genuine endurance contest and staged performance event" in which "hopeful amateurs can mix with…performers under the direction of floor judges…." is going to be something that we cannot live without. The question is: is there an open bar, or drink service TO the dance floor? If not, are flasks allowed? It's FOUR hours. But the show description promises that people like Neil Gaiman (who Hates To Dance) are allowed to skulk back into the bleachers and watch with horror while the exhibitionists try to out-dance each other. I'm glad I caught this one early, as I will have to go shopping for new sneakers. Sneakers are dreadfully expensive in Scotland, and you don't even call them Sneakers. You call them trainers, which is strange and confusing.
If you're feeling sultry, there's… Kabarett at The Voodoo Rooms, (Aug 6-27, 7.15pm and midnight) where I did a quick ninja gig last year. It's a fine concoction of weird and wonderful performers for free. Dee (who runs it) really has her finger on the pulse of who's pushing boundaries and her nights definitely stand out, particularly with the slight burlesque overload currently happening in Scotland. Go see.

And according to the underground on the ground… a lot of people are also talking about Jigsaw (Pleasance Courtyard, August 3-29, 5.45pm), a sketch show at the Pleasance Courtyard. The three performers are all noteworthily rad (Dan Antopolski, Tom Craine, and Nat Luurtsema) and everyone's looking to see what they come up with… so we may just have to see if it's all it's cracked up to be.

Dave Gorman's Power Point Presentation
Assembly George Square, August 3-28, 7.40pm
They changed the Google algorithm to make Googlewhacks a thing of the past. Probably soon it will be illegal to call people Dave Gorman. This, following on from those two adventures, may be the first Power Point presentation we've ever not hated.

Feeling like a little bit of WTF at the end of the night…?
Go to Spanktacular! (Udderbelly's Pasture, August 13 and 20, 12.35am) at Udderbelly's Pasture. According to one of my friends: "all the cool kids go to Spank at the Underbelly. Every year. Fact. It's basically the place comedians (and other artists) perform at when their heads are fried." As they advertise: awesome comedians, musicians, controlled anarchy. This jam is, according to my friends, where the dregs of society wind up to let off steam. clearly where we will be drinking.

The Penny Dreadfuls
Pleasance Courtyard, August 4-29, various times
We love the Penny Dreadfuls comedy team. While they are not doing an ensemble show this year, they are doing three solo shows: "David Reed's Shamblehouse" (many characters, comedy abut "love, loss and haunting"), "Humphrey Ker is Dymock Watson: Nazi Smasher!" (the true-ish story of Humphrey's Nazi-fighting grandfather, with jokes and a magic trick), and the potentially deeply disturbing "Thom Tuck Goes Straight to DVD" (in which Thom Tuck has watched lots of Disney straight to DVD sequels and tells you which ones to avoid). Obviously of these three wonderful shows the only one we can wholeheartedly recommend here is "Thom Tuck Goes Straight to DVD" because he was the first of the three to reply to us on Twitter.
HOIK!!!!!!!!
hope that's enough to keep you busy for the moment.
IF IF IF IF you have any of your own recommendations, reviews or shows to plug…ADD THEM BELOW IN THE COMMENTS!!!!
i'll be checking in frequently.
LOVE
afp