May 29, 2019
the carpet of eden & all about good omens
(public post)
hallo loves
greetings from a plane taking off from heathrow. just a quick red (green) carpet missive before i get back to my real life. yesterday was a blaze – i worked from morning til night, including a huge fashion magazine photoshoot and a weird interview with the UK sunday times that'll be out in the fall. i'm wrecked. i have one night to sleep in st. louis and then back at it. there is no intermission.
BUT – here be the hot lewks yesterday at the premiere….i swear to god i did not intend to blend into the scenery quite so shockingly ….there was no memo sent around that the red carpet would actually be a garden of eden/flower shop explosion. just got lucky.
(photo by morgan, neil's publicist.)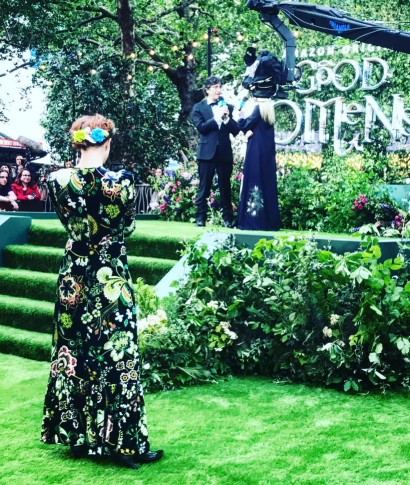 (photo by hattie blyth via twitter)
the gorgeous velvet dress is by the vampires wife, the fashion line of susie cave (nick's wife: http://www.thevampireswife.com). i felt her soul wrapping around me as the wind blew.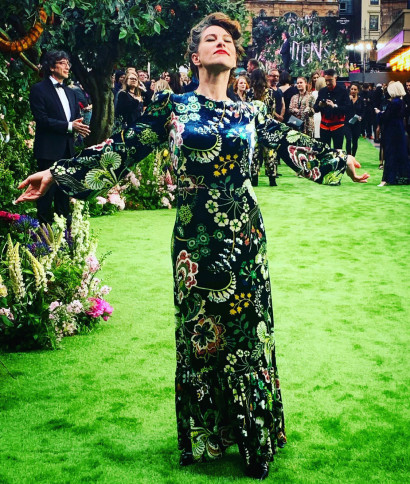 i brought my ukulele.
it is never a bad idea.
i also have no idea why any person would NOT bring a ukulele to a photoshoot of any kind.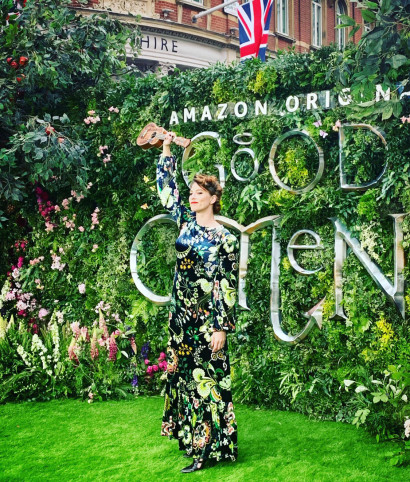 (photos by morgan)
my make-up was done lovingly by christabel draffin, a new london friend.
also, before we left for the premiere, this happened. i chronicled the now legendary neil-can't-tie-a-bow-tie story last night for social media but here it is: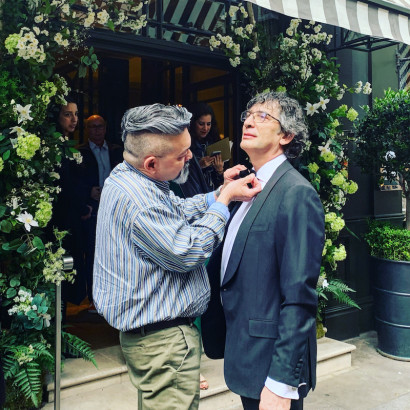 we were very VERY late to the premiere of good omens in london because neil gaiman does not know how to tie a bow-tie. nor would he attend the premiere without a bow-tie. we were at a standstill. i did not know how to tie a bow-tie. neil's literary agent did not know how to tie a bow-tie. neil's assistant did not know how to tie a bow-tie. nobody working at the hotel knew how to tie a bow-tie. neil's publicist did not know how to tie a bow-tie even after frantically googling a youtube instructional video.
the hotel concierge, seeing neil's desperation, began asking passersby in the street. none of them knew how to tie a bow-tie. neil became more and more legitimately panicked. it was funny at first. and then he simply melted down. nobody could make jokes about how we were very late and how nobody could tie a bow-tie. we were now half an hour late and neil was missing all his press.
eventually the guy from the barber shop next to the hotel came to the rescue. this is daniel, the guy from the barbershop next to the hotel who knew how to tie a bow-tie. he is the reason neil attended the premiere of good omens tonight in london. thank you, daniel. next time, neil, clip on. or plan.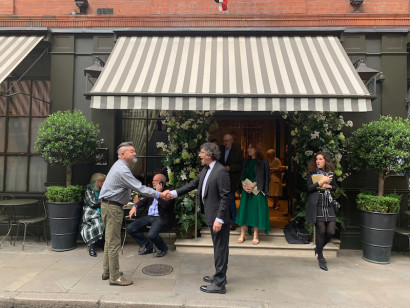 this handshake though. what a gentleman.
a few words about good omens. i first started trying to read it years ago when neil and i were dating. one by one, i started all of his books. i found a few of them hard to stick with, and this was one of them. it just felt like it was written for another audience – an audience who loved quick-witted british humor and understood a ton of things i didn't understand at the time (what's the M25? it's the name of a highway. where is shropeshire and why is it funny to the brits? i do not know. and shit like that). i also turned away from humorous fiction in general in my old age…that is, around the time i turned thirty. just not my thing. it was never my thing, really. i didn't read clever funny books. in my spare time in high school i read herman hesse and ayn rand.
meanwhile, neil started writing the scripts for these episodes right around the time i was giving birth. these TV scripts and ash have grown up as strange siblings.
life and art don't un-entangle. neil was on his way back from terry pratchett's funeral on the word day of my life: the day i fielded a phone call, alone, in a friends house, and was told that the baby i was happily carrying might be deformed. (it was ash. he turned out fine, it was a false positive).
neil was in london shooting this show when i miscarried. it was hard to bear that news alone.
as i've done my own artistic digging to heal the many griefs and deaths that devoured the last era of my life (my current album and tour – it's all in there), neil hasn't had that luxury. but he has been able to lose himself in his work like never before, and it was a fate that was partly chosen and partly landed on his shoulders. there were days when he seemed crushed under the weight of it and days when he seemed happy to be crushed under a weight that was at least kind of fictional. dead pregnancies, and dead friends, and dead fictional nuns and demons are not the same thing.
everything changes.
neil and i have stumbled through this marriage as we have stumbled through our various artistic pursuits: never sure we are getting it right. never sure what to resuscitate and what to let die. never sure what to focus on. just making it all up as we go along. we try to understand what we are doing; we rarely do, we find ourselves in one situation or another and we simply start cooking with the ingredients on the table. sometimes we make a disaster. sometimes we make a masterpiece.
i think this TV show nay be remembered as more of a masterpiece. both in the minds of those who enjoy it as media, but also as an era in our personal chapter of marriage: a test, a thing we had to endure and survived. it galvanIzed us yet again. i spent a lot of the last few years learning to just let go. of my expectations, of my worries, of my attachment to outcome, of my husband himself.
but in there is a kind of larger love lesson to be found.
……
i tried reading the book again a few months ago after neil had showed me (and a bunch of friends) the rough first few episodes. i found the book much easier to follow now that i had been spoon-fed the plot a few times and could actually picture the characters in my head. it helped. but it was still hard for my brain to stick with it. i felt like a slight failure as a reader and a wife.
……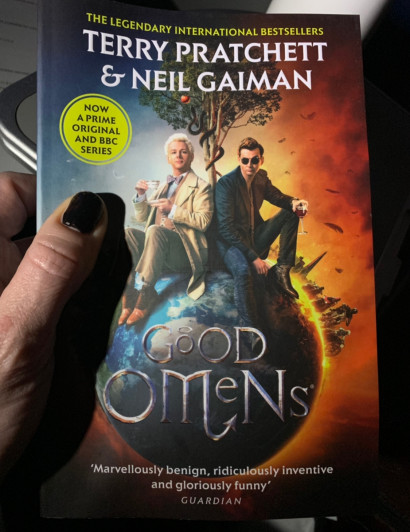 i just picked up a copy at the airport (there are copies of good omens available in EVERY AIRPORT right now), determined to get to the end. and i have to say, having watched all six episodes of the series, im now enjoying my fourth attempt at reading of this book…and all of a sudden, the book feels friendly, and familiar, as if i'm getting a deeper look into characters that i've fallen in love with on the screen … because, i gotta say, the characters in this show are immensy lovable on the screen. david tennant plays a demon, michael sheen plays an angel. its a bromance that takes place at the end of the world. and i'm now devouring the book with a delight i didn't anticipate.
if you, like me, have a hard time wrapping your head around this genre, but you'd like to give it a go, i suggest this cocktail: see the series, then read the book as a companion. it's very delicious that way.
anyway.
the entire premiere event was just beautiful, sweet and surreal, and fun fact: this is the first television show in history to have a leicester square premiere (it's usually just the fancy movies. watch out, movies).
i've never seen neil so anxious yet explosively happy. this event meant something to him (and that child inside him) that i don't think i can fully grasp – especially to be this celebrated in his home country. we walked the carpet then headed inside to watch the first 2 episodes (there's 6 in the series) in the odeon. neil gave a beautiful and emotional introduction, talking about his beloved friend/good omens co-author, terry pratchett (rest in peace), and told an anecdote about how terry was certain that good omens would never see the screen. so certain that he once quipped that "even if he were sitting at the premiere with a big bag of popcorn he still wouldn't believe it."
neil then pointed down to an empty seat and told the crowd that terry pratchett's hat and a big bag of popcorn were sitting front row center.
there were  tears.
here's a bunch of the cast & crew doing a q&a on stage after the screening.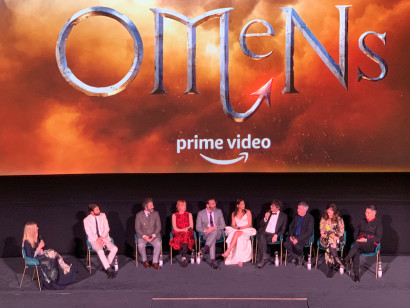 ah, man.
can i just say? i'm so proud of him.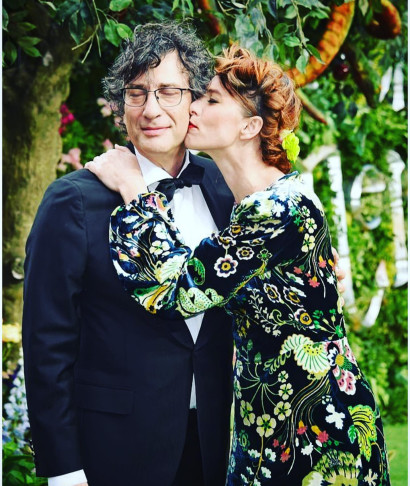 very few people have seen how hard and long neil has worked on this project. he's lost two years or so of sleep and health and peace and family time to make this goddam TV show.
nobody regrets it – we don't do regret.
he made something absolutely spectacular, and the show has his artistic fingerprints on it down to the last shot. he has had a lot of ups and downs in the TV/movie world and he got to make something that is truly neil-esque, his own.
so see it. it airs on friday – all six episodes – on amazon prime, then it heads to the BBC. fun idea: i think i may do an interview with neil himself for the podcast…i think ive got some questions about the project that nobody else will ask. stay tuned.
und jetzt …
here's some more carpet and friend and party shots…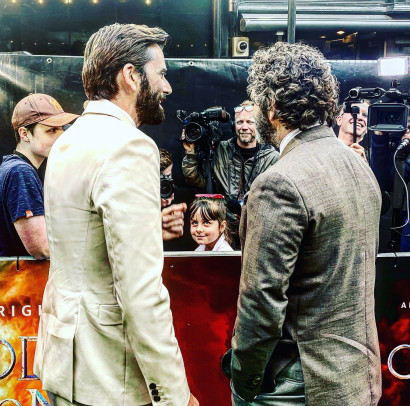 this be my favorite shot i took. david tennant (who plays crowley) and michael sheen (who plays aziraphale) competing to impress a 7-year-old british journalist. clearly david is winning.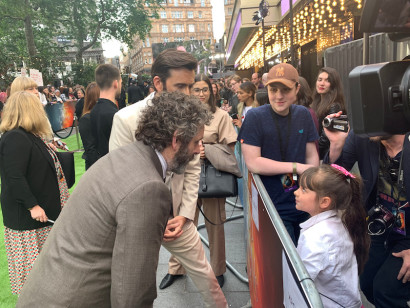 here's neil doing the Things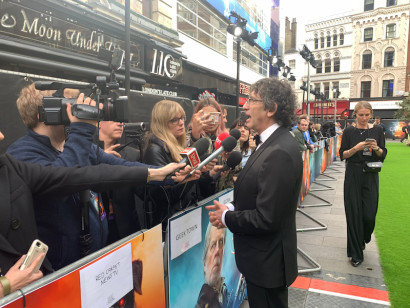 and signing for sweet people…which makes me love him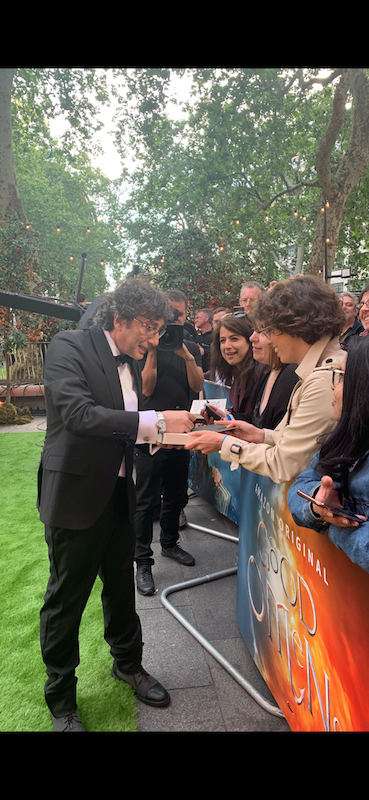 my friends max and christo…photographed by my friend judith clute…
max wore a very fabulous kimono, seen here: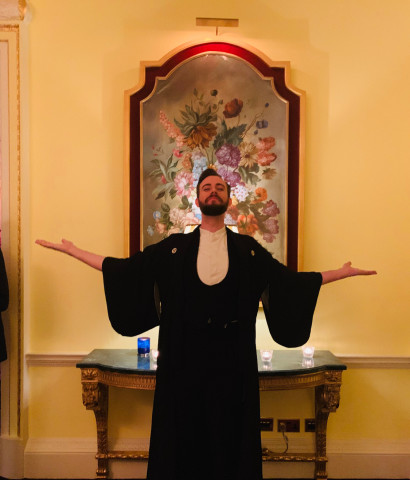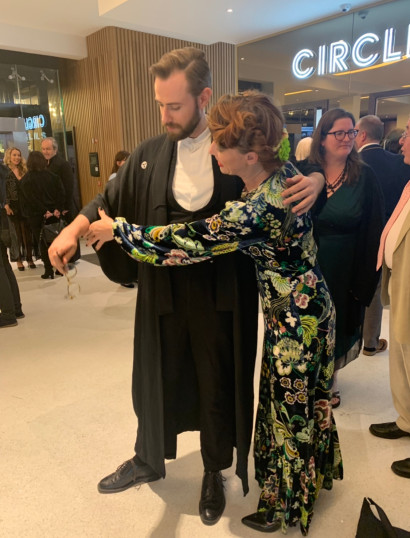 look its me! no – it's the australian federal police. no – it's the associated foreign press.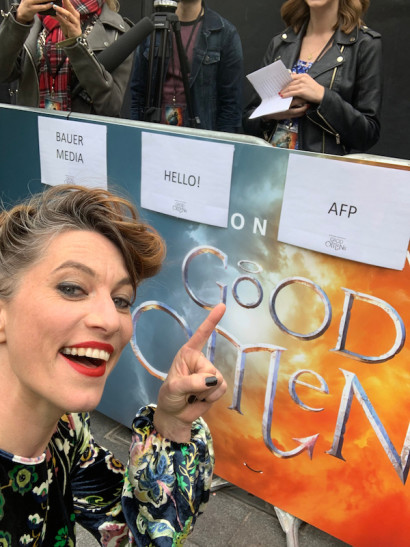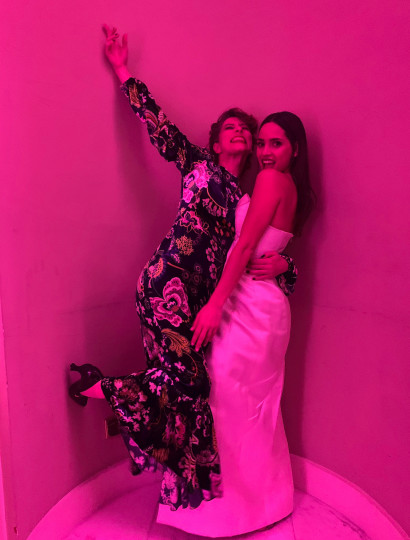 this is adria arjona, the actor who plays anathema device (a witch!). apparently her father is a huge musician in south america. she told me about being raised in a tour bus. photo by my friend gabriela motola….
me and cookie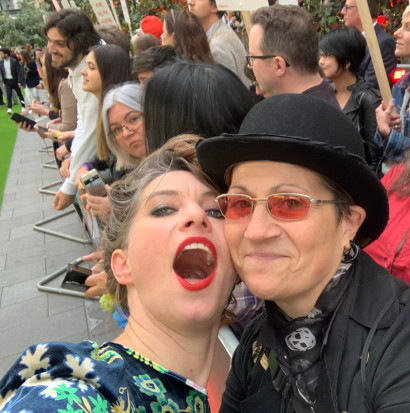 and here's my fav pairing of last night: marissa and justine in accidentally coordinating angel-demon outfits.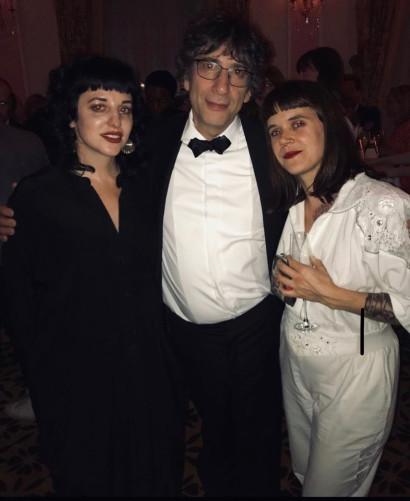 i love you all so very much.
wish me luck kicking this second round of jet lag and getting my voice back for st. louis, kansas city and denver.
i'm on a plane right now – yes, posting this all from a plane is a bitch because the wifi is slow af – to get back to my boring day job…time to head to missouri and sing and speak out about abortion on the week that last clinic in that state is being forced to close. time to go change the fuckin world, all in our own weird ways.
"Out beyond ideas
of wrongdoing
and rightdoing
there is a field.
I'll meet you there."
-Rumi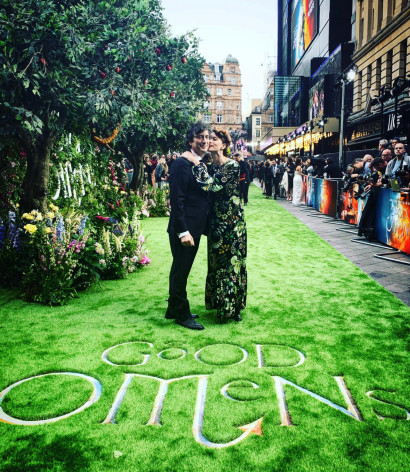 love springs eternal on the carpet of eden.
its a good omen.
x
a
——THE NEVER-ENDING AS ALWAYS———
1. if you're a patron, please click through to comment on this post. at the very least, if you've read it, indicate that by using the heart symbol.
2. see All the Things i've made so far on patreon: http://amandapalmer.net/patreon-things
3. join the official AFP-patron facebook group: https://www.facebook.com/groups/afpland
4. new to my music and TOTALLY OVERWHELMED? TAKE A WALK THROUGH AMANDALANDA….we made a basic list of my greatest hits n stuff on this lovely page: http://amandalanda.amandapalmer.net/
5. general AFP/patreon-related questions? ask away, someone will answer: patronhelp@amandapalmer.net
Thu May 30 – St. Louis – The Pageant
Fri May 31 – Kansas City – Arvest Bank Theatre at The Midland
Sat Jun 1 – Denver – Paramount Theatre
Thu Jun 6 – Vancouver – Chan Centre
Fri Jun 7 – Seattle – Paramount Theater
Sat Jun 8 – Portland – Crystal Ballroom (SOLD OUT)
Sun Jun 9 – Portland – Crystal Ballroom (ALMOST SOLD OUT)
Wed Sep 4 – Netherlands – Amsterdam – Meervaart
Fri Sep 6 – Germany – Berlin – Admiralspalast
Wed Sep 11 – Germany – Munich – Kongressaal
Fri Sep 13 – Germany – Offenbach – Capitol
Sat Sep 14 – Austria – Vienna – Konzerthaus
Sun Sep 15 – Austria – Graz – Stefaniensaal
Wed Sep 18 – Germany – Stuttgart – Theaterhaus
Thu Sep 19 – Germany – Essen – Colosseum
Fri Sep 20 – Belgium – Antwerp – De Roma
Tue Sep 24 – Germany – Hamburg – Laeiszhalle
We Sep 25 – Germany – Leipzig – Haus Auensee
Thu Sep 26 – Czech Republic – Prague – Hybernia
Fri Sep 27 – Luxembourg  – Luxembourg – Conservatoire
Sat Sep 28 – France – Paris – Bataclan
Fri Oct 11 – Denmark – Copenhagen – Bremen Teater
Sat Oct 12 – Sweden – Stockholm – Södra Teatern (SOLD OUT)
Wed Oct 16 – UK – Bexhill – De La Warr Pavilion
Sat Oct 19 – UK – Cardiff – St David's Hall
Sun Oct 20 – UK – Cambridge – Corn Exchange
Wed Oct 23 – Ireland – Cork – Opera House
Thu Oct 24 – Ireland – Dublin – National Concert Hall
Sat Oct 26 – Ireland – Belfast – Ulster Hall
Sun Oct 27 – Ireland – Limerick – Univeristy Hall
Frin Nov 1 – UK – Dunfermline – Carnegie Hall
Sat Nov 2 – UK – Glasgow – City Halls
Sun Nov 3 – UK – Manchester – Albert Hall
Mon Nov 4 – UK – York – Opera House
Thu Nov 7 – UK – Newcastle – Tyne Theatre
Sun Nov 24 – Portugal – Braga – Theatro Circo
Thu Dec 5 – UK – London – Union Chapel (SOLD OUT)
Fri Dec 6 – UK – London – Union Chapel (SOLD OUT)
Fri Dec 13th – UK – London Union Chapel (NEWLY ADDED)