December 20, 2011
christmas with spiders, hungover + new years costume clarification.
hola comrades….!!!
 
greetings from down underoos
 
 
so, one of the things that i've been doing down here is trying to clear the debris out of my life before i break ground on the Giant Next Project (which i'm aching to give you news about, but need ot be patient and wait….but i assure you, giant things are afoot, and they involve huge amounts of new art and music).
 
meanwhile? immense, deep, profound housecleaning and plannage for the next steps of my life. i love and hate this part.
 
neil is being (relatively) patient with me while i engage in the constant ongoing battle of wanting to catch up on (and plan) my life, while simultaneously trying to feel and be married. 
it's no joke when other married people jab us and quip "your marriage must be very fucking easy, seeing as you never see each other." they jest, but it's true – when we're apart, there's little room for miscommunication, and typical married-life-bickering that tends to overtake you the minute you need to figure out something simple together – like when to leave the house to go to the store.
 
you should see the arguments that break out over such a simple decision.
 
we're SO MARRIED.
 
i do have one usual reaction to these mundane arguments…

 
…but have been trying of course to stay the course and even enjoy the process. 
mostly we're both so used to being alone and improvising our own schedules, that it's like two swarms of bees colliding in the night….unstoppable improvisational forces tangling with each other. it's the work of love. there's nowhere else i'd rather do it, and there's nobody else i've so enjoyed doing it with….neil and i learn each other bit by bit, day by day….for better and for worse.
 
christmas in australia is exactly as wonderful as i assumed it would be. it's warm but not hot in melbourne and a few days ago we trimmed the tree. 
 
i wore a bra BECAUSE I COULD….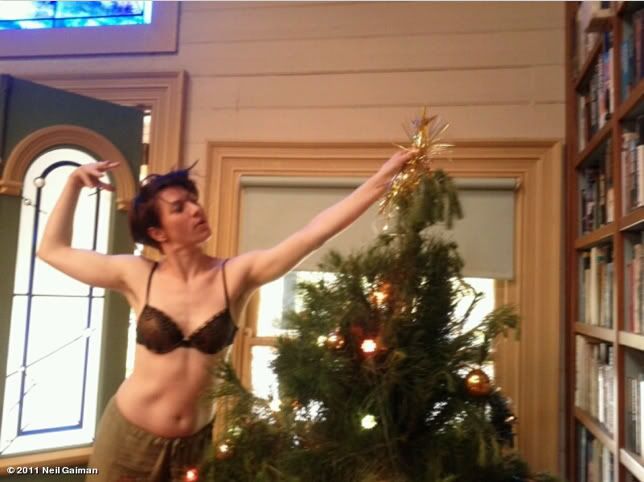 …while neil hung the traditional "christmas tardis"….which he'd been given as a gift at the tom stoppard/neil gaiman show (which was, by the way, incredible. tom stoppard blew my mind with his honesty and clarity. love. and after seeing me hop of on the bar of the venue and play "ukulele anthem," he asked me for an amanda palmer mixtape. what more could i ask? the only problem is: what fucking songs do i give tom stoppard? help.)
 
and love abounds.
 

 
i love it here in melbourne.
 
our hosts – the magnificent peter and clare – are as usual wonderful, joyous, and fattening company. 
as i'm not used to eating before 8pm, clare's three-sqaure-meal-a-day plan means that i eat exactly three times the food i am accustomed to, and since clare is a CHEF (or whatever you'd call it. she used to edit cookbooks for a living…and she cooks foods with earnest passion) it's not like you can thumb your nose at any of the food that arrives. you eat. her idea of "whipping up lunch" is to present something that looks like it's awaiting a zagat rating. 
peter and i have our morning sit-on-the-porch coffee and cigar, everyone discusses relationships and life, and wine is poured in excess. the dogs bark, and the cats meow,and every morning i drag neil gaiman out for a jog. 
 
he wears black.  
 
two days ago, after getting over the morning jetlag (and missing, sadly, as i knew i would, the amazing melbourne fan-flash-gig organized by karina in federation square)…but the photos looked AMAZING!!!
i mean, c'mon:

(more HERE on flickr)
…i went for a walk down brunswisk street yesterday with meow and neil, and we hit the nova to see lars von trier's "melancholia." 
 
it's probably been out for a while in the states, but fuck – what a gem. i was extra happy to be alive for a full 20 minutes after seeing that shit. and i running-commented on this to neil ("look, it's raining and we're alive! look, we're on an escalator, and we're alive! look, there are no cabs, and it's raining, and we're alive!")…what an excellent film. 
my kind of sci-fi… relatively mundane, and all about people.
 
and one wonderful (and i daresay, kind of superfluous, but lars von trier admitted it was the "shampoo commercial moment" of the film) shot of a fully naked kirtsen dunst:


 
i <3 naked.
 
just saying.
 
…and LAST night we saw the "TERMINATIVITY" (meow's better half – gatesy from the band tripod – was playing joseph)….all done up in class style at the bella union hall in melbourne.
yes, just what it sounds like. no nudity: but….
still
…a "terminator"-themed christmas musical.
 
i'd recommend you GO, but the shit's SOLD OUT.
next year…go.
 
where else can you see three wise men doing a beastie-boys style rap, and a shepard singing a song to joseph (who's concerned about the robot-from-the-future who is stalking and trying to kill his mysteriously pregnant wife) that contains the lyrics,  to the tune of a relatively jaunty major-key-60s-sinatra-dance-along: "chill the fuck out / shut the fuck up / and calm the fuck down"?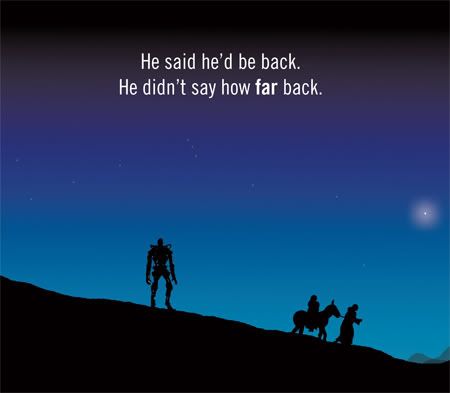 …then we hopped over to the nothcote social club to see justin haezelwood, aka the bedroom philospher, do his christmas show, including his girlfriend sabrina as "the ethnic elf."
good times, including a beat-ear jazz santa who rhymed santa with "decanter." Love. the australians clearly have their own take on christmas, and the nog is ON.
 
all you in oz are going to see him open up for the dresden dolls down-under-reunion-tour (tickets and info HERE) and i'm so, so glad – the man's a genius.
 
if you haven't seen him do "so postmodern" yet, you haven't lived. it's long, but just put it on while you're vacuuming your radiator, naked but unseen.
that would be…suitably postmodern.

 
of course, the reason i got turned onto him in the first place was his award-winning hipster send-up, "so hungover."
 
it's fucking hilarious, and i've watched it at least 8 times by now, happily picking up different nuances with each viewing.
it's PARTICULARLY hilarious if you're from australia, and more-so if you're melbourese….but it translates universally.
 
just pretend the subjects involved are from…..williamsburg.

 
oh, and justin's also going to be at THE NEW YEAR'S SHINDIG at revolt w/ neil & me & a bazillion special guests (there are still some tickets left HERE). 
everyone in town seems to be saying it's an INCREDIBLE space….i'm getting more and more excited.
while we're on the topic, and since people have been asking WHAT TO WEAR TO NEW YEARS….i maintain, it's a rather OPEN theme.
steven and i picked "trash masquerade" to be interpreted at will. when in doubt, vintage anything, up-cycled clothes made of trash will be applauded….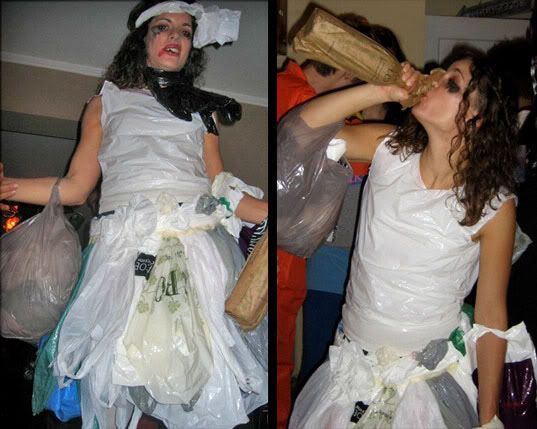 as will anything classy but degraded….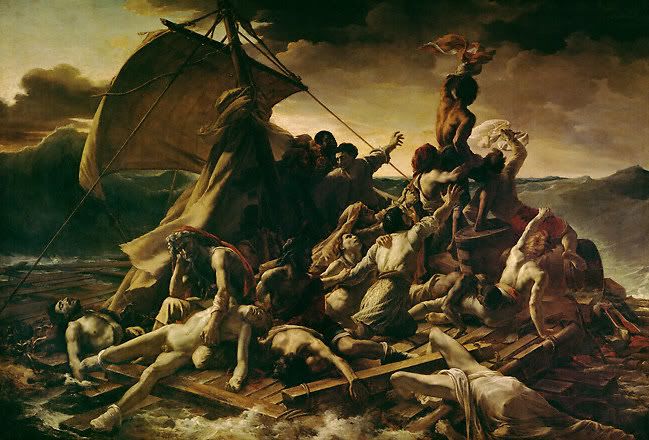 ….and since i barely have time to get my shit together, i have NO IDEA what i'll be wearing, so if any of you are incredibly ambious costumers, and want to make a costume for me, too…let me know so i don't wind up embarrassed. otherwise, i'll be coming in a very spank-ling evening gown covered in papertowels and saran wrap. (and if you do: just e-mail art@amandapalmer.net. that'll get to me).
please, just nobody turn up dressed in police caution tape. we'll have to unravel you.
……………………………………………
 
tomorrow, if i get my shit together…..some stroll photos down mammary lane. 
i've got some serious shit kicking around my drafts folder from oz, years past…..i'm going to destroy you with it.
 
anything else?
here's a spider living in our shower: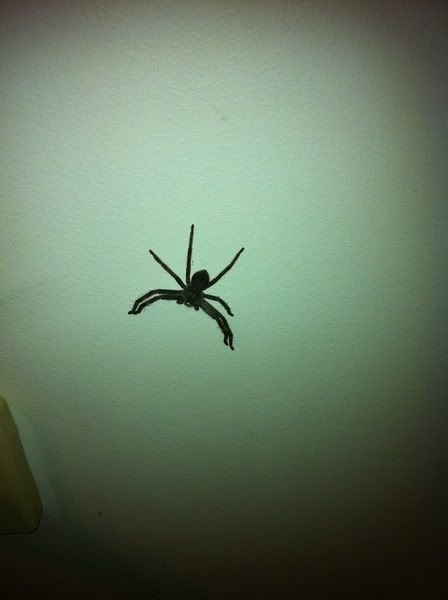 according to peter and clare – the spider is a FRIEND.
 
 
hi, friend.
 
 
xxx
AFP