June 3, 2019
from the desk of "fun new friends…": critical role
(public post)
hallo loves
thank you, firstly, for al of your beautiful comments and stories in the virtual signing lines from this past weekend in st. louis/kansas city/denver – much of it brought me to tears. i love you all so much and appreciate so deeply how willing you are to share your stories back to me.
i've got three days off til the next show-bender in the pacific northwest, where i flew yesterday.
so greetings…from an very fucking well-earned off day in seattle … where i popped up on stage secretly with jason webley last night at a little bar called the hotel albatross in ballard.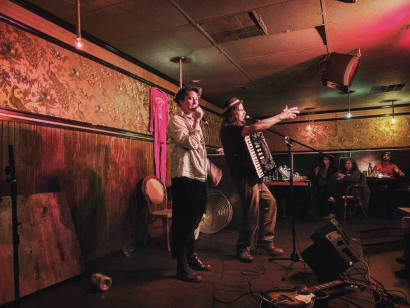 we played a few old songs that we rehearsed very badly in this parking lot behind the venue.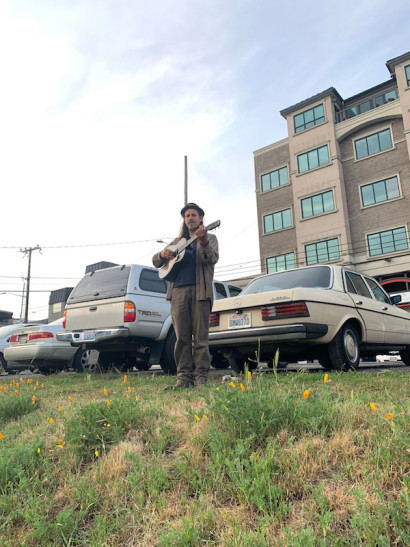 …and got to hang out with local legend baby gramps (another local busker), and my ol' pal lady rizo….who is in town for her own run of shows.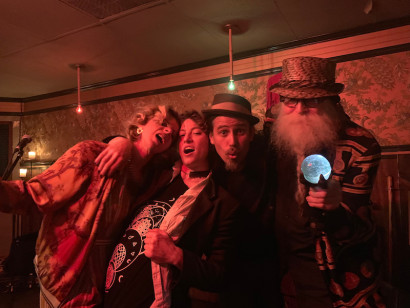 rizo, me, jason, gramps
….
new fun friends dept: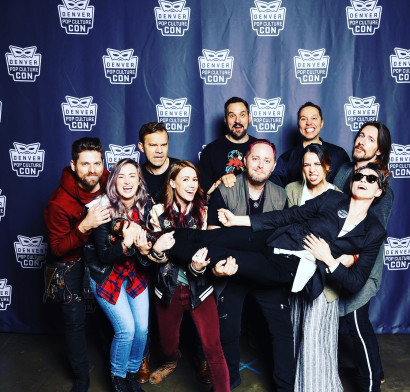 occasionally, in this life, you meet a posse of fellow theater-nerd weirdos that feel like they're long lost family. that's how i felt when i met this group of fellow weirdos in LA a few weeks ago for a podcast recording ("between the sheets with brian foster, the one in the red on the far left,,,it's not out yet).
they are a group of 9 called critical role; they started out as a gang of friends playing dungeons and dragons, then one day they decided to film it and throw it on youtube, and now they've stumbled into an empire of world-building celebrity – they just launched a kickstarter to animate their D&D story and it went gangbusters with all the related stress and mania and agony that comes with it.
i originally found out about these guys because matthew mercer (far right, dungeon master) said something said about me on twitter and that led to me and neil sending him and his then-fiancé now-wife marisha ray a nice wedding present. marisha is the gal on the left and she's a soul-sister … she also spent time as a hustling strert-performing living statue like me – but in LA instead of in the stodgy environs of harvard square. she worked hollywood. someday i have to do a living-statues-horror-stories podcast interview with her.
anyway
they were all at denver pop culture con yesterday and the day before – literally walkable from my show at the paramount theatre…so i stopped by to say hi. i watched them race through a breathless pauseless photoshoot with a gazillion fans from their galaxy.
they were pure generosity and love and patience. being lifted up by their awesomeness and then heading to do my own five-hour marathon was better than a quadruple espresso. i hope they survive whatever is coming and if you see them out on the road, tell them amanda says hi. (if you're into D&D you'll like all of this. just do a google, they're everywhere.)
love from my serious fucking day off
this is about the shape of it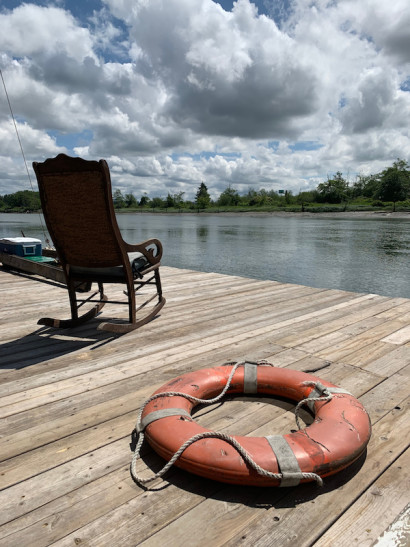 signing off
vancouver on thursday, then back to seattle for the paramount, the. portland (both shows for portland sre now officially SOLD. OUT. whoooo). ill likely be giving away tickets to patrons only for the vancouver show. stay tuned
love the shit out of all of you
xx
afp
——THE NEVER-ENDING AS ALWAYS———
1. if you're a patron, please click through to comment on this post. at the very least, if you've read it, indicate that by using the heart symbol.
2. see All the Things i've made so far on patreon: http://amandapalmer.net/patreon-things
3. join the official AFP-patron facebook group: https://www.facebook.com/groups/afpland
4. new to my music and TOTALLY OVERWHELMED? TAKE A WALK THROUGH AMANDALANDA….we made a basic list of my greatest hits n stuff on this lovely page: http://amandalanda.amandapalmer.net/
5. general AFP/patreon-related questions? ask away, someone will answer: patronhelp@amandapalmer.net
tour dates:
Thu Jun 6 – Vancouver – Chan Centre
Fri Jun 7 – Seattle – Paramount Theater
Sat Jun 8 – Portland – Crystal Ballroom (SOLD OUT)
Sun Jun 9 – Portland – Crystal Ballroom (SOLD OUT)
EUROPE/UK:
Wed Sep 4 – Netherlands – Amsterdam – Meervaart
Fri Sep 6 – Germany – Berlin – Admiralspalast
Wed Sep 11 – Germany – Munich – Kongressaal
Fri Sep 13 – Germany – Offenbach – Capitol
Sat Sep 14 – Austria – Vienna – Konzerthaus
Sun Sep 15 – Austria – Graz – Stefaniensaal
Wed Sep 18 – Germany – Stuttgart – Theaterhaus
Thu Sep 19 – Germany – Essen – Colosseum
Fri Sep 20 – Belgium – Antwerp – De Roma
Tue Sep 24 – Germany – Hamburg – Laeiszhalle
We Sep 25 – Germany – Leipzig – Haus Auensee
Thu Sep 26 – Czech Republic – Prague – Hybernia
Fri Sep 27 – Luxembourg  – Luxembourg – Conservatoire
Sat Sep 28 – France – Paris – Bataclan
Fri Oct 11 – Denmark – Copenhagen – Bremen Teater
Sat Oct 12 – Sweden – Stockholm – Södra Teatern (SOLD OUT)
Wed Oct 16 – UK – Bexhill – De La Warr Pavilion
Sat Oct 19 – UK – Cardiff – St David's Hall
Sun Oct 20 – UK – Cambridge – Corn Exchange
Wed Oct 23 – Ireland – Cork – Opera House
Thu Oct 24 – Ireland – Dublin – National Concert Hall
Sat Oct 26 – Ireland – Belfast – Ulster Hall
Sun Oct 27 – Ireland – Limerick – Univeristy Hall
Frin Nov 1 – UK – Dunfermline – Carnegie Hall
Sat Nov 2 – UK – Glasgow – City Halls
Sun Nov 3 – UK – Manchester – Albert Hall
Mon Nov 4 – UK – York – Opera House
Thu Nov 7 – UK – Newcastle – Tyne Theatre
Sun Nov 24 – Portugal – Braga – Theatro Circo
Thu Dec 5 – UK – London – Union Chapel (NEARLY SOLD OUT)
Fri Dec 6 – UK – London – Union Chapel (SOLD Out)
Fri Dec 13th – UK – London Union Chapel (JUST ADDED)
https://nointermission.amandapalmer.net