May 28, 2020
the dresden dolls – the muppets' "i'm going to go back there someday" {official Thing}
(public post)
((quickie: i'm also going live on a webchat RIGHT NOW from new zealand for the webchat-tier patrons…6-8pm new york time (10am-12pm new zealand time). here's the link to that post if you want to join in: https://www.patreon.com/posts/going-live-in-10-37629550))
hallo comrades of ye olde punk cabaret….
the dresden dolls made this for you. it's a cover of "i'm going to go back there someday", from the muppet movie.
you can download/stream it HERE on bandcamp, and all track $$ will go to the boston resiliency fund, which is helping locals affected by covid-19.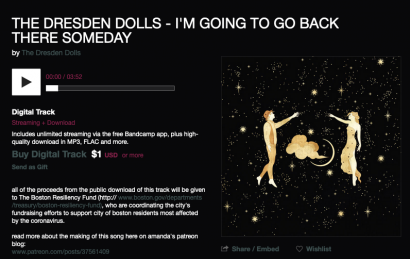 https://dresdendolls.bandcamp.com/track/im-going-to-go-back-there-someday
$3 patrons will get a download link in a moment.
………
so…..
the dresden dolls love you.
we wanted to record a sweet little lullaby for you in these heartbreaking and confusing corona-lockdown times.
so many of us are homesick in our own homes, homesick in ways we never thought we would be. we were supposed to be breaking ground on a new album this year, and now everything is on pause. we miss you, and we miss each other.
brian and i share a deep love of the muppets and the muppets' philosophy (peace, love, radical acceptance and understanding for all, basically).
we've covered "the rainbow connection" for years, from "the muppet movie", it's a song close to both of our hearts.
brian has been in quarantine in his new home in los angeles.
i have been in quarantine in new zealand since march, having canceled the very last date of the There Will Be No Intermission world tour in wellington. i decided to stay here rather than try to travel back to the states. it's been lonely.
brian and i were supposed to be gearing up this spring and summer to work on a new dresden dolls record.
now everything has paused.
during the second or third week of lockdown, i was walking ash up and down the hill outside our weird hilltop new zealand air bnb, and ash was in his stroller, chattering to himself. i was feeling the usual disoriented lockdown homesick what-is-this-life blues.
i had my iphone on speaker, playing a little playlist of songs he likes, and this one popped up. i heard the words in a whole new way.
this looks
familiar…
vaguely
familiar…
almost unreal
yet,
it's too soon to feel yet…
i looked down at my little four-year old.
i started crying.
i thought about how terribly homesick i was, and how homesick he was, and how we were both homesick for a place that's changed beyond recognition. we were homesick for a home that wasn't. i was doing such a good job at holding it together and trying to make our life in this rental house, far from his friends and family, feel normal.
it was, indeed, too soon to feel yet.

…close to my soul, and yet so far away. 
i'm going to go back there someday.
gonzo sings this song around a campfire in the muppet movie as a kind of homesick ode to space.
i've never been there, but I know the way….
so many people right now are as disoriented as i am.
when neil left for the UK a few weeks later and i found myself fielding a new role as a single mother in lockdown, with this beautiful alien country out the window, this song started to take on even more levels of meaning.
part heaven, part space….
or have i found my place?
i sent it to brian and asked if he'd like to cover it.
brian said yes.
something simple. nothing flashy.
just a lullaby.
a homesick lullaby.
for now.
for now, everything can be okay.
for now, i can make music with my band, even if it's just a silly muppets lullabye.
for now, i've found my place.
…………
brian wanted to share these words with you….
This is extremely exciting to be teaming up with Amanda across thousands of miles to record one of the most achingly beautiful Muppet songs, and contribute support to the Boston Resiliency Fund to provide food for children and seniors, technology for remote learning for students, and support to first responders and healthcare workers in the City of Boston.   
I had a whirlwind night at my apartment after I received Amanda's vocal and piano tracks, and I was reminded of the tenderness of this song, and working to maintain that feeling of longing that is so perfect in the original. 
As we know from The Muppet Movie, so often these unforeseen and often devastating challenges are really just a test of our ability to let go, our resiliency and ability to adapt, our patience to step back out of our own personal wants and little bubbles of control or expectation and just patiently wait things out with by placing more gratitude on the love of those around us.  
I hope that the funds raised from this release continue aid the brave efforts of all the frontline healthcare workers, teachers and educators, and provide some relief and escape to anyone listening.  
Thank you all for being out there and spreading your light.
………
i tracked the piano and vocals here at the air bnb in new zealand….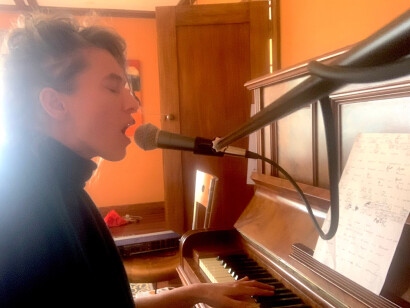 …with xanthea o'connor engineering from her laptop. brian recorded all of his parts and vocals from his house in LA…..
here's xanthea hard at work: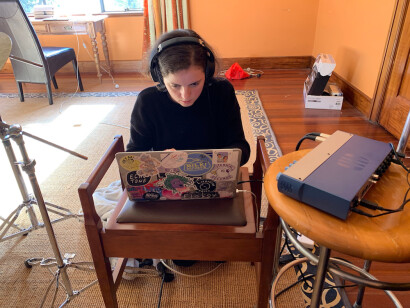 brian tracked all of his instruments at home in LA, and he did all of the mixing and mastering from his own lair.
brian is one multitalented motherfucker.
we discussed him adding drums to the track, and it just wasn't….needed.
here's the biglione, playing acoustic guitar….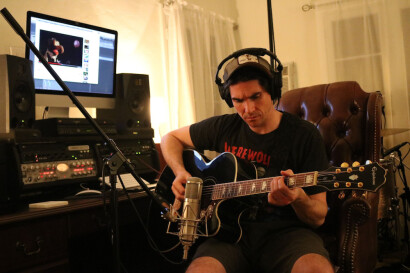 and the bass…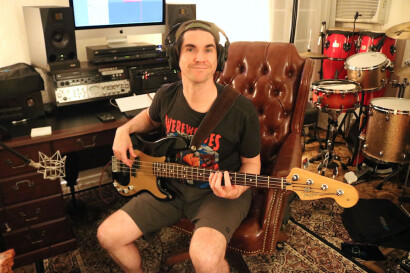 and the electric guitar….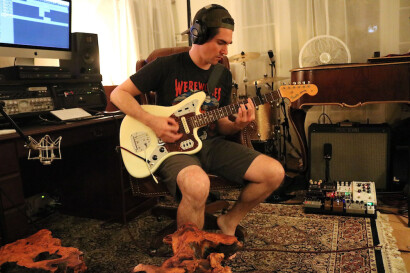 and doing his beautiful vocals…..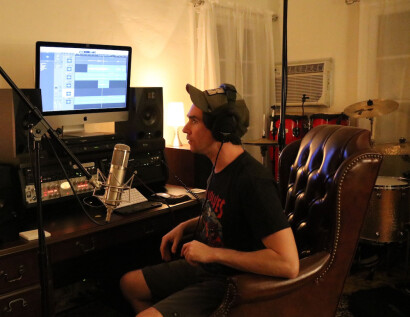 …….
any little special one-off release like this needs ARTWORK.
i was thinking about asking ash to do a "space" drawing, but that posed certain artistic…risks….
and then i remembered an artist i'd just discovered a few weeks before on instagram, when madison young (a porn actor i've interviewed for my upcoming podcast) posted some of her artwork. her name is corina nika, and she goes by @cocorrina.co on instagram.
this was the piece of artwork that madison young posted that caught me eye and i reposted. it just made me…feel happy. it reminded me of me and ash. the little bebe actually looks just like him.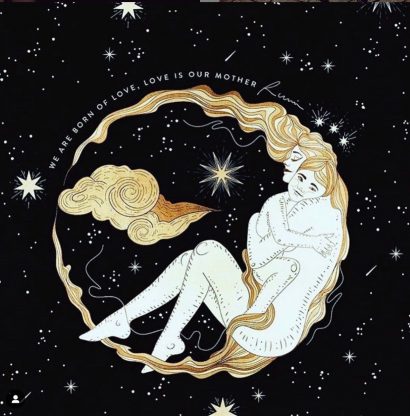 all i knew about this artist is that she was a mother from a little island off the coast of greece.
i cold-messaged her and asked if she'd be up for a commission, but that it would have to be done fast….like within a few days. she said yes, and asked for reference photos, and we were off and running.
brian sent this reference shot (by tara ozella):
and i sent this reference shot (by xanthea o'connor, she's fucking handy, i tell ya. also, i had to censor this twice before patreon would let me post this. aye aye aye…)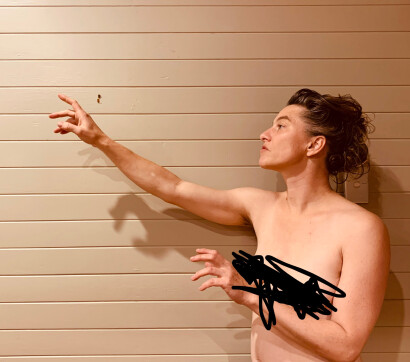 and within two days, corina sent back her finished piece of art.
it was stunning.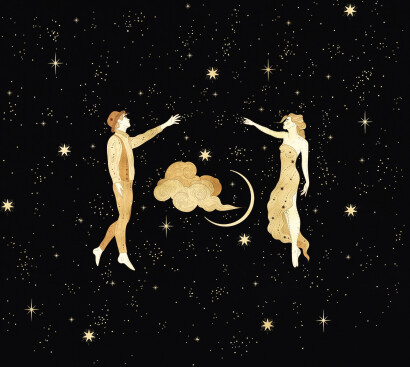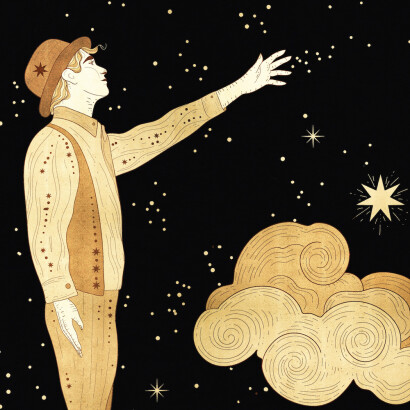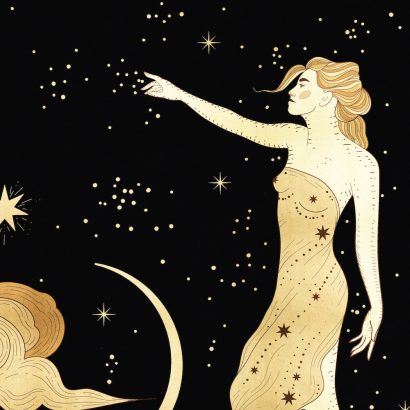 ……..
i love making art with people.
………
now, where to send the dough from the public downloads.
clearly to charity, given what's going on.
we are a band from BOSTON.
boston gave birth to us and raised us, and covid has hit a lot our friends lives and livelihoods back there.
we scoured around for the best charity to give this track's download money towards, and together, we picked The Boston Resiliency Fund, who are coordinating the city's fundraising efforts to support city of boston residents most affected by the coronavirus.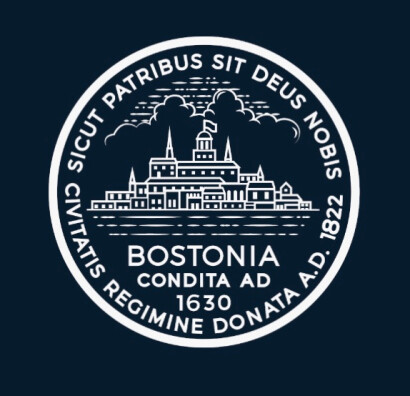 you can read a little article about The Boss and The Dropkick Murphys doing a concert in an empty fenway park for the cause.
https://www.irishcentral.com/news/dropkick-murphys-fenway
we're no bruce springsteen and we don't have bagpipes, but … we care.
…………
CREDITS
song written by Paul Williams and Kenneth Ascher 
originally sung by gonzo (played by Dave Goelz) in "the muppet movie", 1979.
amanda palmer – piano & vocals
brian viglione – bass guitar, electric guitar, acoustic guitar, backing vocals.
amanda's piano and vocals were engineered by xanthea o'connor in havelock north, new zealand.
brian engineered his own instruments, and mixed and mastered the track in los angeles, california.
…
lyrics:
I'M GOING TO GO BACK THERE SOMEDAY
This looks familiar, vaguely familiar,
Almost unreal, yet, it's too soon to feel yet.
Close to my soul, and yet so far away.
I'm going to go back there someday.
Sun rises, night falls, sometimes the sky calls.
Is that a song there, and do I belong there?
I've never been there, but I know the way.
I'm going to go back there someday.
Come and go with me, it's more fun to share,
We'll both be completely at home in midair.
We're flyin', not walkin', on featherless wings.
We can hold onto love like invisible strings.
There's not a word yet for old friends who've just met.
Part heaven, part space, or have I found my place?
You can just visit, but I plan to stay.
I'm going to go back there someday.
I'm going to go back there someday.
……
we love you, so much.
it'll be nice when we can all be in the same room again.
we're going to go back there someday.
xxx
amanda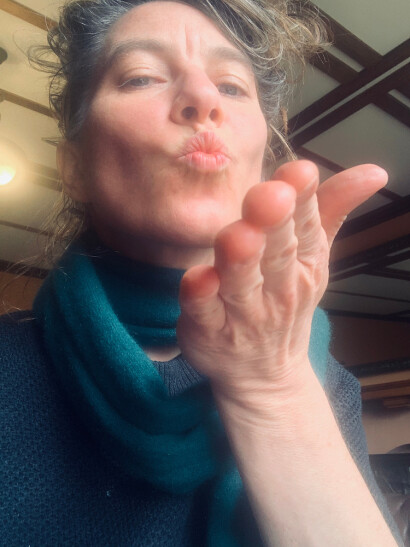 ——THE NEVER-ENDING AS ALWAYS———
1. if you're a patron, please click through to comment on this post. at the very least, if you've read it, indicate that by using the heart symbol.
2. see All the Things i've made so far on patreon: http://amandapalmer.net/patreon-things
3. JOIN THE SHADOWBOX COMMUNITY FORUM, find your people, and discuss everything: https://forum.theshadowbox.net/
4. new to my music and TOTALLY OVERWHELMED? TAKE A WALK THROUGH AMANDALANDA….we made a basic list of my greatest hits n stuff (at least up until a few years ago, this desperately needs updating) on this lovely page: http://amandalanda.amandapalmer.net/
5. general AFP/patreon-related questions? ask away, someone will answer: patronhelp@amandapalmer.net