June 11, 2020
goodbye, beautiful casey…we will miss you so much.
(public post – main photo of casey by chuck revell)
hello loves.
oh man.
in the midst of all that is happening, i would like to pause…even pause the pause….and say goodbye to a dear, beloved member of the dresden dolls community.
casey porter (who many will know as ksea flux from the shadowbox and elsewhere) just passed from this existence.  my heart is a little emptier today knowing he is gone, and many in this community knew him, and i wanted you all to know. he died at home in california, surrounded by his friends and loved ones.
casey was a long-time ally and cohort of the dresden dolls…he helped at countless shows and led the brigade (our motley group of performances artists) on the west coast during our heyday of touring. he then joined forces with vau de vire, a san francisco-based circus/performance art troupe that we often collaborated with.
he was also a ringleader at the boston shooting of our first DVD, "dresden dolls live at the paradise"…..here he is in full-stilted glory.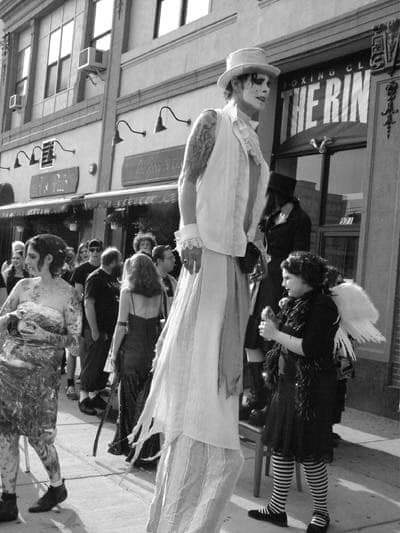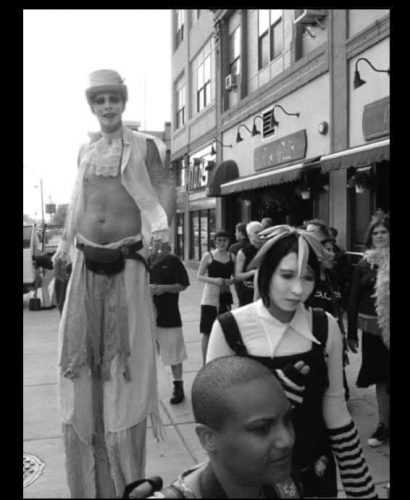 (photos care of david rodwin, we tried to find a credit, please let me know if you have one).
……
and
here's a gorgeous group-photo of casey and a pile of the vau de vire gang….at a show that probably would have been on the west coast in 2004 or 2005…that's casey on the right in the face paint.
i imagine he was as happy in this moment as i would have been….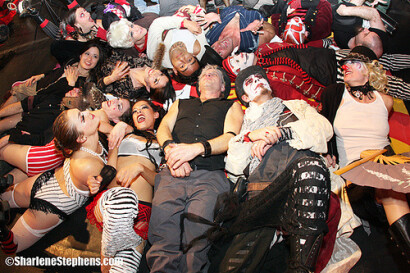 literally held in the bosom of a loving community…
this is why we do this. this is how we always want to feel.
……………….
casey blogged some really beautiful reflections of his time with the brigade and the dolls, and i'd love for you to do his memory the small honor of going over there and reading:
https://kseaflux.wordpress.com/tag/dresden-dolls/
he also included this statement in his post about the dolls…
"Twelve years & four days ago I decided to follow my dreams, whatever they were & whatever it took. Shortly after I was working with The Dresden Dolls & my life changed forever…..Four years & a month ago I talked with my Birth Mother for the first time in my life."
with this photo…..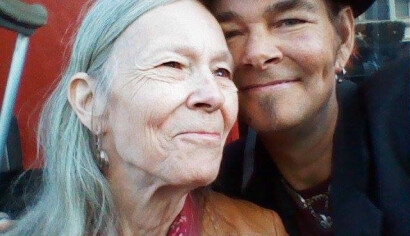 we lose and we find our families. we search, we yearn, we stumble.
we try.
casey brought so much family-energy, family-joy, contagious ridiculousness, and an expansive sense of WE ARE DOING into the organizing of the brigade….which was almost more of a philosophical undertaking some nights than just "a job". HOW CAN WE MAKE SOMETHING MAGICAL?!!?! – this was his question. his bright face said it all. the dark sometimes overtook. this is the way of things.
he was a striver, a seeker. he confronted pain. he didn't always win the confrontation, but he lived large, loud, the colors around him exploded and fizzed. his magnetic charisma was almost weirdly blinding, espeicially when he was in his element, entertaining, cavorting, connecting. he loved love. he knew pain. he lived high and low and thick and thin. he was a great writer.
as happens with death, the news came at me from over in america from a lot of different sources…from sxip, from brian.  from whitney moses, who many of you also know from her time on tour with me, and who knew casey better than i did, and who got to be there in his final moments.
a mutual friend of ours, david rodwin, also kept me updated over the last few days via whats app, and i sent videos and recordings for him to play in casey's ear. thank you so much, david. for caring. for reaching out. for being a bridge.
here's a photo of whitney and casey back in (probably about) 2005: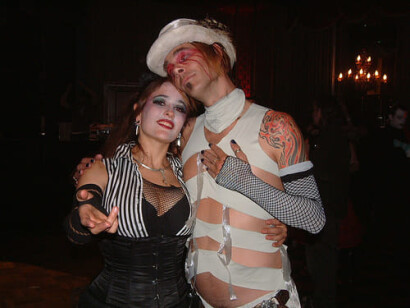 here is casey all gussied up….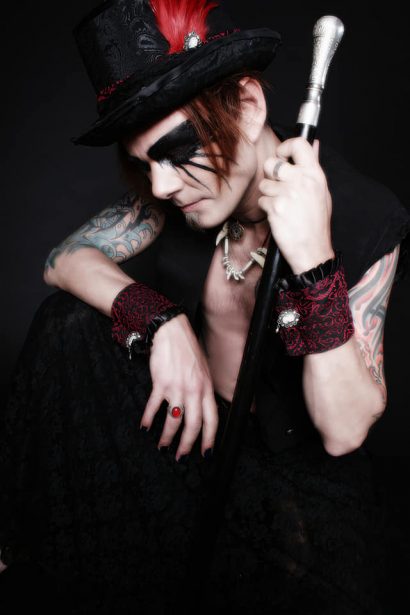 and here is casey, man after my own heart, busking as a living statue….
sharing his shine with the streets.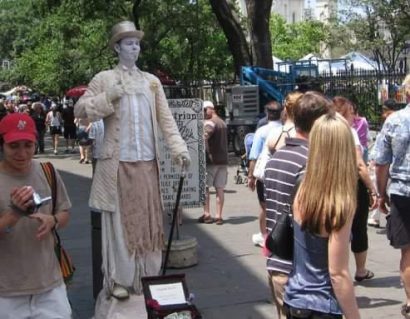 ………….
whit took this photo for me of casey's bookshelf-view from his room yesterday.
there i am. there's neil. there's his hat. there's life.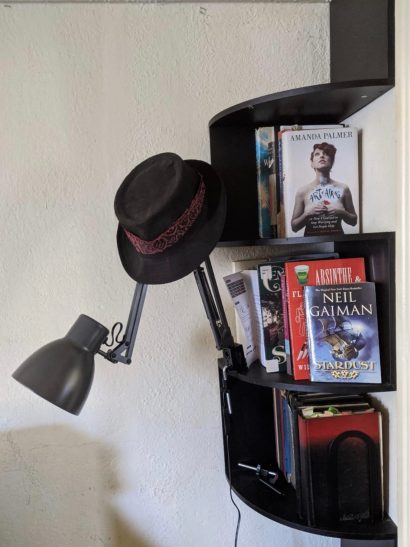 whitney wrote this beautiful tribute in the patreon facebook group.…
Rest in Power, kSea Flux. Here's to all the magic, mischief, and generosity you brought into this world. This whiskey shot is for you dear friend. *clink*
Many of you old schoolers might remember kSea from the early days of the Dresden Dolls. He wrangled the brigade for a spell, and helped with the DVD filming in New York. He's always been a dreamer, a radical star child with a life force stronger than the odds. He fought decades of chronic illness with a style and grace none could deny.
kSea died died last night in the company of loved ones in his own home fighting hard to the last breath. We took a shot a of whiskey in his honor and he left this realm moments later. Less than 10 minutes after that there were beautiful fire works out the window. He finally gets a damn break from the pain he's been suffering.