December 24, 2019
Happy Holidays, my loves. "Star of Wonder" {official Thing}
(public post)
HALLO MY DEARS….it's CHRISTMAS EVE THING SURPRISE TIME.
greetings from melbourne, i'm still jetlagged. neil and i just spent a few hours trying to assemble a christmas for ash, even thought we've just landed in australia and we're staying in an air bnb. we shopped, we wrote to santa, we made stockings out of our socks. we are trying. neil read a killer "night before christmas" and ash fell asleep before we hit the last page. we listened to some david bowie and bing crosby. we are getting into the spirit.
thank you for all your beautiful comments on my bleeding-heart post from last night. it meant a lot to me to hear you with me. i'm here.
where are you? comment. check in. hello. you okay?
we are connected.
speaking of which…..
here's a surprise present i made for you, with a stitched-together-star-gift of love:
https://www.youtube.com/watch?v=uYKe99lGWFs&feature=youtu.be

long story short: we made this video using a little selection of your hundreds and hundreds of photos from all over the world.
we are giving $10k of this THING to a really wonderful local charity (well, local back in my newly adopted hometown) called Family Of Woodstock, whose mission is to provide confidential and fully accessible crisis intervention, information, prevention, and support services to address the needs of individuals and families across ulster county, new york and its surrounding communities. they're a critical local outfit that helps a lot of people in need. they are not huge. this money will mean a lot to them.
note: this is a public post, but stay tuned for a patron-only post coming, i'm giving ALL PATRONS the download for the song and video. ('tis the holiday season).
………………….
the long story:
i got this idea while i was standing out in the back of our flat in london about a month ago, and it's one of those beautiful only-with-patreon stories.
it happened like this:
i was in the kitchen, feeling mopey. someone from the patreon – i forget who and from what city on tour – had given me this beautiful little candle holder and candle. the dark had come at fucking five o'clock and i lit the candle for going outside to have a cigarette (don't judge, i'm still smoking a cigarette once in a blue moon, i sort of use them as meditation sticks, but that's another post).
the candle said "burning bright."
here it is….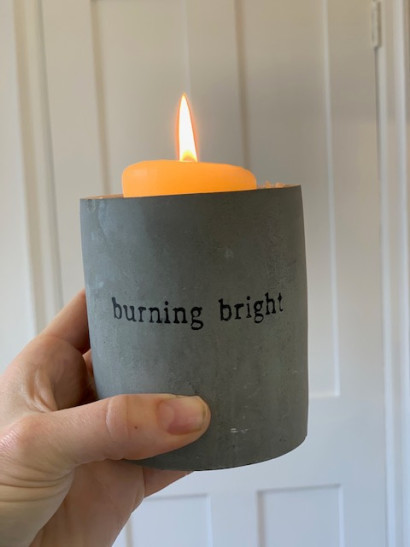 so
i was standing out there in the cold, rainy dark of london, and the phrase on the candleholder reminded me of a beautiful song i'd heard the year before on christmas. a song i'd never known before, called "star of wonder" by the roche sisters.
there's a little collection of supremely talented teenagers in woodstock who i've wound of colliding with on a couple occasions. every year woodstock has a benefit for Family Of Woodstock in a barn-venue, and i've played it a few years running. last year, storey and cally and corey performed this song and it was so beautiful i asked if they would run out into the parking lot so i could capture them practicing it (you can see my little instagram video HERE).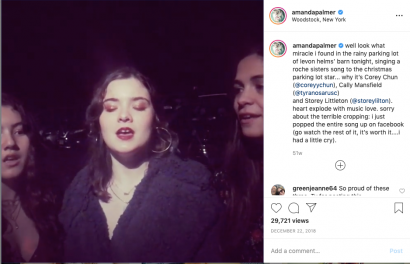 ……..
back to london.
the song played over and over in my head, enveloping me with my sweetness, and i got an idea. why not try to record the song WITH them, from across the seas, each of us adding our part? we have the technology….and i'm homesick….and, i thought (where do these thoughts come from?), maybe every patron could send in a star photo. we could stitch them together. HOW HARD COULD IT BE. then i thought: my team has no time to do this. we have so much other shit to do. i'd need to give this a lot of time. i'd need to find a film editor. someone would need to go through all the photos. this will take forever.
then i went back in the house.
then november kept destroying me, and i thought: fuck it. i want to do this so badly. i went to my team on bedded eyeballs and said:
i'm so sorry. 
i have an idea.
………….
but this is the way the universe spins. gabrielle offered to come on board to look through the photos with me, hayley helped with the post, the director of the "brexit" video, dan allen, agreed to come on last minute to spend a few days editing the video even though he was maxed with work, and our office assistant in new york, allison, wound up jumping in at the 11th hour to track down some of the city names.
a thousand points of art light.
…………….
this is the thing about this community and about all of you.
we are connected.
we are all over the globe.
we are all struggling and suffering and feeling joy in turn.
but we are all….here.
……………………
i wrote to cally, storey and corey, and they recorded their vocals in woodstock.
then jason webley happened to be in town….so we recorded my part at me & neil's place in london: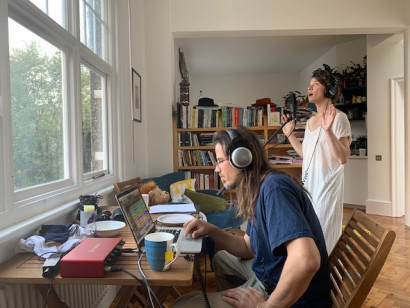 then gabrielle and allison got to work sorting the photos, and dan jumped in with the video help.
in the end, we got over 300 submissions, and you can look through ALL OF THEM here.
i suggest you scroll slowly….it's really powerful.
THERE YOU ALL ARE. FOR REAL!!!!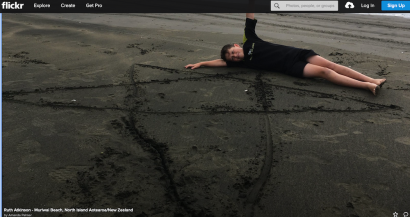 there were so many photos to choose from….every and any one of them would have worked.
part of the idea of the project was to let you all SEE EACH OTHER!!!! we are always typing with text….so seldom can we look at each other's faces, houses, surroundings.
EVERY SINGLE ONE OF THEM IS SO BEAUTIFUL.
it was REALLY hard to narrow it down to 40 or so photos., but we selected for diversity and dan did a beautiful job of creative little narratives….i just keep watching the video and finding new things. huge props to dan allen for stitching it all together in a beautiful video.
an alternate (and dare i say, better) way of experiencing to the song would be to skip the youtube video and just put the song on while scrolling through the beautiful flickr gallery.
………………………..
and….here's a little full-circle story about the origin of the song itself.
when i first moved into the cloud club, lee (our art-lord) asked me if i knew about the roche sisters. the roach sisters?? i asked. no no no, he shook his head, rummaged around in a box under his bed, and produced an old dubbed 90-minute tape for me. THE ROCHE SISTERS, he said. you need to hear them. it was one of the few tapes that lee ever gifted to me.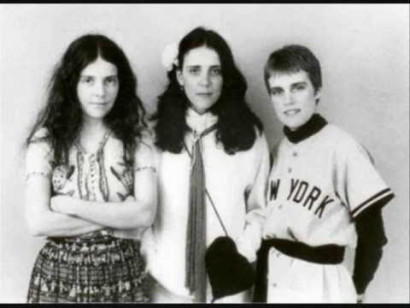 the roche sisters https://en.wikipedia.org/wiki/The_Roches– maggie, terre, and suzzy – are one of the lesser-heralded magic folk groups of the 70s (and into the now). they hung out with, and toured with, (and slept with) all the folk royalty of that era. their catalog is worth a meander.
…………………………….
and here's a few words from the gals, cally, storey, and coery, from woodstock who recorded this with me….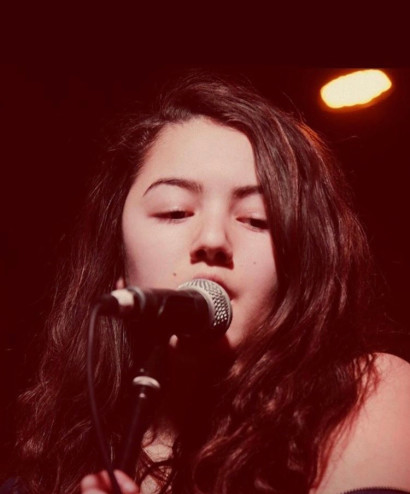 Wishing everyone and their loved ones a happy holiday! Much love  <3
….
storey littleton: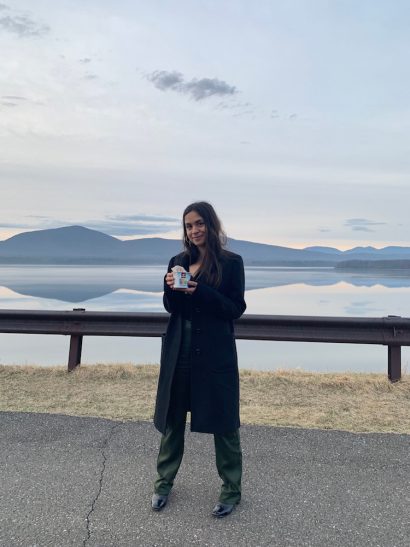 Before I knew Amanda or her music, I read The Art Of Asking and it changed my life. Shortly after finishing the book, I helped to assemble a setlist of important music written by women that would be inspirational and healing for music students aged 8-18 to perform. Amanda Palmer and The Roches were two of my first choices of artists to interpret, and it has been such an honor to get to know Amanda and sing this song with her. Sending holiday love and light to everyone who loves Amanda as much as I do.
……
cally mansfield: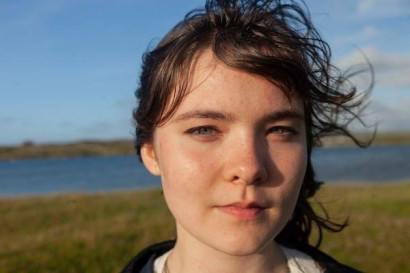 The song star of wonder is a call to action to me. It's a reminder to follow that which sparks wonder and to let myself be passionate and curious. I am only 19 years old and I am by no means done growing in maturity and knowledge, but when I see powerful women like Amanda Palmer who follow their "star of wonder" I know that I should follow mine. May you leave no corner undiscovered this holiday season and new year…
……..
and a word from gabrielle motola: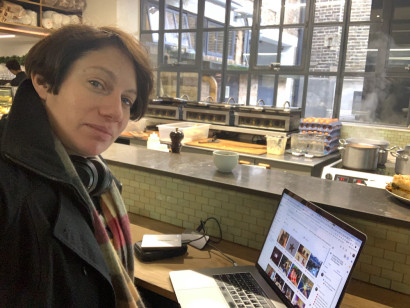 When Amanda asked me to help her with this project I didn't know how to make a google form or operate the back end of it. I knew I could help her select photographs but as usual, I had to grow to do this job. That has been the standard M.O. when working with Amanda. I'm growing. My photography is getting better, my brain is getting better, and my heart is getting bigger. Looking through the photographs I got a real sense of the playfulness and shyness and openness of the community that supports her. Something I learned in Iceland, we are all connected. I feel this when I am with her talking or when I see her perform; when I photograph her, even though often I am scared of that part. I am very vulnerable when I make a picture and it is good but it is a 'bundle of nerves' experience. I suppose that might be why I am so hooked on photography. I have dopamine receptors and I push through the fear. I grow from that the most. I see this in her work too. I wonder how you all felt making your pictures? You showed some intimate (though playful) parts of your lives. I hope you enjoy the end result and feel connected and part of something because you are. We all are.
(note: the photo at the top of this post – which is used in the video –  was taken by gabrielle motola, right before one of my soundchecks at the union chapel in london.)
……..
patrons will be getting this in a moment via download code, BUT you can also grab it on bandcamp for pay-what-you-want, here:
https://amandapalmer.bandcamp.com/track/star-of-wonder
song credits:
singers:  corey chun, storey littleton, cally mansfield, amanda palmer
engineering, in woodstock: pete hanlon
engineering, in london: jason webley
mixing and mastering: jason webley
photo team: gabrielle motola, allison siko
video editing: dan allen
original song by the roches
a huge thank you to jason and gabrielle for jumping in to do this last minute….and to my whole team: hayley, jordan, allison, micheal, braxton and nick at famehouse…everybody, really, for helping put this together. i couldn't have done this without all of your help.
we are connected.
we are.
i love you all so, so much.
happy holidays to all of you, wherever you are….you shining stars.
x
a
——THE NEVER-ENDING AS ALWAYS———
1. if you're a patron, please click through to comment on this post. at the very least, if you've read it, indicate that by using the heart symbol.
2. see All the Things i've made so far on patreon: http://amandapalmer.net/patreon-things
3. join the official AFP-patron facebook group: https://www.facebook.com/groups/afpland
4. new to my music and TOTALLY OVERWHELMED? TAKE A WALK THROUGH AMANDALANDA….we made a basic list of my greatest hits n stuff (at least up until a few years ago, this desperately needs updating) on this lovely page: http://amandalanda.amandapalmer.net/
5. general AFP/patreon-related questions? ask away, someone will answer: patronhelp@amandapalmer.net
UPCOMING SHOWS:
Mon. Dec 30 — Wed.. Jan 1 – WOODFORD, QLD – Woodford Folk Festival
Thurs. Jan 16 — Sat. Jan 18 – LAUNCESTON, TAS – Mona Foma Confessional
Mon. Jan 20 – LAUNCESTON, TAS – Princess Theatre, Mona Foma
Wed. Jan 22 – MELBOURNE, VIC – Hamer Hall
Fri. Jan 31 – BRISBANE, QLD – Brisbane Powerhouse
Sat. Feb 1 – BRISBANE, QLD – Brisbane Powerhouse
Fri. Feb 7 – CANBERRA, ACT – Canberra Theatre
Sat. Feb 8 – SPRINGWOOD, NSW – Blue Mountains Theatre
Fri. Feb 14 — Sat. Feb 15 – ADELAIDE, SA – Bonython Hall, Adelaide Fringe
Thurs. Feb 20 – SYDNEY, NSW – Enmore Theatre
Sat. Feb 22 – PERTH, WA – Perth Concert Hall, Perth Festival
Sat. Feb 29 – DARWIN, NT – Darwin Entertainment Centre
Thurs. Mar 12 — Fri. Mar 13 – AUCKLAND, NZ – Auckland Arts Festival: Hollywood Avondale
Sat. March 14th – CHRISTCHURCH, NZ – The Piano
Mon. March 16th – WELLINGTON, NZ – St Peters Church, Wellington Fringe
ALL TICKETS: https://nointermission.amandapalmer.net