May 21, 2017
love from tour…and free/public webcast @ Patreon in SF TOMORROW
(public post)
hallo loves.
the "i can spin a rainbow" tour kicked off in boston. as i told you, after the totally "you didn't get it" album review, i invited them to the show. they got it. justice has been served…. https://www.bostonglobe.com/arts/music/2017/05/18/palmer-mesmerizes-her-onstage-collaboration-with-spel/tN5KT1vuHyXtkUSwrCORAI/story.html
…and this was not only our first show, but it practically served as a dress rehearsal since we haven't nailed all of our parts. last night in new york was a triumph, and i have a feeling this whole tour is just going to get more and more magnificent every night. tonight we're in brooklyn.
it was WONDERFUL to see so many of you there looking like an alice-in-wonderland collage with playing cards drawn and pinned and worn and otherwise attached to your beautiful selves….i think we can now say that our experiment is a success. some people made entire corsets out of playing cards (anyone have a picture of that??) and some people just wrote on their hands and showed me privately at the signing table. it's been real.
i love you all so much. one thing i have to say, which just means so fucking much to me…edward-my-hero is so, so, so happy. he was positively BEAMING after the show last night and said it was one of the best shows he thinks he's ever played. the sense of mission accomplished in the bottom of my soul knows no bounds. all because of you guys and your support, and i thank you, again and again.
so many people are so sad to be missing this tour BUT it looks like we might be able to put together a SUPER-PRO recording/webcast of the entire show (HOORAY) somewhere in UK/Europe and Thing It.
……
we decided to do something weird with the merchandise….the attached photo is me holding the tour poster. we couldn't decide whether or not to MAR the ART with text, since it's so beautiful, so we decided to leave it a choose-your-own-adventure at the merch table and, if you want, we will add text (look at my sharpie and lettering skills) for you when we sign. the posters are just gorgeous – all the merch on this tour is pretty wonderful. edward has his hardback book of lyrics, i have copies of "theatre is evil" and "piano is evil" (still only available to the public on CD, i haven't gotten around to releasing that fucker on the public internet yet, but if you're a patron, you can download it HERE …it's the acoustic piano version of "theatre is evil" that i recorded this summer in new york allll by myself on the piano).
and we have "i can spin a rainbow" on vinyl, CD and just a handful left of the "THE HANDS EP" 7″, which were available only to patrons.
………………..
tomorrow i'm flying straight to SF for the webcast with the whole crew and el baby. neil is in cannes for the premiere of "how to talk to girls at parties", a film made by our friend john cameron mitchell (of hedwig fame). i saw it when it was in a rougher cut stage and it's a really sweet, dork-y-cult-y style film about punks hanging out with alien invaders in the late seventies in london. if you get a chance and want to go see nicole kidman dressed up like siouxie sioux eye make-up (it's the return of goth EVERYWHERE) … go check it out .
……………….
i'm staying in someone's really expensive and beautiful new york apartment house in manhattan during these tour days and ash broke the tail off a ceramic bird. it's the first time he's broken something that belonged to someone else on my watch. it makes me nervous about what else he is going to break (really expensive things? irreplaceable manuscripts? entire people?). motherhood is a thing. i wrote a little piece about being a mom here on instagram  if you want to read it.
i have been trying to teach ash to say "bird". he won't say it. he'll break it, but he won't say it. i say
"ash, say MOON."
"mooo!"
"good! now say BEAR!"
"baaaaa!"
"good! now say BALL!"
"baaaa!!"
"good! now say BIRD!"
and he just looks at me.
"say BIRD!"
*stares*
we'll get there.
………………..
yesterday in soundcheck i played the first twenty seconds of the TWIN PEAKS THEME . aside from "breaking bad", which was quite a deviation, twin peaks is the only TV series i've ever watched in it's entirety, and it's the only television show i've ever watched TWICE. it's my fucking fave. i really hope the reboot is as phenomenal as the original. TV AS ART!!!! i mean….i love it so much a named an album after it. i'll be on stage in brooklyn when it actually happens but i'll get on watching that shit in london and i'm sure my feeds will be a wall of GIFs featuring strange-looking lynch-characters. i am getting shivers just thinking about it.
…………
and in more internet things….if you've been arriving early to the shows you've heard the pre-show music. edward and i handpicked about two dozen songs to share, and we put it up in a playlist on spotify. if you are attending an upcoming show and you like surprises, don't peek. otherwise, have at it. warning: goth.
guess which songs i picked :D.
i'll give you a hint: we switch off every other song….
reminder, TOMORROW monday, may 22nd at 7:30pm (california time) we're webcasting a little bit of the record and doing a chatty-chat from the Patreon office in san francisco. we'll be broadcasting on facebook live….http://facebook.com/amandapalmer
the broadcast is free and public and you can tune in without a facebook account, but if you use facebook you can opt in to get a notification when the webcast starts. here's how: head to the AFP facebook page, click the "Following" button at the top, and in the drop down menu under Notifications select "On (Events, All Live Videos)"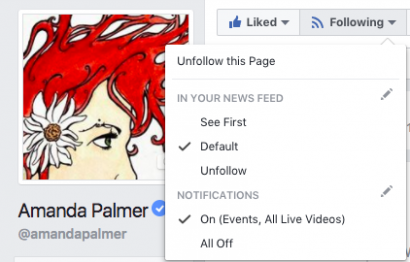 thats it fer now
over n out
xxx
a
p.s the photo was taken by hayley rosenblum, as was the twin peaks video 🙂
———–THE NEVER-ENDING AS ALWAYS———–
1. if you're a patron, please click through to comment on this post. at the very least, if you've read it, indicate that by using the heart symbol.
2. see All the Things i've made so far on patreon: http://amandapalmer.net/patreon-things/
3. join the official AFP-patron facebook group: https://www.facebook.com/groups/afpland/
4. AFP-patreon-related questions? ask away, someone will answer:
patronhelp@amandapalmer.net