July 25, 2018
ICELAND/ÍSLAND!!! i'm coming surprise
(public post)
hello my dear patrons –
very quick missive from the studio (i'm here hiding in a woodstock studio for three days to work on some album stuff, and some surprises, ho ho ho ho)….
remember back in 2010 when i got STUCK IN ICELAND FOR 24 HOURS AND DID A NINJA GIG? you don't?? go read my blog about it.
it was insane.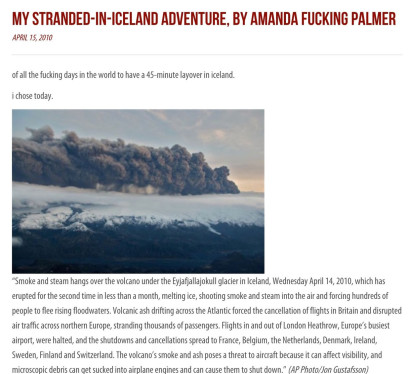 i came, i saw, i tweeted, i ninja'd, i borrowed a piano, i drank icelandic vodka, I CONQUERED!!!
and i promised to come back!!
and as fate would have it i carved out 3-4 days of toddler-free mom-vacation and decided that….well….iceland is techincally on the way to work in edinburgh (where i am doing four shows, and if you don't have tickets, GET ON IT!!!). so i just booked a ticket and bam, i'm coming. i have a few friends to connect with, but NOTHING PLANNED.
ill be there this wed thru saturday morning (aug 1-4th!)
WHO IS THERE? do i have patrons in iceland? I WANT TO MEET YOU!!!
NINJA GIG IN KAFFIBARRIN?? anyone got connections there? any ideas for something else weird and fun we could do. are there any theatre things? musics? festivals? must-see spots? BARS I MUST INHABIT???
HIT ME HERE!!! i'm listening.
it would be great to do something thuesday or friday night (wednesday i'll be jetlagged).
i'm staying smack in the middle of reykjavik.
TAKE ME TO SEE ICELANDIC FAERIES AND SHIT!!!
love from the writing-cave….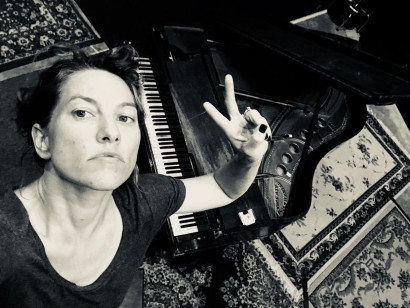 x
x
a
——THE NEVER-ENDING AS ALWAYS———
1. if you're a patron, please click through to comment on this post. at the very least, if you've read it, indicate that by using the heart symbol.
2. see All the Things i've made so far on patreon: http://amandapalmer.net/patreon-things
3. join the official AFP-patron facebook group: https://www.facebook.com/groups/afpland
4. new to my music and TOTALLY OVERWHELMED? TAKE A WALK THROUGH AMANDALANDA….we made a basic list of my greatest hits n stuff on this lovely page: http://amandalanda.amandapalmer.net/
5. general AFP/patreon-related questions? ask away, someone will answer: patronhelp@amandapalmer.net