June 28, 2019
at last….THE NINJATED LIVE ALBUM!!!! {official Thing}
(public post)
WELL HELLO THERE…i FINALLY have a live NINJA TED record for you!
(cue DRAMATIC SQUIRREL MUSIC!: https://www.youtube.com/watch?v=rfh4Mhp-a6U)
yes. FINALLY. it only took like, oh, a goddamn year.
but with so many people involved and the album coming out….yeah.
it just took a long-ass time.
BUT IT IS READY!
and guess what else? it is SO SO SO SO GREAT.
i was honestly not expecting to be as excited about the recording and flow quality as i am, but i just listened to the entire show and DAMMIT this record of this evening is a small masterpiece of sound, learning, laughter, and total straight-up weirdness.
some of you were actually THERE at the show….but here's the backstory, if you missed it.
back in april 2018 i threw my annual #NINJATED benefit concert in vancouver.
i first started doing these thrown-together variety concerts back in 2014, the year after i did my 2013 TED talk about asking.
the way the first NINJATED came together was amazing….i tweeted the locals to see if anyone wanted to host a little salon of random TED & local people/performers, so that the community of vancouver could share in the talent & brains that TED brings to town without paying a gazillion dollars to get into the conference.
less than 48 hours later the vogue theater had put up their hand to loan the theater for free, and we decided to fill it with people and pass the hat for the greater vancouver food bank. the guests that first year included people from TED like musician imogen heap, canadian astronaut-hero chris hadfield (on guitar!), my local pal & local pacific northwester jason webley hopped up,  a football player names chris kluwe talked about empathy, social scientist amy cuddy shared her work, and del harvey, from the "spam and abuse" department of twitter got on stage and made us all laugh. it was total chaos and a total blast…..we made up the order on the fly and it was just one of the best. nights. ever. we also raised a ton of money for people who needed food.
there's a great article about it here in the local vancouver paper:
https://www.straight.com/music/611656/amanda-palmers-ted-ninjavan-gig-unfolds-beautifully-structured-chaos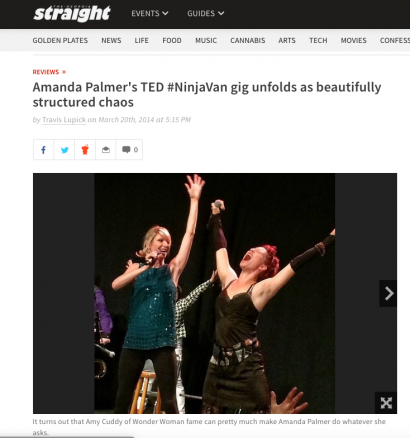 i had so much fun that i did it again the next year.
and then again.
it became a tradition.
and LAST YEAR, when i was there at TED in 2018, WE TOOK PATREON MONEY and RECORDED THE WHOLE GIG.
i didn't know who was going to be on stage until that WEEK, and some guests literally joined the day before or the day of. i wasn't precious about it. i just wanted to have a fuckin blast as usual.
it was, again, amazing. chaos, random, amazing chaos.
here is the original poster that designer andrew nelson made for the show….(also sold at the show, to raise money for el food bank):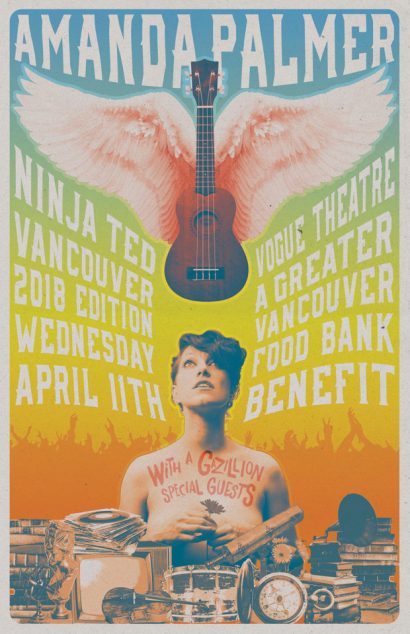 i'm working to put the extra posters up for sale on my webstore for $5 with all proceeds going to the food bank. get it, here:
https://shop.amandapalmer.net/products/ninja-ted-poster
if you're in the $100+ tiers stay tuned, i'll give a poster to whomever wants one.
and here's the original patreon post i put up about the concert….
https://www.patreon.com/posts/ninja-ted-line-18100179
WITHOUT FURTHER ADO, let's listen!!!!!!!!!!
we decided to put the album up FOR CHARITY, since the patreon $$ covers all the basics. we aren't putting it on the DSPs (digital service providers, i.e. iTunes, spotify, amazon music) to keep things simple, we are making it available ONLY to patrons as a download (for the download tier folk) and other than that, on bandcamp only.
here is the new artwork, also made by andrew nelson, with photos taken at the actual event by photographer rachel pick!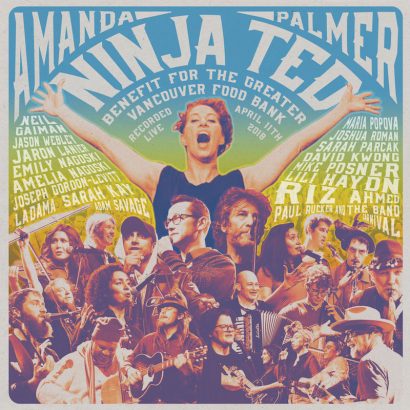 $3 patrons will be getting their downloads in a second (once i publish the post this link will take you there: https://www.patreon.com/posts/27899383)
$5 special-weird-stuff patrons are going to get a super-special patron-only video of the moment where joseph gordon-levitt & neil read sandman! we don't want to post that one on the wide ol' internet.
here is the link to the whole album on bandcamp….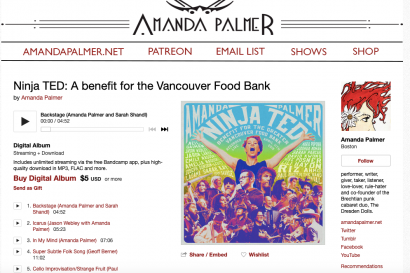 THE MAGIC LINK, SHARE WITH THE PUBLIC, PLEASE!
https://amandapalmer.bandcamp.com/album/ninja-ted-a-benefit-for-the-vancouver-food-bank
really…….PLEASE please share this album! tell people about it!….this one is a word-of-mouth special. we aren't sending it out to the NEWS.
WE
ARE 
THE 
MEDIA.
also note that this post is public, feel free to share the link to this post, too!
………
HERE IS THE ENTIRE LIST OF TRACKS AND PERFORMERS, with handy links, and a few extra words from some of the performers…..

1. Amanda Palmer + Sarah Shandl – Backstage 
sarah stage managed the show and has been part of NINJA TED since its beginning when she volunteered on twitter to be our stage manager.
2. Jason Webley with Amanda Palmer – Icarus

http://jasonwebley.com
@jasonwebley on twitter
3. Amanda Palmer – In My Mind 
http://amandapalmer.net
@amandapalmer on twitter
4. Geoff Berner – Super Subtle Folk Song 
https://geoffberner.com
@geoffberner on twitter
some words from geoff:
"Did that all really happen? I've never felt so much vertigo backstage as at these events, hanging around with legendary pioneers of American dance, literary heroes, activists who'd changed the world, movie stars getting ready to play backup on drums, and you know, the Astronaut. I think the audience had a wonderful time, too. All brilliantly put together on the fly by Ms. Palmer Herself. It's a supreme understatement to say that it was a great privilege to be there."
5. Paul Rucker – Cello Improvisation/Strange Fruit

paul's REWIND exhibition:
http://www.rewindexhibition.com
@blackcellist on twitter
6. Amanda Palmer – The Manifesto 
7. Sarah Parcak – Egypt Love Poetry 
https://www.sarahparcak.com
@indyfromspace  on twitter
8. LADAMA – Sin Ataduras 
http://www.ladamaproject.org
@ladamaproject on twitter
some words from lara klaus, drums and vocals:
"Giving a TED TALK made us feel very excited but nervous at the same time. Playing at NinjaTED the night before our talk brought us to a place of confidence and sharing and that definitely gave us a lot of energy. So honored to have met so many incredible artists that day!"

9. LADAMA – Pajarillo

10. Emily Nagoski and Amelia Nagoski – Genitals Song

http://www.emilynagoski.com
@emilynagoski on twitter
some words from emily:
 "Ninjated was the most fun part of my TED experience! Bless Amanda Palmer's cotton socks."

11. Sarah Kay with Joshua Roman – Brother/Bach Cello Suite No. 1 
http://kaysarahsera.com
@kaysarahsera on twitter

12. Joshua Roman – Julie-O 
https://www.joshuaroman.com
@joshua_cello on twitter
13. Maria Popova and Neil Gaiman – Hymn To Time/The Mushroom Hunters 
http://brainpickings.org
@brainpicker on twitter
http://neilgaiman.com
@neilhimself on twitter
14. Mike Posner – I Took a Pill in Ibiza
http://mikeposner.com
@mikeposner on twitter
NOTE: this song is not available to stream or download individually on bandcamp but it's included as part of the whole album download. long story why, but let's just say i'm glad i have this patreon and i'm not on a label. so if you're looking for this track specifically, get the whole album on bandcamp or as part of the $3+ download tier patron downloads.
15. Evelyn, Evelyn – Have You Seen My Sister Evelyn 
https://evelynevelyn.bandcamp.com
@evelynevelyn on twitter
16. Adam Savage – Brain Candy

https://www.tested.com
@donttrythis on twitter
some words from adam:
"If there's one thing that everyone who attends TED can attest to, it's that TED can we weird. And overwhelming. And stepping out for an evening to dance and sing and play with Amanda and whoever else she's press-ganged into performing, is a deeply loving, deeply grounding experience. I'll always come play when she calls." 
17. Riz Ahmed – Stand Up
http://rizmc.lnk.to/mogambo
@rizmc on twitter
18. Joseph Gordon-Levitt, Lili Haydn, Jaron Lanier, and Neil Gaiman – An extract from 'Sandman: Preludes and Nocturnes'
https://hitrecord.org
@hitRECordJoe on twitter
19. Jaron Lanier, Lili Haydn, Joseph Gordon-Levitt – The Birth of the Bits
http://www.jaronlanier.com
www.lilihaydn.com
@lilihaydn on twitter
some words from lili:
"I'm grateful to have been plucked out of the celebrated TED conference and find myself in this virtual reality of storytellers and troubadours, simultaneously iconoclastic and reverent, all of us dancing with the muse.  This kind of spontaneous free flow is what makes life worth living." 
20. Jason Webley with The Carnival Band – I Made a Promise to The Moon 
http://www.thecarnivalband.com/carnivalband/
@thecarnivalband on twitter
21. Full Cast – Let The Sunshine In
this features everyone above
this is best listened to with headphones.
for you audio nerds out there, this was mixed for full immersion using Beyerdynamic DT 770 headphones
again….all proceeds from the download will be donated to the greater vancouver food bank. the show itself earned nearly $20,000 and we will check in a little later to report how much the bandcamp downloads make!

CREDITS:
Recorded live at the Vogue Theater in Vancouver, Canada
Recording Services by Gearforce
Mixed by Frank Verderosa
Stage manager: Sarah Shandl
Photography: Rachel Pick (https://www.rachelpick.ca)
Cover art design: Andrew Nelson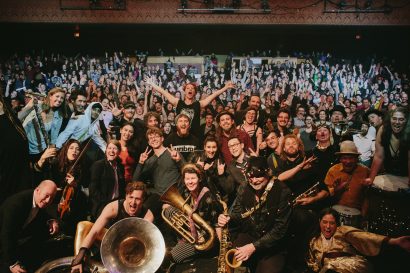 xx
a
——THE NEVER-ENDING AS ALWAYS———
1. if you're a patron, please click through to comment on this post. at the very least, if you've read it, indicate that by using the heart symbol.
2. see All the Things i've made so far on patreon: http://amandapalmer.net/patreon-things
3. join the official AFP-patron facebook group: https://www.facebook.com/groups/afpland
4. new to my music and TOTALLY OVERWHELMED? TAKE A WALK THROUGH AMANDALANDA….we made a basic list of my greatest hits n stuff on this lovely page: http://amandalanda.amandapalmer.net/
5. general AFP/patreon-related questions? ask away, someone will answer: patronhelp@amandapalmer.net
THE NEXT TOUR, EVEN THOUGH IT SEEMS LIKE LIGHTYEARS AWAY, IT'S REAL
Wed Sep 4 – Netherlands – Amsterdam – Meervaart
Fri Sep 6 – Germany – Berlin – Admiralspalast
Wed Sep 11 – Germany – Munich – Kongressaal
Fri Sep 13 – Germany – Offenbach – Capitol
Sat Sep 14 – Austria – Vienna – Konzerthaus
Sun Sep 15 – Austria – Graz – Stefaniensaal
Wed Sep 18 – Germany – Stuttgart – Theaterhaus
Thu Sep 19 – Germany – Essen – Colosseum
Fri Sep 20 – Belgium – Antwerp – De Roma
Tue Sep 24 – Germany – Hamburg – Laeiszhalle
Wed Sep 25 – Germany – Leipzig – Haus Auensee
Thu Sep 26 – Czech Republic – Prague – Hybernia
Fri Sep 27 – Luxembourg  – Luxembourg – Conservatoire
Sat Sep 28 – France – Paris – Bataclan
Fri Oct 11 – Denmark – Copenhagen – Bremen Teater
Sat Oct 12 – Sweden – Stockholm – Södra Teatern (SOLD OUT)
Wed Oct 16 – UK – Bexhill – De La Warr Pavilion
Sat Oct 19 – UK – Cardiff – St David's Hall
Sun Oct 20 – UK – Cambridge – Corn Exchange
Wed Oct 23 – Ireland – Cork – Opera House
Thu Oct 24 – Ireland – Dublin – National Concert Hall
Sat Oct 26 – Ireland – Belfast – Ulster Hall
Sun Oct 27 – Ireland – Limerick – University Hall
Frin Nov 1 – UK – Dunfermline – Carnegie Hall
Sat Nov 2 – UK – Glasgow – City Halls
Sun Nov 3 – UK – Manchester – Albert Hall
Mon Nov 4 – UK – York – Opera House
Thu Nov 7 – UK – Newcastle – Tyne Theatre
Sun Nov 24 – Portugal – Braga – Theatro Circo
Thu Dec 5 – UK – London – Union Chapel (SOLD OUT)
Fri Dec 6 – UK – London – Union Chapel (SOLD OUT)
Fri Dec 13th – UK – London Union Chapel (NEWLY ADDED)