April 3, 2018
making a tchaikovsky
(public service post/recipe)
hallo dears
first off: I AM SITTING DOWN TO REHEARSE FOR TOUR TODAY, jason has a piano at his place in seattle, i landed here last night. if you're coming (or even if you're not), gimme some idea of some things you'd like to hear. my songs, please. no freebird. ok? ok.
okay so we went to one of the famous northwest espresso/coffee drive-thrus (in seattle, they are everywhere, and sometimes they are manned, sorry womanned, by females in bikinis, which is always so strangely upsetting but that's a feminism-post for another day) and i got a strong latte and jason got a soy chai.
we drove back to jasons house and my latte was good but jason said his chai was too gross; it was overly sweet.
and i said "i know you, you have nothing in your house you can add to it to make it less sweet because you have no milk and really nothing in your fridge" and i joked that maybe he could add some of my coffee to it, since i hadn't put any sugar in my coffee and, after all, a Dirty Chai is a thing; it's a chai with espresso in it.
we were like: it would be a chai-coffee. a chai-koffsky.  a tchai-kovsky.
i said maybe a tchaikovsky is what happened when you have a chai plus a coffee after you are in your cozy alpine lodge after you hit the slopes and you want a nice drink. you know. after you ski.
jason said no, a tchaikovsky is what happens when you mix chai, coffee and vodka. and he said i have no milk at my house but i have vodka.
so we had tchaikovskys for breakfast.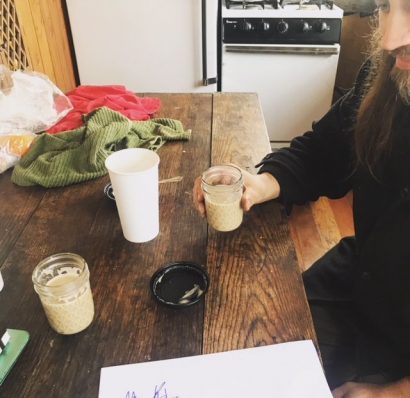 next; we rehearse for tour, which starts tomorrow in spokane. see you a lot of you soon.
how to make a  a tchaikovsky:
1. order a chai that is overly sweet.
2. order a latte.
3. mix the two: 2 parts overly sweet chai to 1 part latte.
4. add some vodka.
IT IS WONDERFUL AND TASTES KIND OF LIKE AN IRISH COFFEE EXCEPT WITH, ER, MORE THINGS IN IT.
you're welcome,
ENJOYSKI
x
a
p.s. feel free to add your own drink recipes below. heres my other one: the "Amanda Palmer". it is half lemonade, half iced-tea (a classic "Arnold Palmer"). add 2-3 shots of vodka. ENJOY!!
——THE NEVER-ENDING AS ALWAYS———
1. if you're a patron, please click through to comment on this post. at the very least, if you've read it, indicate that by using the heart symbol.
2. see All the Things i've made so far on patreon: http://amandapalmer.net/patreon-things
3. join the official AFP-patron facebook group: https://www.facebook.com/groups/afpland
4. new to my music and TOTALLY OVERWHELMED? TAKE A WALK THROUGH AMANDALANDA….we made a basic list of my greatest hits n stuff on this lovely page: http://amandalanda.amandapalmer.net/
5. general AFP/patreon-related questions? ask away, someone will answer: patronhelp@amandapalmer.net