March 3, 2011
NEW VIDEO for "IN MY MIND" shot ninja-style by jim batt.
greetings from radelaide!
the fringe is in full swing here and the shows last night were stupendous.
Evelyn Evelyn ripped the roof off their only "official appearance" in australia…for a couple of shy twins, they SLAY.
jason and i did a post-show ninja gig atop some giant boxes (i mean, giant) outside the spiegeltent in the garden.
i'm on the BIG box. jason is on the LITTLE box. HA: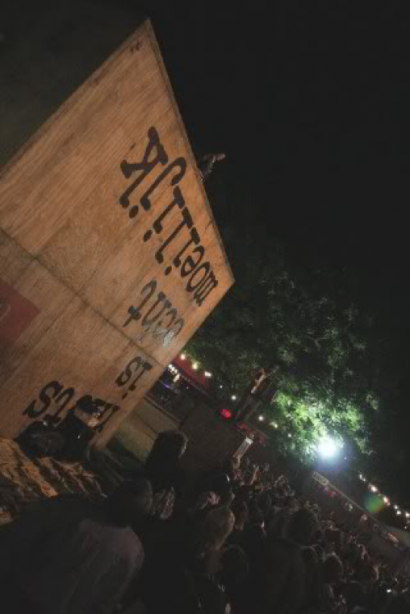 ……………………
new video?
why yes.
another unplanned one.
if you were following the blog a few weeks ago, i wrote about being in newcastle, australia, which is near sydney.
our backstage was an upstairs dilapidated ballroom, and we all spent the night oo-ing and ahh-ing saying "goddammit, why can't we make a movie here?"
here's JAA getting ready for the show, there: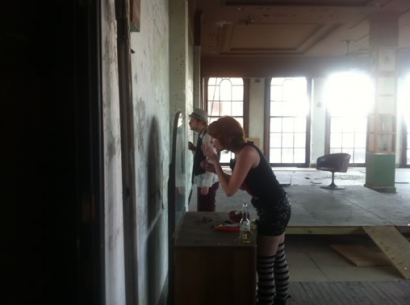 jim batt was with us, since his hot girlfriend kim boekbinder was opening up for me (along with the jane austen argument, st clare and co, and mikelangelo).
this is jim: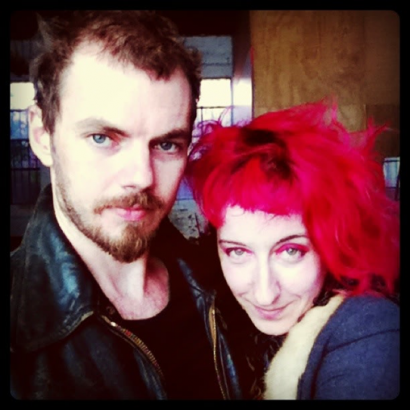 he's the one with the beard. on the left. he's kim boekbinder's boy from melbourne.
kim is the one without the beard.
we slept on mattresses in the dilapidated ballroom that night, and were going to wake up and head straight to the train, but jim sent a text really really last at night, which i got at 10 am when i woke up.
i'll transcribe the texts for you here: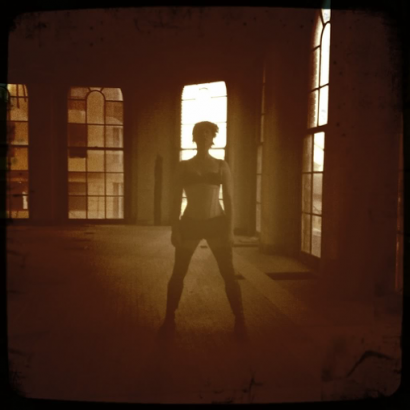 (attached photo via text)
jim to afp, 4 am:
Haven't been able to get images of those derelict rooms out of my head. You look so amazing in that space, I think we should shoot an impromptu clip for In My Mind there tomorrow morning. I have my camera gear with me… I know it's a crazy idea, but isn't that the way we like it? Jim Batt
afp to jim, 10 am:
Fuck. if you can get here in 15 minutes, yes…
afp to jim:
our trains at a little after 11 …
afp to jim:
but there might be a later one
afp to jim:
checking….
jim to afp:
I can grab a cab now, not sure if we'll have time before your train though. The Sydney trains seem to run every hour or so though…
afp to jim:
We have press today !!! But let's fucking do it. Come now!!! I have an hour, train at 12:24, need to be at station at 12:05. Come!!!!!
and come he did. we pushed our train time twice and still only filmed for about 90 minutes.
we talked for about 10 minutes about what we would do. then we did it.
here is the modified schedule, care of jim: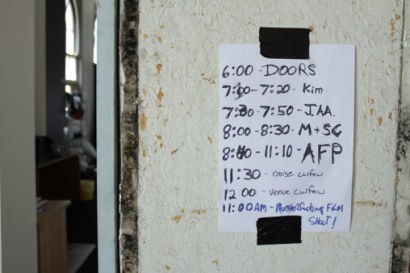 we climbed all over the space, finding good light and images, creating a story as we went.
i am convinced that i got my staph infection while sitting in those piles of pigeon poop.
the video is beautiful. it captures something in itself, but knowing the story behind it helps.
here we are, filming (photo by eric):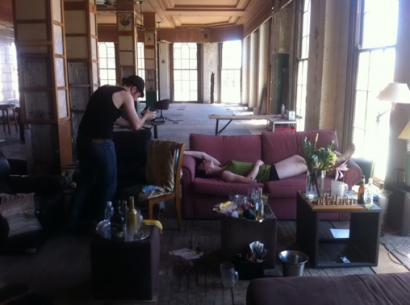 i like this new habit of asking the video-makers to share their experiences, so, some words from jim (@battsignal / jimbatt.com):
"I do many things, but mostly I make films. Usually this is a very expensive and time consuming affair, requiring detailed budgets, breakdowns, storyboards, plans, logistics of all kinds. I enjoy working on these big budget projects. But there is a certain pleasure, a gut level excitement, that comes from shooting a guerrilla-style, no-budget, no time, piece of rogue cinema. The kind of filmmaking where you just grab whatever resources are in front of you and run with it, improvising on a theme, where there is no time to debate, where the trick is to follow the momentum, keep things moving.
This music video came about due to a lucky conjunction of circumstance and location. Accompanying the lovely and talented Kim Boekbinder, I had joined the Amanda Palmer Goes Down Under tour in Newcastle. The venue there was in a magnificent old hotel, the top four floors of which had been disused for years. Crumbling into beautiful decay, the space was room after room full of dust and pigeons, with a faded ballroom as the centerpiece, full of mirrors and soft light.
Amanda and I had a quick explore before the show started, marveling over what a stunning location it would be for something…
Later that night, I couldn't get images of the space out of my mind, so at 4am I sent a text to Amanda with the crazy suggestion that we shoot a music video in the morning, before the tour rolled on it's way. Amanda, being who she is, was immediately on board. Within fifteen minutes and one coffee of having woken up we were shooting. Two hours later we'd made a video.
Working with Amanda was great, not many artists have the ability to throw themselves wholeheartedly into something without any plan. It was fun to collaborate with someone whose strength lies in improvisation, the both of us trusting our creative instincts to lead us in the right direction.
I shot on the Canon 7D, a digital SLR camera that also shoots high quality HD video. These cameras have started a small revolution in the independent filmmaking, and it's not hard to see why. With one of these and a laptop, I can carry my entire film studio with me in a bag that fits in carry-on luggage. While these cameras have challenges of their own, they're capable of shooting beautiful footage.
Shooting a film with no plan, no support, nothing but our artistic instinct and a camera, helps to reinvigorate and remind me that filmmaking can be quick, exciting, and alive.
On the train home after the shoot, I found myself thinking about what it takes to to make things happen. That it's not enough to just know what you want. You have put yourself in the path of opportunity, to be bold and quick enough to seize the moment when it happens, but most of all you have to be prepared, so when it does happen you're ready to go. No excuses.
The world is full of people talking about what they'd like to do 'if' or 'when'. Pick up your tools and make something with what you have. It may not be the best thing you ever create, but it will make you feel good. And it will make the next thing you do better. So do it. Go make things."
PREACH, jim batt. preach.
it really is fucking true. you don't worry about the imperfect result, the sloppiness, the lack of plan, the risk.
you just do it.
and meanwhile, you spend a few hours with an artist you've never worked with, feeling the adrenaline rush of squashed-time-improv that you never feel when there's a crew of thousands and a list and a plan.
space can dictate art, you can create time.
time can dictate art, you can create space.
you get the idea, and then you either do it, or you don't.
do it.
(watch it on vimeo or youtube)
XX
AFP