January 24, 2012
playing the violent femmes & meeting PJ
first up, a bit of ninja-gig-newses: AUCKLAND!!! it's official….DRESDEN DOLLS' LIBRARY NINJA GIG! 2pm this friday!! ALL AGES…FREE…follow @Auckland_Libs or visit aucklandlibraries.govt.nz for more info…
_______________________________________
hola my dear comrades….
writing to you from the depths of still-earthquake-devasted christchurch, new zealand, where i was supposed to play last february 22nd…the day the big quake hit.
it feels very good to finally be here, after having narrowly missed the quake itself (i was on the way to the airport in northern new zealand when it happened) and having seen all the fall-out and devastation from a relatively close perch…as well as being in touch with tons of fans over twitter who had been impatiently & happily waiting for the show (some even traveled from far away), only to get their lives turned upside-down and no fucking rock show, to boot.
the city is down. people are moving away. the economy is in the shitter (in far worse shape than australia). there are lots of piles of rubble on the ground…lots of empty frames and half-collapsed iconic churches. it looks like a warzone. went for a walk today and took some photos….
this is my favorite…everything's in it: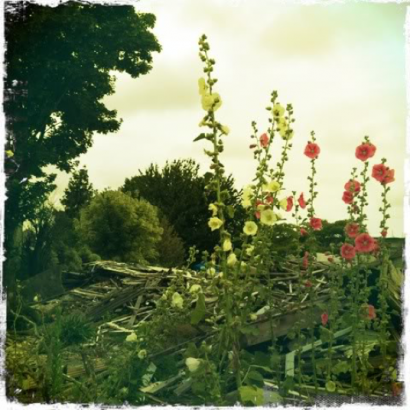 i twittered this one to neil, as i knew he'd love it. it's a book-exchange refrigerator someone built in a ground zero pile.
take a book, leave a book.
love: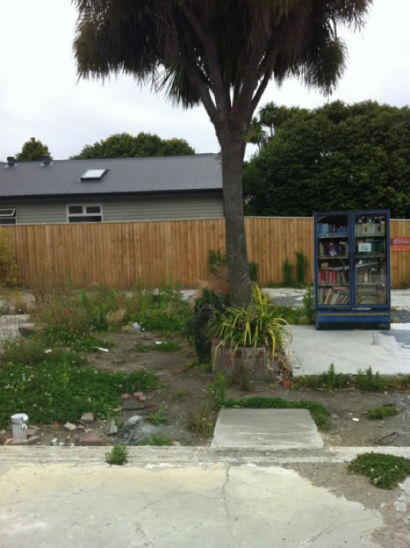 journalists from the area have been telling me that rock bands and touring artists have been canceling and/or skipping christchurch due to fear and the economy.
that's so sad and so backwards.
yesterday, brian and i did a free gig in the park along side Occupy Christchurch, a humble but brave occupation that only contains a few dozen tents, mostly housing the homeless. (note: occupy auckland was shut down a few days ago.) we had hera come and sing with us…she's an old friend by now.
by show of hands we asked how many people would come to our show if they could afford it….and a sea of hands went up. we put a shit-ton of people on the guestlist, but i have the sinking feeling i should have tried harder to make this concert free…or donation-only. people here are broke. i'd rather eat it and lose a little bit of money and bring music to everyone who wanted it. ticket prices here are prohibitively expensive, it's always a struggle with the promotors. i try to keep my tickets in the states about $25. here they can reach $60. i have limited control. it's something i'm working on trying to change.
photos from the ninja gig: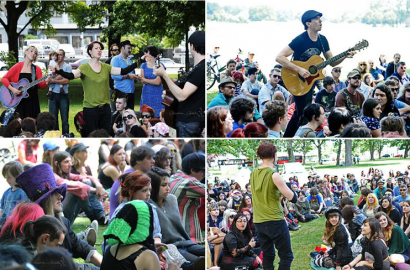 (via asstdgoodies.blogspot.com
the world buskers festival is on and i went to see three shows last night (a burlesque variety with my old pals in the daredevil chicken club, the ladies stand-up hour, and a fantASTIC show by The Boy With Tape On His Face) with hera and her partner hjotur. they're an icelandic art power couple.
the combination of what we newly dubbed "Park Cabaret" and wonderful vintage tits (including a great act with SHEEP PASTIES!!! i love creative burlesque costumes) made me feel hopeful.
there's a kind of ghostly restlessness and sadness in the christchurch audience, or is it my imagination? or were they always like this?
but they seem to come alive fast. and good lord, they need laughter, energy and escape more than anyone around here.
the tour has been slamming. tasmania KILLED me with joy….four days of non-stop art and inspiration at Mona Foma and the museum. the violent femmes supergroup was beyond perfect and is streaming HERE. our team (and the mona foma guys, and our pal guy jukes) went above and beyond the call of duty to make this webcast happen. we thank them DEEPLY.
it was an absolute dream, i felt like i was living out my teenage fantasy for a full 45 minutes. i kept likening it to a hairbrush-microphone-on-the-bed dream come true: like i was playing a true-life-scale karaoke fantasy game. feeling those words i know so well, listening to brian ritchie playing THAT BASS and THOSE BASS LINES right behind me…with brian playing along with clockwork precision, channeling every subtle roll and fill from the original record….those lyrics that have been pumping through my memory and blood for 20 years come spilling out of my mouth to a crowd of thousands….it was unreal. perfect. the band was tight as shit after just a single hour of rehearsal.
the rehearsal was held above a tea house run my brian ritchie and his wife. all acoustic. we played through every song once. that was it.
we drank green tea and ate fresh fish and rice cooked japanese in our rehearsal break. sometimes i want to move to tasmania.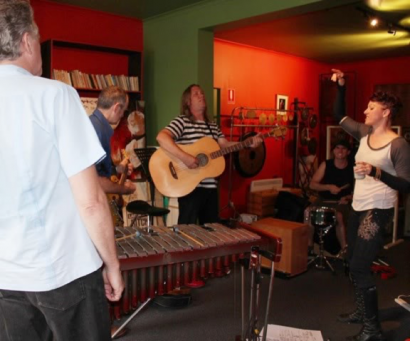 (photo by dianna graf…who along with her other half mark was the hostess  with the mostest for our whole hobart trip…)
i was talking to the band after the show and tried to put into words how much baggage i have to get over to be an instrument-less front-person, wielding nothing but a mic.
i always feel like such a fraud. to me, holding or playing an instrument has always been the EXCUSE for the embarrassment of wanting to run around and be a singer who can't really technically sing very well. take away the instrument and you're exposed for what you are: a child on a bed wielding a hairbrush, singing into the mirror at top out-of-tune volume.
maybe, though, there's nothing wrong with that. maybe that's where the problem originated (GET OFF THE BED AND GET REAL, LITTLE GIRL.)
our "SIDE A, SIDE B" sign swimsuit model: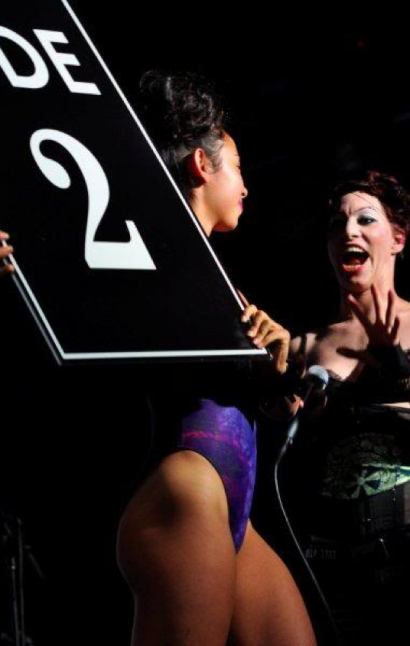 we got the idea last-minute. brian ritchie called the museum and MADE IT HAPPEN. bless him.
brian: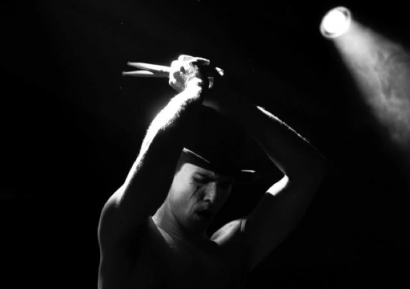 john parish and mick harvey: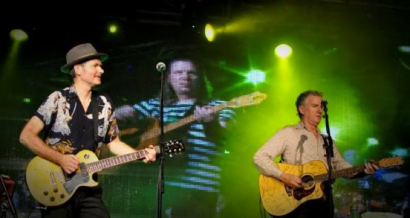 the man of the hour, brian ritchie & his magical acoustic bass.
this is actually from the dolls set, that's brian on electric guitar….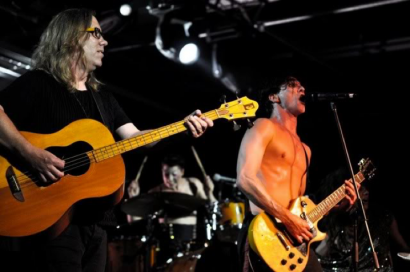 (all these photos by Duncan Giblin, stormboyphotos.com)
i also have to tell you about meeting PJ harvey, it's the most embarrassing and beautiful story ever….
she was watching our violent femmes show from side of stage.
i'd asked her band (my band, for the violent time being) beforehand if she'd maybe want to guest. they gave me that OH BOY look …and told me she never does that sort of thing unless she's dragged out on the spot. they said supposedly nick cave used to do that….just spit "AND NOW LADIES AND GENTLEMEN PJ HARVEY" into the mic and she'd be like….um. ok. sheesh.
i've done that to neil a couple of times. i think. actually, maybe i haven't. maybe he just says i have. he usually enjoys me "dragging onstage", but more to the point, i can usually tell the difference between "dragging" and "encouraging"…it's usually the latter. when it's the former, i can sense it, and i back off. i don't like dragging. it's a drag.
so at the encore of "blister in the sun" – we played it twice, once at start and once at encore – i caught her eye and ran over to her while brian ritchie explained to the crowd what an ACTUAL encore is (in old school days: a repetition of a favorite song…not a whole new batch, PREACH).
i asked her if she'd come on stage and sing with me. she was so sweet and said "no, no, no, you're doing wonderfully….go ahead without me, i couldn't possibly, etc etc". and in the fever of the moment,  i literally threw myself on my knees, looked up and said I'LL GIVE YOU MY FIRSTBORN CHILD! PLEASE?? and brian vilgione, who was watching this whole thing from the stage and laughing his ass off, says she looked wonderfully terrified. ultimately, she (so politely, so humbly, so kindly) refused. i don't think she wanted my firstborn child. i don't blame her, i don't think i would either.
but once the show was over, i felt like a grade-A asshole. why'd i pressure her? eesh. when I ran into her the next day at the mona museum, I begged her a second time: this time for her forgiveness. she granted it. golly, she was so nice. Queen Peeg. THE PEEG. how i love her. how very, very, very different we are.
me in my sloppy unrehearsed bra-and-underwear, get-everybody-on-stage-and-see-what-happens attitude and her in her tightly choreographed, ultra-controlled, laser-like intensity.
it takes a village.
her show was great – she and the band performed much tighter and bolder than in perth and the festival wrapped with a bang.
i took this shot of her from side of stage…in a particularly animated moment.
She Is Class.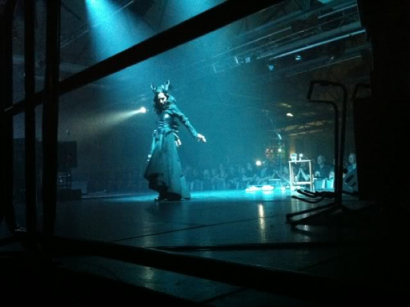 onwards to auckland and wellington.
LOVE
afp