February 27, 2011
put on your best raw meat, children, it's time to go to church
sveta and siri live in a house that is 50 feet from sydney's main commuter train line. it's 8 am.
i've been waking up lately feeling especially … i don't know … lucky? something.
this morning i awoke to the sound of thundering trains and rip-roaring planes above all sounding like they were heralding the beginning of the world, accompanied by a shrieking chorus of bombastic australian birds…sounded like thousands of them, all collectively freaking out to be alive and together and when i look out my window i see a bright grey sky sliced and cracked with thin glowing white clouds that let the sun blast through lighting up this whole scene and raindrops are falling on my bed in a single circle from the skylight that sveta left open for me so that i could have a front row seat for this whole crazy show. i've never been happier in my whole fucking life.
last night i went to a teeny burlesque bar and DJed glitta supernova's event. i found myself surrounded by a similar situation except the content was all human.
the event, called "pretty peepers", was help in the imperial hotel…the same joint where priscilla, queen of the desert, pulls off for her adventure.
eric took a photo of me out front. kambriel made the dress. david reynoso designed the collar. supergaydoublerainbow effect by the iphone: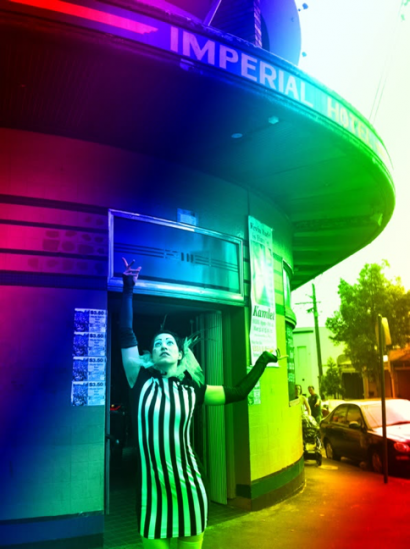 twas a whole evening of queer cabaret and burlesque, challenging and crazed and brave and what-the-fuck performers doing shit on stage that people in rock world just don't do that much. i really got homesick last night, i told our friends on the way home, homesick for my life 10 years ago. i miss the days when the dresden dolls were first starting out and my nights were packed with freaks and small places and naked performance artists running around…where at any given event it was likely you'd see blood, costumes, vaginas, screaming, and maybe raw meat – and you'd experience a kind of humor that only happens in a cabaret stuffed with those devoted to praying at the church of the Bizarre. not lady-gaga-bizarre, not bizarre that you'll read about the next day in the news. this shit isn't for the news. ever. real bizarre – the kind of shit that takes true balls. burlesque with ache, larger than life, apocalyptic sexual bravery, crashing-train-and-plane level stuff.
the audience was, in itself, a sight to behold, a tight community housing a super-hot queer dress-up family….trans girls, trans boys, proud-and-out girl prostitutes, the works. my people.
somewhere things got bigger, not more boring per se, but less small and since they got less small it all got a little safe, a little easier, the performance art got quietly written out of my life and i became a musician who did antics, a chick singer with a bent towards the theatrical, and i wonder sometimes what i left behind, what's been going on at church. sometime i think people don't even know where i came from. sometimes i feel like a bad daughter, having left my fold for a bigger stage. sometimes. last night woke me up a little. i have a huge break coming up, and don't know what's coming next. last night peeled my eyes back. maybe it's time to get on my knees and pray for a while…find my old friends in the performance art church and see what kind of meat they've been rubbing on themselves lately…
the lighting was awful for my iphone….but provided us this happy accident:
bunny hoopstar looking like a reverse iPod advertisement: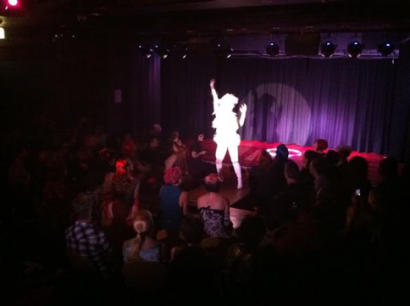 here are some of the other incredible performers, random shots i pulled from the web….just to give you taste of the flavor….
justin shoulder: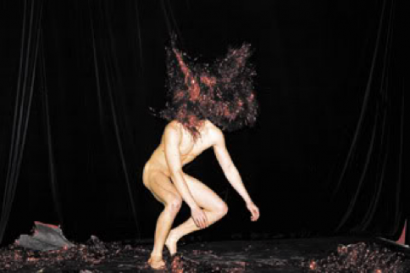 via realtimearts.net
glitta supernova…
in a piece called "super size me":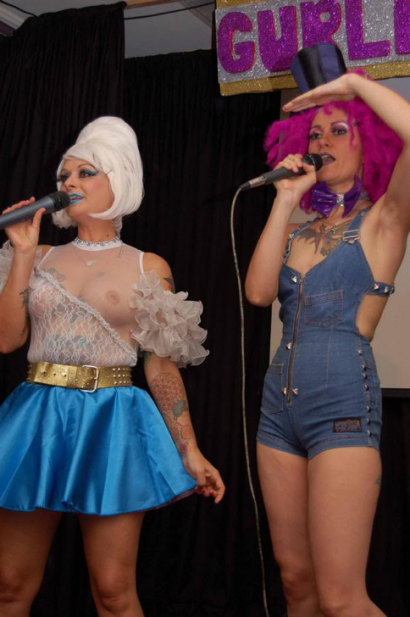 via myspace.com/gurlesque_au
the amazing ari: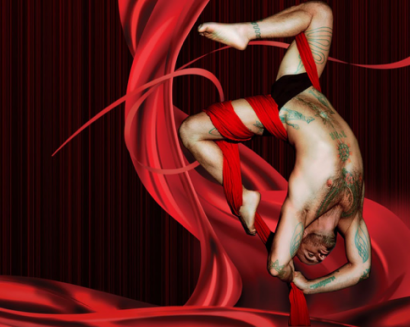 via refreshlite.com
rocca d'amore, one of australia's top drag kings…who also happens to be staying over at sveta and siri's house with us: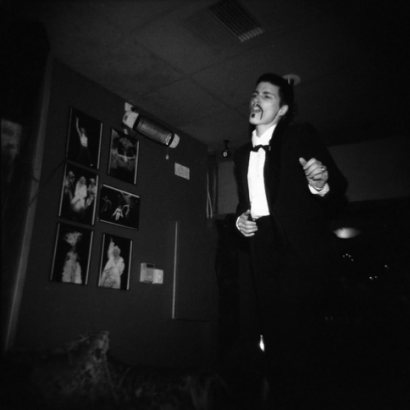 via blogspot
she cooked us all organic fettuccini with home-made sicilian tomato sauce last night.
my fucking life. i love my fucking life.
ginger snap: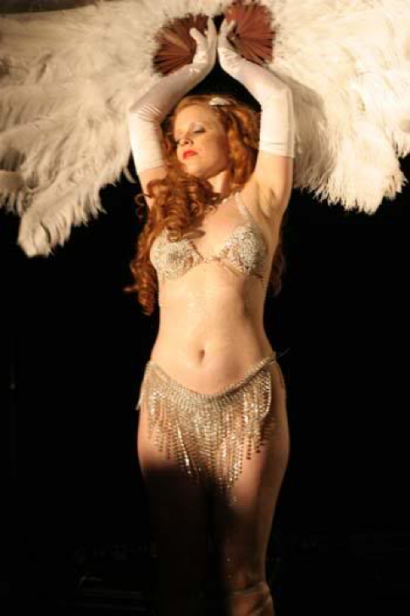 via myspace.com/gingersnapkisses
me with ginger snap and some other very hot chicks: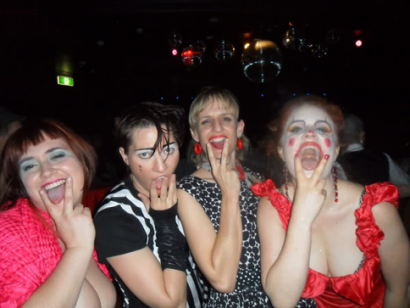 and also, this happened: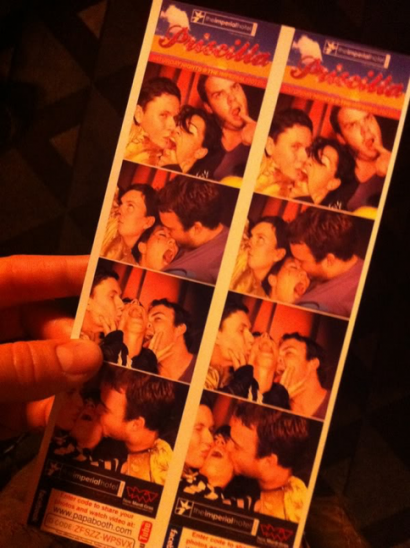 here was my DJ playlist (out of order, sorry)….i got CHEERS for the "jesus christ superstar" and "labyrinth" selections:
• "Straight Up, Tasmania"" – Amanda Fucking Palmer vs Paula Abdul ("Map of Tasmania" + "Straight Up" mash-up by Michael Potvin)
• "Ana Ng" – They Might Be Giants
• "No Regrets" – Aesop Rock
• "La Femme Accident" – OMD
• "Dear Prudence" – Siouxsie & the Banshees
• "My Coco" – stellastarr*
• "Boyfriend" – Best Coast
• "Umbrella" – Rihanna (feat. Jay-Z)
• "Magic Dance" (from "Labyrinth") – David Bowie
• "I Want You, But I Don't Need You" – Momus
• "Paper Planes" – M.I.A.
• "What's The Buzz?" (from "Jesus Christ Superstar") – Tim Rice & Andrew Lloyd Webber
• "Swamp Thing" – The Chameleons
• "C'mon Billy" – PJ Harvey
• "Shores of California" – The Dresden Dolls
• "Sympathique" – Pink Martini42
• "Dumb It Down" – Lupe Fiasco (feat. Gemstones & Graham Burris)
• "The Guns of Brixton" – The Clash
• "Do You Take It In The Ass" – The Wet Spots
• "Reno Dakota" – The Magnetic Fields
• "99 Luftballons" – Nena
• "Lover I Don't Have To Love" – Bright Eyes
• "When You Were Mine" – Cyndi Lauper
• "Cars" – Gary Numan
• "Tous Les Garçons Et Les Filles" – Françoise Hardy
• "You Don't Own Me" – Klaus Nomi
• "Red Right Hand" – Nick Cave & The Bad Seeds
• "New Dress" – Depeche Mode
• "My My Metrocard" – Le Tigre
• "Bad Connection" – Yaz
• "Ca plane pour moi" – Plastic Bertrand
• "Da Da Da Ich Lieb Dich Nicht Du Liebst Mich Nicht Aha Aha Aha" – Trio
clearly i have a future behind the turntables.
massive, massive props to
sean
, who put together a ZIP folder of all this music for me while i've been running around on the road.
mad love.
and today, i'm doing meetings in sydney, then hopping on a flight to adelaide for the beginning of the end of tour…goddamn it's been a good one. if you're near any of these cities, COME.
and if you're near PERTH, GERALDTON, or FREMANTLE: my comrade jason webley is on his way to rock your worlds. GO SEE HIM:
• March 3 – Perth, AUSTRALIA
with Luke Dux
William Street Bird (181 William St)
9 pm – $5 – 18+
• March 4/5 – Geraldton, AUSTRALIA
Lat 28 Pub (296 Chapman Rd)
9 pm – 18+ (kids ok w/ a guardian) – FREE!
• March 6 – Fremantle, AUSTRALIA
X-Wray Cafe (3/13 Essex St)
7 pm – All Ages!
a little party on his last day in western australia (donations appreciated)!
love
AFP
p.s. best christchurch earthquake picture ever: