June 5, 2019
raining blood! wait, wrong title. wait, raining blood is fine.
(public post)
HALLO ALL!!!!!
WELCOME TO SO MANY NEW PATRONS!!! HELLO!!!!!! I AM SO GLAD YOU'RE HERE! whether you're coming from online or you signed up at a show, hello, i love you. get ready to see me in your inbox all the fucking time. hi.
greetings from a hotel lobby in seattle where i just said hello to zoe keating and imogen heap, whose show i'll be attending tonight at the moore theater with jason and some other friends…..i figured, why not stay in their hotel lobby and work. so here i am.
just getting my poor bearings here in seattle on a day "off", which means catch up on 12,871872 admin, email and post things before heading to vancouver tomorrow and doing a mad show day.
first of all:
here's a round up of some photos from the road….
ATLANTA
before the show i did an in-store at criminal records that turned into an abortion speak-out. IT WAS AWESOME….it felt like a little town hall in a record store.
you can watch it on facebook live:
https://www.facebook.com/amandapalmer/videos/481240052683120/
i even met a goat named dela…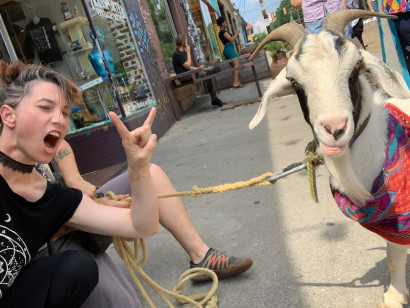 photo by hayley
right after the in store, i headed to the venue to sound check and officiate a lesbian wedding…..like you do…..i married jen and nicole outside the venue before doors opened. we had a marching band (THANK YOU fly by night band, you were AMAZING).
i made a thread on twitter for everyone to share their photos, you can check it out here:
https://twitter.com/amandapalmer/status/1129765708747988994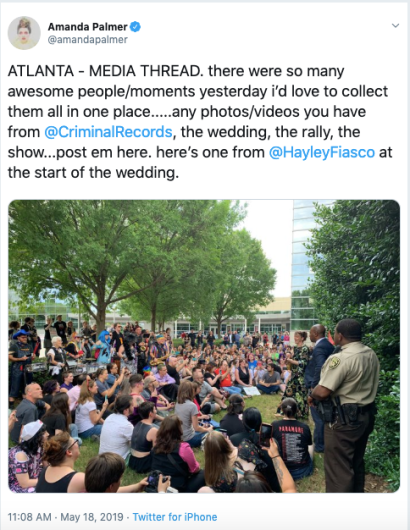 here we are backstage signing documents to make it OFFICIAL.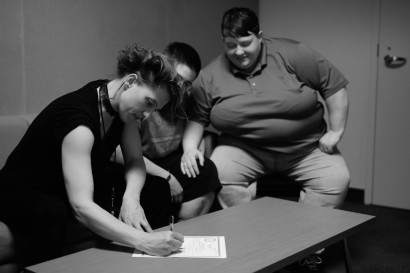 (photo by gordon hight)
i decorated the wedding altar with a scarf and a painting that was given to me earlier in the day by stephanie campbell at the in store at criminal records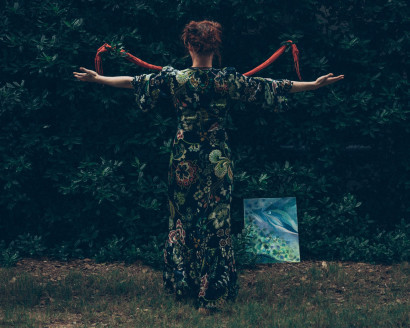 photo by gordon hight
i read neil's beautiful poem "what i know about love" that he originally wrote for the wedding of our friends sxip and coco, and i used ani difranco's new memoir as our ceremony book. HEE. (btw: at each show i am signing and dating 10 copies of ani's book and selling them for $100 a pop at the patronator table as a fundraiser for the abortion care network)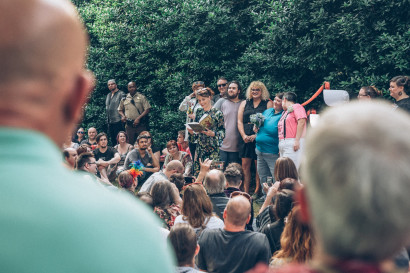 photo by gordon hight
and then…..the atlanta show at the cobb energy performing arts centre was a powerful one. the air was thick with change. i gotta say, talking about the issues in the states where it's all happening is both frightening and makes me feel like an artist actually Doing a Job. i like it.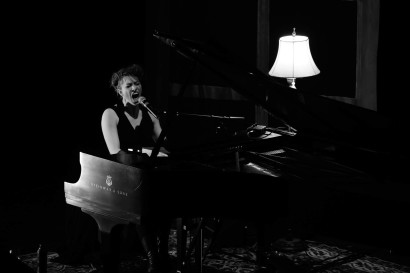 photo by gordon hight
…..lee from the feminist women's health center came on stage to share some info and tabled in the lobby with headcount, planned parenthood and the patronator tables…..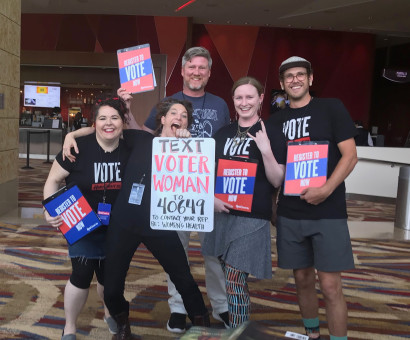 DON'T WAIT FOR TOUR, BTW:
if you live in the US, you can follow the info on the sign – text "VOTER WOMAN" to 40649 to send letters to your representatives to support rights for women's health.
JUST DO IT. WHY NOT. DO IT. RIGHT NOW.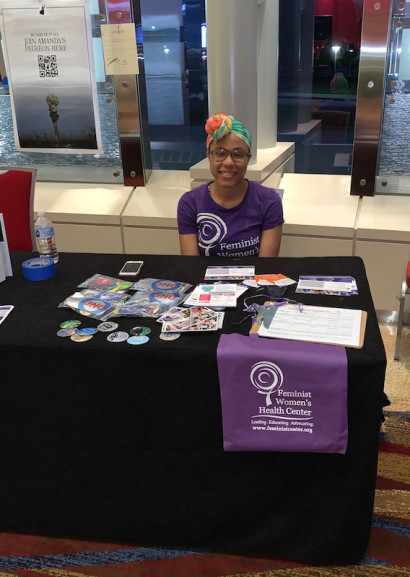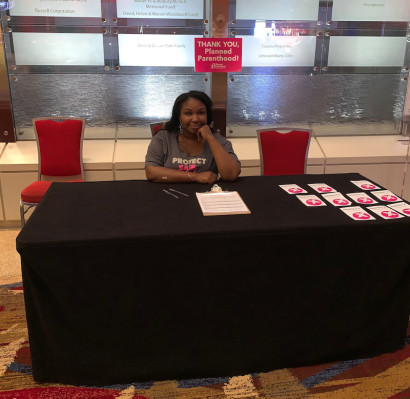 NASHVILLE
before the show in nashville, i stopped by grimey's record store and held another great event with the crowd, inviting them to share with me and with us on stage. it was – again – a beautiful, bold town hall-like event where people could add their piece. it made me wanna do more of this kind of stuff.
you can watch the archive of the live stream, here:
https://www.facebook.com/amandapalmer/videos/2181598201907119/
group photo at grimey's (LIGHTING!!!! SUCH GOOD LIGHTING!!!!)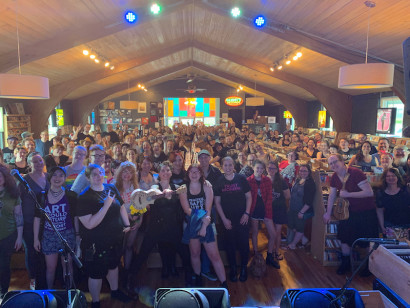 the show at the goddamn gorgeous n' historic ryman auditorium was….jesus. hard to describe.
this is the home of the grand old opry.
years of patriarchy dripped from the walls. i did my best.
i had a strict curfew so i had to cut some songs from the set, and in the middle of the show my voice gave out, i mean…you should have heard me. it was….interesting.
but i persevered – I PERSISTED, YO – and the show was something for the history books…i'm not sure the venue has seen that many abortion stories in one night.
if ever. thanks nashville. you were incredible.
from soundcheck…
photo by gordon hight
look at those windows. good god.
at the end of the night….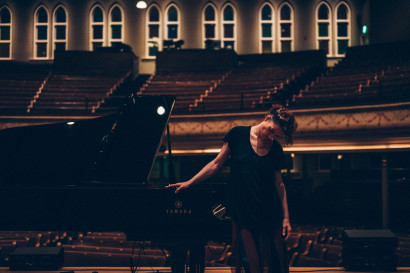 photo by gordon hight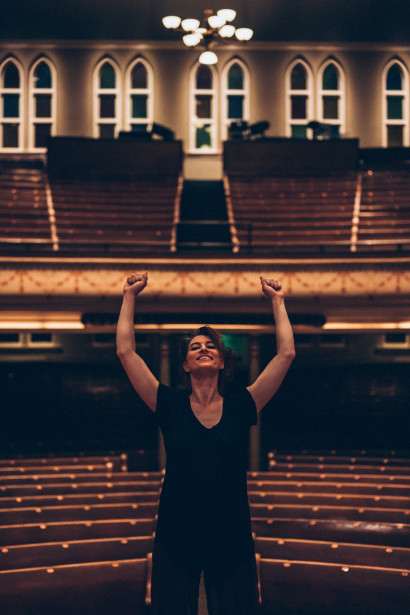 photo by gordon hight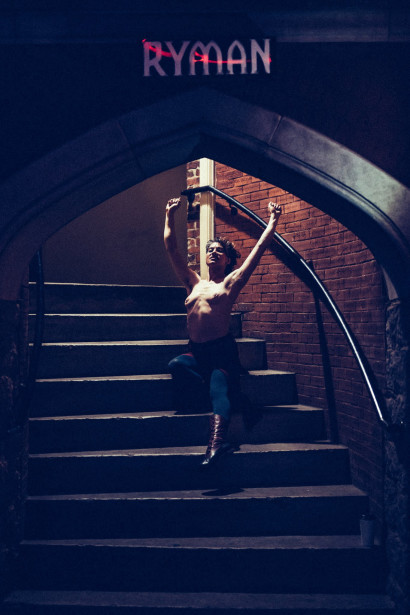 photo by gordon hight
boobs.
why not. i was feeling it.
—–
ST LOUIS
i managed to get myself to planned parenthood's "emergency response" #StopTheBans rally the morning before my show….it was a sight to behold.
we recorded my talk on facebook live, you can watch an archive of it here:
https://www.facebook.com/amandapalmer/videos/2194283607293121/
here are some pictures from the rally….
the three photos below are by j. ryne danielson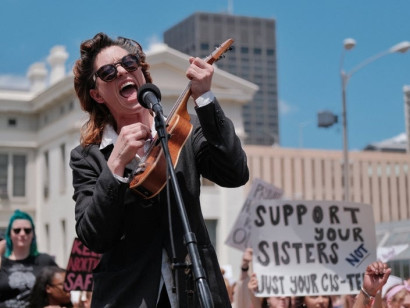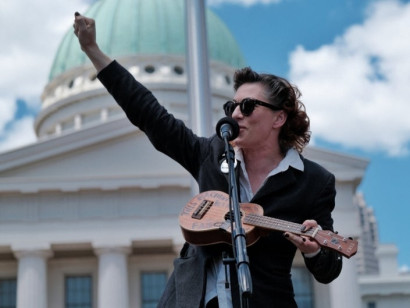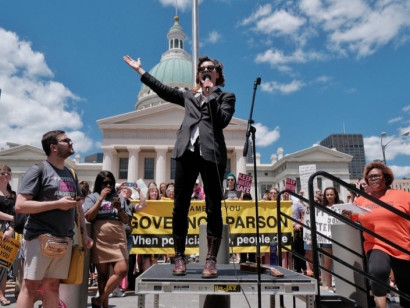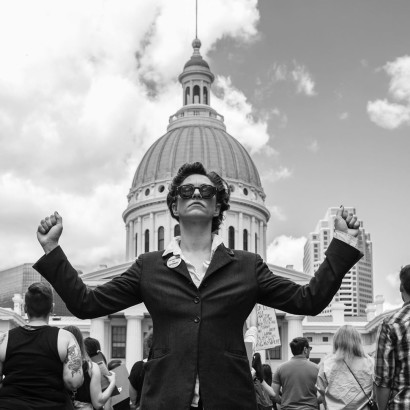 photo by hayley rosenblum
then i went straight to sound check at the venue. where i found my awesome tour crew wearing THE. BEST. SHIRTS. EVER. unplanned. amazing.
that's lauren on the left, she's all things lights and stage design, and that's chez on the right, my tour manager and front of house sound.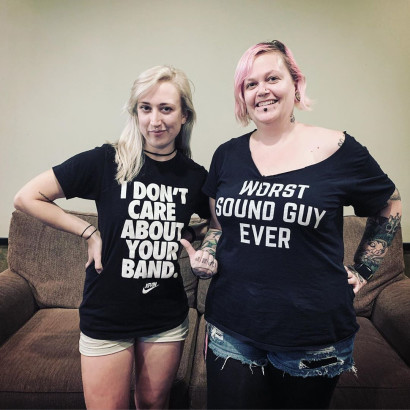 (you can follow them on instragram at: @gooddadjokes and @chezcherrie)
we had planned parenthood st louis region tabling….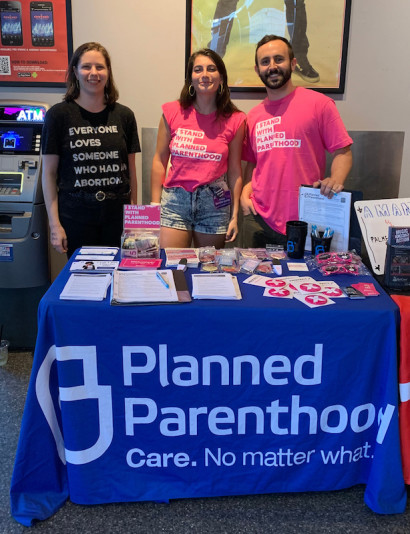 and headcount registering people to vote…..YASSSSS…..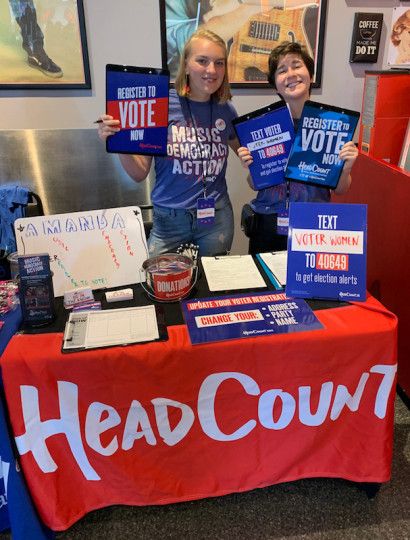 and we had sarah from planned parenthood and sarah from headcount speak on stage.
sarah from pp came to the show straight from JAIL (whoo hoo!), where she helped bail out 16 colleagues from planned parenthood who were arrested earlier in the day for civil disobedience at the missouri governor's office.
fuck yeah.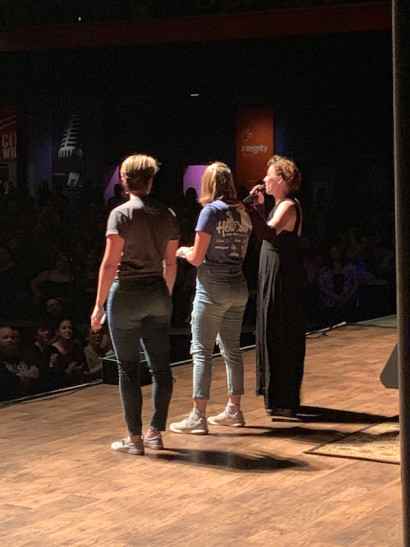 (and that's sarah from headcount, too).
and then i thought i saw brian viglione on the wall backstage.
CLOSE.
turns out it was king diamond.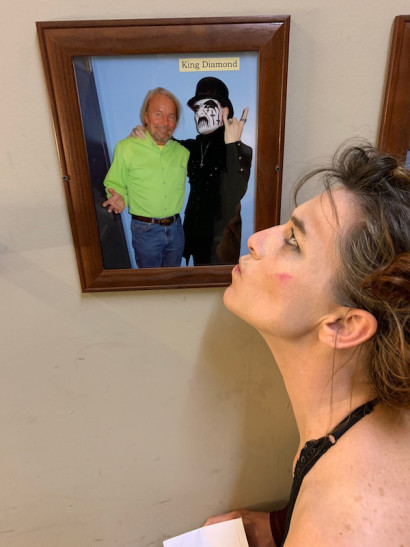 KANSAS CITY
we had planned parenthood tabling….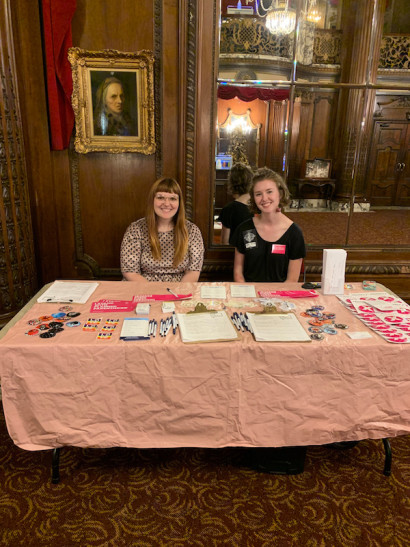 and took a photo right before intermission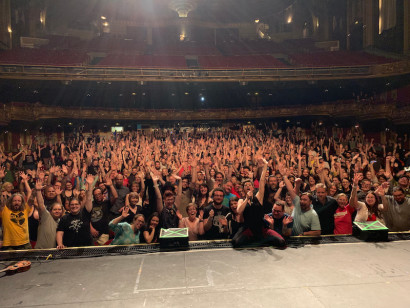 photo by hayley
and one at the very end of the night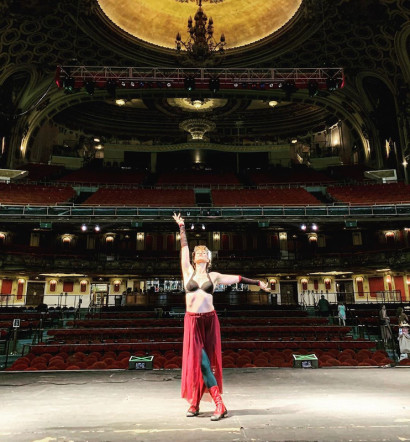 photo by hayley
DENVER
in denver, before the show, hayley took some shots of the crew doing their crew thing:
here's heidi setting up the merch table….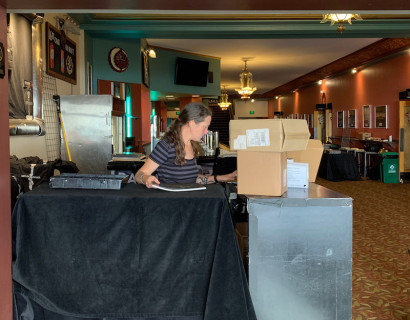 here's lauren setting up the stage back drop and hanging lights
here's chez setting up the venue's sound system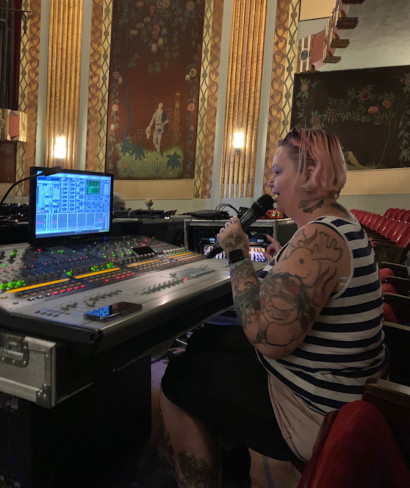 and here's hayley and michael setting up THE PATRONATOR table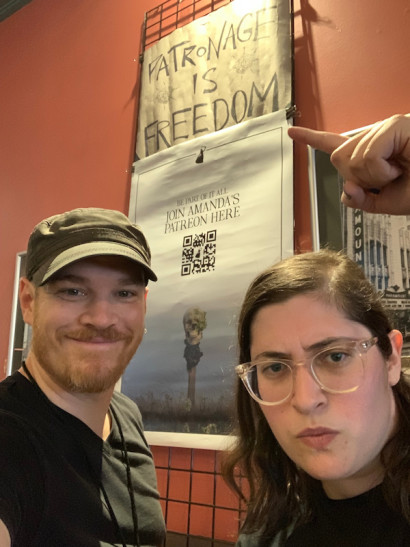 if you visited hayley and michael at the patron table and signed up, LEAVE A COMMENT and say hello!
you may have also saw that since san francisco, we've been selling copies of ani difranco's memoir at the patronator table to raise money for the abortion care network….so far we've raised  $4,541.96 for them…how fucking awesome is THAT?
here's planned parenthood rocky mountains tabling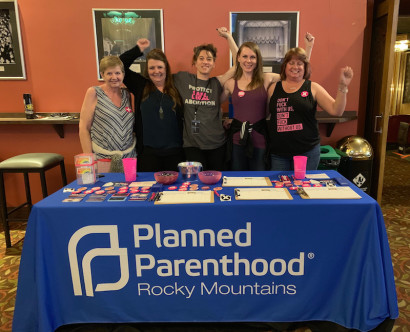 and here's our group photo before intermission
photo by hayley
glenn ross, a long time friend and photographer captured some great moments in denver, (thanks glenn)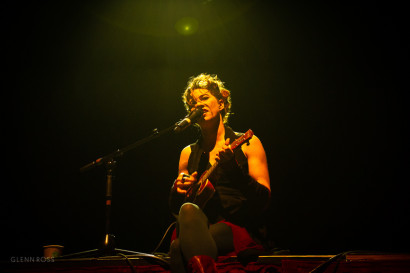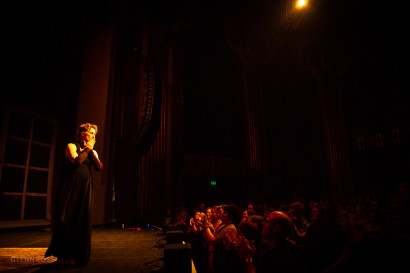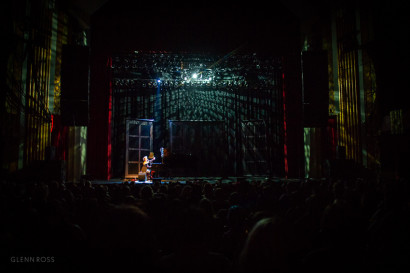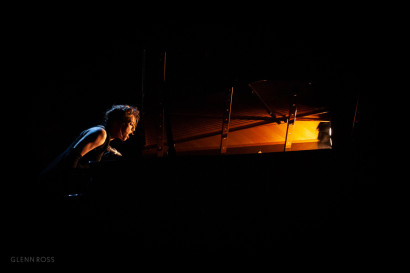 I LOVE YOU.
BACK TO WORK.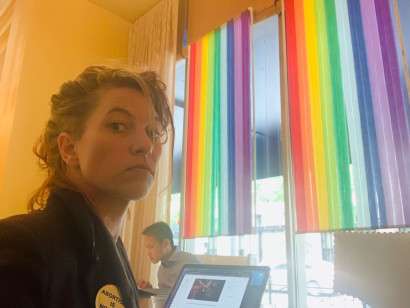 see many of you tomorrow in vancouver
x
xx
a
——THE NEVER-ENDING AS ALWAYS———
1. if you're a patron, please click through to comment on this post. at the very least, if you've read it, indicate that by using the heart symbol.
2. see All the Things i've made so far on patreon: http://amandapalmer.net/patreon-things
3. join the official AFP-patron facebook group: https://www.facebook.com/groups/afpland
4. new to my music and TOTALLY OVERWHELMED? TAKE A WALK THROUGH AMANDALANDA….we made a basic list of my greatest hits n stuff on this lovely page: http://amandalanda.amandapalmer.net/
5. general AFP/patreon-related questions? ask away, someone will answer: patronhelp@amandapalmer.net
TOUR DATES

Thu Jun 6 – Vancouver – Chan Centre
Fri Jun 7 – Seattle – Paramount Theater (ALMOST SOLD OUT)
Sat Jun 8 – Portland – Crystal Ballroom (SOLD OUT)
Sun Jun 9 – Portland – Crystal Ballroom (SOLD OUT)
Wed Sep 4 – Netherlands – Amsterdam – Meervaart
Fri Sep 6 – Germany – Berlin – Admiralspalast
Wed Sep 11 – Germany – Munich – Kongressaal
Fri Sep 13 – Germany – Offenbach – Capitol
Sat Sep 14 – Austria – Vienna – Konzerthaus
Sun Sep 15 – Austria – Graz – Stefaniensaal
Wed Sep 18 – Germany – Stuttgart – Theaterhaus
Thu Sep 19 – Germany – Essen – Colosseum
Fri Sep 20 – Belgium – Antwerp – De Roma
Tue Sep 24 – Germany – Hamburg – Laeiszhalle
We Sep 25 – Germany – Leipzig – Haus Auensee
Thu Sep 26 – Czech Republic – Prague – Hybernia
Fri Sep 27 – Luxembourg  – Luxembourg – Conservatoire
Sat Sep 28 – France – Paris – Bataclan
Fri Oct 11 – Denmark – Copenhagen – Bremen Teater
Sat Oct 12 – Sweden – Stockholm – Södra Teatern (SOLD OUT)
Wed Oct 16 – UK – Bexhill – De La Warr Pavilion
Sat Oct 19 – UK – Cardiff – St David's Hall
Sun Oct 20 – UK – Cambridge – Corn Exchange
Wed Oct 23 – Ireland – Cork – Opera House
Thu Oct 24 – Ireland – Dublin – National Concert Hall
Sat Oct 26 – Ireland – Belfast – Ulster Hall
Sun Oct 27 – Ireland – Limerick – Univeristy Hall
Frin Nov 1 – UK – Dunfermline – Carnegie Hall
Sat Nov 2 – UK – Glasgow – City Halls
Sun Nov 3 – UK – Manchester – Albert Hall
Mon Nov 4 – UK – York – Opera House
Thu Nov 7 – UK – Newcastle – Tyne Theatre
Sun Nov 24 – Portugal – Braga – Theatro Circo
Thu Dec 5 – UK – London – Union Chapel (SOLD OUT)
Fri Dec 6 – UK – London – Union Chapel (SOLD Out)
Fri Dec 13th – UK – London Union Chapel (JUST ADDED)