March 8, 2018
time for punk-cabaret+hip-hop: "Fighter" feat AFP by Patty Monroe (official thing)
(public post)
hola comrades.
IT'S TIME FOR A BRAND NEW THING. and this time i'm going wide outside my box. (i went wide outside your mom's box last night. am i allowed to make mom jokes on international women's day??? hell yeah i am)
so…i have a huge post coming your way tomorrow about the new patreon tiers and comments and questions – things are shaping up beautifully. meanwhile: ART.
it IS international women's day, and while i feel a little weird about this day (like: why do we need a DAY? CAN'T WE HAVE ALL OF THE DAYS, MOTHERFUCKER??!!!)…
there's no better day than this kinda day to release a track like this. and a story like this. it's good.
i've never done anything remotely like this before.
i met patty monroe in cape town a few weeks ago, in a strange art gallery/podcast studio called The Eye.. during my second week in south africa, when i was just starting my songwriting time in a studio literally right across the street. i'd been booked for an interview there, but the publicist had neglected to tell me that i was supposed to show up with an entire show's worth of songs and stories, and i was chatting with the podcast producer, saying: "this is ridiculous, i'm in south africa for gods sake, why would i just sit alone in a cubicle and record myself talking about myself. fuck this shit. let's do a live stream instead – and please for the love of all that's holy, can we get some other south african women involved, especially black women, given where we are and what's going on in this insane country. find me someone to talk to who can share the story of what's going on down here." and then, totally coincidentally, patty walked in the door a few minutes later with her manager, garrick, and the podcast guy was like: i think you'd love patty. let's ask her if she's game. i went up to her and said "hi, i'm amanda and you've never heard of me but do you want to come to my studio tomorrow and do a live stream podcast and talk about your life?"
and she was like: hell yes i do.
it's worth me pointing something out here: #MeToo and the Women's March and the general push towards progress has lit an extra fire under my ass. i've always been a feminist, and i've always felt like i was fighting for my right – and the rights of the women around me – to take up space and work, exist, be free.  but something in the air has changed lately and i find myself thinking about my choices even more carefully. do i have to hire a man for that tour managing/graphic design job? could i find a woman? could i look harder? i look harder now.
i was asked to submit a playlist to a radio station a few weeks ago and as i was finishing up the list, i realized that 10 out of the 12 songs were by men. i crumpled it up and started again. i was like: fuck!! i've never actually been this pro-active about the way i do shit. i've been just as blindingly entrenched as everybody else. i have all this power, all this privilege, all this patreon money to spend. HOW DO I USE IT? HOW DO I FUCKING PUNCH UP?
two days later, patty showed up with two other powerhouse writers: lauren beukes and mohale mashigo, and we all talked about the state of things – feminism, honesty, rape culture in south africa…(you can see that stream here: https://www.facebook.com/amandapalmer/posts/10155616332878375). if you want more background on patty, she talks about her background and life in this stream. watch it.
for the streaming occasion, patty and i had whipped up a piano-n-hip-hop version of one of her songs, "fighter"….and it felt so alive and electric in that live room that we decided to record it. FOR REAL.
patty's life, in patty's words.
while all of this was happening – literally – south africa was undergoing a regime change: ramaphosa was taking over the presidency from zuma and everyone in the city was glued to their radios. change was thick in the air. people were celebrating the ousting of this totally corrupt, trump-like character who'd been sending their country down the river for ten years. traffic from our street was shut down since we were staying just a few blocks from the parliament – the new president gave a speech. we tuned in….via wireless internet stream: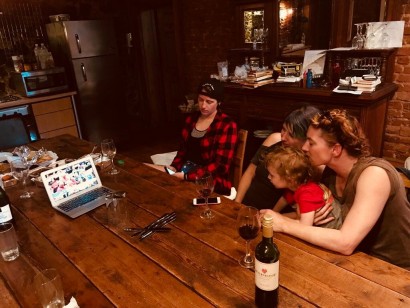 the rehearsals and recording took us the better part of two days to get perfect…it sounds raw, and that's the way i love it. we will almost definitely give it to someone to remix and make a real-track-sounding….but there's something amazing about this.
i get shivers listening to the end of this track.
when i landed in south africa, i never thought for a second that i'd wind up trying to merge piano with hip hop..
what the fuck.
but it happened!!!
yessssss.
here's me n patty in the studio, photo by garrick.
my pinky fingers are still peeling blisters from how hard i played that piano.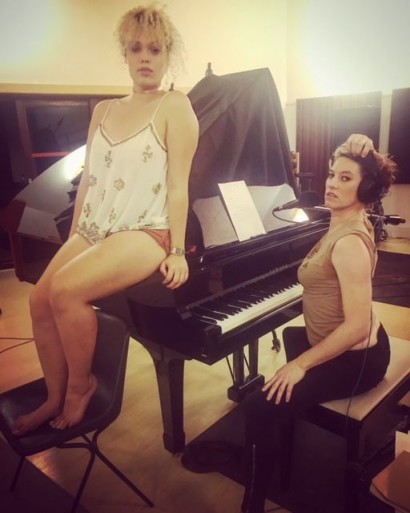 it's the power of a lot of things, people.
the power of asking,
the power of women connecting their stories and talents together
….and the power of patreon: funding all of this into existence, so that i could give patty a paycheck for her work and time in the studio. and flood some money into the south african art economy, paying the engineers, the piano tuners, the studio, the local female artist (below) who made the cover. it's all so awesome.
hallelujah all around.
FUCK YES ALL WOMEN.
and
PLAY THIS TRACK LOUDDDDDDDD. LOUD LOUD LOUD. laptop speakers won't do this shit justice!!!!!!
HERE IT IS:
https://soundcloud.com/amandapalmer/patty-monroe-feat-amanda-palmer-fighter/s-PNE44
the recording was engineered by murray anderson at milestone studio in cape town.
the artwork is by Shala, another bad-ass south african artist.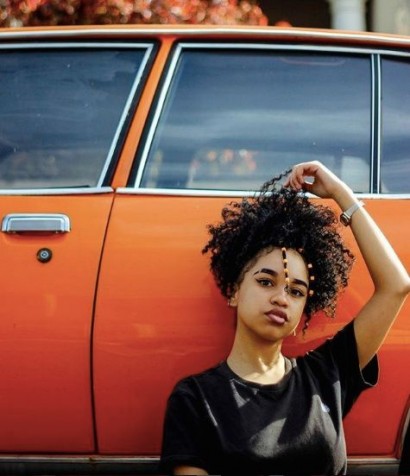 you can see more on her work on her instagram, here: https://www.instagram.com/shalatheunicorn
………….
i'll be sending downloads to ALL patrons for this one. stay tuned.
and $5+ patrons, i'm gonna send you all a video clip of the actual recording in a hot second…here's a still from it: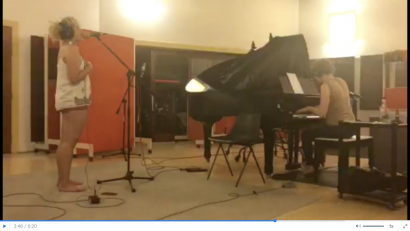 ………..
listen….
if you love this track (and i think you will love it): SHARE IT. SHARE IT. SHARE IT.
it's ONLY A SOUNDCLOUD LINK…. i didn't put this up on iTunes, bandcamp, or anywhere else. it's up to y'all. it's ONLY GOING OUT HERE, via patreon and my FB and twitter feed….which means if you don't send it to anyone, they won't hear it. share it. share it. share it.
…..
here's more info on patty: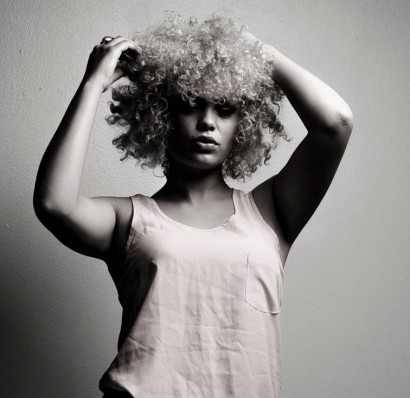 she's on twitter, facebook and instagram under the handle @misspattymonroe.
you can also check out more of her music, including her original recording of "Fighter" featuring caleb williams on youtube, itunes/apple music and spotify.
i love you.
patreon 4eva
expect my new album of punk cabaret hip hop christmas songs played exclusively on theremin, ukulele & slide-whistle to be hitting stores in november
x
a
———THE NEVER-ENDING AS ALWAYS———
1. if you're a patron, please click through to comment on this post. at the very least, if you've read it, indicate that by using the heart symbol.
2. see All the Things i've made so far on patreon: http://amandapalmer.net/patreon-things
3. join the official AFP-patron facebook group: https://www.facebook.com/groups/afpland
4. new to my music and TOTALLY OVERWHELMED? TAKE A WALK THROUGH AMANDALANDA….we made a basic list of my greatest hits n stuff on this lovely page: http://amandalanda.amandapalmer.net/
5. general AFP/patreon-related questions? ask away, someone will answer: patronhelp@amandapalmer.net