May 28, 2012
"trout heart replica" and news, news, news for you
PLEASE NOTE: this blog is ALMOST identical to the kickstarter-backer update that went out tonight which included a free download of "trout heart replica" from the new album. if you want the song, all you need to do to get it is go to the kickstarter, pledge (as little as a dollar), and click HERE to see the update with the download link.
________________
HOLA COMRADES
i kicked ASS TODAY and spent six straight hours making my art, the LATE piece, for the Art Book.
i've always been a crammer, and this was the ultimate cram. but i'm insanely happy with how it turned out. i've had it in my HEAD for months.
i'll show it to you soon. here's some images of the very beginnings of the drawing, which is a sharpie-on-bedsheet drawing about 6 feet long.
it's going amazingly well.
here's the beautiful top room of the cloud club where i drew all day: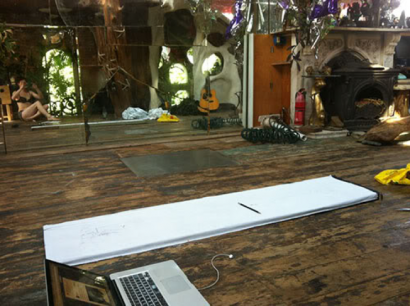 here's me, wielding sharpie: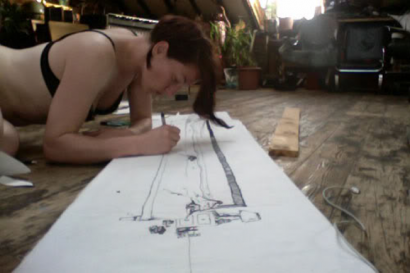 and here's a detail of the very left side of the drawing: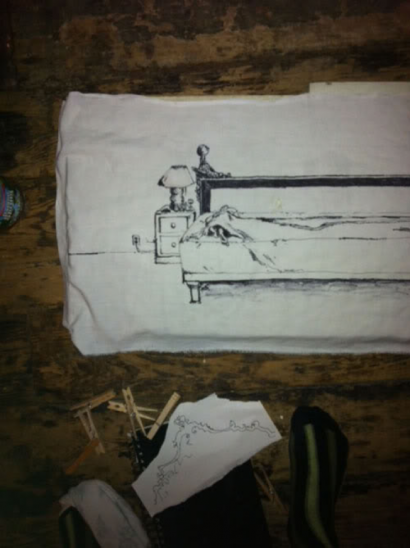 i managed to talk the designers and the printers into having a fold-out section of the art book for this piece.
so, god willing, you'll get to "the bed song" section of the book and there will be a 4-6 panel fold out of this drawing since it's SOOOOOO LONG.
meanwhile….we got one of latecomers to the art book two days ago, a final piece i commissioned by nicole duennebier, and it's FUCKING gorgeous.
we based this painting on a photoshoot i did with kelly davidson EXACTLY a week ago. nicole did this painting in SIX DAYS. i can't fucking believe it….
good god, the talent of these people i'm working with. i don't know. i'm beyond words at this point.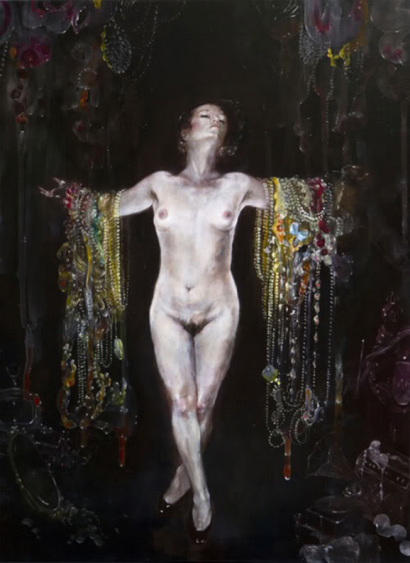 the art book intro is now over ten pages long and…whatever. it'll be the fattest, bad-ass-est album art book art ever.
a lot of people have been upping their pledges to include the art book since i've been tweeting some of the art.
GOOD. YOU SHOULD. THANK YOU. it'll be so worth it.
meanwhile…the art for the CD and LP are looking fucking incredible as well, don't worry.
we are including FRAMABLE beautiful art in the LP package…not a booklet, but literal ART FLATS that come with the vinyl. it looks great.
the CD is being bound in hardback with a gazillion pages. also looks fantastic. it's coming together like WILDFIRE.
andrew, the designer, has not slept. HOORAY ANDREW.
here is a photo that hit the cutting room floor for inclusion in the CD art, but it's too good not to show you. it's by Rene Huemer from vienna: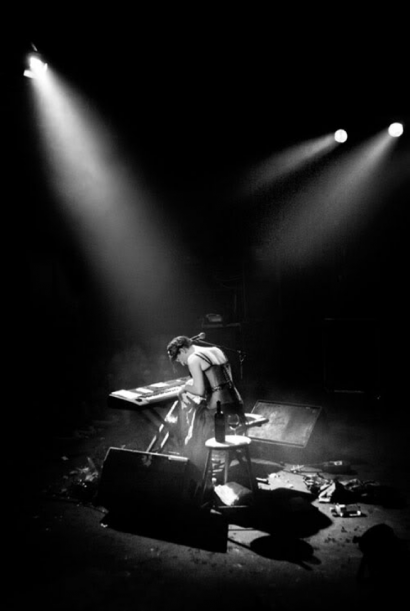 ………………..
NOW….
the exciting news…
the other day, we hit SEVENTEEN THOUSAND backers…greetings from the smurf vatican hiding in my tea collection: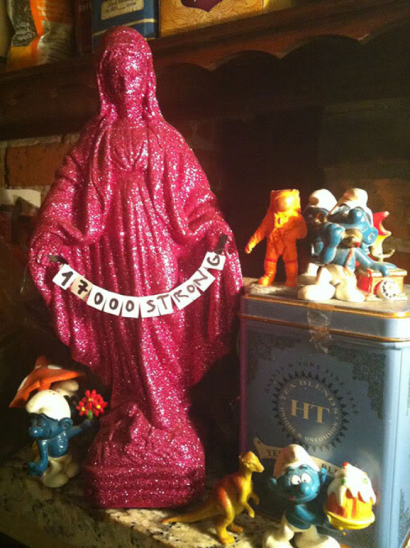 and then two days ago, EIGHTEEN MOTHERFUCKING THOUSAND BACKERS. greetings from my bathroom at 3:15 am: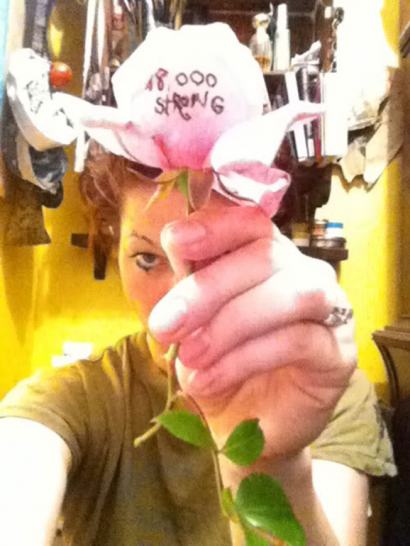 but TODAY, WE HIT $900,000 AND 19,000 backers!!! greetings from fausto & alex who have been occupying our front stoop all spring: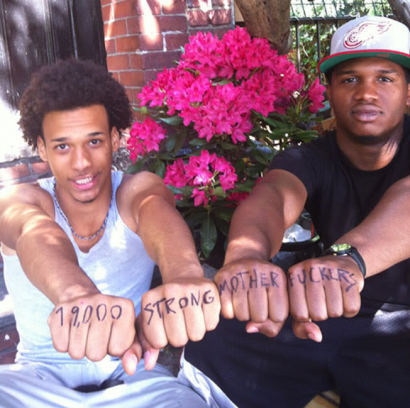 thank youuuuuu!!!!!
in other news…
TODAY (monday the 28th) at around 2:30/2:45pm EST (check what time that is for you HERE), i'll be going LIVE ON THE INTERWEBS at partyontheinternet.com to answer some questions and play some musics!!!! hooraaaayyyy
i'm going to be doing this at the MIT MEDIA LAB, right her in cambridge. they are AWESOME PEOPLE and the webcast should look GREAT.
PLUS i'll have some of the genius-y MIT people on with me to show off their neat stuff. i was there earlier in the week, and it's just incredible. future-istic-real-awesome-stuff made by smart people.
if you want to submit a question, you can do so by emailing ask@amandapalmer.net – please try and keep them new album/art book/grand theft orchestra-related, not "will you be playing chicago?!"…and if you have a specific question about a bundle such as "i want the 7" series AND i want the neil book" those types of things should either be asked by messaging us on kickstarter or emailing kickstarter@amandapalmer.net
you can also RSVP you're gonna tune in to the webcast HERE on facebook.
____________________
AND:
* neil wrote THIS nice post about the campaign which makes a point i keep forgetting to. THIS KICKSTARTER STUFF WILL NEVER BE AVAILABLE AGAIN!! yes, the album will be out on CD/vinyl/digital in september, and we'll have a standard version of the art book, but the versions of everything pre-ordered through here will be EXTRA SPECIAL and not reprinted. and SOME of the more weird stuff won't be EVER be done again. oh yeah, and also, FREE SHIPPING WORLDWIDE, BETCHES!!!!
* we have webcast #1 tomorrow from MIT, but we still have THE KICKSTARTER CELEBRATORY COUNTDOWN WEBCAST PARTY TO END ALL KICKSTARTER CELEBRATORY COUNTDOWN WEBCASTS on THURSDAY. the shit we're working on is UNREAL. @gemini_scorpio is kicking this its ass. if you are going to tune in, please RSVP and tell your friends and EVERYONE. and if you're in the NYC area and want to help prepare something secret and special, check out the info HERE.
____________________
and last but not least, the song…
i've been playing "trout heart replica" live for years. i've been waiting to record it ever since then.
jherek recorded a heartbreaking string arrangement in seattle.
the song clocks in at over seven minutes and i was worried for a bit that it might not fit onto the physical version (since CDs and vinyl only have so much SPACE), but i am happy to confirm that it is indeed definitely going to be on there. fuck everything. i want ALL THE THINGS ON THE RECORD.
as a gift to my faithful kickstarter'ers, i provided a link to download an MP3 in tonight's backer-only update (same exact text as this blog, but right here where i'm telling you about it, you'd see the link). the cover art is a tiny snippet of a piece by vladimir zimakov inspired by the story.
we don't plan on sharing this song with anyone else (officially…we know how the internet works) until september. if you want it, all you need to do is go pledge (as little as a dollar) and click HERE to read the update for the link.
i hope that you enjoy it.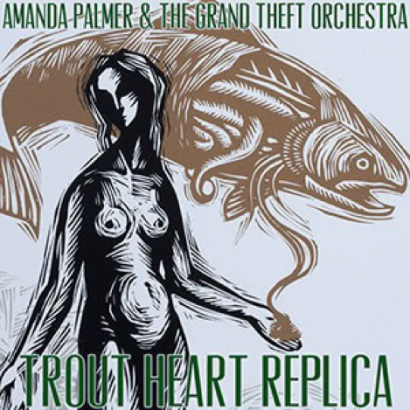 the story behind the song: i wrote "trout" during a very hard time, when i was transitioning between my last relationship, and my relationship with neil.
it was the winter of 2008, i was on the road in support of "who killed amanda palmer", and my whole touring party was at neil's house.
neil and i had never been intimate, but we were looking at each other.
hi.
hi.
neil took zoë keating and i to a trout farm to pick up fresh trout for dinner. the man at the farm clubbed the 12 trout dead with a club and i – being a vegetarian who eats fish but has an impossible time watching an animal suffer – forced myself to watch. we went into the little room where he guts and prepares the fish, and he started cutting and gutting them all open for us. he tuned to us and one point with something in his hand and said "look." it was a beating little heart, dark purple, the size of a dime. it kept beating, and beating. for a minute, or longer. "the kids love this," he said. i looked at that heart and saw my own.
that's what wrote the song.
here is a photo of one of the fish that night, shortly before being prepared for dinner: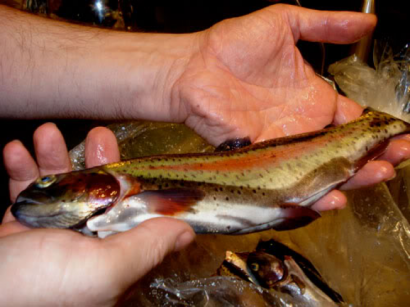 also, neil wrote a corresponding poem called "conjunctions" and made a fine-art print with jouni koponen. it's online…here it is, if you'd like to see it (click here to enlarge):

the lyrics:
they've been circling
they've been circling
since the day they were born
it's disturbing
how they're circling
fifty feet from the pond
pretty often
pretty often
i don't want to be told
it's a problem
it's a problem
it's a problem i know
and i won't keep what i can't catch in my bare hands without a net
it's hard enough to walk on grass so conscious of the consequences
they've been jerking
they've been jerking
in a pail by the dock
i know that oxygen might
make them blossom and die
but i'm not going to talk
feed them details
feed them emails
they'll eventually grow
but it's not working
it's not working
not as far as i know
and killing things is not so hard it's hurting that's the hardest part
and when the wizard gets to me i'm asking for a smaller heart
and i got you
i thought that i got you
now i'll ruin it all
feeling helpless
acting selfish
being human and all
and they're jumping
and they're jumping
but they'll never get out
just keep touring
just keep on ignoring
be a good little trout
and the butcher stops and winds his watch and lays their lives down on the block
he raises up his hatchet and the big hand strikes a compromise
WAIT we'll trade you
WAIT
please just one more day
and then we'll go with no complaining
no complaining
no complaining
no complaining
stop
come
and they're cutting
and they're cutting
and i think that i know
and they're gutting
and they're gutting
and i think that i know
and it's beating
look, it's beating
and i don't want to know
and it's beating
LOOK, ITS STILL BEATNG
god i don't want to know
and killing things is not so hard
it's hurting that's the hardest part
and when the wizard gets to me
i'm asking for a smaller heart
and if he tells me "no"
i'll hold my breath until i hit the floor
eventually i'm know i'm doomed
to get what i am asking for…
…now my heart is exactly the size
of a six-sided die cut in half
made of ruby red stained glass
can i knock you unconscious as long as i promise
i'll love you and i'll make you laugh?
now my heart is exactly the size
of a six-sided die cut in half
made of ruby red stained glass
can i knock you unconscious as long as i promise
i'll love you and i'll make you laugh?
____________________
i love you all.
AFP