June 9, 2011
you must go and win…
good day, comrades.
 
i'm on my way to guest at a gig @ joe's pub tonight with alina simone.
joe's pub is awesome, alina is awesome (see way more, below), come join…there's a handful of tickets left HERE. or call 212-967-7555. or JUST COME.
7:30pm TONIGHT (thursday 6/9) | ALL AGES
the street address is 425 Lafayette Street, NYC, NY 10003 (CLICK HERE FOR DIRECTIONS)

as you may have gathered, i'm in new york. sweating my ass off and loving it. every ninety degrees of it. fuck the AC. i wait all year to sweat like this.

 
last week i was holed up in my boston digs, window thrown open, trying to dig out of the email inbox (i started at 1600 and i'm down to 1100…it's SOMEthing) but mostly i spent 48 straight hours doing what i find incredibly fucking difficult: finishing songs that have been waiting to be finished for years. i started writing a whole pile of songs in 2009, and told myself i'd finish them When I Got Time (i always assumed, of course, that meant sometime in the next month). the longer something sits unfinished, the harder it is to revisit. 
 
i chained myself to the piano and the printer (bitch will just NOT work unless i sit there and PET and SING TO IT while it's spitting out pages. swear to god, it's the most passive aggressive, needy, narcissistic printer that ever did live) and held a gun to my own head to finish a handful of songs to send to the guys to start arranging. i finished three. then late one night i invited geeta and casey and noah briton up to my bedroom around midnight. geeta brought wine, and i gave them a mini-concert of five new songs, including the three i just finished. i could tell before they even told me what they liked what was working and what wasn't. casey told me she remembers what it was like back when she wanted to be me. she only sees me doing laundry and being an office chick most of the time now, she doesn't ever see me being a rock star. i'm almost never a rock star at home. 
 
noah is a really good songwriter and we talked for a long time about songs. 
 
i told noah that night that trying to finish a song that you started three years ago is like trying to perform CPR on a dead fetus. he told me that was a very amanda palmer thing to say.
 
i don't even know when i'm going to officially transform these songs into anything real on record, but i know that i'm going to try to play them at these shows i have coming up in new jersey and brooklyn.
both shows, by the way, sold out the day they went on sale. thank you so much all of you for being awesome and buying tickets. i can't wait. 
 
i told myself that i was going to take time off to write, but in order to write, i needed a show. so the shows weren't even real shows, their only purpose was to kick my ass into finishing these fucking songs. and it worked. 
 
meanwhile, and not totally off topic, one of my bestest friends, alina simone – the same one who gave birth to little human being zoe the other month – is giving birth to two more things, today….
an ALBUM and a BOOK. the book is fucking awesome, and i am not just saying that because alina is my friend. it is awesome because when i read it it made me belly laugh out loud a lot of times and once even do a milk-nose-snort expect with coffee. it's a REALLY funny, very emotional, deep, honest, true, hilarious book. 
 
alina and i have been friends since we were little. when i was 23 or so, i was the best man at her wedding, when she married my other bestest friend, josh. fun fact: eugene mirman was the maid of honor.
when we were in our eary twenties, we went on two huge road trips from boston together: one to florida and back, and one to chicago and back.
the whole way, i did the bride (my street performance character) in bizarre places: fields of corn, railroad tracks, christmas ornament capitals, shrines to the virgin mary…
we let roadside america be our guide, and we experienced the deep weirdness of the country. 
ali filmed. 
i acted like amanda palmer.
 
she wrote a whole chapter, called "imaging the other" about me and our time together.
 
and here are some of the polaroids she took on our trip.
me as the bride somewhere on a random roadside: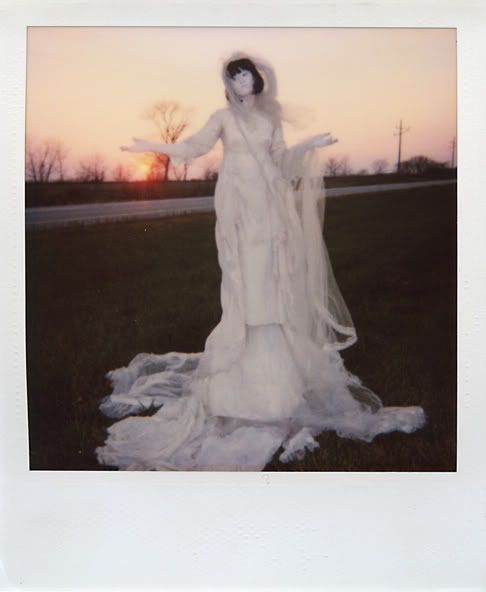 me, topless, in front of the house of meats: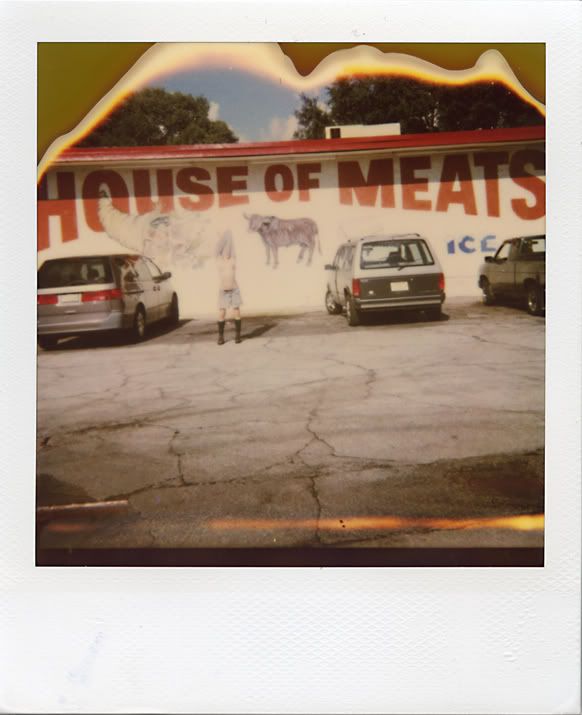 me & ali: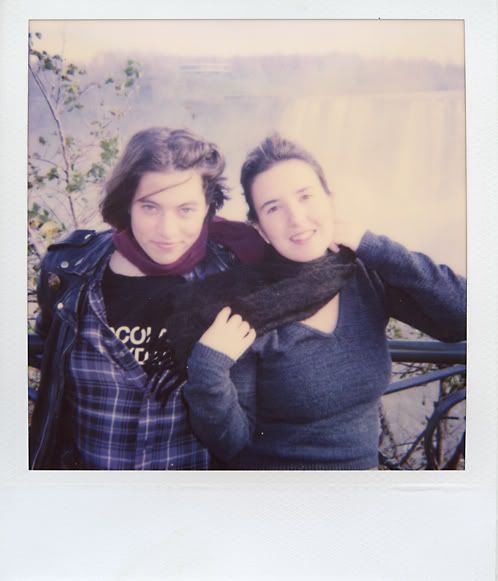 she made this little promo clip for the book, too, with video footage of me as the bride and getting ready to do one of my silver statue gigs in a crazy nightculb in providence rhode island.
i had some WEIRD ASS WAYS of making money. my favorite bit is of our friend jeremy rubbing silver paint onto my butt cheeks:
and so, the book.
i recommend it for pretty much everybody…but especially for every artist, and especially one who has ever felt like a fraud or a failure.
 
i foisted it upon neil when i got my advance copy, and he loved it so much he gave it a cover blurb. 
 
this is the book (the cover as well as the album art was done by our friend vladimir zimakov, who's designed a bunch of stuff for me & jason webley. he's awesome, check him out):


 
 
and it's being released simultaneously with alina's new record (take a listen below):
<a href="http://alinasimone.bandcamp.com/album/make-your-own-danger" _mce_href="http://alinasimone.bandcamp.com/album/make-your-own-danger">Make Your Own Danger by Alina Simone</a>
there's a slew of special options on bandcamp…vinyl, digital + CD, vinyl + the book, and just $20 for a digital download and the book. you can find all that (plus her past releases) at alinasimone.bandcamp.com or if you just want to order through amazon – paperback OR kindle – it's HERE.
 
but really what you should do is march down to your local indie bookstore today and buy it, and if they don't got it, demand they carry it.
 
i'll also do a giveaway on twitter of a few copies, so look for the tweets, soon.
 
and with that…off we gos to plays a shows.
LOTS more soon.
  
LOVE
afp