August 25, 2023
YOUR GUIDE to DRESDEN DOLLS WEEK in WOODSTOCK, incl. patron brunch & Graveside stuff!!
Hello loves!!!!
THIS IS A HANDY GUIDE to EVERYTHING that's going on next week in town during the Dolls Residency at Colony next week (Aug 31, Sept 1 & 2).
I know about 1,200 of you are about to descend in this TINY TOWN from ALL OVER THE WORLD!!! And we are SO EXCITED that our new little clubhouse speakeasy little love-shack venue….GRAVESIDE VARIETY. The whole listing of dolls-week events at graveside is below, and at gravesidevariety.com.
Below, you'll also find a handy list of places to do, stay, eat…and things to get up to locally.
WE GOT YOU, INCOMING PEOPLE!!!!
…….
Last night I did a tiny last-minute show just for patrons at Graveside and it felt so, so good to just get in a room, tell the truth about what's going on, play healing music with friends, and just….talk to people and be off the internet.
I NEED THIS SO BADLY. My friend Rachel Jayson was in town (by accident…long story) and came on stage to play with me, and it was magical).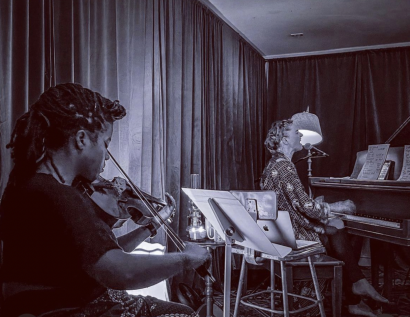 (photo by @growch via instagram)
……..
GRAVESIDE IS TAKING OFF!!!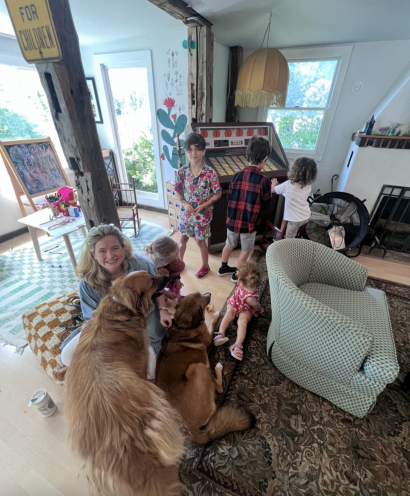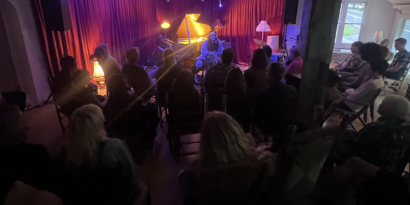 Here's the little flyer Ry – our new headmaster – just made for the venue…
More about ALL of these shows below, and you can run over to gravesidevariety.com right now and start getting tickets for stuff.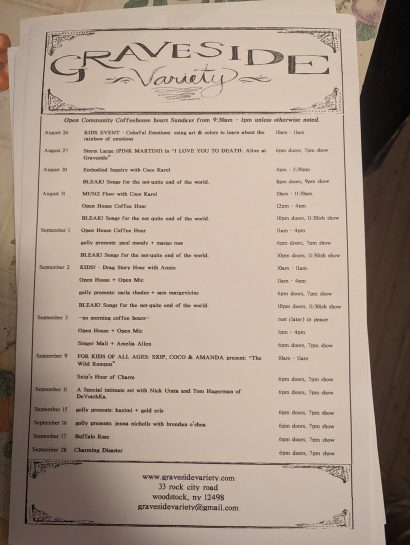 WE know about 1,200 people are about to DESCEND ON THE TOWN OF WOODSTOCK FOR THESE DOLLS SHOWS on Aug 31, Sept 1 and 2nd…
AND YOU WILL ALL NEED SHIT TO DO…and GRAVESIDE IS LITERALLY A TEN SECOND WALK ACROSS THE STREET FROM COLONY!!
This means you all have NO EXCUSE not to pop in and take a look at what your patronage has paid for!!!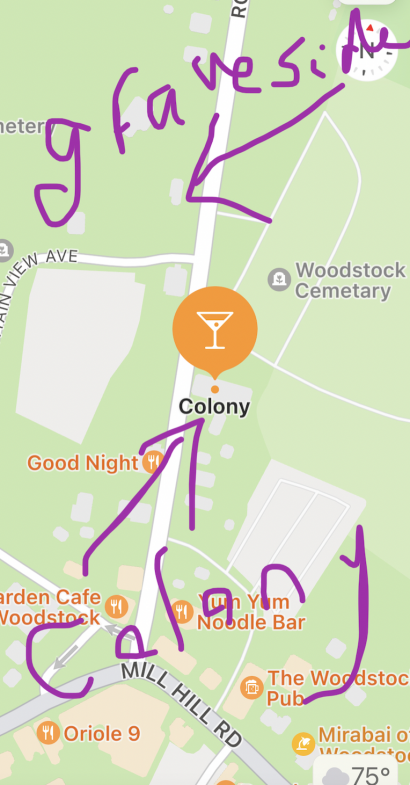 DON'T BE BORED…come visit us there and hang out with your fellow dolls fans.
(And yes, they're both next to the Woodstock Cemetery.)
We have just unveiled a HUGE list of fun extra stuff (shows! hangs! late-night apocalyptic musicals! body wellness! poetry open mics!) to attend across the street….please go buy tickets for things NOW.
THE SPACE ONLY FITS ABOUT 60 PEOPLE. SHIT WILL FILL UP FAST.
THERE IS ALSO ANOTHER PATRON-ONLY POST-RESIDENCY BRUNCH HANG AT COLONY on SUNDAY MORNING…scroll a bit for ticket info: IT SOLD OUT LAST TIME, it only fits 100 people…so please, GET TICKETS ASAP.
…….
OK. WELCOME TO WOODSTOCK TIME.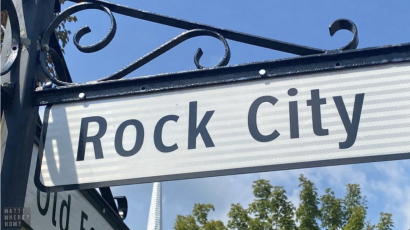 The whole team has been working on this post for ages (extra-special hats of to Liz, current Mistress-hostess of Graveside, and dolls helper, who put a ton of this together)!!!
For anyone late to the Dresden Dolls party…oh my god.
Okay.
THE DRESDEN DOLLS IS MY BAND, and has been since 2000. It's me on piano and my drummer, Brian Viglione, who is the best drummer in the world. If you want to listen to our music, start with the first record ("The Dresden Dolls" and then move to "Yes, Virginia".)
We are working on a new record….slowly.
Part of what we are doing while I write new material – and the band slowly gets ready to record – is little bursts of tiny, tiny shows. We we be unveiling new material and keeping our chops up, and getting our shit back together as a team (including making big decisions about management, touring and allll that) very, very slowly. I'm still going through a divorce, I've got a kid and a house and a toppled-over life to deal with, so I'm taking my time. Brian and I know that we have ONE shot to get this fuckin' record right, and we plan to give it the time it needs. We wanna play this new material in community. For us, for our tight crowd of fans. That's why we are doing it this way.
SO, to the point: we are replicating what we did last fall: we are playing THREE SUPER-SOLD-OUT shows in my hometown of Woodstock, NY, at a bangin' little old-timey wooden dance hall called Colony. The shows have been sold out since the moment they went on sale, BUT if you missed getting tickets, you can always hit the Patron Facebook page, or the shadowbox thread here:
https://forum.theshadowbox.net/c/shows-live-events/7
AND NOW….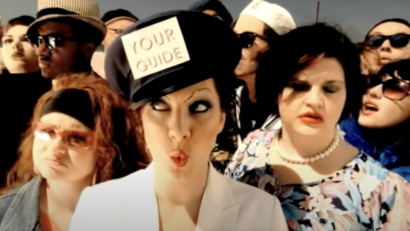 BRUNCH FIRST!!!!
We are having a PATRON-ONLY BRUNCH HANG on Sunday Sept 3rd, 11am at COLONY! That's hangover day. 🙂
Limited to 100 tickets. We will hang, chat, hydrate, and otherwise commune. Last time we had a handful of people get on stage and share feelings and stories. It was GRAND.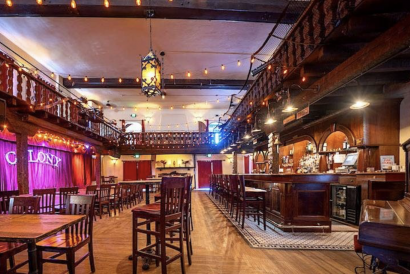 $15 ticket includes coffee, a variety of teas, hot chocolate, fresh housemade croissants, delicious muffins & tasty pastries, & fruit salad. The sweet and savory Colony Brunch Menu will also be available to order from if you're still hungry! Local chocolate will be provided by our fine chocolatier allies, Fruition Chocolate.
All the money is simply going to cover the venue staff and food, I ain't making anything here.
TICKETS HERE, GET 'EM FAST, PLEASE!
https://www.eventbrite.com/e/patron-only-private-brunch-with-amanda-palmer-tickets-704642754447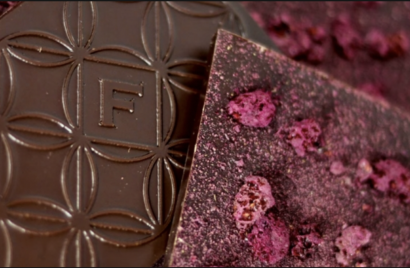 ……
THE SHOWS & AFTERSHOWS!!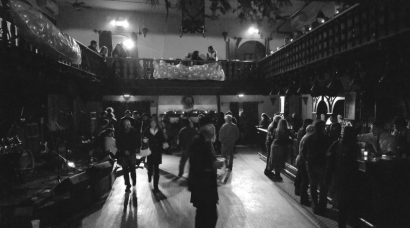 Each night (8/31, 9/1, 9/2) the doors will open at 7pm, and the Dolls will hit stage around 8pm.
COME ON TIME, AND EARLY IF YOU CAN. We will have some fun little surprises for you in and around the venue… plenty of mini-interactive-art and performances before the Dolls take the stage. It's a thing we do…it's the Brigade….and it's beautiful.
This is an absurdly wonderful community to be around. Here is Svitlana Zavialova (aka Wu Woman) performing before last year's shows.
(She's currently representing Ukraine during the World Kung Fu Championships!)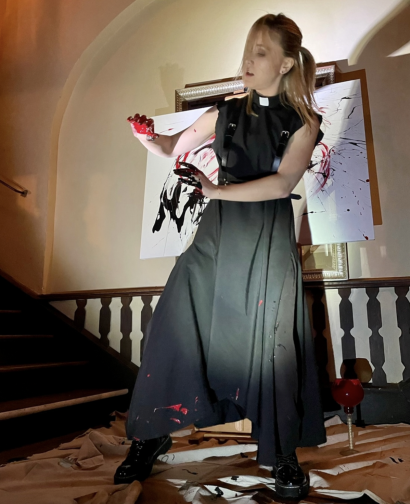 (photo by Liz Grammaticas)
Since we already did residency Woodstock residency #1 last year, we are going to make these shows extra deep, with tracks and covers we almost never pull out.
Gonna tell some stories, too.
Fireside dolls, with our family crew working all the desks and merch tables…it's gonna be the best.
(If you wanna go super deep…read about last year's shows here): https://www.patreon.com/posts/dresden-dolls-74940603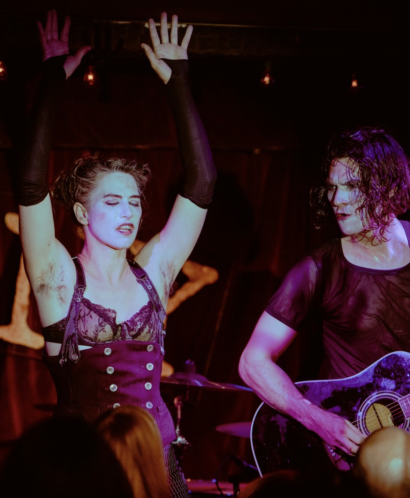 (photo by Julia Drummond)
We expect the shows to run til 11ish, and then: guess what…..
GRAVESIDE VARIETY IS THERE FOR Y'ALL TO HANG OUT IN for an AFTER-SHOW SHOW!….presenting…
"BLEAK!", a Satirical, Anti-Capitalist Song Cycle! EVERY NIGHT AFTER THE DOLLS PLAY, ACROSS THE STREET AT GRAVESIDE.
Graveside Variety will be hosting an after-show party each night…..and by "party" we mean a hang plus a very dark one-hour musical. We've nabbed John Coons' musical "BLEAK", a two-person song cycle about the near-apocalypse we are living in! YES!! I saw the show a few weeks ago and was alternately in tears and peeing myself. It's so so good. Get tickets. Stay awake. Don't let the magic end.
(Key lyric? "Student loans won't matter in the water wars").
It's a perfect nightcap after a night of dolls.
"You'll laugh, you'll cry. You'll cry. Oh god, you're still crying." (-BLEAK! Review)
Bleak is running after EVERY DOLLS SHOW, plus THE NIGHT BEFORE THE DOLLS, on Aug 30th!….See below for tickets or just head straight to gravesidevariety.com to grab tickets. THESE TICKETS WILL FLY….PLEASE BUY NOW.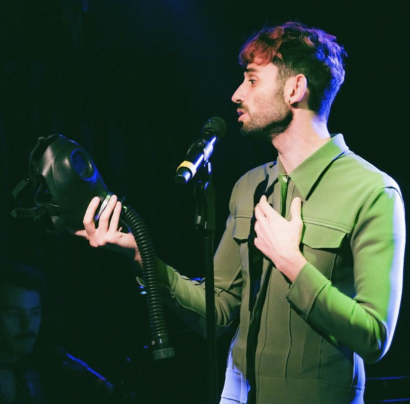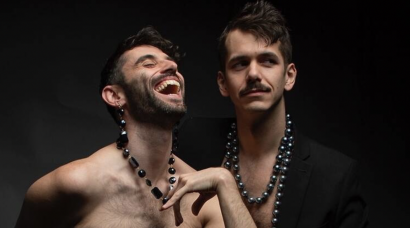 (John Coons & Matta Aument in "Bleak!")
…..
MERCH AT THE SHOWS…..
While you are AT THE SHOWS….. we will have some BEAUTIFUL MERCH for you to take home with you, featuring gorgeous artwork from Niki McQueen.
We will have TOUR SHIRTS featuring the iconic Reunited image…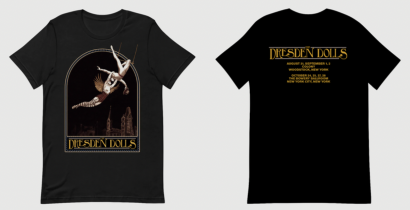 POSTERS – both the deluxe Reunited image, plus exclusive posters for the Colony Woodstock shows…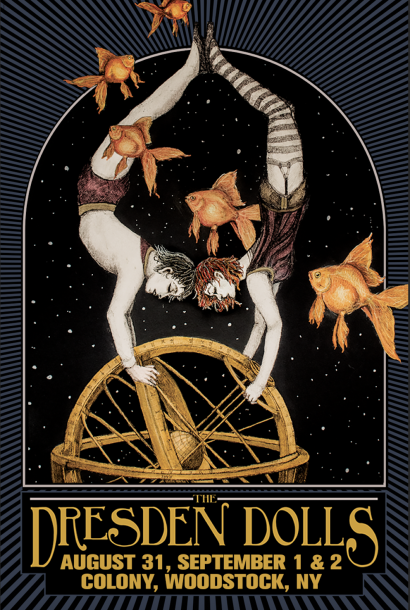 And we also have another fun little treat up our sleeves – while trawling through Instagram, our resident UK Merch Queen Alex found these beautiful little earrings made by Briana, aka metal.glow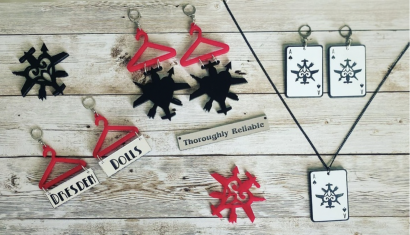 We're hopefully going to be working with her to add these to the merch table for our upcoming shows. But an important question for you folks…. WHICH ONES DO WE MAKE? Just earrings? Earrings AND necklaces? Sound off in the comments, we'll be reading and making decisions soon. We'll hopefully have these sorted and in hand in time for the Woodstock shows, but since timings are tight, they will DEFINITELY be appearing in NYC!
We're also going to have a limited selection of merch available to purchase AT GRAVESIDE VARIETY during the whole weekend, which leads us nicely onto….
……….
WHAT ELSE IS HAPPENING AT GRAVESIDE….
WE MADE THIS SPACE FOR US, DAMMIT!!! It's PATRON-FUNDED! YOU GOTTA COME SEE.
Whether you're coming to ALL THREE SHOWS, ONE SHOW, or NO SHOWS….COME OUT AND PLAY!
WE ARE GONNA HAVE COFFEE + OPEN HOUSES + OPEN MICS + SHOWS AND MORE…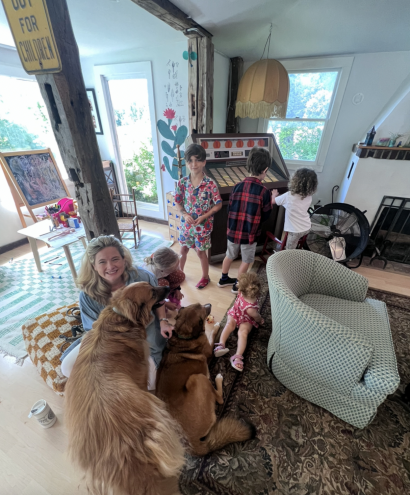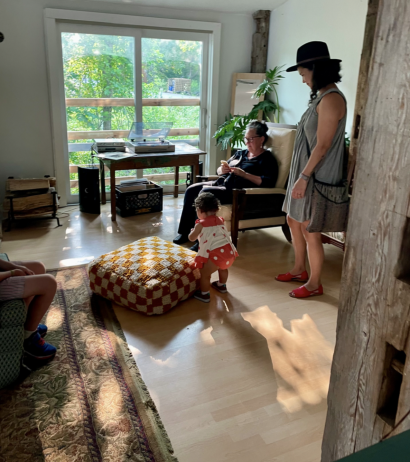 Each open house ticket helps us keep our doors open, and is your "afternoon pass" for Graveside to serve as your landing pad while in Woodstock.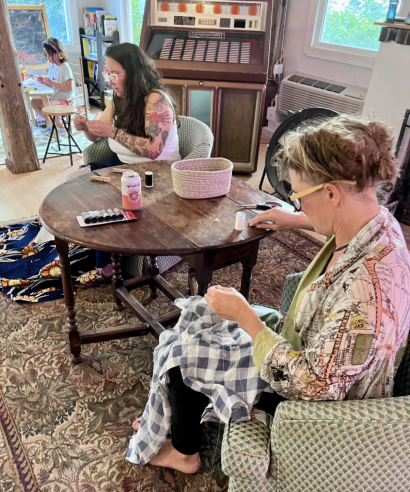 You can sit and read,  do some work (homework? go for it), do some sewing, hang with the community in this big chosen family living room (and bathroom!), there's internet, there's coffee, there's tea and there's some snacks.
You will get Graveside Variety hand stamp  (and your name will be at the desk) so you can come and go as you please throughout our open house hours that day.
On the open mic days, we have some special hosts from the community!
Open houses are:  Thursday 8/31 12-4pm, Friday 9/1 11-4pm
Open houses with open mics: Saturday 9/2  12-4, Sunday  9/3 1-4 
All tickets are at gravesidevariety.com.
AND, in case you're in town the WHOLE TIME…..we have just added a discounted pass for those interested in attending many/all the open houses!!! You'll get a cute little pass card so you can come and go during all the open houses 8/31-9/3.
DOLLS WEEK COFFEE HOUSE PASS: https://www.eventbrite.com/e/dolls-week-open-house-pass-831-93-tickets-705336539577?aff=oddtdtcreator'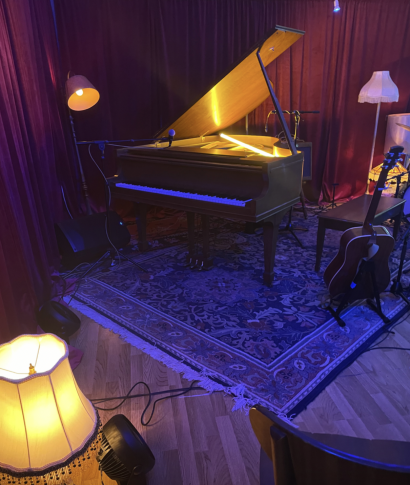 …..,
WHAT ELSE @ GRAVESIDE….?
CLASSES WITH COCO KAROL (findingcoco.net)
Lovely & talented choreographer and long-time friend COCO KAROL is offering two different classes for the first time ever at Graveside.  Some of you may know Coco from Campersand, or recent collaborative workshops or performing during the Livingroom Livestream, or the Drowning in the Sound Music music video or The Mess Inside… or…..literally so much in the best of ways. Here's me and Coco, arting out, remember this one from 2019…?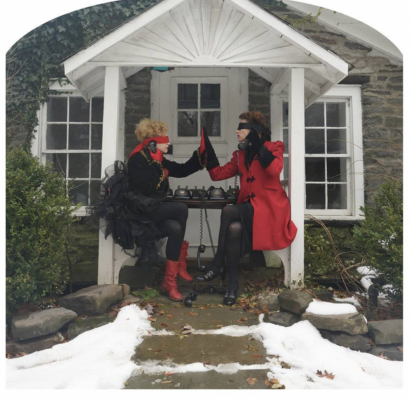 (Photo by Kahn and Selesnick.)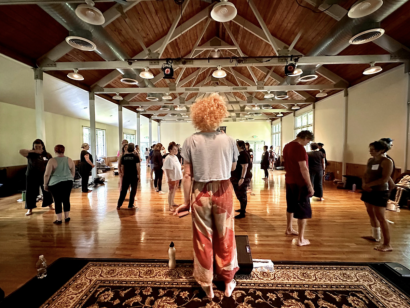 (Coco teaching at Campersand in July.  Photo by Michael McComisky)
Coco will be teaching TWO MOVEMENT/STRETCHING CLASSES. "Embodied Inquiry" is more about moving around on your feet, and Munz floor is more of a gentle stretching class on your back, it's incredible gently. BEGINNERS VERY WELCOME, SPACE IS VERY LIMITED, BRING YOUR OWN YOGA MAT IF YOU CAN, PLEASE.
8/30  @ 4-5:30 pm  Embodied Inquiry
……
FOR ALL AGES, AND KIDDOS!!!
DRAG STORY HOUR WITH ANNIE CHRIST
So far with Annie, we've read from And Tango Makes Three (the sweet story about the gay penguins at the Central Park Zoo), A Day in the LIfe of Marlon Bundo (from John Oliver), and Neither (about accepting who you are, however you are).  Annie reads with joy and kindness, and usually also has a fun art project up her sleeve.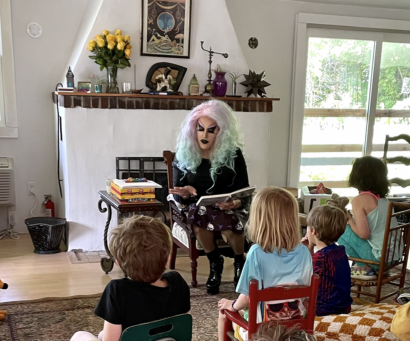 …..
EVENING PROGRAMMING
if you're not going to the Dolls every night, or are  hanging in town before or after the Dolls residency, we have shows for you! Holly Miranda and Grace Coates have teamed up as "Golly" (get it?) to present a handful of awesome music:
Sept 1 @ 6pm doors, 7pm show –golly presents: paul moody + margo ross
September 2 @ 6pm doors, 7pm show – golly presents : carla rhodes + sam margevicius
…
FINALLY:
Singer Mali & Amelia Allen!!!
Sunday, September 3 –  6pm doors 7pm show
THIS IS THE NIGHT AFTER THE DOLLS ARE DONE, STICK AROUND!!!
Mali is an OLD friend of mine and monster talent, and opening up is Amelia Allen, who was at Campersand and blew us all away with her talent. THIS ONE IS NOT ONE TO MISS….
Mali Sastri:
Me hugging Amelia at Campersand….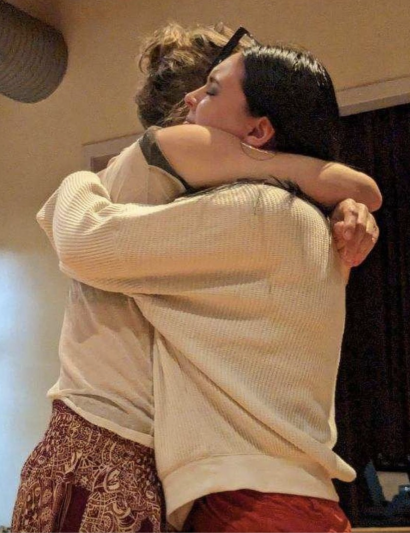 Amelia in her pro attire…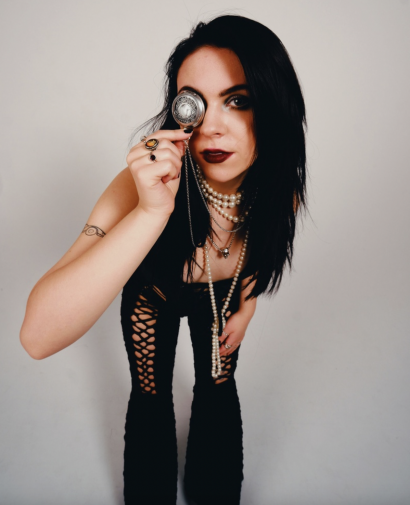 Singer Mali (singermali.com)
Amelia Allen (instagram)
…….
AND A REMINDER! presenting……..
BLEAK!: SONGS FOR THE NOT-QUITE END OF THE WORLD
WE BOOKED THIS SHOW FOR FOUR NIGHTS BECAUSE WE KNOW YOU NEED IT.
Aug 30, 31, Sept 1 and 2.
…..
OKAY!!!
More info on Dolls week at Graveside: https://www.gravesidevariety.com/dolls-week
Tickets & info for all shows available at gravesidevariety.com
………….
AND LASTLY…..
IN AND AROUND WOODSTOCK
CATSKILLS/ HUDSON VALLEY EXTREMELY LIMITED, PERSONALLY BIASED  AND IMPERFECT LOCAL GUIDE TIME
The team and I have arranged a by NO MEANS comprehensive guide to Woodstock and the surrounding area.   These are just some favorite spots and general pointers that we hope will help you guys get the most out of your stay during DOLLS WEEK (or whenever you're in the area!)
Woodstock is the type of town with a solid town center with a ton of stuff in walking distance.  There's a lot of other fascinating nearby towns and experience….I recommend day trips to Kingston (Rough Draft books!), The Saugerties Lighthouse, The Widow Jane Mine, Sam's Point for a quick hike a massive view, and hikes up nearby Overlook Mountain if you can.
Graveside/Colony is RIGHT in the middle of town and you can park in the public lot and get to pretty much anywhere fast. This town is TEENY.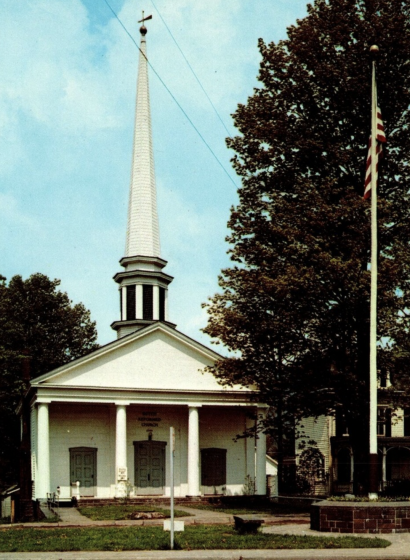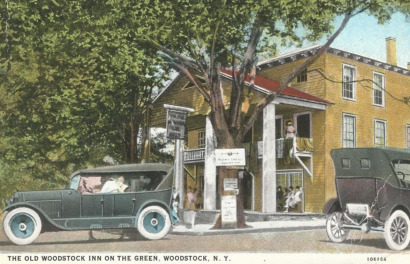 …..
NEARBY….
Kingston is fairly large, spread out, and an actual city.  Two great areas to hit  up are Stockade: SUPER HISTORIC…lots of stores and restaurants! And some lovely queer celebrating cross walks The Rondout is a great little shopping and eating district, right by the water.
There's also the Trolley and Maritime Museuma nearby, and Kingston ArtPort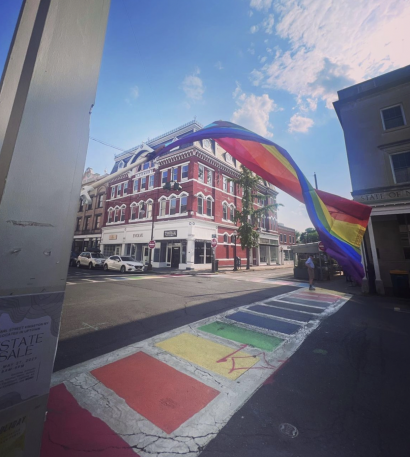 Hot tip: in Saugerties, the main hub is "Saugerties Village". In Rhinebeck the main hub is "Rhinebeck Village". Pretty much if you see village within a town in the area, and that's where it's all happening.  In the case of Saugerties and Rhinebeck, they both have historic cinemas run by independent upstate films, shops, restaurants, book stores, and beautiful old buildings…. and a certain lighthouse……you know it.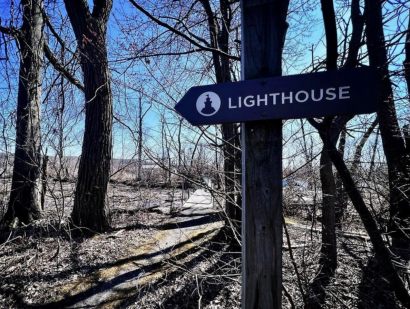 ……
DINING & DRINKING
The FAAANCY vibes – Book in advance, ideally a week in advance for weekends.
Silvia is delicious farm to table/ organic/ sustainability focused contemporary American cuisine.
(Me and Lance and Auntie Donna @ Silvia)…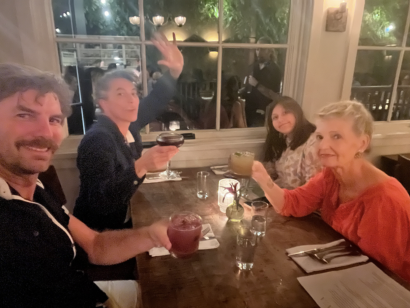 Good Night is across the street from Colony, and the next building down the road from Graveside. It's a black building with pink velvet inside that's just a good mood with serving South East Asian fusion.
From the same owners, Silvia and Good Night are fancy and beautiful restaurants with just incredible atmosphere, food and drinks. They're not cheap, but they are GOOD.
Cucina – delicious farm-to-table Italian food.
……….
More Casual:
Pearl Moon: Solid. Also..if you want to choose from a selection of cocktails all relating to the moon, this is your spot.  They also have live music.
If you don't want to plan or just get take out,
Garden Cafe– (vegetarian food ), & Yum Yum Noodle (Asian & American food)  are near Colony & Graveside.  Medo for sushi!
***BAR OF NOTE***
Liz history lesson about a bar she hasn't been to, but knows the history of…..
Woodstock never got a train station! This is a sore spot for Woodstock. They really wanted a station..because tourism dollars baby.  They kept thinking and preparing like they were gonna get one, then finally realizing it wasn't happening, scrambling to latch on to an identity that didn't involve anything to do with trains.  It's a big part of why different artist colonies set up in Woodstock, and just why Woodstock became what it is.
Now Woodstock has a train station. An actual train station…that was decomissioned in 1952 and moved to Woodstock in 1970.  Now it is a bar…after having already lived a variety pack of lives. 
Which just feels VERY WOODSTOCK.
……and beyond!!
Oriole 9 Casual cafe serves eclectic breakfast & lunch fare featuring produce from the owners' organic farm.
Dixon Roadside mid-century farm-to-table roadside vibes.
Phoenicia Diner – farm-to-table delicious diner. they don't take reservations, but you can wait for your table with lovely mountain view, bar & outdoor area.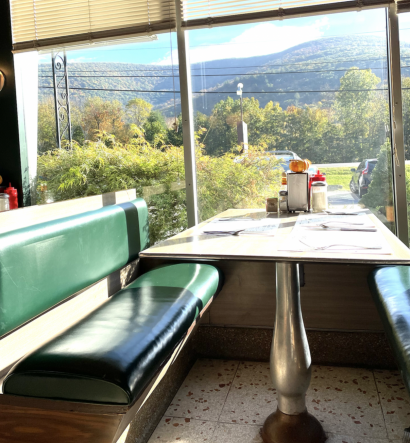 COFFEE/TEA/BAKED GOODS……
Woodstock Way – SHhhhshhh. Well Kind of SHHH.  This is a beautiful cafe tucked away in a hotel, but is open to the public.  It's cozy, kind, and wonderful. AND LOOK, THEY ARE PIMPING OUR VENUE!!!!!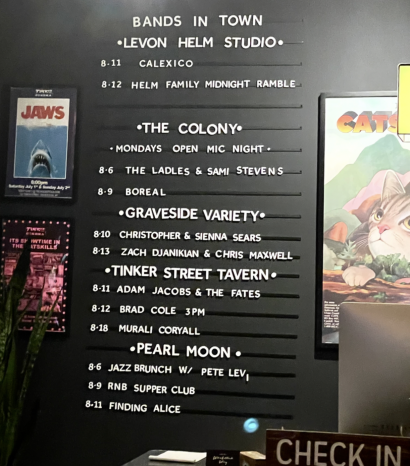 Bread Alone (Woodstock, but also in Boiceville and Rhinebeck) – This Hudson valley bakery has soups, salads, pastries, and coffee. It's delicious, but not a great spot for hanging. Clearly, the name is a lie
Graveside Variety! – UM, THAT IS US.
Come for our coffee hours! We will have coffee. We will have tea. We have no idea what our selection of baked goods will be, but we can say we will fully stocked in awesomeness.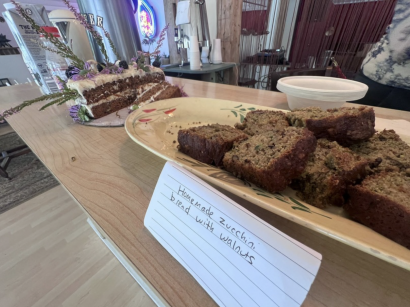 ……..and more beyond!
Village Grocery and Refillery (and Village Coffee and Goods)
Lovely little market and cafe run by lovely humans. They have excellent coffee, pastries, and sandwiches, including gluten free, vegan, and refined-sugar-free items. They have two locations and you can get coffee and snacks at either one of them. (Kingston)
Rough Draft Bar & Books –  They with a wonderfully curated selection of (new) books, and coffee and beer and wine.  Also—-their 'drinks of the month' are all literary themed.  Example, in fall their pumpkin latte is called "Squashington Irving".
Olsen & Company– coffee, breakfast/lunch, beer & wine some fancy groceries (Saugerties)
…….
GROCERY STORES
Sunflower Market  -long running independent family grocery store with an emphasis on clean and sustainably source food. On the expensive side, but they have great sales and prepared food to grab-and-go.   (75 Mill Hill Rd, Woodstock NY)
Sunfrost Farms – a lovely farm stand / small grocery store/ cafe. Fresh soups, coffee, sandwiches and more.   (217 Tinker Street, Woodstock NY)
…….and beyond!
Hannaford Supermarket – New England/NY chain market (West Hurley)
Adams Fairacre (Kingston/Lake Katrine) . Hudson Valley Local Chain a wide selection and a hot food & salad bar, cafe, and PLANTS.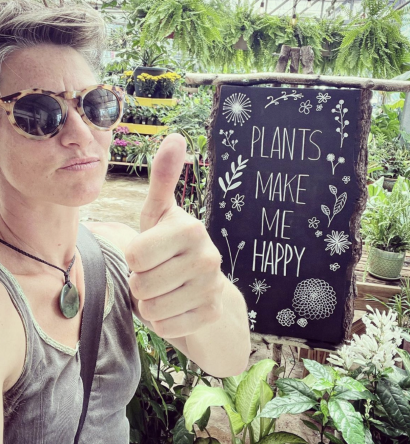 And if you want your regular big chain/big box stores…Kingston…..
….
INDOORSY STUFF…..
The Golden Notebook We LOVE these guys, Woodstock's independent book store. We love the owners and the staff, and in fact, they have been frequently been renting Graveside out for weekend afternoon book events. Follow them for their latest events.
Rock City Vintage lovely vintage story right by Colony and Graveside…and we LOVE the owner Molly.  In fact, she's known to occasionally grace the Graveside stage during 'Party Around the Piano'.
(Molly performing with Lance)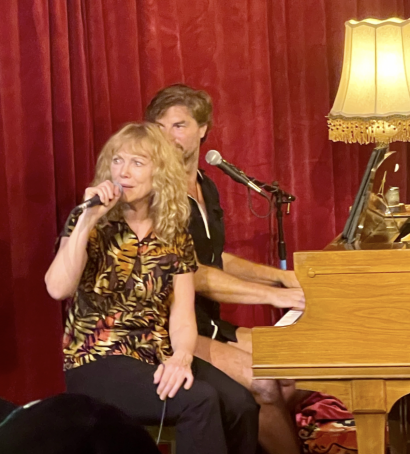 …and beyond!…
Shakti Yoga  – All level yoga studio! Say hi to Linda and say I sent ya.
Rough Draft Bar & Books – We previously mentioned their delightful literary pun themed drinks, but they're also an incredibly curated and cozy bookstore. They are located in an 18th century stone building in the tiny part of Kingston that the British (mostly) didn't burn. (If you drive around Kingston, you will realize this is a thing that Kingston will not let go. Look for the happy look 'fire trail' signage marking where British burned the city.🔥)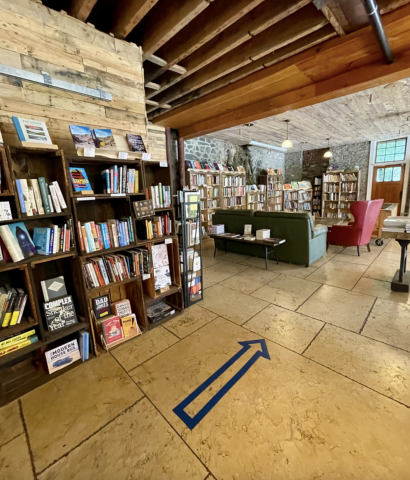 Half Moon – Used books! Located in the Stockade District (Kingston)
Inquiring Minds Bookstore – Use and new books!- Incredible selection. Antique chairs & couches, a cafe, and a tin ceiling. Do I really need to say more?…. (Saugerties)
Oblong Books & Music Well-curated and large selection of new books and music. (Rhinebeck)
……
OUTDOORSY STUFF
YOU ARE IN THE CATSKILLS & HUDSON VALLEY. It's OUTSIDE TIME. Rent kayaks! Ride a bike! Take a hike! Go to a local park or forest! Find a swimming hole!!
Overlook Mountain is a beautiful mountain hike with burnt down hotel ruins and a fire town on top.    The hotel has a super fascinating history of being a repeatedly failing hotel, except for that brief moment around when Ulysses S. Grant stayed there.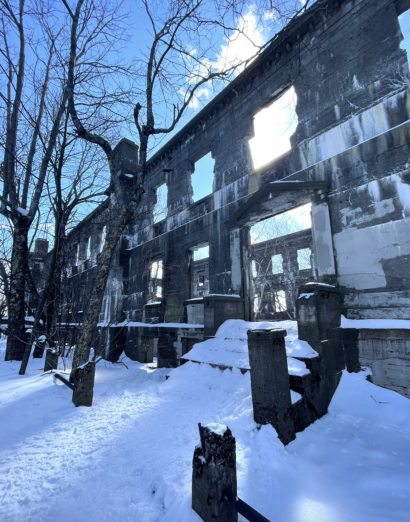 (Liz took this photo a few winters ago)
Empire State Trail/ Rail Trail
If you bring or rent a bike, there are some amazing bike routes and rail trails. In particular, the recently completed Empire Trail, that I kid you not, goes from NYC all the way up to the Canadian border.  It varies in levels of actual trail…from bucolic converted rail trails for only bikes and pedestrians , to bike lanes, to just following the bike signs on the street.
AND YOU CAN ALWAYS GO TO A LIGHTHOUSE!!!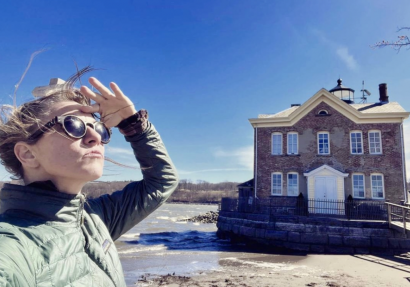 The Saugerties Lighthouse (pictured here…in Saugerties)
The Roundout Lighthouse (Kingston)
Both lighthouses have beautiful flat trails to either walk near them or to them. It's lovely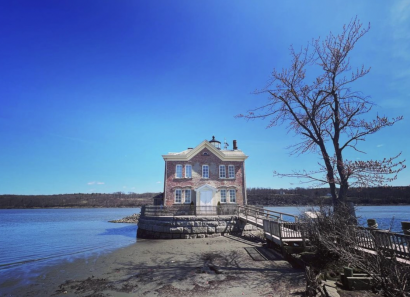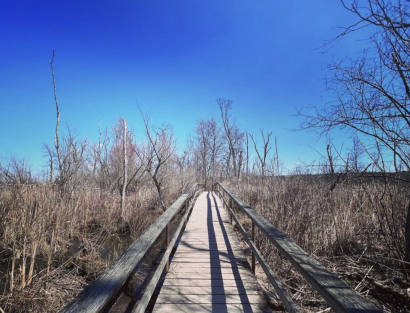 …..
LODGING & ACCOMMODATIONS
we are going to make this brief, because at this point in the game you've most likely gotten this squared away.  In general, there are a lot of great Airbnbs in the area, but they book up fast.
HOWEVER, our friends at the beautiful Woodstock Way has offered a discount to anyone who mentions they are coming for the Dolls shows! just email Nicole Desormiers Nicole@woodstockway.com and ask directly!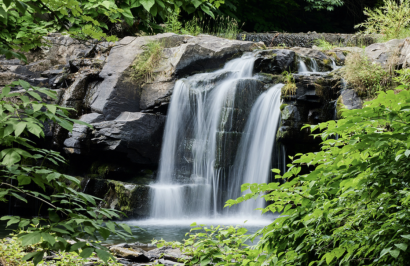 …..
DON'T FORGET ABOUT COLONY!!
The very site of The Dolls Residency is jammed pack with programming….and FOOD.   They have an outdoor beer garden and full kitchen and bar! Explore their website for more info.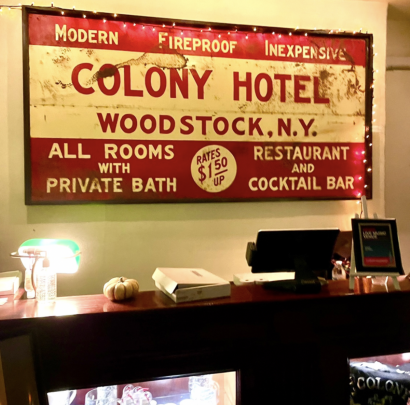 recommended show:
Tuba Skinny is playing there on 9/3!!!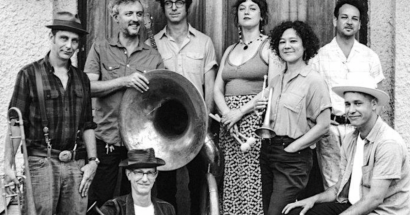 …
FINALLY, if you have a DENTAL EMERGENCY, Bruce Milner of Transcend Dental is your guy!
THERE IS A PIANO IN THE WAITING ROOM : EVIDENCE!!!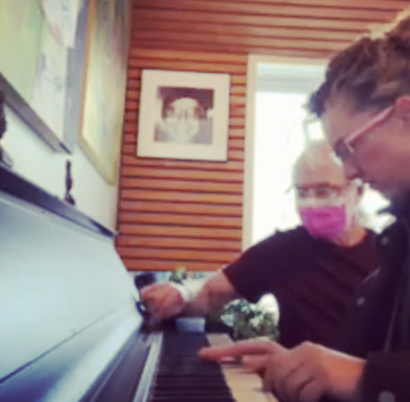 ……..
Please share you ideas, plans, recommendations and questions in the comments below!!!!
WE ARE SO EXCITED TO SEE YOU ALL!!!!
xxx
AFP