September 27, 2010
THIS TUESDAY & WEDNESDAY: MEOW MEOW & AMANDA LIVE IN BOSTON in the SET OF CABARET!!!
i'm a zombie, but a happy zombie.
i did the show thursday night and then stayed up until 7:30 am. i wrote over 230 emails.
then i went to bed til 1. i've been working non-stop since waking.
such a free-wheeling existence.
two shows friday, back-to-back. neil came. so did my dad, my sister….and my mother threw an ENGAGEMENT party for us.
eek.
yesterday – #SurrealSunday, i dubbed it – was equally bizarre. my twin sister (jason webley) and i performed as
evelyn evelyn
with YO GABBA GABBA…but you'll have to wait for another day or
check out my twitpic'ing
if you wanna know more about that.
meanwhile, we make art.
the LATE NIGHT FUCKING CABARETS have been smokin'.
it's SO FUCKING COOL to have bands playing in the actual theater set OF THE SHOW, with a BAR, and it sounds incredible.
i want more people to come.
i tempt you, now!!!!!! here are some pix from last week's…
mali and rachel (with steven mitchell wright, of course) from mali's band jaggery: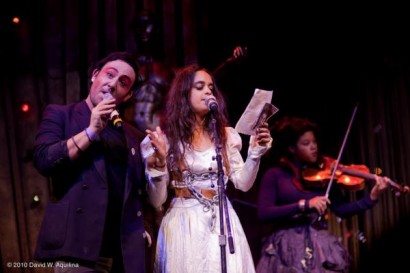 me, in the set. isn't it FUCKING GORGEOUS?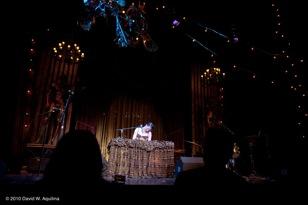 me, steven mithcell wright, and christopher thomas in a make-out session of "coin-opeated boy"… (don't ask what christopher was doing down there)….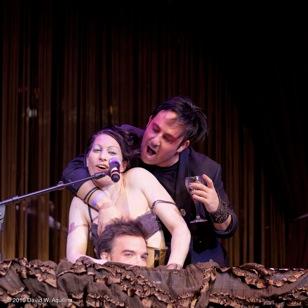 and now…a story of a meow meow for you.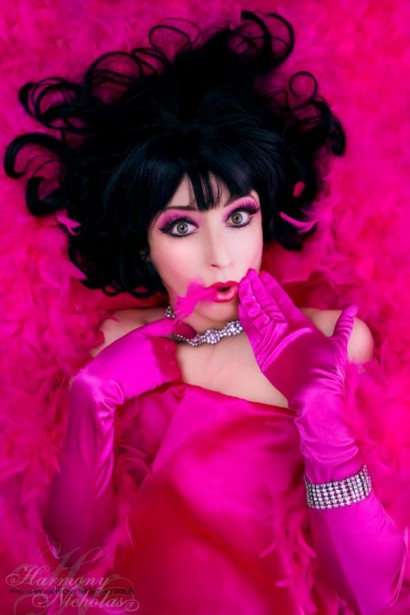 oh, dear meow meow (who hails from australia but tours the world constantly. if she's not in melbourne she's in hong kong, or london, or somewhere bizarre). she happened to be in NYC right now and i begged her to come up to boston to do some late-night post-cabaret madness with me. and she said YES. lucky enough, her accompanist, lance horne, is also the pianist for cabaret and we're back together as one big happy fucking cabaret family.
here's meow and lance when she got into boston to rock you all: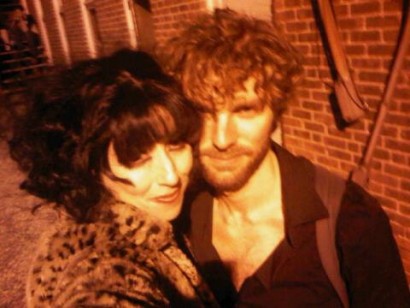 now? for all of you sobbing that you can't get tickets to "cabaret"….take the lemon, make lemonade, and come see the REAL THING for fuck's sake.
it doesn't get any more weimar than a double bill with Me and the fabulous Meow. the woman is a FORCE.she'll do a 45 minute set, we'll jam together and i'll, of course, be playing my uke and piano, as usual…
and i'm also going to continue working with the "cabaret" house band, who have started staying late nights to join my whack afterparties because it's just SO MUCH FUN THEY CAN'T LEAVE. we've basically formed an alternate-reality-band called "MAX MAX BASTARD".
we might make SHIRTS. but mostly we're just jamming on some of my new songs (yes, i have some) and doing whatever we feel like. we might do some adam ant and soft cell covers….we are, at our core, an eighties band. with a name like MAX MAX BASTARD, don't we have to be?so again, get tickets NOW before they're GONE!!!!
tuesday, september 28
&
wednesday, september 29
(and you can
RSVP here
!)
if you're the gambling type, we also have a few tickets for each show to contest-away, too…….if you don't want the security of KNOWING you'll get in for this amazingness/can't find $15 for a ticket, go
HERE
and find out how to try and win one…you never know…but go QUICK.
the theater re-opens at 11 pm, after the official "cabaret-the-musical" attendees get kicked out, and we PARTY til 2!!!!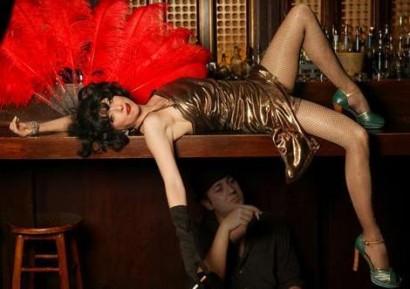 to give you some background, i first met meow in edinburgh at the fringe in the summer of 2007. i was working on the
who killed amanda palmer
record…i recorded "leeds united" that month, while i was there.
meow was this movie-star-in-a-gown trailing a cloud of smoke and perfume through a trashcan field of littered coffee cups, doing a nightly show at the bosco theater next to my venue, the spiegeltent.
when i saw her show, i knew i loved her.this photo is hilarious – it was taken at a press gathering one morning, and i hadn't ever MET HER, or camille o'sullivan (another semi-famous cabaret singer), on the right.
we didn't get to know each other until after this day….but getting our diva-trio rocks off was obviously easy without being previously acquainted….oh, camille. watch your hands.
meow's in the middle…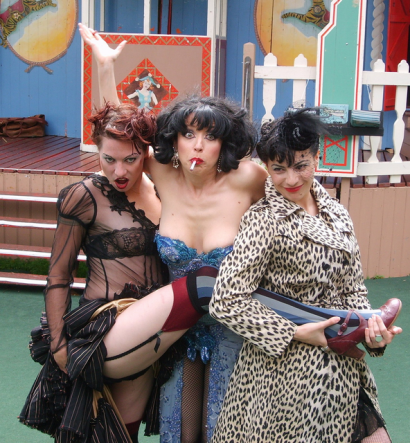 http://www.flickr.com/photos/celticlo/1030462544/lightbox/
her pianist, lance horne, and i also became good fast friends that summer. i am, he SWEARS, the first chick he's ever made out with.
i didn't know he was gay when i attacked him in the rain, backstage one night. damn he's sexy. why are all the sexy ones….? whatever.here's a now-famous clip of me & lance doing four-handed "mandy goes to med school" in the same space we're currently doing our show…but 4 years ago…
i think a reprise may be in order this week at the shows…
and here's a great clip of me and meow, suffering together on a hand eisler song, during the same show….
do not miss this.it's going to be an incredible couple of nights.i mean, LOOK at her.
we are soul-sisters….it shall be a night of punk cabaret love.
COME!!!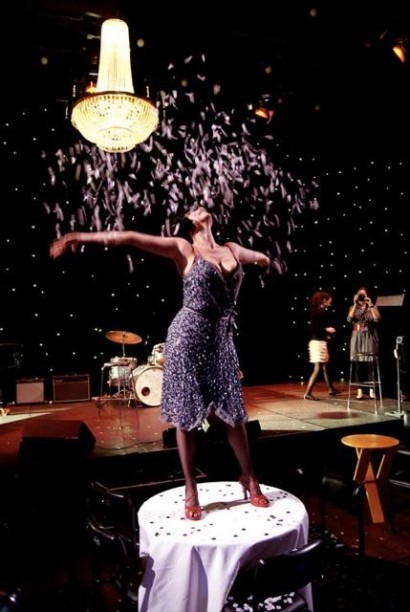 AARRRRRRRRRRRRRRRRRRRRRRRRRRRRRRRRRRRRRRRRRRTTTTTTTTTT
….
AND….
P.S. THE DRESDEN DOLLS BOSTON SHOWS AT WILBUR THEATER WENT ON SALE FRIDAY!
they were nearing sold out after only 5 hours. some people had trouble ordering over the weekend and thought it was sold out but there are still a few left…
GO. GET. TICKETS. they will not last:
we're playing the first record (the dresden dolls) on tuesday, november 2 and yes, virginia… on wednesday, november 3 (and you can RSVP HERE and HERE!).
COME BOTH NIGHTS – we're also going to have incredible openers, different each night.
HOORAY FOR EARTH on the 2nd & BITTER RUIN on the 3rd….with more special guests TBA.
xxx
AFP