September 2, 2014
i am making a new piece of theater called "THE BED SHOW" at bard college. (TICKETS for 5 SHOWS ONLY ON SALE NOW)
edit 9.3.14 11am est: added suggestions and links for places to stay in the area!!
(if you're in the upstate NY area, please SHARE THIS…THANK YOU!)
---
hola comrades.
my life is fucked right now (but when isn't it?)…
why is it fucked?
i thought that my book would be finished and out the door in MAY.
and it's august – well, fuck it, it's basically september – and i've JUST finished proofing the damn thing.
earlier this week, whether it be a bar…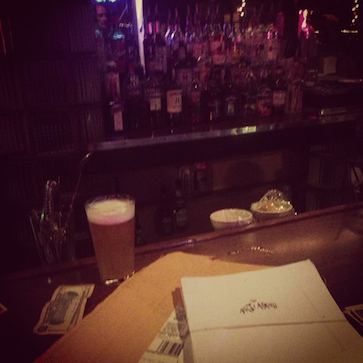 or during a short break…


or in a coffee shop in hudson…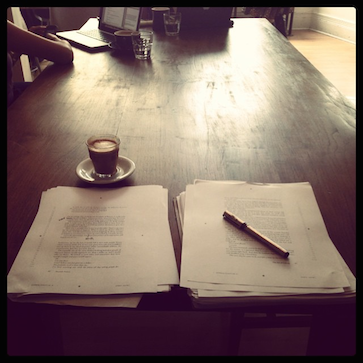 or in a thai restaurant…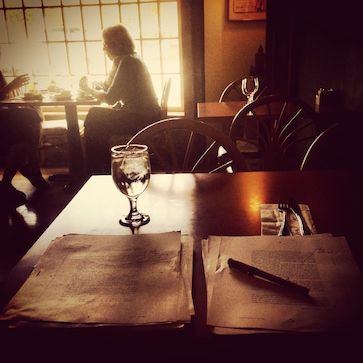 it's over. it's gone. i sent it to the publisher this morning.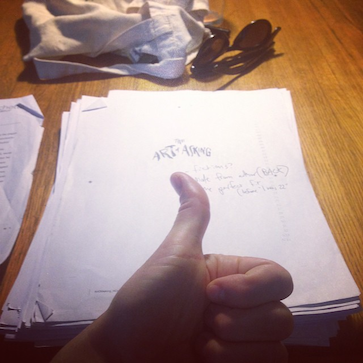 FUCK it feels like i've finoshed this book 6 times. remind me not to write another book. okay? okay.
i cannot beieve i thought i'd get this fucker finished and out the door in may…
MAY?? MAY?? hindsight is 20/20. but, whatevs, i'd never written a book. and i'm an optimist. i thought i could do the whole thing in five months. it took seven. and even then, i barely got it in.
as i've mentioned, i'll be barraging you soon with All Things Book and Book Tour (it's out on november 11th) but right now, my attention has totally left the book and is back on stage. i was supposed to spend june and july OFF, examining my soul and cleaning my apartment and my life and inbox. it didn't happen, my life remains a mess.
who fucking cares. because i am writing music again. and i'm not doing it alone.


i am now happy.
why? i am currently doing a project that i've wanted to do for ten years.
i've waited.
and i've waited.
and now it's finally happening.
of course, now. because.
but…it's worth it.
---
i have a short(ish) story for you…
my favorite director in the world is steven bogart. he was my high school drama teacher. i talked a bit about him back when he was directing us in "cabaret" at the American Repertory Theater a few years ago, but if you missed the plot i'll fill you in.
bogart was a real mentor to me, and many of my friends, at lexington high. in a wasteland of high school confusion, his drama room was an oasis of non-patronizing understanding and a place where we were told we could express ourselves, take risks, reject sentimental ideas about art, and make shit that came from our hearts and souls.
the emphasis in that drama room was on creating work from scratch.
there were no productions of "our town". we improvised, we devised, we brought our true selves to the process and at 15, 16, 17 years of age, we were taught real things about making real art. we were encouraged to write, direct, think, risk, and create, create, create. i stayed up late nights, listened to music, closed my eyes, visualized images, strung the images into plays, wrote the plays down, then cast them and mounted them with the help of the other theater freaks, the crew, the other lost souls.
that's how we connected. it's how i connected.
in a world where i found myself really uninterested in algebra, earth science, and other shit like that…that room, and play rehearsal, waited at the end of every day like a light at the end of the tunnel. there was a place i was headed. it kept everything tolerable.
i *found myself* in that drama room, not as an actor, or director, or writer, but as a person. i felt free to be unmasked for the first time in my life. those families that sprang up around me as a result of creating and mounting plays from scratch – from inside our own heads – were my first experience in feeling totally connected to a group, safe in a space, understood, heard. all of those things were carried into my life as a songwriter. i wouldn't be here without those experiences.
i found myself really disappointed and disillusioned when i got to college and found that drama-land wasn't all understanding and compassionate space and risk-taking and bold choices encouraged by an ensemble. i hated it. i ran. i created my own theater pieces
and worked on music (and since it was college, mostly just hid, studied, and smoked cigarettes, wondering what the fuck i was doing at all.)
when i got out of college, i continued to rope together groups of people to create workshop shows from scratch, and those ensembles of actors would put everything into the process: their space, their time, their energy. nobody was ever paid, we broke our own banks and backs to put those shows together.
then the dresden dolls happened. i delved back into the theater in 2005 with the american repertory theater to create "the onion cellar" from scratch, but the theater wouldn't hire bogart. we went with another director. it wasn't the workshop i was imagining. it was not fun for me. it was not an experience that fed me. it left me really unhappy. and i resolved i wouldn't do another workshop without bogart anytime soon.
the onion cellar sold really well (we performed over 40 shows, all featuring the dolls in a weird concert/theater-hybrid way) and when the A.R.T. came back to me a few years later and asked if i wanted to do anything, i said yes.
yes, i will do anything…with steve bogart, the director i actually want to work with.
bogart and i sat down and discussed whether we would do a workshop piece (a totally new show, from scratch) or start our relationship out in the Real World of Theater with something else, something that wouldn't feel pressure-y that we could just knock out of the park.
that's when we decided to do "cabaret".
once we nailed that, we reasoned, we would return and do what we really wanted: a workshop piece.
the nailing was nailed, and now we're doing it.
we are making a new piece of theater, with music.
we decided to work somewhere safe and away from the world, with actors who would really take risks and throw their whole souls into the creation of the material. we started with a few raw ingredients that bogart and i brought into the space.
it's a idea that i've had for a show…for a few years.
we auditioned for 13 students at bard college to be our actors and ensemble.
we have been working for 11 days.
it's already incredible. powerful. fucked up. intimate. scary. awesome.
i will be writing new songs for it.
the show is just barely starting to take shape; we don't yet really know WHAT it is going to be.
but it's on sale.
and there are about 500 tickets available across the whole run. (link & details below)
you can come see what we're creating; there are FIVE PERFORMANCES in a VERY SMALL THEATER here at bard, and i expect every show to be somewhat different – especially since the material is raw.
the working title is THE BED SHOW, but it may change…who knows.
anything can happen.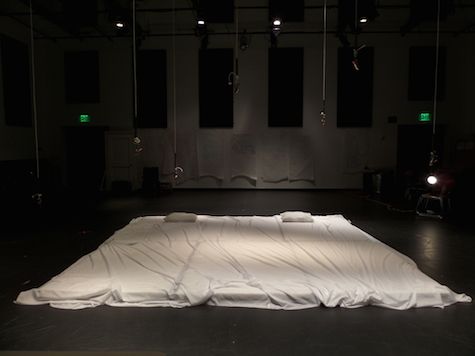 Fisher Center for the Performing Arts
Bard College
60 Manor Ave, Annandale-on-Hudson, NY 12504
(845) 758-7900
get directions
all ages, five performances only.
dates: Nov. 5, 6, 7, 8 @ 7PM
also: Nov. 8th @ 2PM
tickets are on sale NOW at bit.ly/TheBedShow
THE CAST
amanda palmer
harry beer
soraya cain
meg gilbert
kirsten harvey
ben hopkins
kedian keohan
anya kopischke
michael lazarus
sam miller
sam robotham
ethan rogers
victoria rulle
dana shimkoski
THE DESIGN TEAM
lights: ji-youn chang
sound: stowe nelson
stage & costume: anya klepikov
director: steven bogart
asst. director: marissa shadburn
stage manager: paul sieveking
asst. stage manager: becca silbert
music by amanda palmer
show written by the entire ensemble.
and since people are asking…a few local joints to crash in:
• THE GRAND DUTCHESS B&B (5 minutes away, in red hook)
• BEEKMAN ARMS AND DELAMATER INN (15 minutes away, in rhinebeck)
• THE CENTRAL HOUSE HOTEL INN (10 minutes away, in germantown)
and my very, very, very favorite. it's the BEST PLACE EVER IN THE WORLD – but they have very few rooms:
• THE SUMINSKI INNSKI (5 minutes away, in tivoli)
additionally: bard has put together a massive list of area hotels, motels, inns, and b&bs as well as a bunch of places to eat while you're there.
try the university hotel network, expedia, hotels.com, and priceline to try and get the best price. some places offer BARD discounts for visitors, so remember to ask. if you're gonna be in town for a few days, check out the rhinebeck and red hook chamber of commerce sites for other stuff to do. it's a beautiful little area with places to shop and visit and explore.
---
last but not least, here are some photos, as we've been hard at work ("work")…
meg and kedian…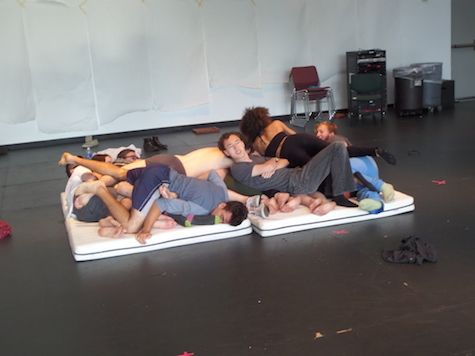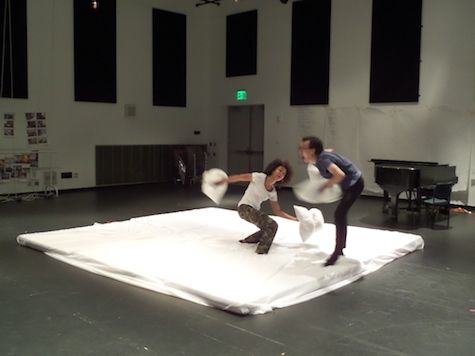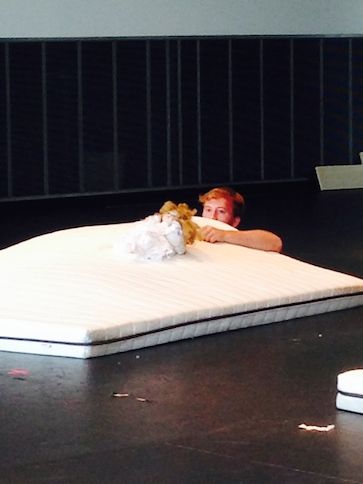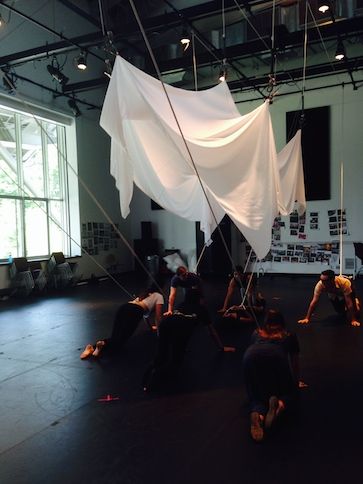 late workshop theater session at bard. group brainstorms. kedian scribes. harry thinks deeply…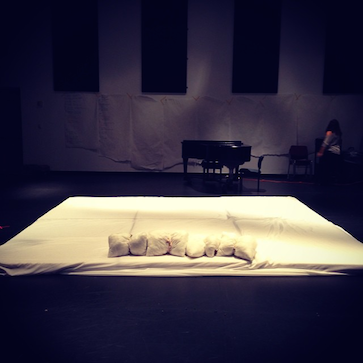 and here is the ongoing study in mortality saga unfolding, in little six second increments…



…these kids and their vines i tell yah.
xxx
afp


(good ol' bard college putting up a tasteful sign to reserve me a piano writing room for the theater workshop, last week)