November 27, 2013
Amanda Palmer to be Interviewed by Bob Lefsetz during Canadian Music Week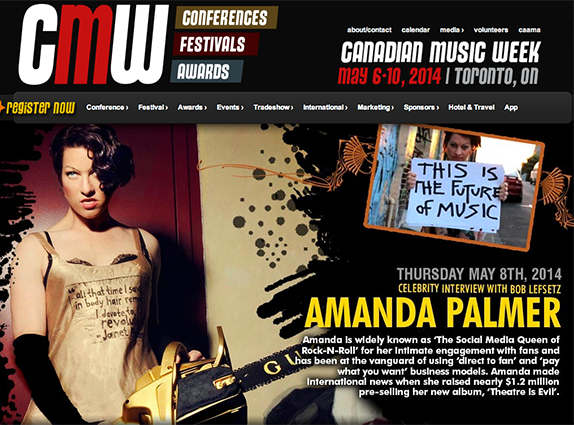 INTERVIEW OF THE YEAR. Bob Lefsetz & me smack it down at Canadian Music Week on May 8, 2014. cannot wait for this.
Grab all the details HERE
For tickets info, head to www.cmw.net

About Canadian Music Week:
Now in its 32nd year, CANADIAN MUSIC WEEK is recognized as one of the premier entertainment events in North America focusing on the business of music. We bring together Sound Recording, New Media and Broadcast for one spectacular week of events… Combining informative, intensive conferences, a cutting edge trade exhibition, award shows, film festival, comedy festival and Canada's biggest New Music Festival. The Canadian Music Week festival spans 5 nights of performances, with 1,000 showcasing bands at more than 60 live music venues in downtown Toronto.  All convention functions take place at the Toronto Marriott Downtown Eaton Centre.