October 20, 2011
blogging & tweeting as second-class art forms
hola comrades!!
 
i got a moderate ration of shit on my last blog for not going into enough editorial detail (about the #Occupy movement).
 
even neil, who reads my blogs before they go up to the public (I have a list of friends and management who get copied on the blog before it posts) commented: "DARLING," – he always starts sentences like that especially when he has something critical to say, it's very english – "DARLING", he said, "you're not actually explaining WHAT #occupy is." 
 
and i said "if i try to put those feelings into this blog, i won't get to bed until 4am. i have a ton to say, and it's all muddy, like the movement, and it can't be summed up into one sentence, and if it could i'd've dunnit…and, and….honestly, i should have put those photos up days ago, and i know now i just want to say THIS IS HAPPENING I DID THIS before i neglect it altogether"….and went on to explain that what often bogs me down with fucking blogging, is the fact that i have too much to say, and i want it to be too perfect, short, long or TOO SOMETHING, and so i just don't post the shit. you know how i haven't blogged yet about my wedding? we're coming up on our one year anniversary. exactly. anyway.
 
on the #occupy blog, i put a link up and said "if you don't know what's happening, read THIS. the source." and then spent the next 48 hours fretting that i should have added more editorial commentary to the post, instead of just stating the facts. and sometimes i feel like i'm preaching to the choir. and sometimes i feel like i want ot just post something, a picture and a word, saying "GOOGLE THIS SHIT." if you want my thoughts on #occupy, you may have to wait, or you may have to run into me later tonight in boston at the franklin cafe, where i'll be having a beer and no likely expounding my thoughts about it to whoever's listening. and probably once i figure out exactly what the most important thing to say is, having road-tested my three hours worth of monologue on some poor sod, you'll get the abridged version.
 
last night over a beer with some folks, i found myself rambling about all this, and maybe it was altitude and maybe it was the beer talking.
we were over at george r.r. martin's house, which is a very (truly) humble little joint located in santa fe [where we've been all weekend, doing secret shit (no nuclear i promise) and visiting my family]. if you stick with this blog the whole way, i promise at the end i'll reward you with a picture of me chasing a santa fecian chicken and some other wholesome stuff. for now, the point.
 
the point was: neil started a little internet meme about two years ago by responding to a fan who wrote into his FAQ-line (i have blog comments…he has a FAQ-line) COMPLAINING to neil about goddamn george r.r. martin. george, who's been writing a series of books since the early 90's called "a song of ice and fire" (the first book being "a game of thrones" which HBO just adapted) was BLOGGING ABOUT FOOTBALL instead of writing his next book. apparently Lots of People Had Been Anticipating it for a long long time. and neil responded publicly with a blog called "Entitlement issues…" wherein he stated: "George R.R. Martin is Not Your Bitch." (he didn't capitalize it exactly like that, though).
the blog went viral, t-shirts were made, and now "So-and-So (insert writer x) is Not Your Bitch" is being used as a general catch-all for "leave the poor writer alone."
 
this led us to a general discussion in which i pointed out that blogging (and tweeting) are seen as second-class art forms. third class. ninth class. low class.
 
but why? artists – or writers – take time to put their thoughts into words. it could be a tweet (140 characters), a poem (1-1,000,000,000,000 characters), a two-thousand word short story, or a multi-volume epic novel. why does one get precedence over the other? is it because tweets and blogs aren't published on paper, and we still refuse to accept internet-content as valuable? has that changed now that people have kindles and are downloading shakespeare and reading heavy, hardcore journalism on their iPhones on the subway to work?? there's some serious medium vs message shit playing out as i fucking type this. helllllllll yeah.
 
if we didn't blog, you know what george r.r. martin would be writing in between books?
 
YOU WOULDN'T. THAT'S THE FUCKING POINT. blogging is everything from a finished product of immaculate-ness to a brain-dump for authors who love to write and have embraced the medium as an instant-gratification panacea. it also connects you directly to your living audience, which is completely revolutionary (and dangerous – with connection comes judgement). 
 
who knows what kind of musician i would be right now if i hadn't been a blogger for the past ten years or so? who knows if george r.r. martin (or neil gaiman, for that matter) would have the same relationship to their fiction writing if they didn't have blogging as an outlet, a medium, a go-to?
___________________________________
 
as if on cue (i'm on a plane, flying from minneapolis to boston) i had to close my mac to take off and i picked up the in-flight magazine to read an interview with steve martin (@stevemartintogo), master-of-all-writing-mediums. 
in the interview he says tweeting "is a completely new writing form":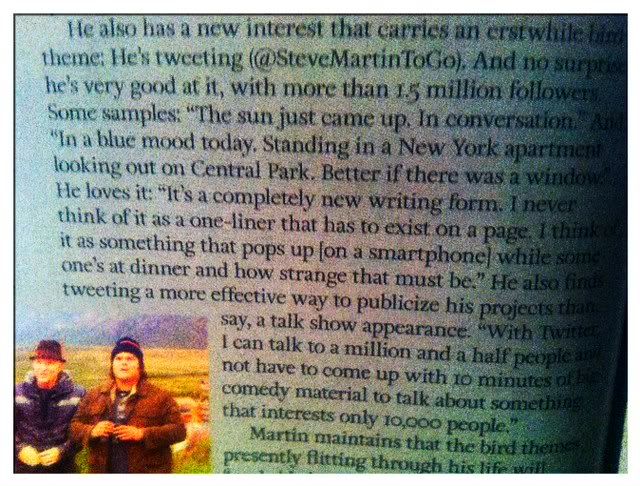 bango.
 
one reason i shy away from book-writing (and i've considered it, many times…and still ponder it) is BECAUSE i feel like i can get away with murder on my blog. it doesn't have to be heavily edited. i don't have to pull my hair out about every sentence being etched in stone. it's going to disappear. the chances that You, Dear Reader, are going to click back and read my archived blogs from 2004 is WAY less likely than a lover of george r.r. martin is to dig up his back catalog. blogging is Of Now. it's guilt-free, to an extent. i always take this perverse joy in the fact that neil's a WRITER and i'm a MUSICIAN and so i get to have TYPOS IN MY BLOG ha ah ha ha ha ha ha ha ha ha. 
 
it's also a format ACCESSIBLE TO EVERYBODY. though nowadays with self-publishing, almost anybody can publish a book (and this has all sorts of positive and liberating consequences), it's still FAR EASIER (and cheaper) to blog. if you're online and living in the first world, you can blog almost as easily as you can go to the bathroom. and many have argued: therein lies the problem. often blogging is just mind-shitting. sometimes tweeting is just soul-puking. i can't disagree.
 
but when it's not? 
art-making, writing and music-making has never been SO DEMOCRATIC. 
 
musicians can now produce albums in their bedrooms via garage band. 
they can distri
bute their content THAT MINUTE via youtube, bandcamp, or…whatever.
 
musicians, artists and writers can write and publish their content within seconds. sans label, sans publisher, sans editor, sans middlemen. 
 
everybody knows it: it's a revolution.
 
the world is catching up, creaking, slowly, slowly.
 
meanwhile, the filters are all out of whack. there's no rolling stone, MTV, new york times, or even pitchfork.com to guide you where you want to go. they used to be able to DICTATE where you wanted to go. that was fine, you didn't have a choice. that doesn't work anymore, people are too smart. they still do their jobs, but they're MONTHS, DAYS, HOURS, MINUTES, SECONDS (if you're on twitter) late on delivering content…and their content is aimed at the mainstream. that's not you. 
 
everybody is now in agreement: we all love different shit…the mainstream is dead. it's all niche all the time. you trust your friend's email recommendations, not what's on the promoted front page of yahoo or some shit. you don't need to listen to the top 40 shit on your computer, not when you have a world of music and books to choose from. sure, people will be lazy and simply consume what's shoveled out before them, but less and less people are doing that. it's too boring. and artists are becoming more and more expansive with their voice-medium as the world of media expands around them.
 
i knew there was a strange turning point, about four years ago, when a girl came up to me at an in-store appearance at a record shop (i think it was in seattle) and waited for an hour to talk to me.
when she finally got to me she told me that she didn't listen to my music, but she loved my blog. i didn't know whether to be flattered or suicidally depressed. my first thought was" "didn't my blogging make her want to hear my songs?" and my second thought was "maybe she TRIED and she HATED my songs" and my third thought was "whatever. she's reading my blog and she likes me. ultimately, mission accomplished. all i really want is for people to like me, anyway". honestly wins the day. chalk up one more point for amanda palmer, professional narcissist, medium irrelevant.
there was also that turning point where i realized i wasn't writing my deep angst and experiences into letters anymore. i used to write long, long hand-written (or typewriter-typed) letters to friends (this was pre-email, as well). whatever my mind was chewing on, i'd letter. or i'd dump it into my handwritten journal. i've actually experienced this VERY odd moment where my journaling starts turning into a blog, and my voice changes from private nobody-will-ever-fucking-read-this-not-while-i'm-alive-anyway into my this-is-material-for-everybody "blog" voice. i've made myself laugh. i realize that instead of journaling, i'm drafting a blog. sometimes i just let myself do that. so…where does an idea go, nowadays? to the blog? to an email to a friend? to my journal? to a novel? to an opera? would you measure these things any differently if i told you the material was basically all the same dough, just a differently-shaped fucking cookie?
 
lately, i've had people who follow me on twitter exclaim "holy shit! i didn't know you were a musician! cool."
eek.
 
identity crisis to the max.
 
it hasn't gotten any easier. i position myself, i introduce myself, i identify myself, as a performing songwriter. mostly. i'm sure george r.r. martin positions himself as a writer of fiction. if he were introduced at a dinner party as a BLOGGER he'd probably clock somebody (well, probably not, he doesn't look like the kind of guy who would clock ANYBODY. maybe secretly slip a miniature toy soldier into someone's drink, for a gag.)
 
this past winter, i saw a book on sale in a melbourne bookstore, by kristin hersh. it's called "rat girl." (you can get it HERE in paperback for just $6 or use indiebookfinder.com to find it in a store near you)…
i've known about her for years…her band, throwing muses, were a local boston/providence indie rock heroes when i was a teenager. i knew a single song, but nothing more. i'm always fascinated by rock-chick-memoirs, especially if they're from my neck of the woods. i bought the book, devoured it, thought it was once of the best memoirs i'd ever read, and put it on my list of things to do to delve into the entire Throwing Muses catalog, especially now that i knew how surreal, intelligent, hilarious, and totally fucking fascinating the backstory was. guess what? i still haven't done it. i feel like an asshole. sorry, kristin. but i ask myself: how was able to commit a good 15+ hours of reading time to a book but i can't devote 45 minutes to listening to a record? i don't know. sometimes i think i've started to hate music. i digress (but sometime i should talk about this…i've learned it's a very common pox on touring and recording musicians to hate music. i can't wait to unveil the "Musicians for Less Music" non-profit that zoë keating and i cooked up. it's gonna be WICKED). 
 
i've spent a lot of time in the past 10 years thinking about what Counts as Art. the blogging? the tweeting? the performances? the interactions with people in bathrooms? where does the art-making start and where does it end? if i simply tweet my brilliant song title and concept, do i get 10 points? whereas if i ACTUALLY SIT DOWN and write the fucker, i get 1,000? and if i tweet 100 brilliant song concepts, am i even? can i CASH THEM IN FOR A SONG? that would be AWESOME.
 
i remember when i first realized i was spending brain-power blogging instead of song-writing. the realization wasn't a flash of lightening, it was more of a frog-boiling moment in which i gradually discovered that my brainwaves had been redirected to composing blog material instead of song material. and nowadays, i've noticed it happening with twitter.
a pie-chart of my fucking brain:



 
here's one for you: i've been crowd-sourcing lyrics from twitter. genius use of a modern tool? or totally mean? if i don't finish the song, does the fact that i used someones brilliant lyric in an unfinished song (that will remain forever as a draft in my email inbox) still add value to the music continuum? or am i just reaching for an idiotic explanation of the fact that i'm desperate to connect by any means possible, and that i should just discipline myself, grab a rhyming dictionary and a thesaurus, lock myself in a room, and shut the fuck up?
 
did john lennon get to tweet pictures from the airport as the poor beleaguered beatles circled the planet? I THINK NOT. if they'd been able to, would he have written half the shit he wrote? WHO KNOWS.
if they'd all had skype and iPhones, WOULD THEY STILL HAVE DIRVEN EACH OTHER CRAZY AND BROKEN UP? news at 11.
 
here's the view from the gate, right before boarding my plane a few hours ago. 


 
now it's dark. but fuck the sunset was insane. do you care? i don't know. i think the picture is pretty and also lends a kind of "immediate pathos" to the blog i'm writing.
 
ANYWAY, what was i talking about.
 
more or less: ten years from NOW people will look back at david hockney's iPad drawings and björk's album app as quaint pieces of antique kitsch, the way we now look at penny-arcade films of chicks stripping off their clothes or horses trotting along as amusing, but pointless…stepping stones on the long rocky road to "citizen kane."
 
obviously, i pretty much know the answer to this. art evolves as tools evolve. same as humans. we're now tool&art-evolving at the speed of refuckulousness, and this in itself is a novelty.
sometimes i think blogging is simply opening a portal, a medium, that we-who-hate-to-edit can finally step through, unafraid. I CAN'T WRITE, BUT I CAN BLOG. 
 
i wonder what it's done to a generation of writers. you'll have to ask neil about that one. i think it's mostly like music….it doesn't MATTER that Anybody Can Do It. it still has to be GOOD. interesting. worth reading. it has to move you, touch you, stir you. that won't change. ever. and for every innocuous justin bieber blog and katy perry tweet out there that is sucking up precious teenage brain time, there's a link to a link to a link to a link that'll lead those impressionable brains to a youtube clip of something that kid never knew existed, something enlightening, something transformative, something TRULY REVOLUTIONARY. you never know. it used to start and end with Bop magazine. no exit. 
 
so, in closing, if george r.r. martin wants to blog about football from now until the time he dies, i salute him. 
if i decide to blog about shit you're not interested in, let me know, but don't expect me to care. if you need more information….google.
and if your'e a young artist, don't think that ANYbody has this shit figured out. YOU'RE figuring it out. NOW.
it's a wild economy out there, with more hungry eyes and ears than ever before, and who knows where they'll land.
 
and it's already happening, more and more, by the minute. graffiti artists like shepard fairey, JR, and banksy are being shown in museums.
hopefully the world of blogging and "serious" publishing will find a way to merge and authenticate one another.
 
hopefully we're driving our further-bus to a more classless society of art, where painting, writing, doing, and MAKING are flattened out and all makers play on a level field. 
let the good art be enjoyed and created without second-guessing, whatever it may be, whatever size, however it's distributed, whatever it cost to make, whether on parchment paper or in 001101100011011100110010.
 
and, ha, don't tell my writer husband. but maybe editing is just dead and that's a good thing, we'll become a new rebel culture of first-thought typo-glorifiers.
 
THINK ABOU TIT.
 

 
 
 
xxxxxxx
AFP
fragile musician, hi-tech skeptic, unashamed blogger, unabashed tweeter, possibilitiest.
 
p.s. as always, very curious to hear your thoughts in comment-land below, especially you musician-maker-writer-types who have felt the blog-tweet-hijacking of your creative brain-juice.
 
p.p.s. ok i promised. here's me chasing a chicken in sante fe (photo by neil):


 
and here's me, very happy, having caught the chicken (photo by…neil):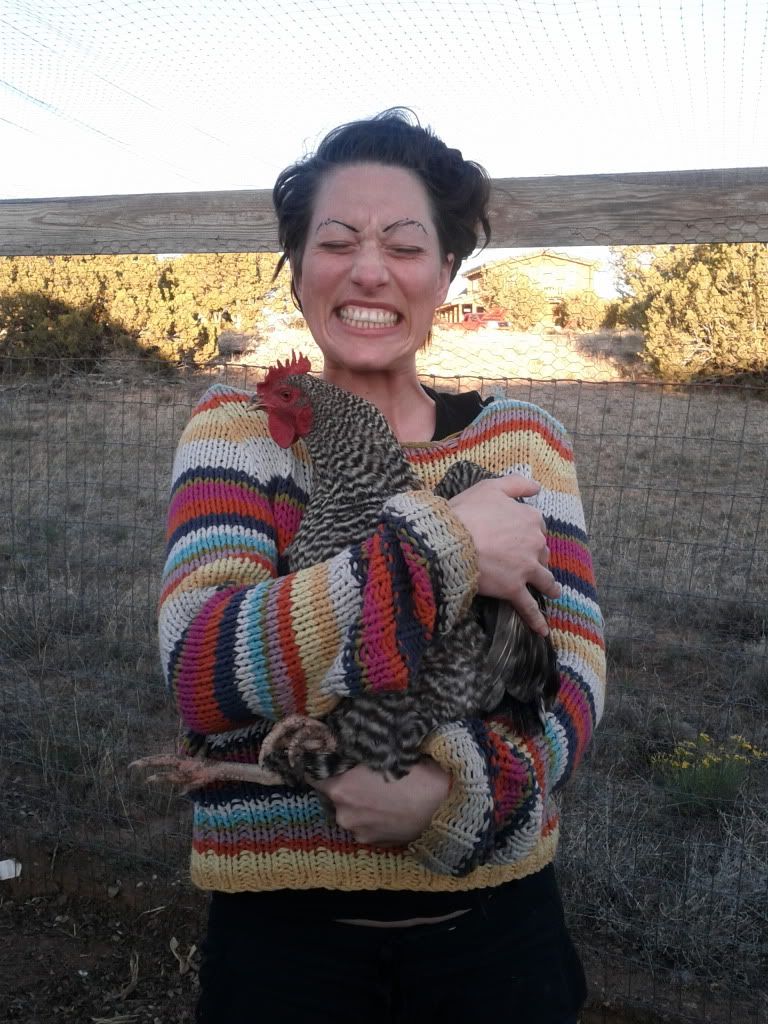 here's neil and our nephew ronan: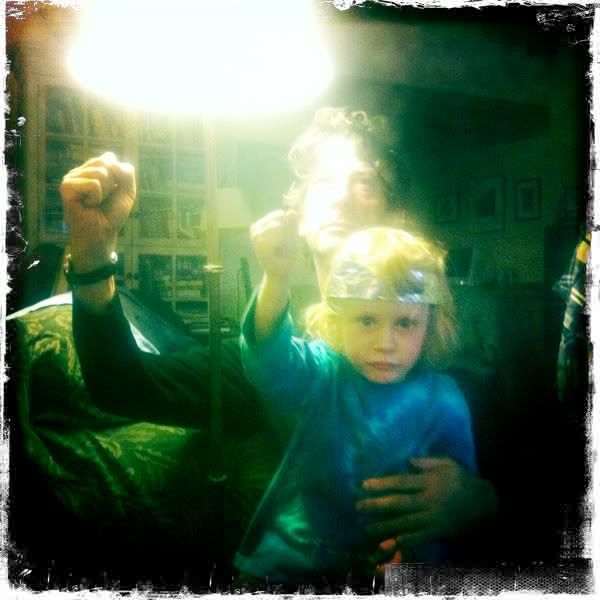 they were dressed up as "pumpkin avengers" for the short film we made called…."pumpkin avengers."
i played the pumpkin-thieving alien (no photo forthcoming).