March 24, 2011
welcome back champ. now get your fucking shit together.
i'm home. three months was a long time to be away from a consistent bed.
i'm sitting at the kitchen table listening to the new avril lavigne record.
it's really not good so far. it's actually pretty awful.
but it's not bad for reflecting. it frees my mind.
everything's been happening by accident,
but maybe not.
this was supposed to be a wrap-up blog of All Things Australia, but i've put it off for long enough that it's turned into a classic end-of-tour self-examination AFP special.
i'm barely interested in talking about what i did yesterday. i can't remember two weeks ago.
i'm home.
casey and some of my ragtag cloud club housemates (i think it was michelle and megan, and maybe someone else) made me a sign.
michelle was staying in my apartment this whole time. she's sleeping on casey's floor now, surrounded by a cloth-y wall they made of christmas light and sheets.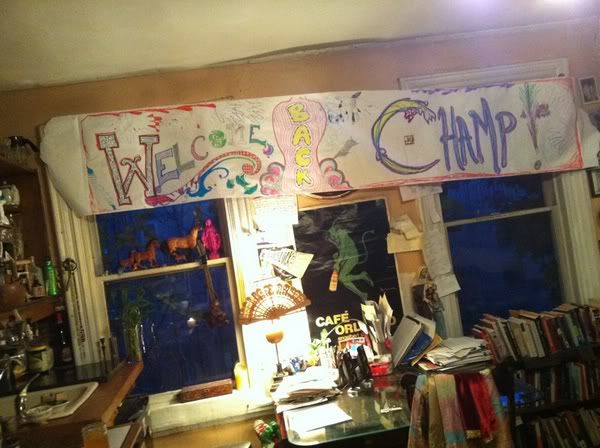 i was reflecting on the last year or so of my life and i think, artistically, i will look back on it as my time of "pure ridiculousness."
a while back, i put the solo record out.
it took more than a year to make and release. it was planned, it was hard, it took forever to birth, and it was perfect.
then i continued running my solo career as if i were one half of the dresden dolls instead of just Amanda Palmer.
it wore me out.
(it wore me out)
after the solo record, i was done. done making normal records, done doing what everybody wanted me to do (who was everyone? they only existed in my head, as usual), done touring rock club to rock club on the same material, done planning ahead.
so i stopped.
but i kept going.
and
i started doing what i wanted.
i stopping doing logical bullshit career things and i started picking the projects that meant less money, but more time around more gentle friends, the kind of people i liked sharing wine and stories with.
i picked evelyn evelyn (commercial suicide), i picked an EP of radiohead cover songs (not suicide, but close, like browsing in a pawn shop for a gun), a dip back in musical theater with my part in "Cabaret" (i was paid less to be in that show, per week, than my lowest-paid staff member, and i had 5 people working for me…but i loved it).
i let the money slip away and i sold enough merch on the road and online and did enough shows to break even on the side.
and i threw together an album of mish-mash recordings to release in australia, just so i could have a less flimsy excuse to go back to brunswick street in melbourne and get coffee.
i'm serious. those two things went together in my head.
i have no manager.
i have no label.
nobody advises me (at least, from an office at a desk), nobody tells me what to do, nobody's freaking out that i'm not in the charts.
i just read an interview with lykke li in spin magazine. i can read between the lines now.
i've been following the career of lady gaga, who sort of represents to me the ultimate fantasy of what i had at 11 years old of what a Pop Star was.
there was a time when i wanted to be a Pop Star. or a Rock Star.
i didn't know the difference back then.
i think i can explain it this way: when i was 11, i imagined that all of the shit that i was seeing on MTV, the gloss, the Duran Duran yacht-lifestyle, the fabulousness, the fashion, the flashing photographers, the endless parade of excess…i imagined that's what it would be.
fun.
i didn't see a Rock Star playing people's backyards, riding on homemade punk bikes with fans, doing spontaneous ninja beach gigs, talking to plaid-dress-clad girls at public high schools, crashing in art galleries, sitting around tables with tech geeks pretending to be werewolves, being fed by strangers on a nightly basis, standing up on trash cans and in bathrooms in remote parts of the world singing to crowds of people who were both enchanted and irritated, playing dress-up with children on off nights….and i certainly didn't imagine staring at a computer screen half the day trying to organize it with heart.
i always imagined some other imaginary entity doing all the organizing.
but that's what it is.
that's what's happened.
and i wouldn't trade it.
i've seen a lot of things, i've lived a lot of ways.
i've toured with huge musicians, small musicians, the whole gamut.
and i've seen at close-range what kind of life you can choose for yourself when you decide to be a touring musician.
i cast my die.
the australian tour was That to me.
it summed it all up.
i toured the way i wanted with the people i wanted to be with and i felt certain that all the moves – even the ones that yielded no money, no press, no product – were the right ones.
the country was built for that. i love it there so much – the people, the people…what is it about the australians?
i miss it like i'd miss a person.
it's the combination of the warm, the art, the food and the gentle crazed openness of those i've been lucky enough to call my australian family.
australia allows me – for whatever reason – to use its sunburnt mass as a playground for amanda-palmer-antics, cheers me on, piles on encouraging fuel to the bonfire, brings marshmallows the the great conflagration of The Amanda Palmer Experiment.
i found myself in piles and piles of people, squished against beautiful bodies every night – and i loved every pile.
in byron bay, on the beach at a last-minute ninja gig:

in sydney, at mardi gras with my pick-up back-up dancing gay boys: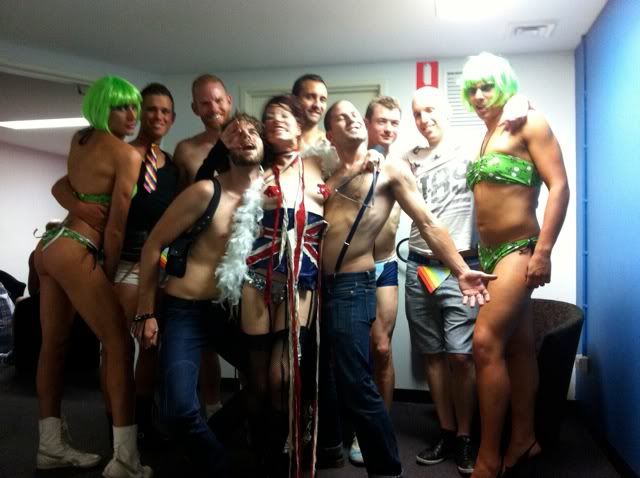 backstage in byron at the great northern, with kim boekbinder & st. clare (of mikelangelo and saint clare, who i toured with).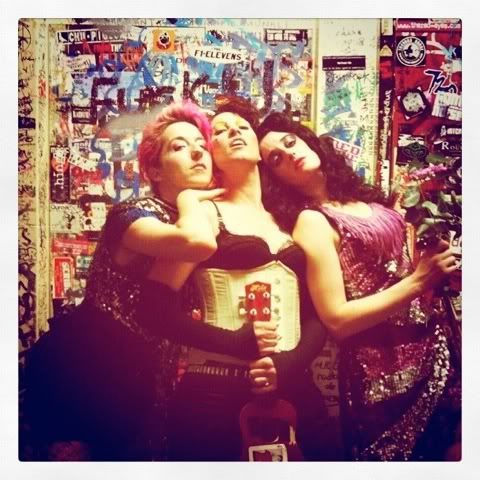 in melbourne, at the st. kilda backyard BBQ organized by guy jukes….

here's the thing:
the 11 year old didn't understand what happiness would mean.
how could she?
i thought that the glamour, the fame, the entourage, the attention…i thought that WAS the happiness.
the end.
i thought that the tossed-back hair and dry ice captured in those epic videos and commercials i was watching told the truth and held a mysterious end in themselves.
it's taken me a lifetime to totally undo that programming.
i wonder if it ever goes away.
i feel its shadow, sometimes.
but barely.
…………..
twitter helped.
my second big solo tour of australia – exactly two years ago, when Who Killed Amanda Palmer came out – was when i discovered its power.
it was neil (who i was just starting to date) and zoë keating (who was on tour with me, with her cello) who got me hooked for real, after i'd been hounded to death (uselessly, shame on me) by my internal team about its merits. it often takes another artist – or someone right in your face saying LOOK LOOK WHAT IT CAN DO!!! LOOK!!! to win you over to things like that.
and so i was won over. things haven't been the same since. my last few tours, like a hybrid car, ran on traditional gas and twitter power. when i ran out of twitter power, i went the traditional route as a back-up. but when i could, i rode the fumes of twitter to the ends of australia.
we used it for ninja gigs, restaurant recommendations, we found the internet using suggestions from the people of the village, we promoted our less-than-sold-out gigs by giving away tickets, we helped out friends, we gave away the music directly, asking for donations.
twitter has become the platform by which i do business.
its crazy. its changing the world and the way people find out about everything – even the big things.
i felt this the other night when i watched the japan earthquake unfold on twitter. watched people giving each other information, help, hope. watched people grateful to their twitter feeds because they were now becoming the alarm system to their own neighborhoods. i said it that night, more or less:
twitter is an online paul revere collective. the british are FUCKED.
so to speak. we are the media, more and more, every day.
i'm not sure what i'm going to do next. but that's a lie.
i know exactly what i'm going to do: i'm going to actively not decide what i'm doing next.
i've been either on tour, making a record, or doing some Epic Project non-stop for eleven years.
i have not taken a real break.
so this is going to be my break.
i'm not going to commit to recording a new record, i'm not going to do a big next tour, i'm going to clean up this apartment and this here computer, both of which are caked and choked by 11 years worth of project-debris, and i'm going to do some Fun Ass Shit. i figure: i've put out three records this year. i've earned it. and if i try to do something else, i won't be running on twitter gas or normal gas, i'll be running on fumes. time to stop and reassess. my mind is full of songs that have already been written, they play over and over in my head with as much repetition as a top 40 radio station. i'll let them finish themselves. they're almost all cooked.
i'll let everything sit.
and don't worry: you won't notice.
i tend to blog MORE when i'm off the road and out of the studio. you'll get bored.
it's not time off like normal people take it. i hate that kind of time off.
i don't even KNOW any normal people.
i don't know what i'm talking about.
anyway, here we go.
………………………..
meanwhile…
here are some of my favorite unbloggished moments from australia, PART ONE.
still life's with texts.
tom & amanda at the brisbane ninja gig/twitnic: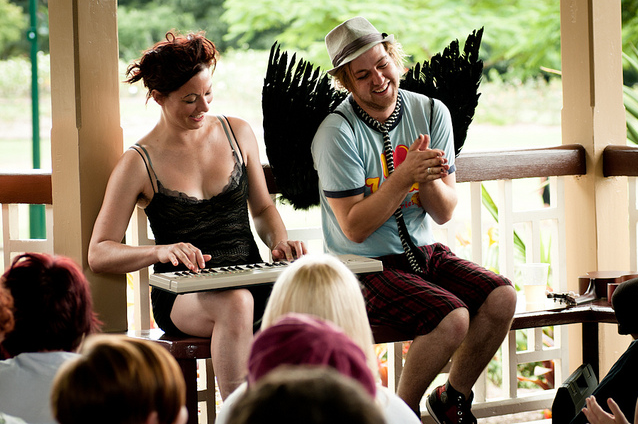 via flickr
tom put this gig together. the jane austen argument followed the ninja gig model and started doing "twitnics" all over the place.
it was a memorable ninja gig in a park under a beautiful bandstand, with about 100+ people gathered to listen to us play (helped by a ninja accordion played, will)…
but….
even more memorable was getting kicked off the gazebo by the park police, who had an "official" even to host.
i'd heard rumors that there were a band of freaks playing a game called "jugger" somewhere else in the park, so we bombarded them.
don't ask me what the rules were, they're hazy, but basically you get put on a team, wield swords and try to hit people.
they invited us into their fold and for a while, it was a jugger-ninja lovefest. my team won.
via flickr
amanda vs tom dickins:

ah, tom, i see your schwartz is as big as mine.
watch out for the child.
this was a beautiful moment at the beginning of tour, when i showed up ninja-like in federation square in melbourne….

mustaches usually turn me off. but…
this was from a quieter moment behind the melbourne Dear Old House (aka Peter & Clare's):


that's jen from the jane austen argument singing next to tom, and tom's mum, and tom's girlfriend ange, and kim boekbinder's shocking pink head. it was a little garden party that we threw to celebrate me & neil's engagement. it was beautiful.
me and mr. man hosting Rage TV, which is australian MTV except unlike MTV they actually play music videos….it still hasn't aired.
i'll let you know when it does. it was fun as hell. he took over an entire dressing room in sydney opera house and covered it with my clothes:

with my wonderful friend ron nordin, on a boat in sydney harbour. ron went home and totally changed his life:


i'm proud of him.
backstage putting eyeliner on tom before the sydney ninja gig.
kim and i were practicing a song together at the same time.
i just love this moment:

said ninja gig, at carriageworks:


it was a fucking great one.
federation square….melbourne. my love. at sunset: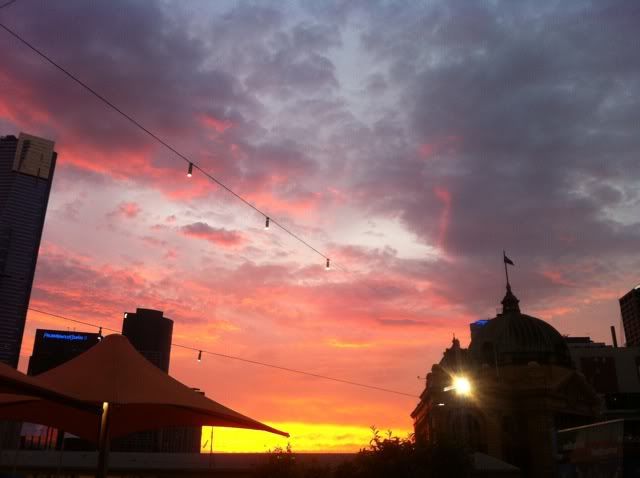 more later. i'm still slogging through tour photos.
also, for shits:
among my top tour-reading recommendations….
bill bryson
"at home: a short history of private life"

sean (aka @indeciSEAN, who helps me with All Things Internet) knows my devotion to Bill and bought me a signed copy of "at home" (fangirl) right before i left for this tour.
it's another brilliant bryson-tangent-after-tangent masterpiece. not as god-we're-so-small and thrilling as "a short history of nearly everything", more god-humans-are-strange and i found myself sharing bits of it with whoever would listen. the trivia contained within was typical of bryson trivia – taking you behind the scenes of the clockwork and invention of the man-made objects and comforts around, using his victorian rectory home in the UK as a kind of a clumsy launching pad. he takes us through the evolution of the light bulb, the bed, windows, telephones, wallpaper, and disease, including a fantastic passage about human beings' long-standing feud with rodents. it's a classic bill bryson meal, and like all his other books he writes in a style that makes you wish you could hang out with him all the time; his wit and sardonic delivery ties the whole mess together beautifully.
more books soon. i've been reading some incredible shit.
more everything soon.
ramble on soldiers,
XXX
afp