April 11, 2018
DUBLIN – me & laurie penny are talkin' @ your book festival
(public post)
hallo loves.
i already have an official show booked in dublin (at the national concert hall on may 28th, get tickets HERE)
and SURPRISE, i'll also be speaking in conversation with the incredible laurie penny at the international literature festival dublin.
details below:
amanda palmer and laurie penny
international literature festival dublin
saturday, may 26th
RDS Concert Hall
dublin, ireland
8pm
ages 16+
laurie is a feminist, journalist, firebrand, FORCE. i support her patreon (and you should too) and no doubt we will be talking SUPER DEEP about writing, our heads, feminism, what we are and aren't allowed to say, and other unmissable moments. here's laurie reading at my "art of asking" book launch in boston (https://www.youtube.com/watch?v=gKGfAmgK044)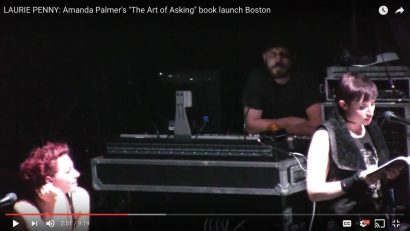 we will definitely try to record the conversation for those who can't make it.
you can get your tickets HERE: http://www.ilfdublin.com
if you are in one of the guest list patron reward tiers ($75 signed art in the mail and up) and you want to come, email hayley ASAP, we have a few guest spots if you wanna come! (as a reminder to the guest list tiers, here's the details on how to request tickets: https://www.patreon.com/posts/welcome-to-guest-17778653)
*EDIT*: i just connected (through the comments here) that this is the DAY AFTER THE REFERENDUM: https://www.theguardian.com/world/2018/mar/28/ireland-sets-abortion-referendum-date
wow. ireland: i hope every one of you is voting.
LURVE
xa
——THE NEVER-ENDING AS ALWAYS———
1. if you're a patron, please click through to comment on this post. at the very least, if you've read it, indicate that by using the heart symbol.
2. see All the Things i've made so far on patreon: http://amandapalmer.net/patreon-things
3. join the official AFP-patron facebook group: https://www.facebook.com/groups/afpland
4. new to my music and TOTALLY OVERWHELMED? TAKE A WALK THROUGH AMANDALANDA….we made a basic list of my greatest hits n stuff on this lovely page: http://amandalanda.amandapalmer.net/
5. general AFP/patreon-related questions? ask away, someone will answer: patronhelp@amandapalmer.net