August 14, 2017
lost beneath the starry tent of my own self-eclipse
(public post)
hallo loves. quick updates, ephemera and joy…..
most important: I DECIDED TO DITCH MY LIFE AND GO SEE THE ECLIPSE. i couldn't help it after seeing this TED talk the other day. i booked a last-minute ticket to nashville and i'm going to take ash to see his midwives and birth-twin william, who was born to my friend marina with the same midwife a few days after ash was born. together we will all stare at the not-sun. glasses recommended by NASA are en route. (thank you len!)
QUESTION: who's near nashville and WHERE ARE YOU HEADED???? tell me in comments!
speaking of how much i love you….pictured above: the two amazing patrons i met on one hour's notice the other night at the spiegeltent!!! to the left: maya, who literally happened to be across the street from the venue because she's up from NYC singing in the summer festival chorus at bard (singing seriously dope shit, you can go see her doing berlioz's romeo and juliet if you're around bard).
but maya wasn't even the one who scored the free ticket…she just waltzed over and joined us, the ticket went to lacy, who's on my right. she saw my post and hopped in her car in albany and got to the tent RIGHT when christeene took stage and holy strangeballs were we all quite inspired by the spectacle of love and fluids that came at us. this was some seriously avant-heart cabaret my friends. try this on for size:….https://www.youtube.com/watch?v=Jt379grdD4Q
we were also treated to the amazingness of dane terry – if you're into your flamingly talented piano-players, there's shades of ben folds and regina spektor and beyond….here's a taste.
i got to hug and thank christeene….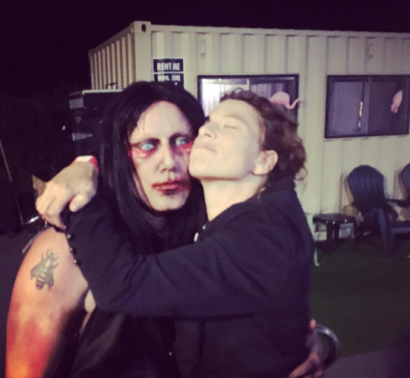 …..and it turns out that christeene is from austin and so (of course, like everyone cool in austin) friends with my sometimes-drummer and awesome-soul-friend thor harris. WHO IS SERIOUSLY RUNNING FOR GOVERNOR OF TEXAS and goddamit if frank zappa tried and failed but arnold schwarzeneger tried it and succeeded and what the fuck donald trump is currently i mean….MAYBE THOR WILL SUCCEED.
his platform is:
"BECAUSE FUCK THIS SHIT"
….i can get on board with that.
i can't turn on the news nowadays without just wanting to leave the planet.
not an option.
love's the only way out.
………………………..
meanwhile, literally right now:
greetings from that same coffee shop where i am hiding and doing my admin instead of writing music in the space i've rented.
good news: i at least have made it to the neighborhood.
other good news: i am fucking writing. and what i'm writing is actually really good, which of course sends me into a whirl of endless awful. it's so fucking funny. the minute i write something good, i'm not happy, i'm mostly just ANGRY AT MYSELF FOR FRITTERING AWAY THE LAST 15 YEARS OF MY LIFE INSTEAD OF WRITING EVERY FUCKING DAY because god knows if i'd actually sat down at a piano every day for the last fifteen years i'd be a fucking genius by now. instead i'm just a pretty good songwriter. but then i'm like: whatever amanda, you chose this. you had a kid instead. you wrote a book instead. you fucking tweeted instead. shut the fuck up. you're writing NOW, even if it's just for a fucking hour so STFU. god i'm insecure lately.
it LOOKS LIKE i'm going to be releasing one very very super-special-beautiful 7″ this fall with two very important (to me at least) politically-bent songs that i created with jherek, neither of which you've heard yet. they're comin…i'm working on videos for both of them. this shit that goes slow…it's hard to wait. meanwhile i look at these new songs i'm writing and i'm like…fuck, it's going to take forever for these to come out if it's business as usual.
i'm really tempted to try something i've been meaning to try…..since i don't have an official huge production coming out in august – i'm thinking of maybe THINGING MYSELF into THE CAVE…like, pull a solo "8 in 8" (if you missed it it's the record i wrote with ben folds, damian from OKGO and neil – we wrote and recorded 6 songs in 12 hours) and, like, chain myself to the inside of a recording studio for two solid days towards and make something for you from scratch just to do it and to get my songwriting muscles flexed in a sprint. wanna do it? it could be kind of amazing, and it might solve my head-weasel problem of writing all this music and knowing it won't all be coming out Fasty fast fast. wanna? wanna?
i mean, you know i'm probably gonna ignore you if you say no, because i'm me, but i still like asking.
the end
i love you
go write real things not blogs amanda
xxx
a
———THE NEVER-ENDING AS ALWAYS———
1. if you're a patron, please click through to comment on this post. at the very least, if you've read it, indicate that by using the heart symbol.
2. see All the Things i've made so far on patreon: http://amandapalmer.net/patreon-things
3. join the official AFP-patron facebook group: https://www.facebook.com/groups/afpland
4. AFP-patreon-related questions? ask away, someone will answer:
patronhelp@amandapalmer.net