September 25, 2018
The Rewired Portrait by Skye Ferrante – CHARITY AUCTION ! – and a reminder to register to vote
(public post)
hallo mah dears
JESUS, okay i hear you on the boobs LOUD AND CLEAR. DEMOCRACY AT WORK. hold the phone…we are making a really gorgeous wintery card based on a photo taken by kahn & selesnik (YAY).
i know i'm posting a lot – sorry – it's that time of week, eh.
THIS IS A QUICKIE!!! and i need to get this one out to you so i can make this announcement in the public mailer i'm about to send off to the world…
also:
AND IF YOU WANT SOME BOOBS, i got more.
ahem….with the skye-the-artist's blessing, we are AUCTIONING off the wire art made in front of your eyes in the rewired video: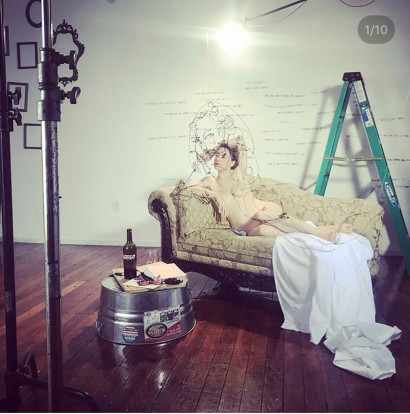 if you msised the memo: this is the original wire-art featured in my patron "journal vérité 001: rewired" (if you missed that, you can watch it here: https://www.patreon.com/posts/patron-journal-20803724– it's a patron-only piece of media, for now).
here is a shot of skye working on the piece, while we filmed: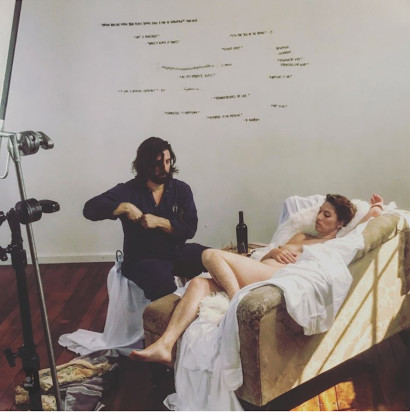 we are going to give 100% of THE AUCTION PROCEEDS to Women's Justice NOW which is a sister organization of NOW-NYC, the new york city chapter of the National Organization for Women.
it was important to me that we pick an organization the promotes body positivity (and supports reproduction health, given what it happening in america right now, aie aie aie). here's a bit of an overview of all the great things Women's Justice NOW does:

Women's Justice NOW centers on survivor leadership, helping women navigate the criminal justice system, building activist leadership, escorting women safely to healthcare clinics, offering forums and clinics on sexual harassment, assault, and divorce, and political mobilization.  
skye's wire portraiture work often sells for thousands of dollars through art dealers and galleries, but instead of selling this special piece the old school way, we wanted this art to have a home with someone who understands the story…..and the meaning of REWIRED.
consider this your chance to donate to history – all while owning a piece of history that'll never happen again 🙂
if you are a serious bidder and have questions, please email management@amandapalmer.net BEFORE you bid.
HERE IS THE EBAY LNK:
https://www.ebay.com/itm/273480513828
as you'll see on the auction page, the SHIPPING IS INCLUDED….bidding starts at $500 and ends in ONE WEEK from right now!!!
i'll post the winning bidder here as well so we can all go YAY.
….
AND
DON'T FORGET, AMERICANS, THAT IT'S NATIONAL REGISTER TO VOTE DAY!!!!!
to quote the magnificent michelle obama:
"There's a lot at stake this November. If we stay home, critical issues that affect our families and communities get ignored. Today on #NationalVoterRegistrationDay, register to vote and then get to the polls on Nov. 6. Text WeAllVote to 97779 to get started. #WhenWeAllVote"
YASSSSSSSSS.
MAKE. SURE. YOU. ARE. REGISTERED. AND MAKE SURE YOU VOTE ON NOVEMBER 6th. WE CAN DO THIS.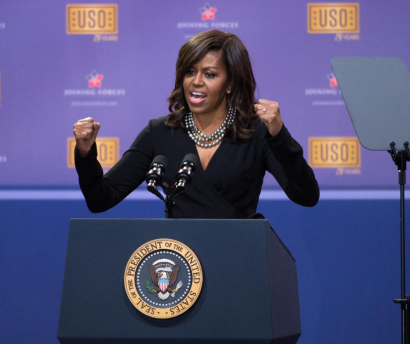 LOTS OF LOVE
AFP
——THE NEVER-ENDING AS ALWAYS———
1. if you're a patron, please click through to comment on this post. at the very least, if you've read it, indicate that by using the heart symbol.
2. see All the Things i've made so far on patreon: http://amandapalmer.net/patreon-things
3. join the official AFP-patron facebook group: https://www.facebook.com/groups/afpland
4. new to my music and TOTALLY OVERWHELMED? TAKE A WALK THROUGH AMANDALANDA….we made a basic list of my greatest hits n stuff on this lovely page: http://amandalanda.amandapalmer.net/
5. general AFP/patreon-related questions? ask away, someone will answer: patronhelp@amandapalmer.net